Review: NS Firefly Yoni silicone stroker & Banana Pants B.cush
Niche treats for my vulva and partner play.
The sex toy world is so much bigger than dildos and vibrators, extending to sleeves and squishables aplenty.
Enter the NS Novelties Firefly Yoni, a glow-in-the-dark SILICONE stroker. While it's marketed as a penis masturbator, it's also a fantastic option for squishing against vulvas. Non-vibrating external toys for clitorides are clearly in demand, hence my readers' excitement over the Pelle Whim.
Some found the Whim's $95 price tag shocking, though, so I wanted to elaborate on some more affordable options. My boyfriend and I put the NS Novelties Firefly Yoni stroker ($36) to the test, along with the Banana Pants b.cush ($35). The latter is a cushioning and clitorally stimulating "saddle" you can grind against, hump, and stick to bases of dildos for harnessing.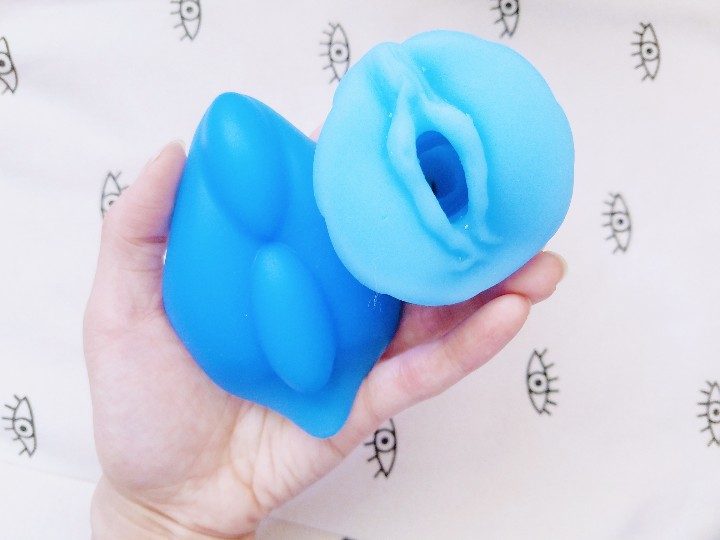 Both the Firefly Yoni and b.cush are unique, but since the glow-in-the-dark one probably caught your attention more, so we'll start with that one.
---
---
NS Novelties Firefly Yoni glow-in-the-dark silicone stroker review
The Firefly Yoni is made of non-porous silicone and super affordable, a combo rarely found among strokers. If the blue seems too otherworldly for you, a pink version is available, too.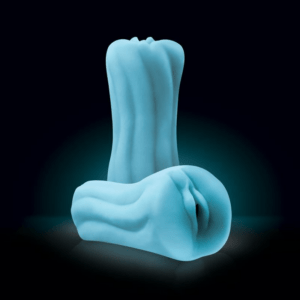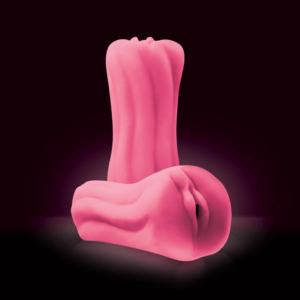 Why is a silicone masturbation sleeve a big deal?
Penis masturbation sleeves tend to be made of TPE (thermoplastic elastomer) or TPR (thermoplastic rubber) for stretchiness, putting them in a gray area when it comes to body safety. TPE and TPR are certainly better for the body than mystery-concoction, chemical-leaking "jelly," but they're still porous and can breed microbes over time.
Simply put, porous strokers have a shelf-life once used. Non-porous silicone is the way to go if you want a soft but inert material for sex toys that will last.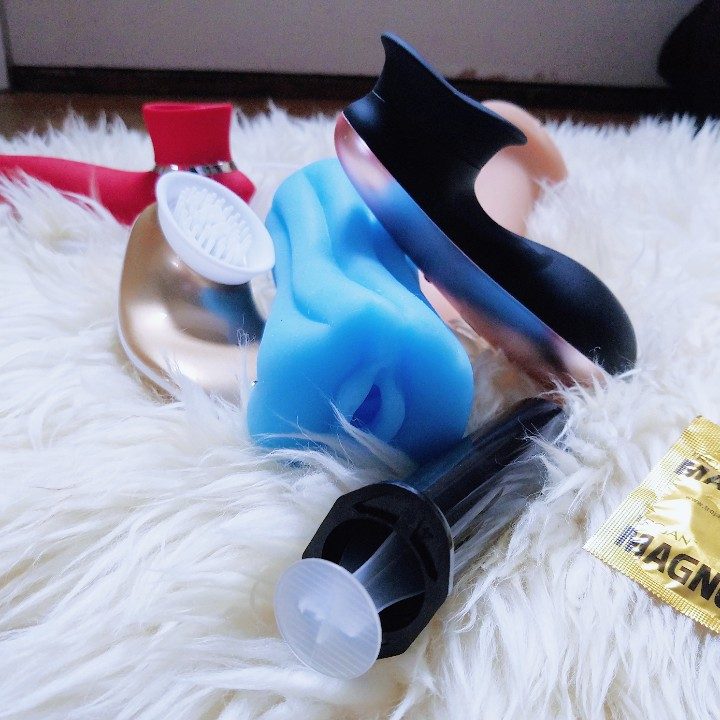 Unlike most other masturbation sleeves in this price range, you can actually disinfect the Firefly Yoni silicone stroker by boiling it or using a 10% bleach solution.
Provided that you:
Wash it regularly
Don't damage it with fingernails
Use a water-based lubricant with it (NEVER a silicone one!)
…you could hypothetically use a silicone masturbator for years and years to come.
The other thing about sleeves is that TPE and TPR tend to be more supple and stretchy — and cheaper — than silicone. It wasn't super easy to make a silicone sleeve with the right softness and tightness and do so at a low price until relatively recently.
Soft silicone strokers certainly have existed for a while, mostly in the luxury price range (think fantasy toys and techy gadgets).
While the Firefly Yoni glow-in-the-dark silicone stroker may look unassuming, what NS Novelties did with silicone here is a big step forward for penis toys.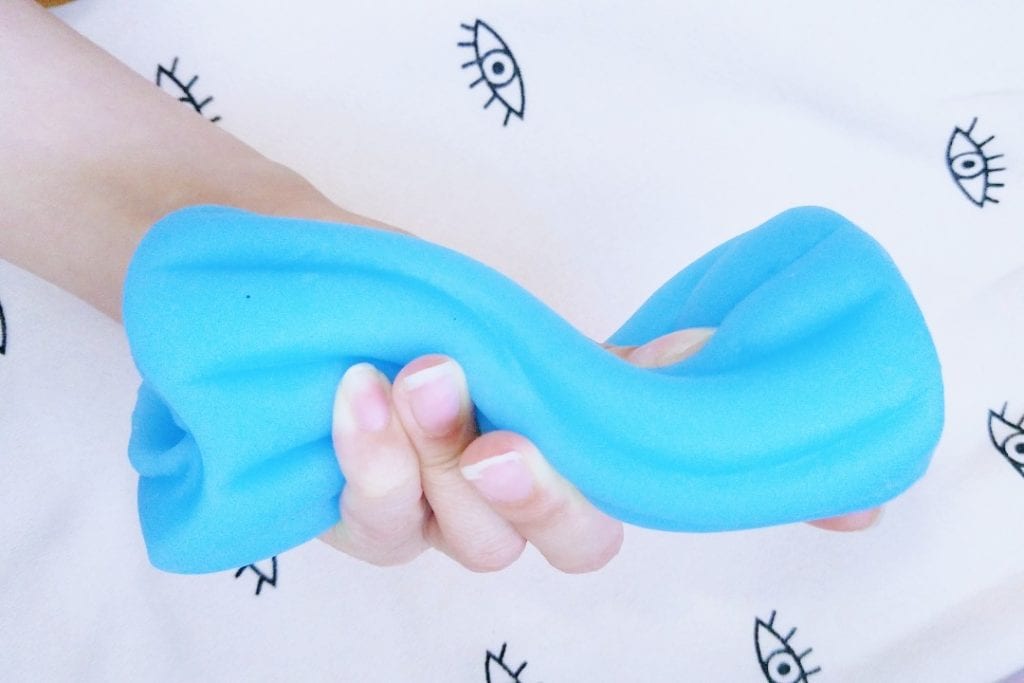 Length: 5.39″ (13.7 cm)
Diameter across the lip side: 2.44″ (6.2 cm)
Vaginal slit length: 1.18″ (3.0 cm)
Hole diameter on the other end: 0.59″ (1.5 cm)
Depth of the labia majora: 0.59″ (1.5 cm)
Colors available: pink, blue
Other silicone strokers to check out: BJ, Rear Entry, Moon
For added context, my boyfriend's penis is well above average girth at 2″ wide, and this the NS Firefly Yoni stroker hasn't given us any issues with fit.
This silicone masturbation sleeve vs. other strokers
A silicone stroker for his penis
The tl;dr version: My boyfriend actually likes the NS Novelties Firefly Yoni silicone sleeve more than cup-style strokers!
The NS Novelties Firefly Yoni is suuuuuper soft — softer than any other silicone I've touched before and even softer than the Pelle Whim. Again, though, it's not quite as squishy as TPR, and that may be a good thing here. Compared to some other TPR strokers, the Firefly Yoni's opening starts a bit bigger, but because the silicone is a tad firmer, the tension is adequate.
Though the "default" tightness feels good, the lack of a hard external means you can adjust pressure and tightness with your hand. Plus, I like watching his penis tip peek out of the other end. 🙂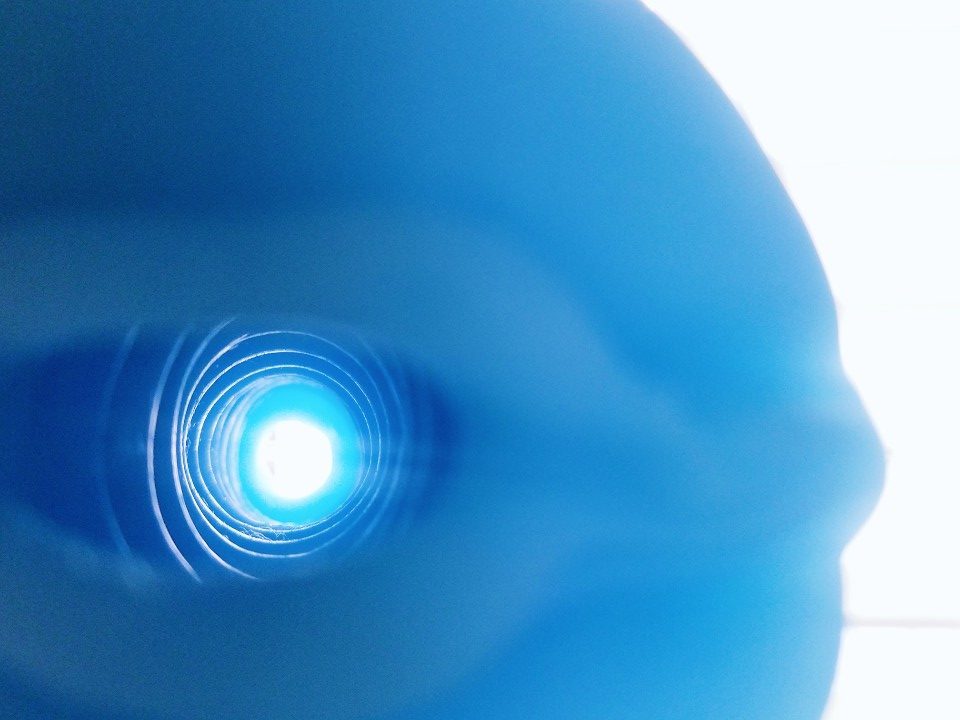 There's nothing remotely wild on the inside — no triangles or diamonds or spider web textures — just some basic ribbing. The tiny ridges aren't super noticeable to my boyfriend, but he said they feel more realistic than other strokers he's tried before. Depending on how you grip, it can feel "surprisingly like oral."
For those who want broader bumps, though, consider turning the Firefly Yoni inside out to rub the diagonal textures against your penis. My boyfriend said that the texture is more noticeable against his shaft that way.
What's more, it "feels like doing it from behind," though that may be due to the power of suggestion. The opening does look like a gaping butthole when used this way, after all.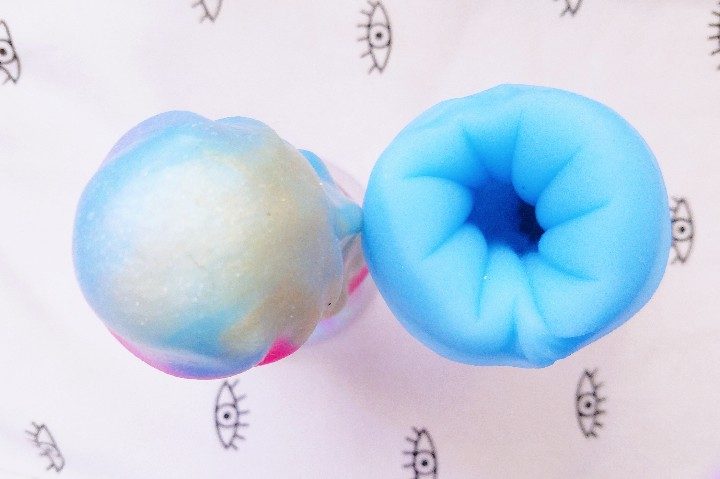 Overall, the NS Novelties Firefly Yoni silicone stroker is made well for what it does. Another green flag? My boyfriend says that he'll continue to use this sleeve consistently! The added sensation far supersedes the minor inconvenience of sneaking across the hallway to wash it. Amid this silicone stroker's textures, longevity, and price, it's a steal.
Just don't leave it out if you're trying to be discreet, especially at night. All eyes will dart to the Firefly Yoni's phosphorescent glow.
A queervertible for my vulva
As a vagina-owner who enjoys gentle clitoral grinding at times, I much appreciate having soft silicone toys to squish against my external bits. I call it a "queervertible," but don't let that portmanteau pigeonhole you. Whatever your gender or orientation, if you enjoy soft stroking, it's for you.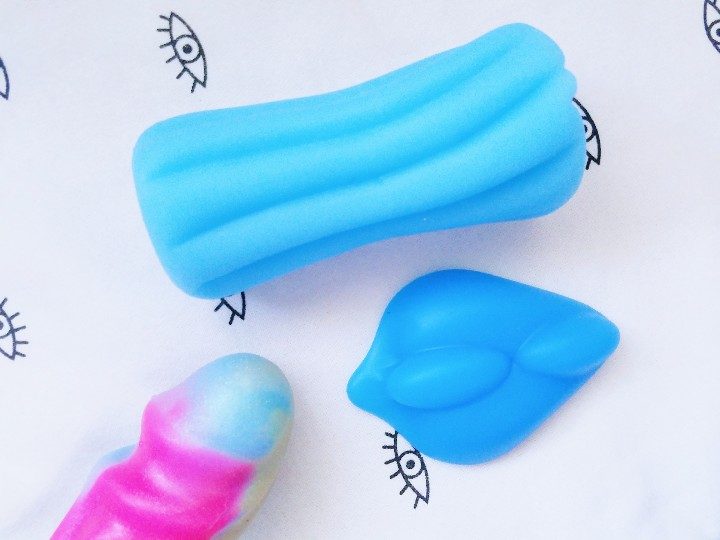 Sex toys don't have a gender, they have a purpose. — Carly S. in Spectrum Journal
Putting a cheap, egg-style sleeve on a wand isn't unheard of, but the NS Firefly Yoni stroker's structures are a whole different kind of luxury for vulva massage. The lips and convexities bump up against my internal clitoris with just the right resistance level in the right places — "labia" against labia. Broader sensations than my fingers and more fleshy (read: less bony) than my palm.
Using this silicone masturbation sleeve against my vulva feels just as good as Pelle Whim to me — love at first grind. The only downside is that the Yoni takes a little more effort to grip and aim, but I can't complain much. Consider the NS Novelties Firefly Yoni if you want to sample Pelle's marshmallow-soft massage without the luxury price tag.
Further readings for more glow-in-the-dark sex toys:
---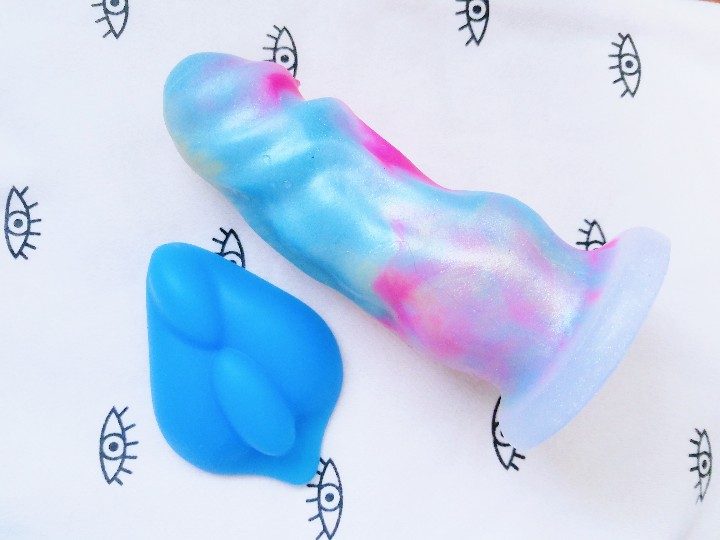 If the Pelle Whim Dune's more centered and direct designs appeal to you, try the Banana Pants b.cush. It's about the firmness of gummy candy, contrasting with the Firefly Yoni's more blubbery consistency.
The glossy side features two bumps: one focused on the clitoral glans and one near the vaginal opening. On the other is a tacky textured side to stick to dildo bases if that's something you want to add to your harness play. All silicone, no adhesive — rinse or wipe with water to re-activate the stickiness!
(Alternatively, Banana Pants also makes the BumpHer, which is similar but instead has a sheath to fit over dildo bases.) I enjoy grinding up against a hard and rumbly bullet during strap-on play, but the Banana Pants BumpHer and b.cush are broader and less harsh in comparison.
At the same time, it's decidedly for those who want a soft vulva grinding toy that gets to the point — slightly yielding but very direct. It's not for users who want full-vulva massage along the clitoral crura, too. For that reason, I find myself using the Pelle Whim and NS Firefly Yoni more often for solo play than the b.cush.
For me, the b.cush is more of a bumping toy, complementing thrusting motions with a strap-on rather than a grinding and rubbing toy. I think the concept is a lot of fun, and it's a nice balance between firm and gentle for acoustic masturbation, but I'm not quite its target audience.
---
What about you?
Do you like pillow-humping and grinding? What toys have you improvised or "queerverted"?