Uberrime Astra Large review: tapered 7″ A-spot dildo
The Uberrime Astra dildo is literally named after the stars — cue pun about space pants and seeing stars.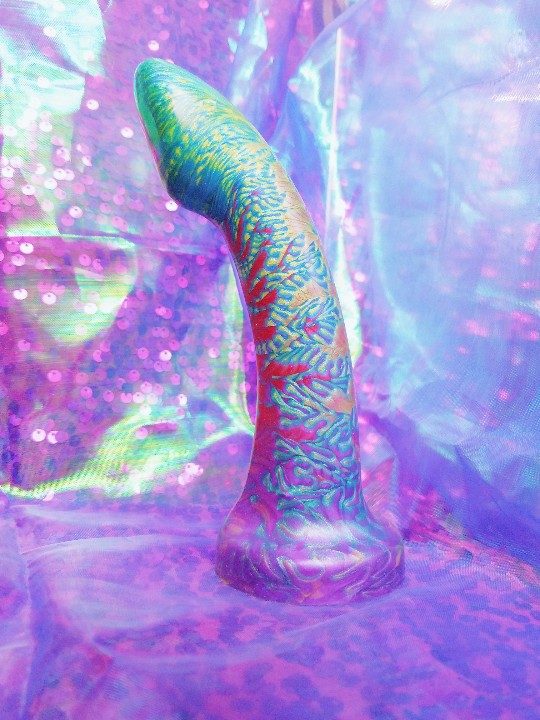 I bought mine for its one-of-a-kind nebulaic color swirls, which embody the word "extra." The palatial pigment mixing catches one's eye on Astra's minimalist silhouette.
No formal frills nor major bumps. Uberrime's Astra keeps it simple with a gentle curve, tapered flat tip, and tiny orientation node atop the flared, harnessable base.
---
Who might enjoy the Uberrime Astra's sleek design?
There are two main groups of people to whom I'd recommend the Uberrime Astra in a heartbeat:
Those who struggle with tension and need a gently sloping tip for comfortable penetration.
Those looking for a toy to begin exploring their deeper erogenous zones.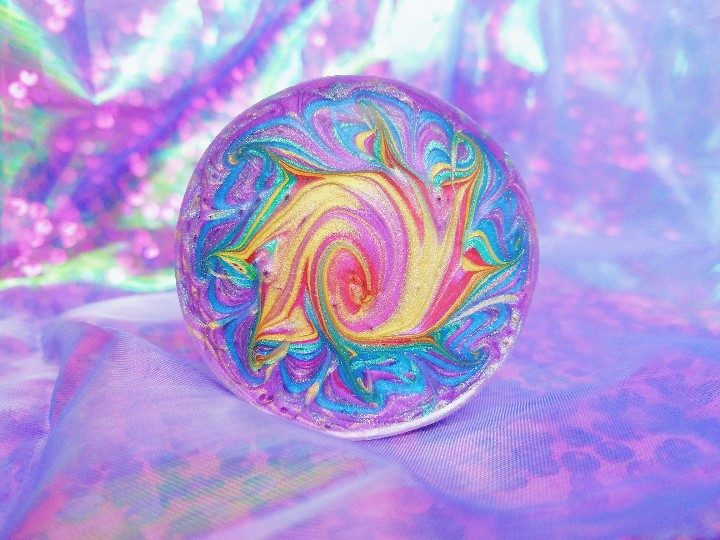 My blog has quite a few posts praising deep penetration and A-spot (anterior fornix erogenous zone) stimulation. However, I've historically hesitated to direct my readers toward any single toy for these hot spots since bodies vary wildly.
Even on my list of best A-spot dildos, there's a huge variety of toys, from the dainty to the bulky and bludgeon-like. Some users need something firm and slender for precise aiming in front of or behind the cervix. Others, like myself, are readily comfortable with depth play and welcome bigger bulbs inside. (Think of the Uberrime Night King or A-Spot Avenger.)
For those who don't even know where to start navigating the cervical fornices, I highly recommend the Uberrime Astra.
---
Why the Uberrime Astra is ideal for cervix & A-spot stimulation
1

Size

Perhaps the most obvious facet of Astra's appeal is its length. After all, an A-spot spelunker has to be able to reach the sensitive areas around the cervix.
The Uberrime Astra comes in three sizes:
Small – 5.75″ insertable length / 1.35″ head diameter / 1.2″ shaft diameter
Medium – 6.5″ insertable length / 1.51″ head diameter / 1.31″ shaft diameter
Large – 7″ insertable length / 1.63″ head diameter / 1.43″ shaft diameter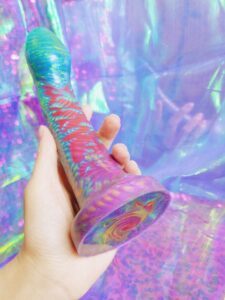 Hypothetically, any of these sizes could massage my deep spots when aimed properly, but I picked the Astra Large. A longer dildo is often an easier-to-direct dildo since you have more of a "handle" to adjust the angling.
That being said, I appreciate that there's a range of diameters to choose from. The small size option can be stimulating but still comfortable for those with, say, vaginismus.
2

Curvature

A slow, shallow curve is ideal in a beginner A-spot dildo. If it's too steep and unyielding, it's harder to insert to the optimal depth and likely better for G-spotting. (I once saw someone on a forum suggesting the njoy Pure Wand for cervix stimulation. AW HAAAAYULLLLL NO!!!!!)

If a dildo is too straight and firm, you may have to put in a little extra effort to evade the cervix's center. If it's straight and bendy… lol, good luck with aiming that.
3

Head shape

The Uberrime Astra's head starts super slim and gradually ramps up, while the flattened side provides a broad surface to knead your cervix or front wall. If you don't know how roomy your cervical fornices are, it's better to start with a thin-tipped dildo. That way, you avoid ramming straight into the sensitive-in-a-bad-way spots.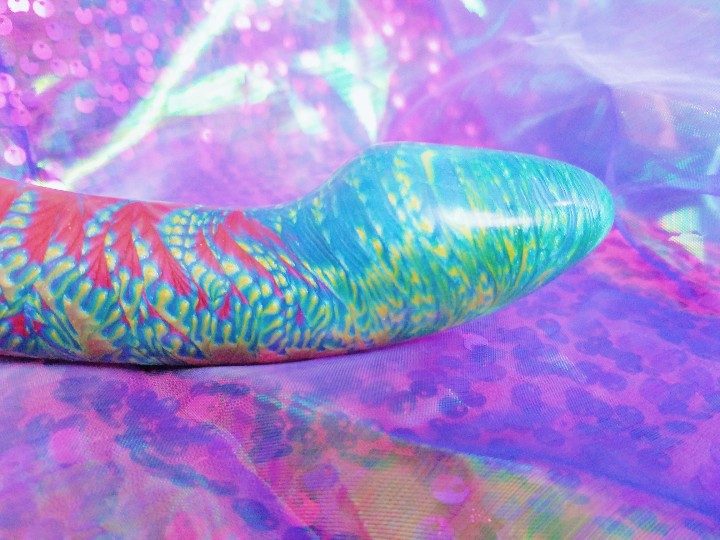 ---
Let me summarize in a sound: HNNNGGGGGG.
Orgasms with the Uberrime Astra Large are effortless for me — both from A-spot stimulation and from caressing the cervix itself. Thrust, thrust, thrust, thrust, come. Clench, come.
It's a long-and-lean dream, only further enhanced by the firm Shore 16 silicone. In other words, the Uberrime Astra is simple, perfect, and only a little yielding. What it lacks in bells-and-whistles, it makes up with a targeted focus on the deepest recesses of my vagina.
Remember when I said that NS Novelties' glass G-spot wand was among the most intense A-spot dildos I had ever tried? Yeah, I still stand by that statement.
Howwwwever…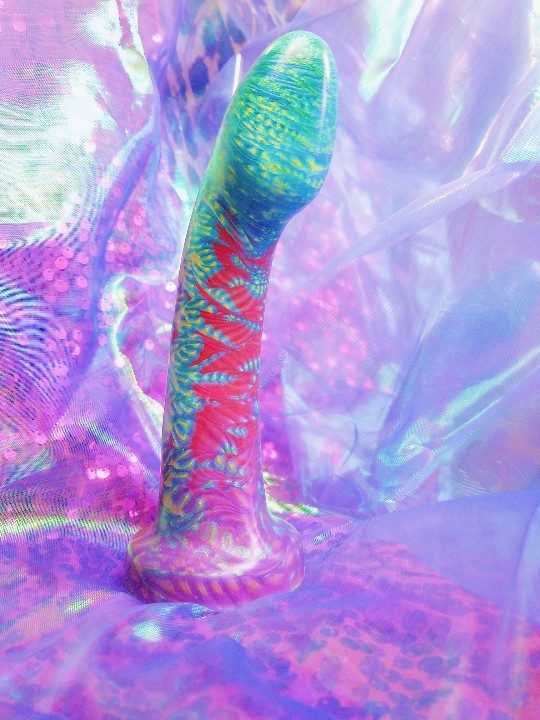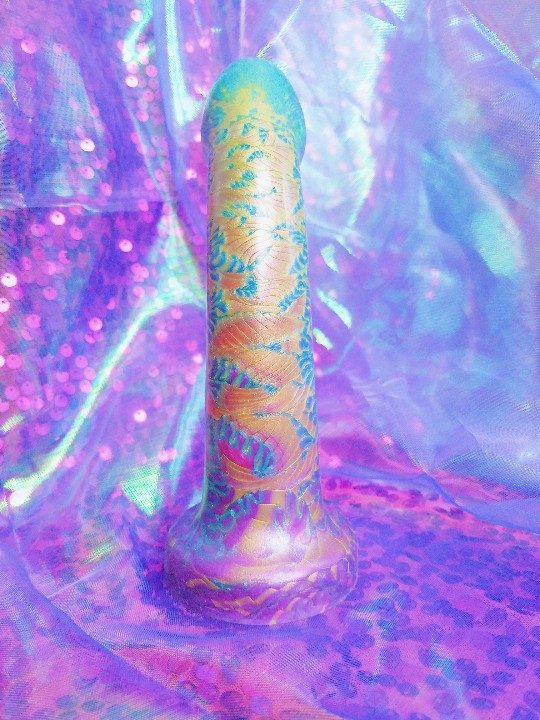 The Uberrime Astra can go in deeper for me, and from there, its slightly-rounded edges take the slightest swivel to push me over the edge.
What's more, I find that the tapered tip and slightly flexible shaft are far more beginner-friendly than going in with a rounded glass dildo.
The only downside is that I find G-spotting with the Astra subtle for my tastes. For shallow stimulation, it's more of a clenching-and-twisting dildo than a thrusting one. For a simple, sleek dildo that's more of a generalist for G-spotting and A-spotting, consider the BS Atelier Max.
However, I wouldn't change a thing about the Uberrime Astra; its specialty is clearly diving deep.
---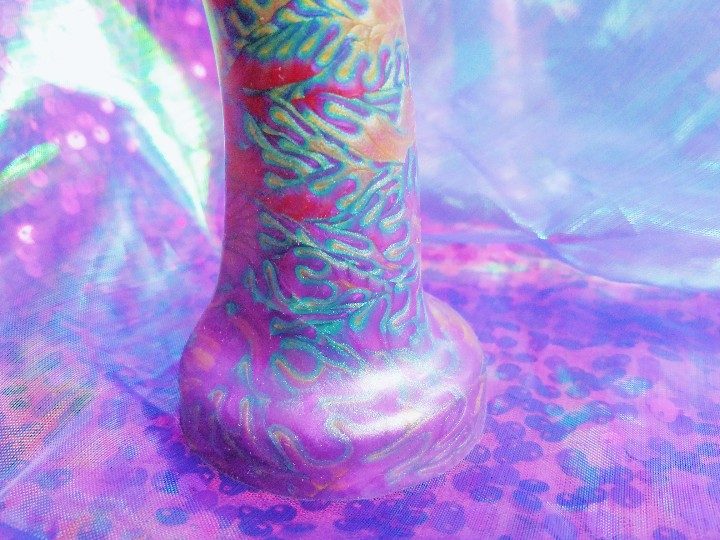 For those who care more about dildo length than girth, I HEAR YOU. Uberrime's signature marbling style makes stunning art pieces, but it's the Astra's shape that makes it a brilliant tool for exploring the cervix and its fornices.
Overwhelmed by all the possibilities for A-spot and cervical orgasms? Don't be — the Uberrime Astra is the place to start.
---
The Astras in stock have simpler color schemes than the one I have but are still a feast for your eyes. And your cervix will still thank ya.