What's the Difference Between Dildos & Vibrators?
How to Pick What Best Suits Your Needs
WRITTEN BY SUPER SMASH CACHE / ILLUSTRATIONS BY SARAH WILLIAMSON
---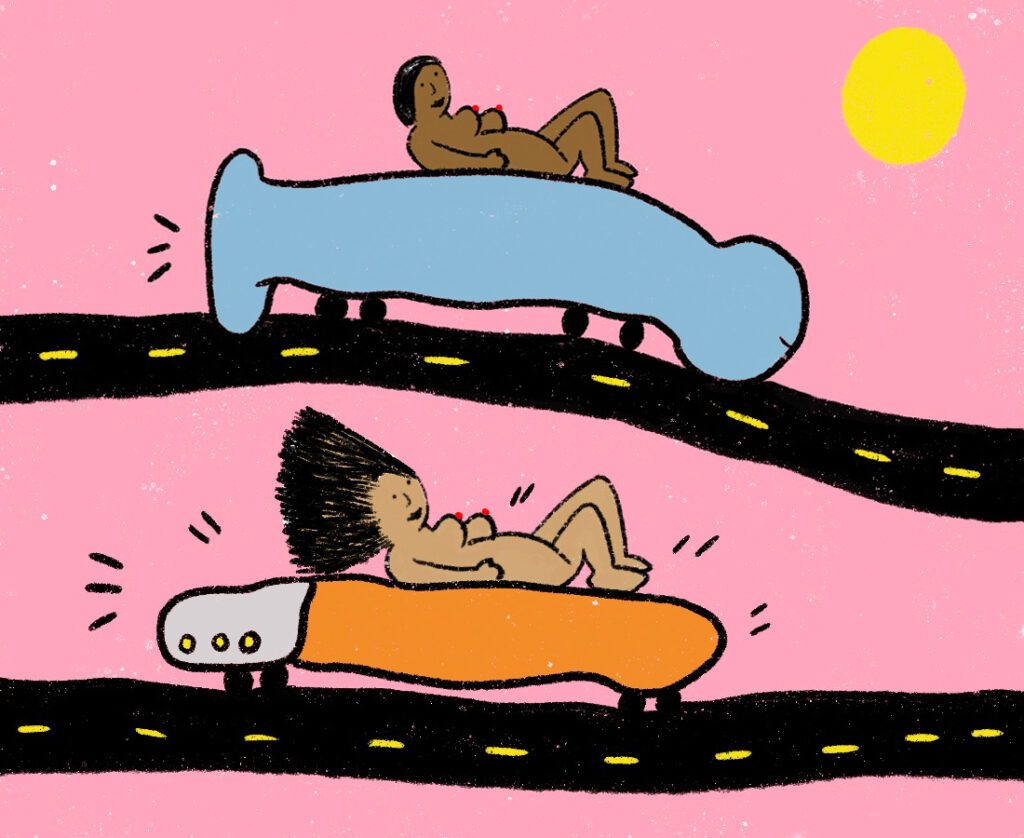 If you're overwhelmed by a pleasure boutique's gadgets and gizmos, you're not alone. Let's start with the two broadest categories of sex toys: dildos and vibrators.
What do dildos and vibrators have in common?
Both categories include tools that stimulate genitals better than hands or a penis alone can. That may mean orgasming more quickly, more intensely, or overall just having an easier time hitting the right spot for you.
However, they fulfill different niches. If you're new to sex toys, read on to learn the critical differences between dildos and vibrators.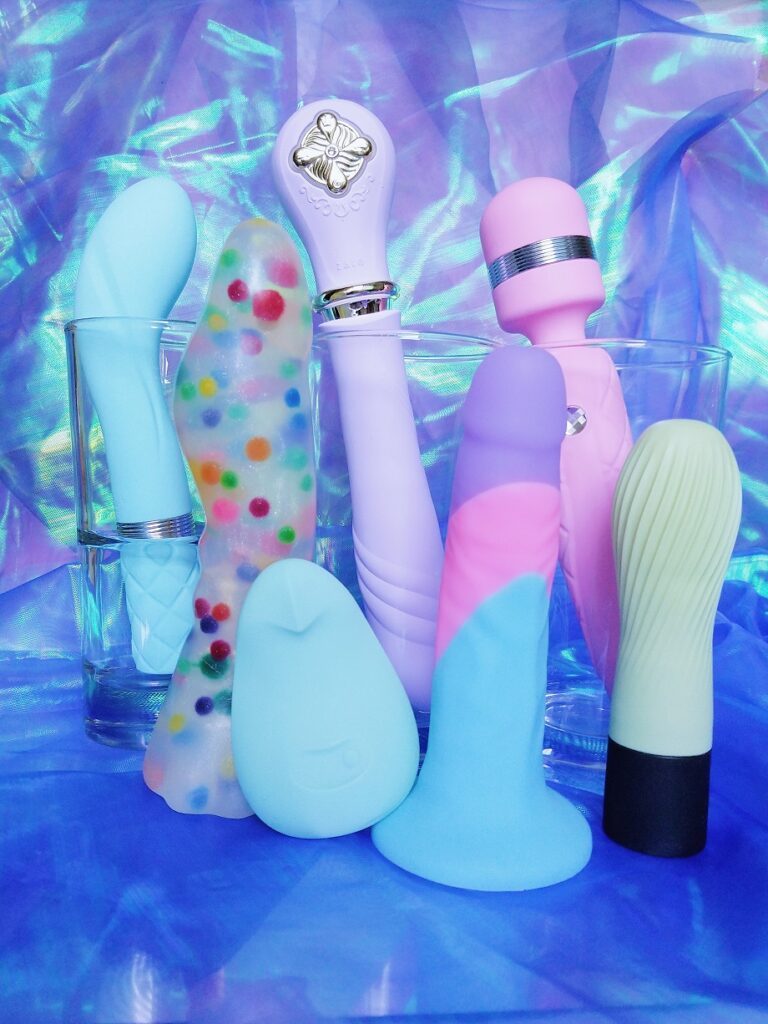 ---
What makes a dildo, a dildo?
Dildos stimulate via internal rhythmic "stretching" and sliding. They're often cylindrical and rounded or tapered at the tip for easy insertion. There's a variety of sizes, shapes, and materials among dildos, based on how much pressure you want and where.
What are dildos for?
Depending on your anatomy and the exact toy you're using, a dildo's movement can massage a variety of internal erogenous zones. Such hot spots include the internal clitoris, urethral sponge (prostate and G-spot), anal sphincter, rectum, cervix, and A-spot.
(Further reading: Le Wand Contour vs. njoy Eleven — a comparison of two delicious stainless steel G-spot/A-spot/cervix massage dildos!)
If you have a vulva with a short clit-vag gap, you may also enjoy bending squishy or textured dildos for indirect external grinding during penetration.
As a general safety precaution, though, if you're using a dildo anally, it should have a flared base or loop to stop the phallus from getting lost inside!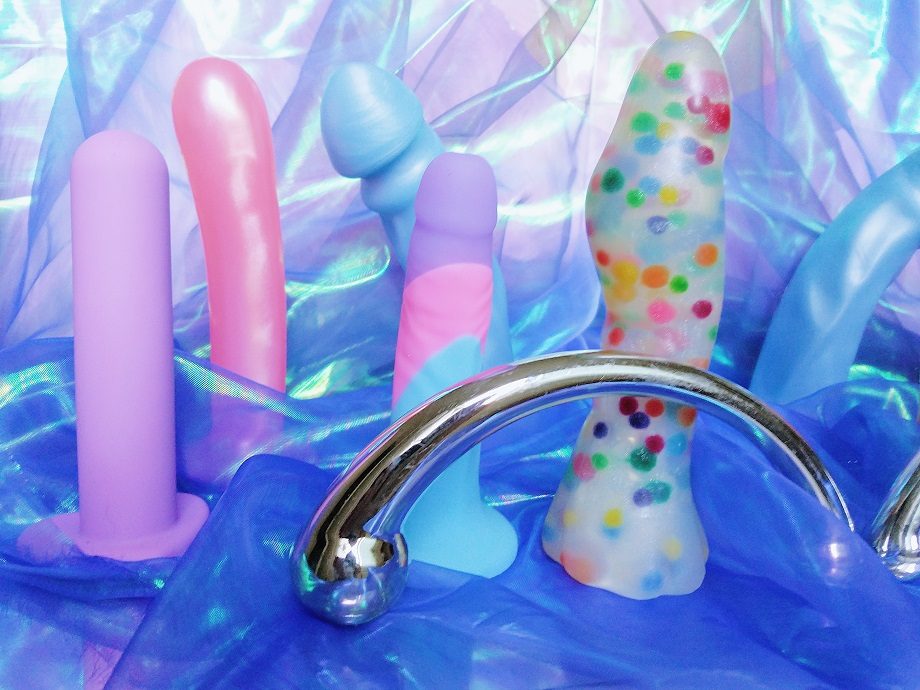 Toy care and cleaning
Dildos generally take less maintenance than vibrators, since you don't have to worry about damaging the machinery. Soap and water are enough for everyday cleaning, but you may want to disinfect sometimes.
If your dildos are made of body-safe materials (as all the ones at Spectrum Boutique are) and aren't motorized, you have a few cleaning options:
Submerge and boil for 5 minutes.
Let sit in a 10% bleach and 90% water solution, then rinse thoroughly and wash with soap and water.
Use a dishwasher that can sanitize (just avoid dish soap)
Another thing to note about dildos
If you can't orgasm via penetration alone, that's normal! The exact numbers vary, depending on the sources you consult, but anywhere between 55–85% of people with vulvas need external stimulation. Consider pairing a dildo with stroking or a vibrator outside!
---
What makes a vibrator, a vibrator?
A key difference between dildos and vibrators is that vibrators — well, they vibrate. They have built-in motors for pleasurable massaging, via small, quick movements. They have hard plastic shells and handles to encase the machinery, though some hide that under a cushy layer of silicone.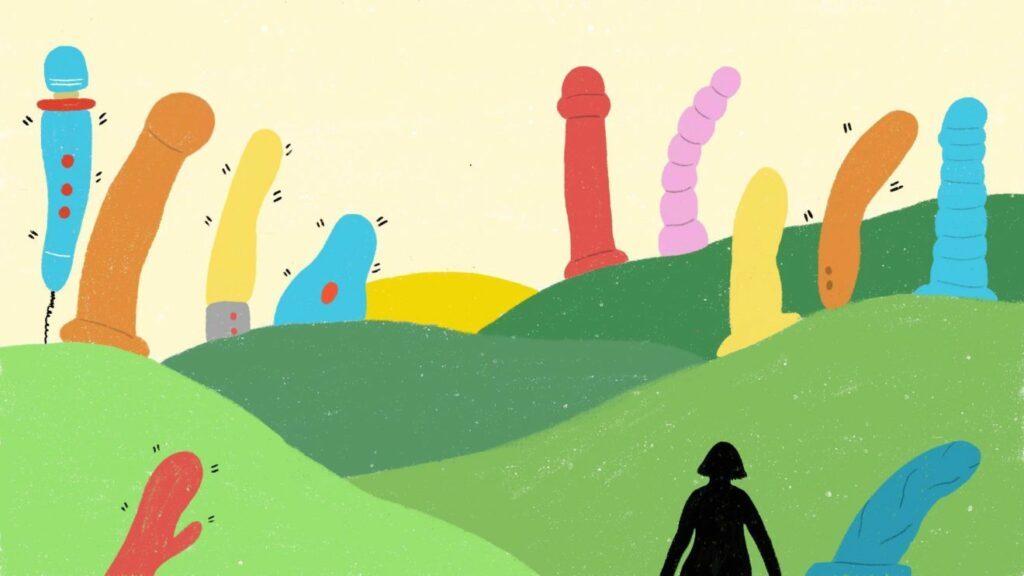 What a cornucopia!
There is a striking range of sizes among vibrators, from a needle-like point to wands for broad areas. Choose a vibrator based on how much power you'd like and how much you want to focus the sensation. The motors also vary, with some carrying more weight and momentum in their movement (rumbly), and others feeling more surface-level (buzzy).
Unlike dildos, vibrators often focus on external stimulation. There are plenty of insertable and dual-stimulation vibrators out there, though. More on that later.
Cleaning and care of vibrators
Because vibrators have delicate internal components, you'll want to handle them with extra care.
Don't submerge vibrators that aren't waterproof, and don't ever boil a vibrator. Instead, use a 10% bleach solution if your toy is non-porous (for example, if it's covered in silicone).
If it's porous (TPE or TPR), it can't fully be sanitized. Keep such toys to yourself or consider covering them with a condom or, where possible, a silicone cap.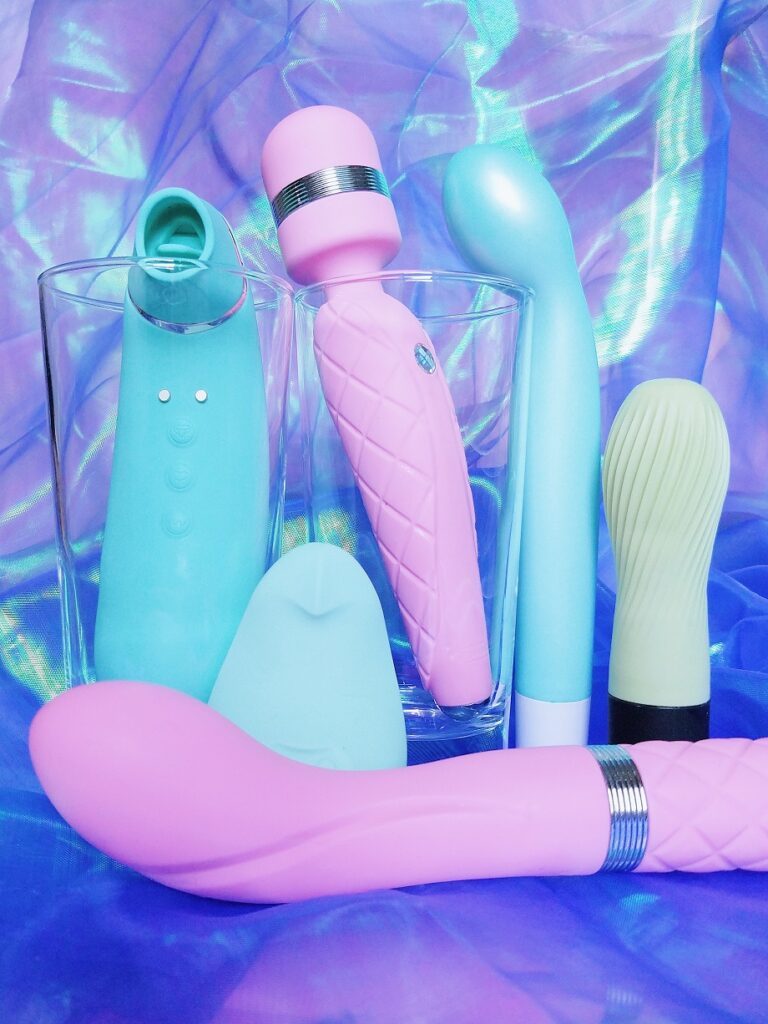 Vibrator power isn't everything: other factors to consider
If you find the right type of power for you, high intensity isn't necessary!
Versatility is key when finding out what kind of vibrator works for you. For clitoral vibrators, consider one that has a round or flat face and a pointy tip, like the We-Vibe Touch, Mini Marvels Marvelous Flicker, and Clandestine Mimic+.
You may find that you like rumbly and low-speed vibrators, or that weak vibrations can still work for you as long as the tip is pointy enough. For an affordable but rumbly bullet vibrator, consider the BMS Mini Swan Rose.
If you tend to be sensitive after orgasm, consider a vibrator with many speed options and buttons for increasing and decreasing intensity, like the Fun Factory Volta.
Also, large and rumbly wand vibrators can feel great against a clitoris and a penis. The Magic Wand Plus and Doxy Die Cast can be fun ways to explore vibration on different sets of genitals.
What about internal vibrators?
Some vibrators can be used as dildos, as well! Fantastic insertable vibrators include the double-ended BMS Swan Wand Classic. Also, consider the Pillow Talk Sassy for G-spotting and the Blush Nude Impressions line in general for internal vibrations.
---
Gray areas when discerning the difference between a dildo and a vibrator
There are some in-betweens where the differences between dildos and vibrators aren't super clear. Here are a few of them.
Linear pulsators
Fun Factory's pulsators have magnetic motors inside that shuttle the whole unit back-and-forth. Like dildos, they focus on stroking the internal clitoris. Since vibrators tend to have smaller, faster movements with rotary motors, many sex shops consider pulsators to be their own category.
(Further reading: Stronic Surf pulsator review.)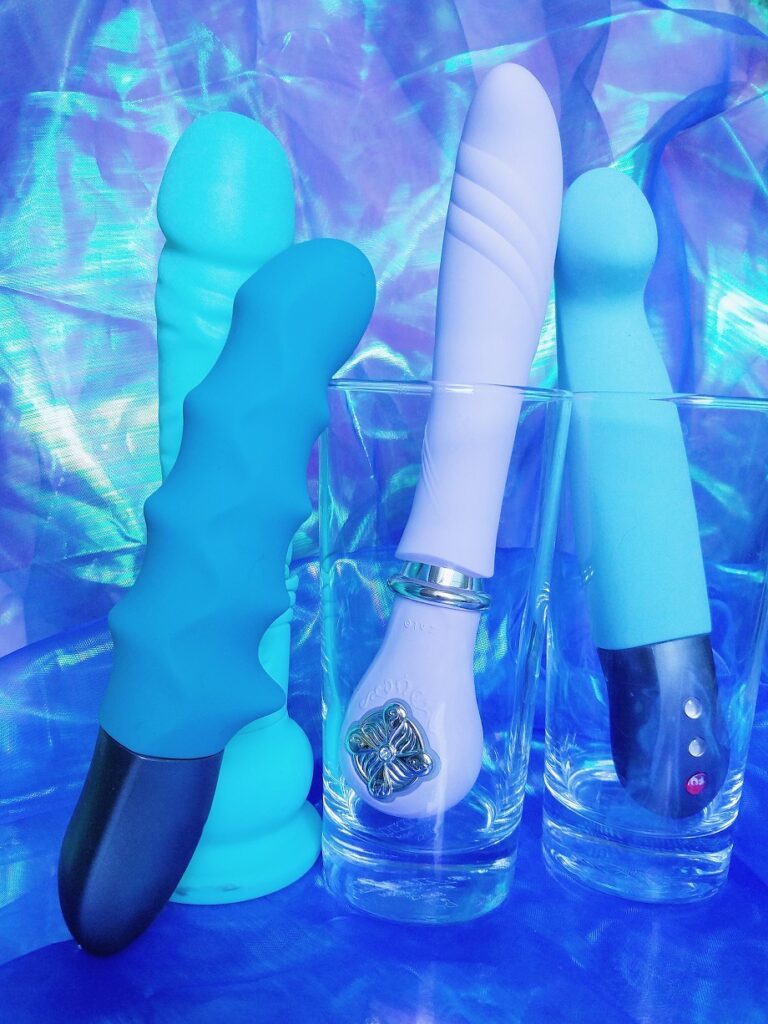 Vibrating dildos
Vibrating dildos are also in the middle of the spectrum between dildos and insertable vibrators. It's like telling the difference between yellow-green and green-yellow: maybe not the most useful discussion since people's interpretations vary!
If the focus is on the feeling of the plush and thick silicone, and the vibrations are just the icing on top, sex toy critics would generally agree that you're looking at a vibrating dildo. If there's a noticeable hard shell around the motor or the vibrations are a vital feature, you have a vibrator.
Rabbit-style vibrators
Dual stimulators combine elements of both dildos and external vibrators! They massage two erogenous zones at the same time, which sound delicious on paper! In practice, rabbit vibrators are highly anatomy-specific.
As such, you may want to try a flexible and adjustable dual stimulator, like the We-Vibe Nova. If the distance between your clitoris and vagina is close to the average (about 1 inch), you have a lot of options. Consider a self-thrusting rabbit like the Lush Iris.
---
There's plenty to love about both dildos and vibrators!
Neither category is better than the other — it comes down to what fits your body's wants and needs. Depending on your mood, you might enjoy either one or both simultaneously, and over time, your interests may shift.
Ultimately, though, learning the difference between a dildo and vibrator's purpose is the first step to picking the right sex toy for you!
Read other sex-positive articles at Spectrum Journal
I originally wrote this article, "What's the Difference Between Dildos & Vibrators?" for Spectrum Journal. Find other fantastic writers or browse my channel there.