Pipedream Icicles No. 39 & 87 glass dildo review
Glass dildos make eye-catching display pieces. It's hard not to drool over the Pipedream Icicles No. 39 and 87's light-reflecting, obsidian undulations.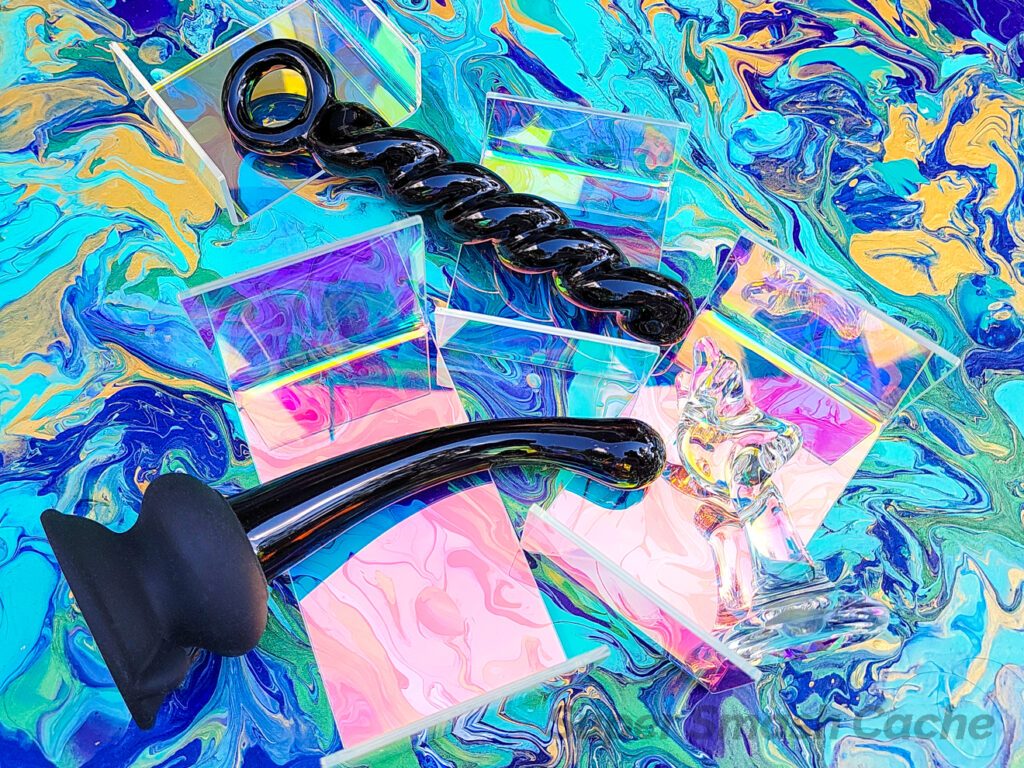 These two glass dildos offer very different profiles and experiences. While the Icicles 87 is great for a quick POW-POW-POW, the Icicles 39 is a slow burner.
It goes to show how incredibly underrated and versatile glass dildos are. They can give you intense pressure (if that's what you want) or a gentle build-up. Other perks of glass sex toys include:
Super slick and minimal friction if you add lube
They warm up or cool down easily for temperature play!
Body-safe and easy to clean — boilable and dishwasher-safe
Lots of affordable options!
Pipedream Products' Icicles line can undoubtedly add some luxury to your toy box for under $50.
Let's go into what makes the Icicles 87 and 39 so unique.
---
---
Pipedream Icicles No. 87 glass G-spot dildo with suction cup
What is the Pipedream Icicles No. 87?
Consider the Pipedream Icicles No. 87 glass dildo the "njoy Pure Wand lite."
It's fantastic at what it's designed to do: deliver a potent and explosive quickie.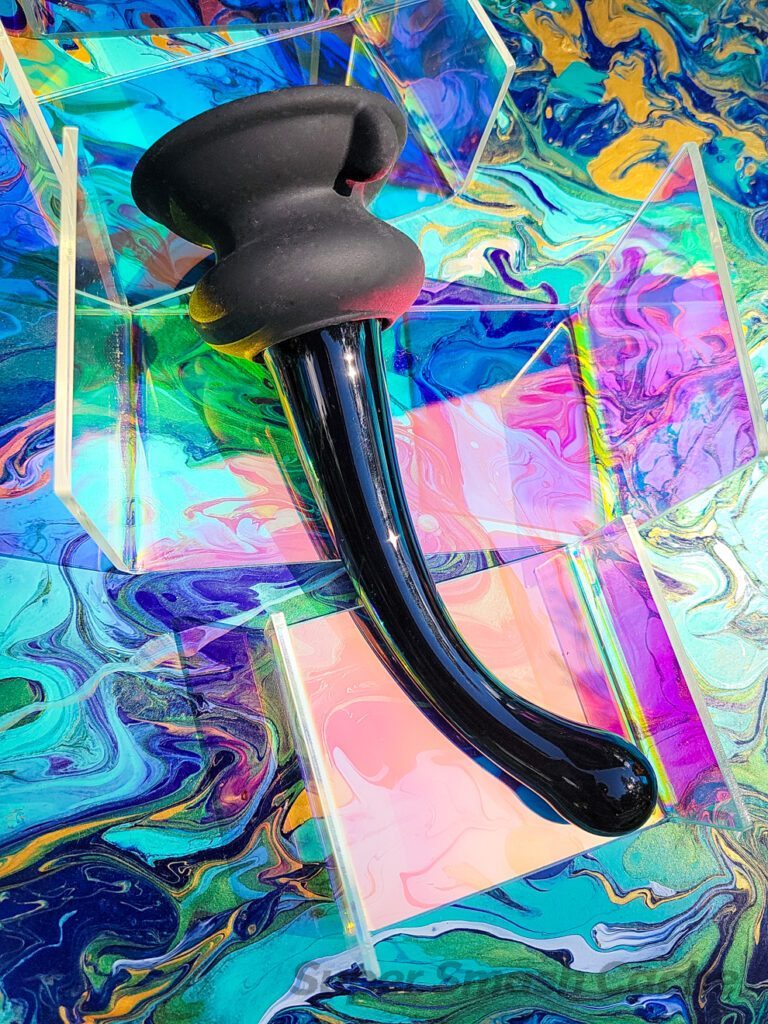 It's a fucking missile for your G-spot or prostate, giving you focused, almost overwhelming pressure. If you want one of the boldest and best G-spot dildos under $50, a curved glass dildo like the Icicles No. 87 is the way to go.
Its sleek silhouette features a pronounced curve and slightly bulbous tip — not quite a dramatic C-shape, but formidable for G-spotting. As a bonus, the angle is juuust right for deeper penetration along the A-spot.
The Pipedream Icicles No. 87 also comes with a removable silicone suction cup, which:
Gives you more positions for hands-free positioning
Makes it easier to grip (glass toys can get really slippery!)
Has an orientation nub to help you discern which direction the tip is facing
And, thanks to the flared base, the Pipedream Icicles No. 87 is anal-safe and harnessable!
How does it feel in use?
This intense dildo is practically a one-and-done deal for me. Once I get one or two orgasms in, it's too much for me; I could probably squirt with it if I were comfortable letting go.
(For A-spotting, the NS Firefly glass G-spot wand is more intense, but the Icicles No. 87 is far more versatile.)
And with the suction cup? Hoooooh boi. It's only a little flexible, meaning there's hardly any compromise to the glass's intensity.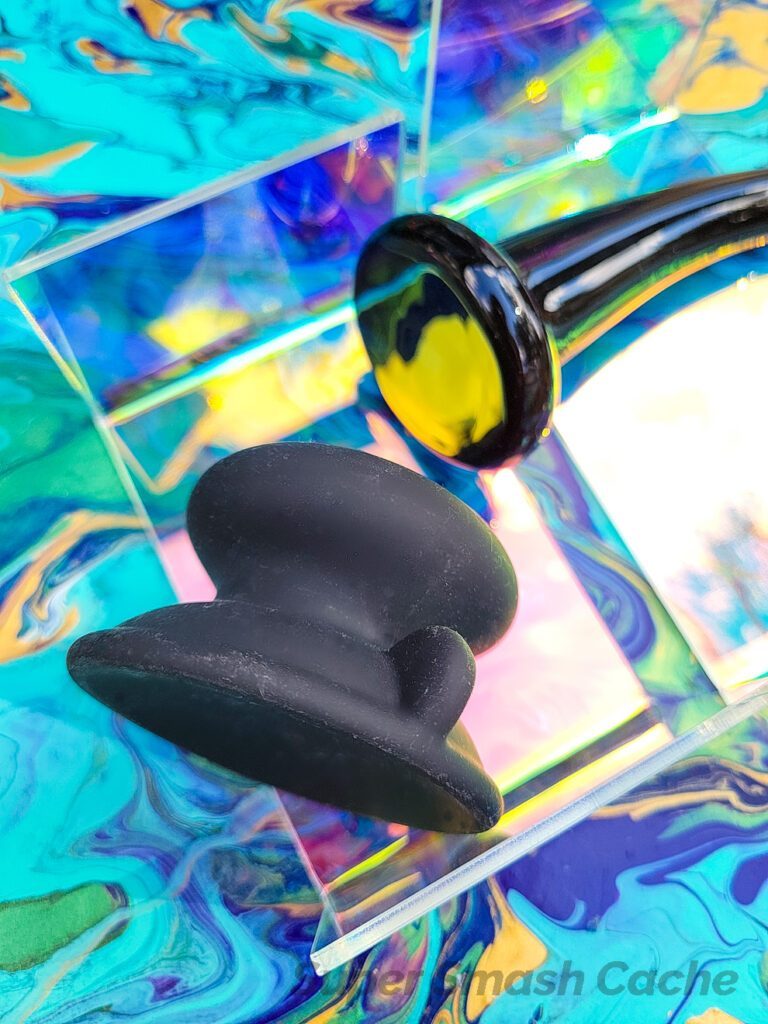 Once I get it at the right wall height, I can come via constant pressure. No thrusting or hip bucking is required. That can boost the sensation, but it sure as fuck isn't necessary for me!
I recommend detaching it from the wall before pulling it out, though. And tilt the handle toward your ventral/belly button side. Otherwise, the steep curvature could potentially hook and snag onto your pubic bone upon exit.
Pipedream Icicles No. 87 measurements
This dildo has a swelling tip, narrow neck, and flares back out towards the bottom of the shaft and base. It's a lot like the njoy Pure Wand's small end.
6" total length
5.5" insertable length
1" maximum diameter bulb
0.6" minimum diameter neck
1.25" maximum diameter at the bottom of the shaft
2" base diameter
---
Pipedream Icicles No. 39 spiral twist glass dildo review
What is the Pipedream Icicles No. 39?
If you love generously G-spotty texture, you're in luck. The Icicles No. 39 is a screwy twisting dildo with spirals that start relatively small and gradually swell towards the bottom. It has a ring loop at the base, also making it anal-safe.
Superficially, the most comparable dildo in my collection is the Crystal Delights Crystal Twist. In use, though, they're pretty different!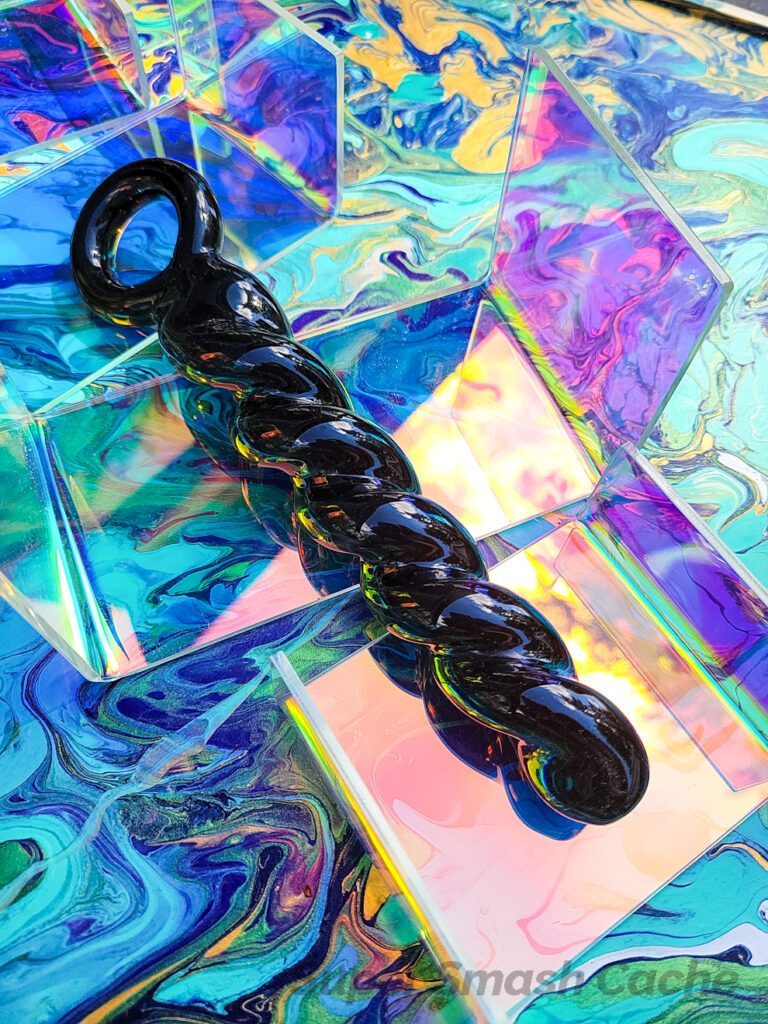 Also noteworthy: While the Pipedream Icicles No. 87 is ideal for explosive quickies, the Icicles No. 39 is more for building back-to-back orgasms over a more extended session.
It takes some effort to find the optimal leverage and alignment, but once the ball's rolling, I can go for another orgasm and another and another.
In the words of the rainbow sponge lady, "That was one night I did not sleep. It is SO. HARD. TO STOP."
Erogenous zones the Pipedream Icicles No. 39 stimulates
The Pipedream Icicles No. 39 is best for moderate G-spotting with linear jiggling in place. If it's the twisting sensation you crave, though, I want your expectations to be realistic.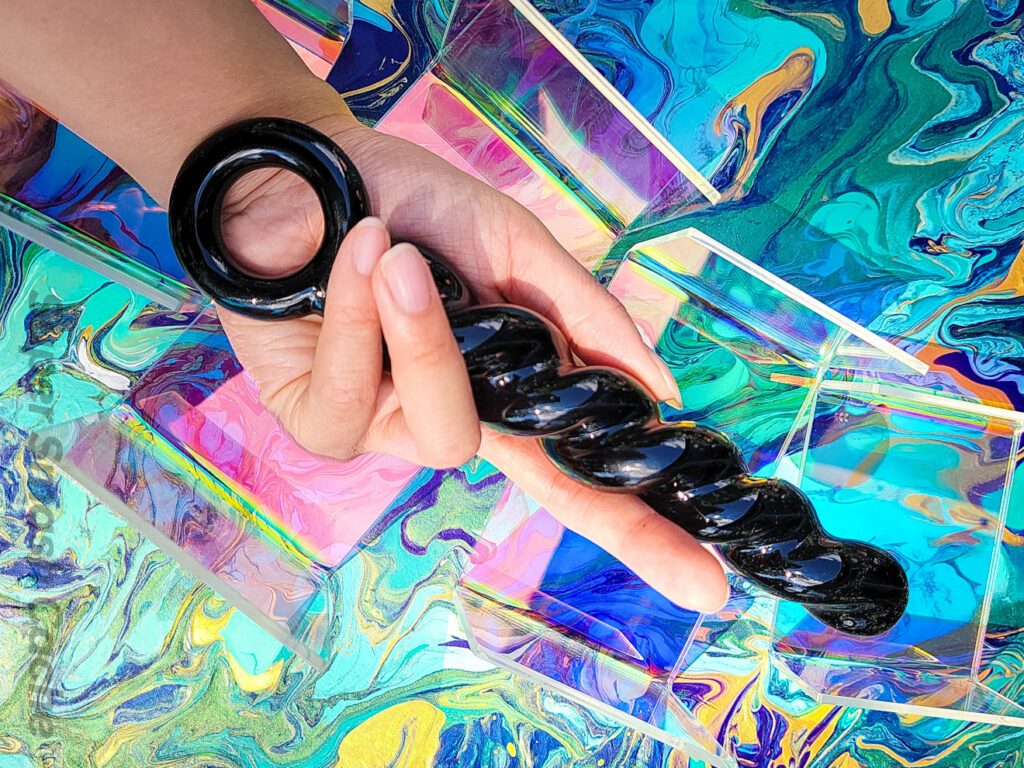 Since there's not much contrast between the core and edges at the tip, I find that I have to insert the Pipedream Icicles No. 39 all the way before the helical contours do anything for me. From there, I twist it in short motions back-and-forth.
Cue gasps and clenches and shaking.
The sensation feels distinctly clitoral, mostly on my left side and on a diagonal. The G-spot isn't its own biological structure but rather an area where you can easily stimulate the internal clitoris and urethral sponge for your gratification.
With the Pipedream Icicles No. 39, it really feels like you're stroking the clitoris from the inside.
It's the wrong shape for deep penetration for me, though. There's no aim or direction, feeling rather bland and tepid at the tip. If you have a shallow cervix or are of size royalty, consider the Icicles No. 39 a bumpy but mild thrusting dildo, rather than anything specialized.
Icicles No. 39 vs. Crystal Delights Crystal Twist?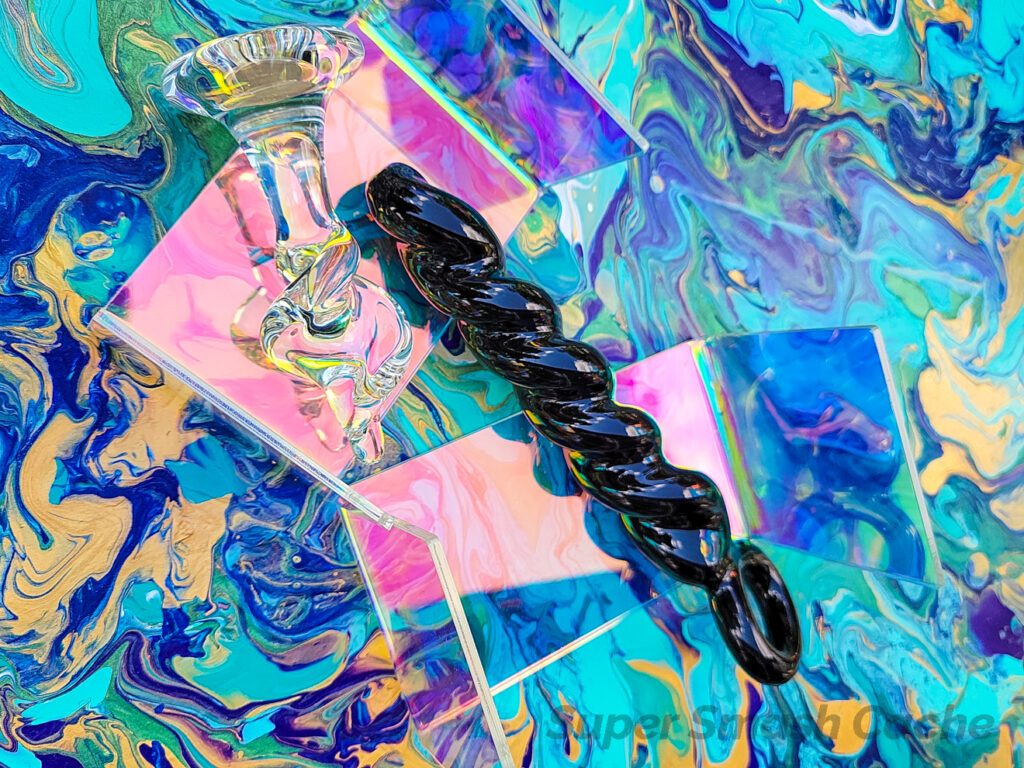 I thought that the Icicles No. 39 glass dildo would be an affordable dupe of the Crystal Twist, but I was wrong. They're not even close; the Icicles 39 pales in comparison (at least, for vaginal use).
When it comes to sensation, the Crystal Twist ramps up more girth, more quickly (1.6" vs. 1.25"). It shouts its intentions with its chest. I can come by squeezing around it. The Icicles No. 39's gentler build may be fun for users who need daintier diameters or want to use it anally, though. Your mileage will vary.
As for safety considerations, Crystal Delights uses sturdier glass than Pipedream's Icicles line does. And that's a big reason why some glass toymakers have higher prices than others. 1 The Icicles No. 39's thin loop handle is what we're concerned about breaking when thrusting hard or applying pressure. Proceed with care.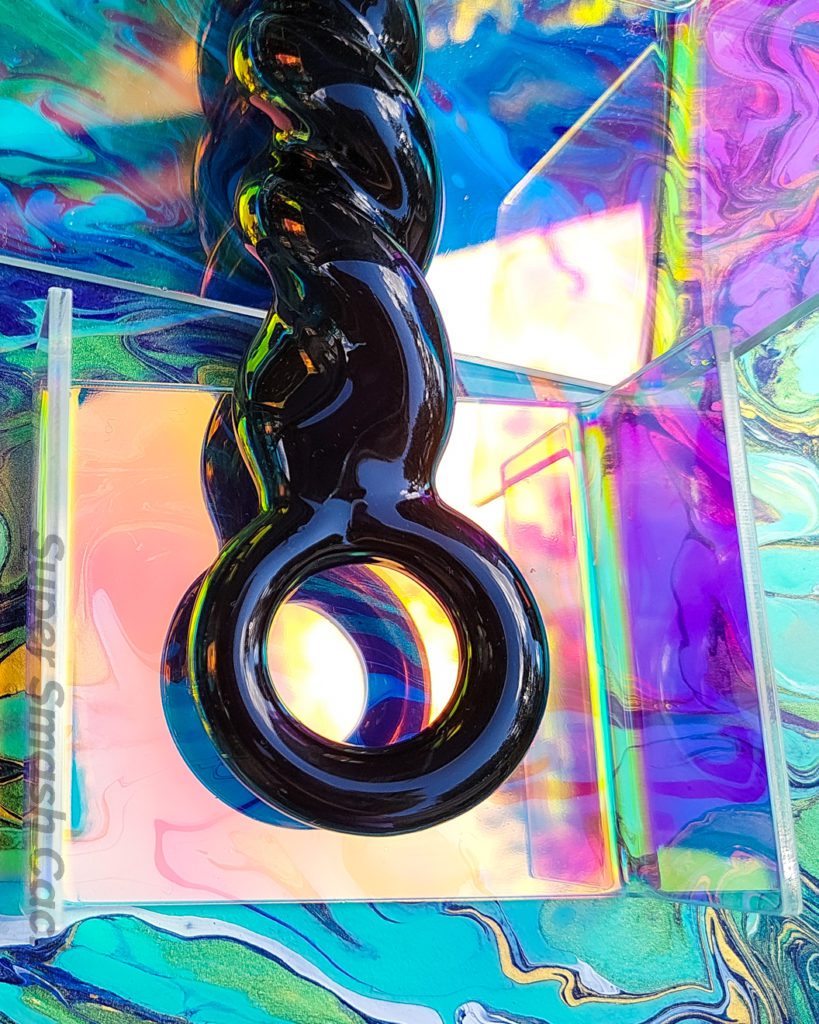 In the meantime, I'm going to wear the miniature plug version of the Crystal Delights Crystal Twist in my vagina and Kegel nonstop. I don't give a fuck; I'll have it inside me while out in public. That's how great it is.
Pipedream Icicles No. 39 measurements
6" insertable length
8" total length
0.5" minimum tip diameter
1.25" maximum shaft diameter
1.85" ring OD
0.4" ring thickness
Shop the Pipedream Icicles No. 39 at Sassy Box.
---
This post was sponsored. Opinions expressed here are in my own words.