Tantus Tsunami review: ridged dildo with bullet cavity
I've lately been spoiled with one fantastic sex toy after another. It's not fun to write about toys I mildly dislike1 or am lukewarm about, but the Tantus Tsunami is a total grand slam. I'm in love.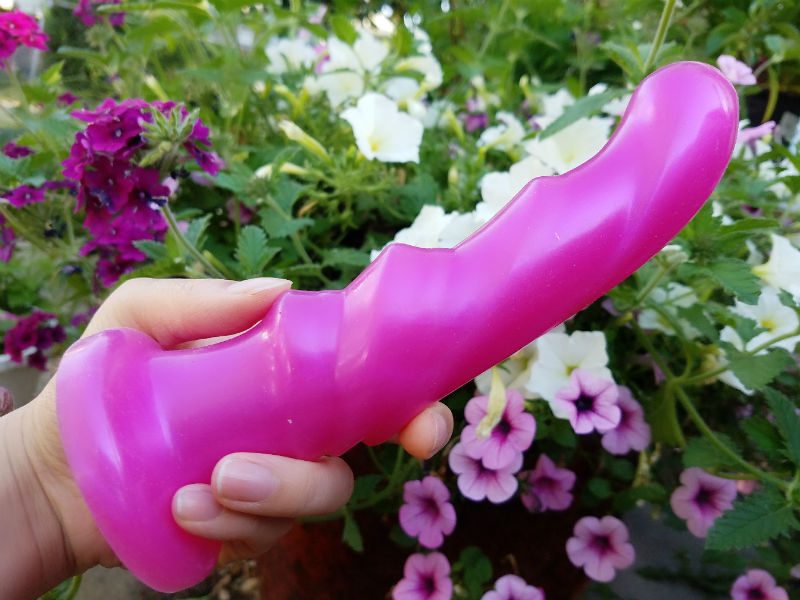 After a rocky (but improving) relationship with textured toys, the Tsunami has helped me level up. The beautiful Bound's surface grit was downright vaginal rugburn. The Tantus Echo's small, closely-spaced ridges? I found them overwhelming and irritating when cast in the original silicone firmness. And I wrote a glowing review of the Splash, but it still took me 3 years to convince myself to try another firm, textured Tantus toy.
Aquatic names aside, there's a critical commonality between the Tantus Tsunami and Splash: the textures are much more strategic. The Tsunami's structure has fewer, bigger bumps than the textured toys I didn't like. Their combination of intensity, depth, and spacing allow me to discern the qualities of each wave. My entire front wall sings in harmony; there's nothing left to add or take away.
The Tantus Tsunami's shape
As with all Tantus toys, the Tsunami is anal-safe and made of non-porous, medical-grade silicone. Its silicone is glossy and slightly flexible. The 1.25-inch-wide tip gently curves— perfect for A-spot stimulation but not quite pronounced enough for stimulating my G-spot. The waves, however, get more intense as you move down the shaft.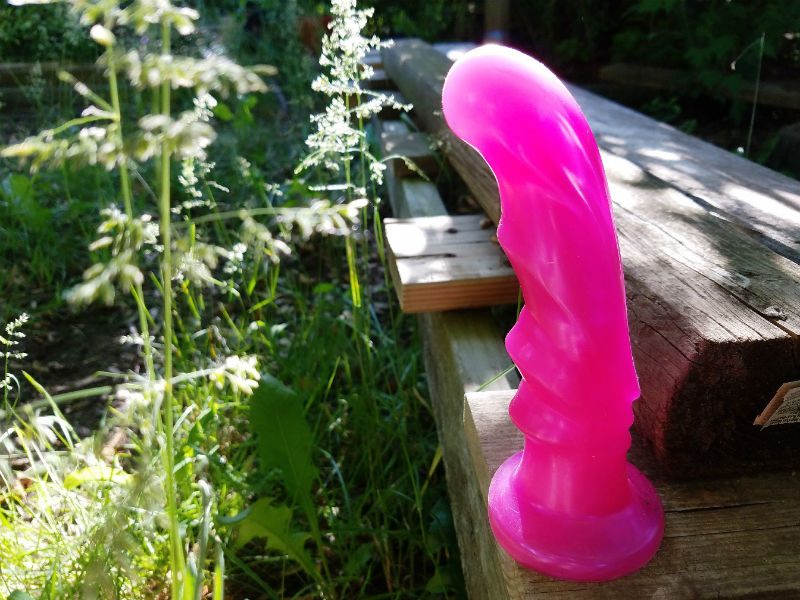 My G-spot appreciates the second bump especially. It's genuinely well-placed and raised just enough to indirectly grab my G-spot. I say indirectly because my pubic bone is pronounced, so the wave doesn't hook or dig into the sensitive area just past it. Nevertheless, it hones in on the shallowest inch and a half vagina, simultaneously with the curved tip against my A-spot.
If I'm not already aroused, the much milder first ridge is still plenty to catch my attention. Its subtlety reminds me of the Tantus Goddess, but just a little pointier. The third and last wave is merely "whatever" to me. While I can take the third wave, there isn't much room to thrust it and stimulate myself with it in any meaningful way. I have taken longer toys, but the Tsunami is very firm and has far less give at the tip.
The Tsunami's tip mostly curves the away from my cervix, which works beautifully for my A-spot. Sometimes I can aim it to get a little (good) pressure on my cervix from in front. However, it's certainly not a toy for pressing behind my cervix. I think the difference is that the fornix/pocket behind my cervix is a little bigger than the one in front. Thus, it's harder to aim precisely.
Another simultaneous G-spot and A-spot dildo
Blush Novelties' Avant D3 and D4 can stimulate the same erogenous zones as the Tantus Tsunami, but in a totally different way. The D4's design heavily relies on its girth and firmness to emphasize ridge and rounded bumps. Tantus's Tsunami is thinner, sharper, more defined. I like both, but these features, combined with the glossy finish, make the Tsunami more comfortable for everyday use.
Does the bullet cavity make a difference?
If you like a combination of deep, A-spotty penetration, and vibrations against your G-spot, then you already know the answer: Fuck yeah, it does!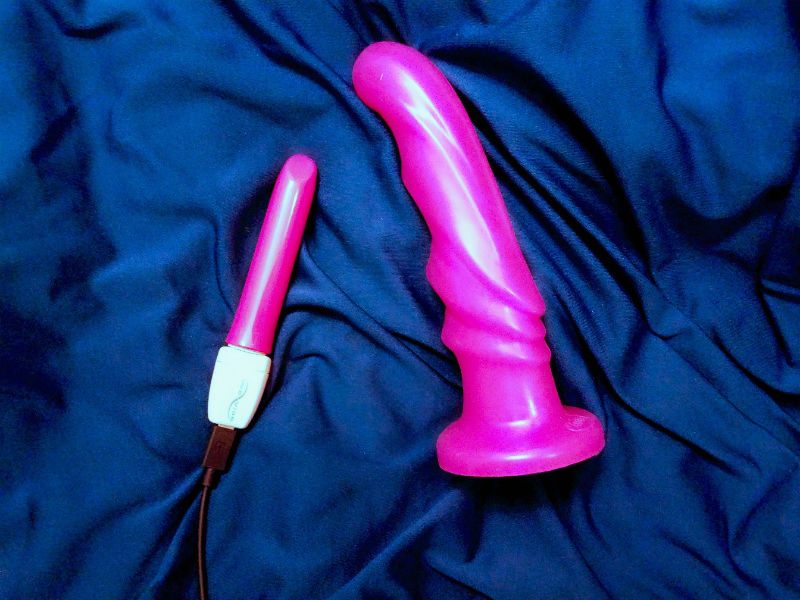 The key is that I swapped the included 3-speed bullet for a We-Vibe Tango. While the generic watch battery bullet's tip is delightfully pointy, I find that the shallow, buzzy vibrations mostly get lost in the silicone. The Tango's deeper, rumblier quality transfers much better.
Of course, the vibrations are concentrated just under the second ridge, where the tip of the Tango rests. If you use only the top half, you'll get some vibration out of it (enough to get me off clitorally with the tip).
But feeling the second ridge rattling really takes advantage of the Tsunami best features. I get A-spot pressure, G-spot texture, and G-spot vibration at the same time. Plus, adding the vibration helps me relax against the waves and get more comfortable quickly.
Make sure to lube up the cavity!
The bullet cavity is very grippy. Lube it up beforehand and have a wide rubber band to wrap around your bullet so you can grip to remove it. Don't be like me. I struggled with removing the Tango mid-fap because I wanted to use it on my clit.
It makes me think of getting multiple Tangos. Not everyone likes G-spot vibration, but I think having two Tangos for dual stimulation would be the bomb.
So which ridged Tantus toy is right for you?
It might look overwhelming, but I think the Tantus Tsunami is an excellent toy for getting to know your anatomy. For one, the curve makes it easy to explore the A-spot without irritating the cervix. Also, if you can take 6 inches, the variety of waves can help you decide just how much texture you like.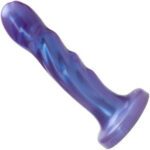 Want more of the subtle waves? Try a Tantus Goddess or Goddess Handle. The OG Goddess has a bullet cavity, while the Goddess Handle has a handle (of course) and doesn't vibrate. A Charmer could also be a good fit.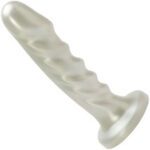 If you want more pronounced waves spaced closer together, try one of the Echoes. There's the OG Echo, the Echo Super Soft, and the Echo Handle. While some agree with me about the OG Echo being too intense, plenty disagree.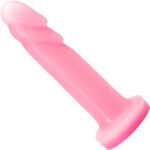 The Flurry O2 has two even more closely spaced ridges near the tip, and with more give; the outer layer is made of Tantus's Super Soft silicone.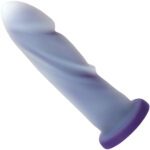 If you want something chunkier (1.8″ wide) with just one subtle ridge just at the vaginal (or anal) entrance, try a Cush O2. Its girth and squishy tip are perfect for someone getting comfortable with big toys.
But if you want a moderately girthy toy that's A-spotty and mildly G-spotty at the same time, the Tsunami might be the thing you're looking for.
Where to get the best deals on Tantus sex toys
You may have noticed that I linked to all my favorite sex shops in this review (including the Tantus's store). That's because each shop has a slightly different advantage when it comes to buying Tantus sex toys.
Let's start with the most obvious: the manufacturer's online shop has aaaallllll of their products in one place, including limited edition designs and colors. Up front, buying directly from Tantus might seem more costly. However, their website has a different big sale every month. By "big," I'm talking about 25-50% off. So that's worth keeping an eye on.

SheVibe, Spectrum, and Peepshow Toys' regular prices on Tantus toys are usually lower and about the same as each other. However, you can use coupon code SUPERSMASH10 at Spectrum or SUPERSMASHCACHE at Peepshow Toys for 10% off your whole order, putting them at a slight edge. Spectrum is also the only shop of the three that currently stocks the Tsunami.
What makes SheVibe stand out is their selection of other Tantus products. If you're looking to buy multiple Tantus toys and there isn't a sale at the manufacturer's shop, SheVibe is your best bet.
What about just comparing prices on Amazon?
Don't do it. Buying sex toys from Amazon is a gamble because counterfeiting is rampant. When it comes to intimate products, it's not the time to be skimping on quality assurance. Also, I checked on Amazon. You probably wouldn't even get a good deal on the Tsunami there anyway.
Buying sex toys through my links is a win-win: I get commission at no extra cost to you, and you save a little money while still buying from a reputable retailer.
Footnotes
Toys I hate are another story.