16 Sex Toy Hacks & Conversions Anyone Can Do!
Sex toys can be so much more than phallic dildos inside and mini-vibes outside! Here are 16 tips for converting or improving your toy box favorites. Mix it up and try something new today!
---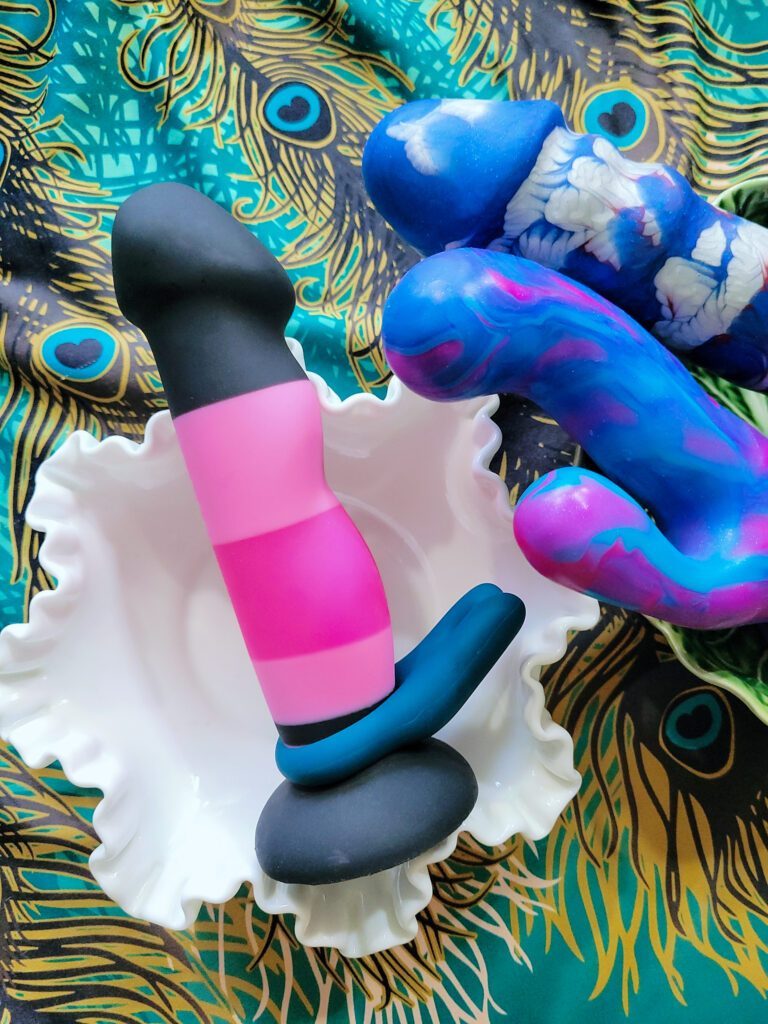 Dual Stimulation Sex Toy Tips
Add a vibrating cock ring to a dildo of your choice to make a custom "rabbit"-style vibrator:
Rabbit vibrators have to align with the user's clit-vag gap to fulfill the promise of simultaneous, one-handed external vibration and internal massage. Every body is different, and just because one dual stimulator fits me doesn't mean it will work for you.
If you put a vibrating cock ring on a dildo, you have more control over factors like:
The shape and size of the external massager
Penetration depth and G-spotter targeting
How strong you want the vibrations to be
Not sure where to start? Consider the following cock rings
For rumbly internal vibrations, check out the Blush Impressions line.
Incorporate external clitoral stimulation by grinding on a long, squishy dildo's textures:
Even if you're not a fan of deep penetration, you can still enjoy lengthy dildos. Bend and align the shaft of an intensely bumpy toy to the clitoris or balls and do long, slow thrusts. The Uberrime Night King and A-Spot Avenger are among my favorites for this purpose.
Turn a rabbit vibrator or dual stimulation dildo around for double penetration:
It's true: you can use rabbit vibrators for double penetration, provided the prongs are:
Flexible
Closely spaced
Relatively straight
One example of a dildo you can do that with is the Pris Toys Gemini.
---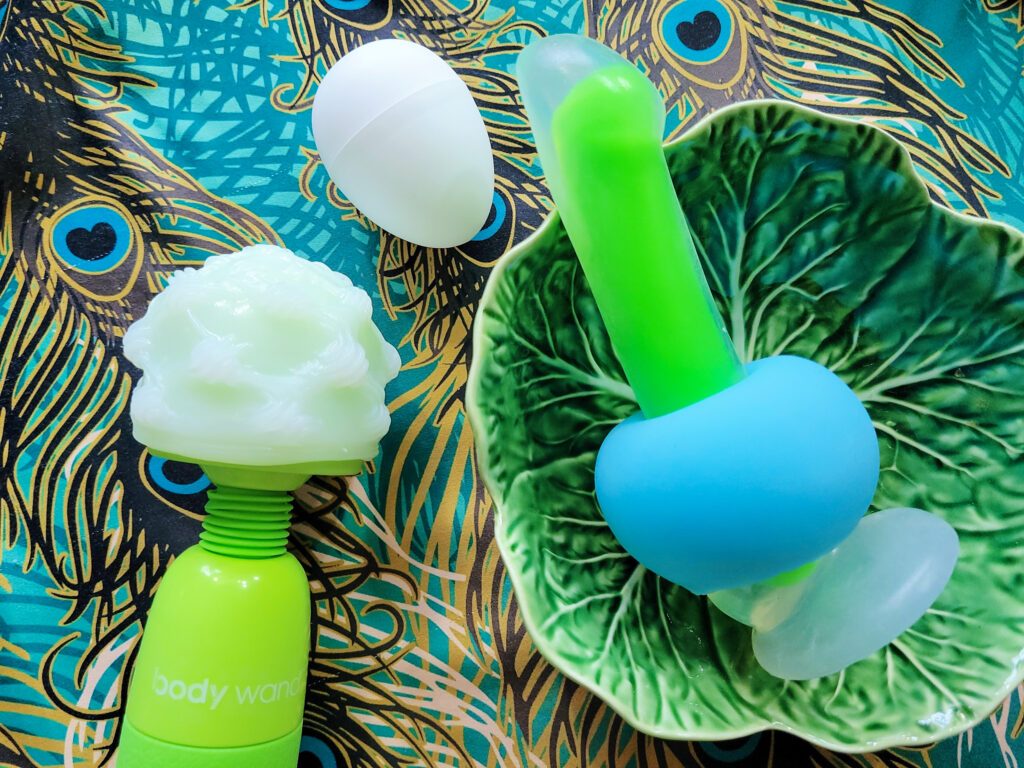 Expanding Your Pleasure
Turning sleeves inside-out to add texture and squish to wand heads:
You can undoubtedly get soft silicone wand caps to grind against the surfaces. Masturbation sleeves, though, can be used for a similar purpose. While they don't last as long, they tend to be even squishier and cheap.
Put a dildo base cushion around a clit vibe to make a squishy humping toy:
Want an upgrade from riding a pillow? Slip a BumpHer or Shagger over a mini-vibe (like the We-Vibe Tango or Hot Octopuss Amo) for vibration and squishy clitoral massage.
Try dilator kits for anal training or butt plugs for relaxing one's vagina:
Dilator kits and butt plugs are both fantastic options for getting comfortable with penetration. While plugs are made for long-term wear, silicone dilator kits with flared bases are a super affordable way to sample many different girths when thrusting.
(Make sure to boil or disinfect silicone toys before switching from ass to vag!).
Use extension sleeves on fucking machine attachments:
Just imagine a dual-density self-thrusting dildo. That's what I did by putting the VixSkin Colossus on the Velvet Thruster Teddy.
---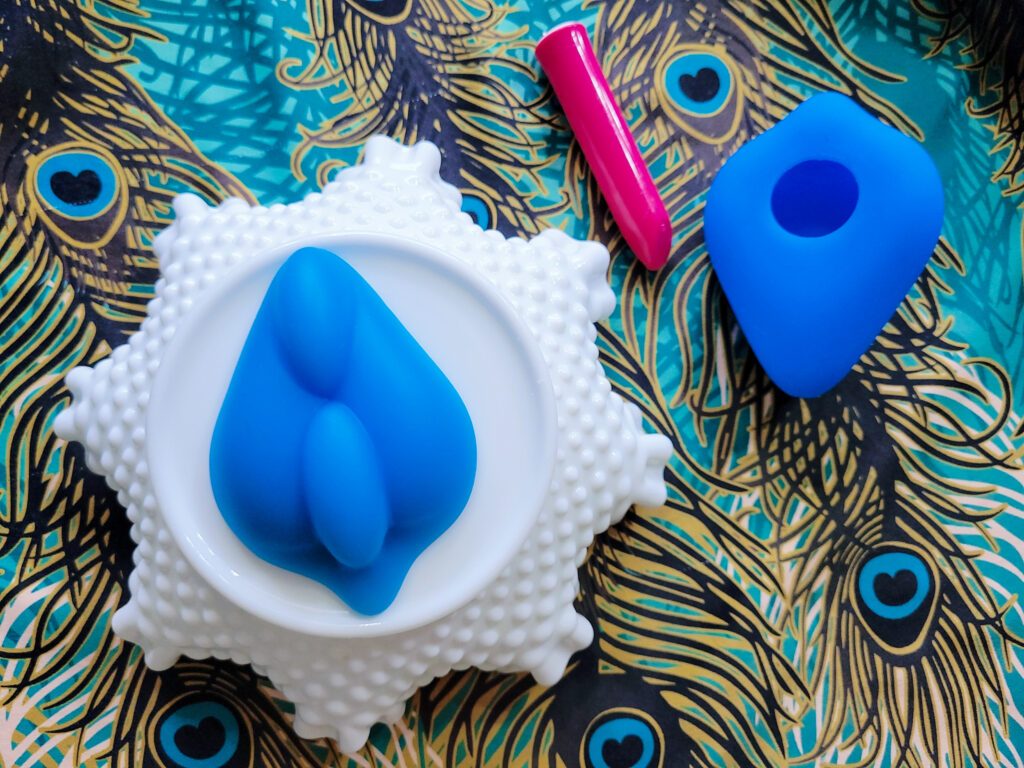 Comfort & Ease of Use
Use a cock ring for added grip (especially with glass or steel dildos!):
Glass and steel dildos can get slippery, especially with lube. Use a silicone cock ring or stroker to add a little grip.
Incorporate a stroker to buffer penetration depth for the receiving partner:
If you don't enjoy deep penetration, you have the penis-owning (or strap-on-wearing) partner wear a buffer. The OhNut was explicitly made for that purpose, but you can also experiment with using a silicone sleeve for the same thing. Try the NS Firefly Moon stroker, cut in half.
Try a Sili Saddle or Bumpher to cushion vulvar pressure (e.g., when wearing a harness or dry-humping):
If you're sensitive to pelvic pain from everyday pressure, something like a Sili Saddle or Bumpher can serve as a barrier, or a stimulator, depending on how you use it. I liked squishing such toys between my vulva and a partner's penis while dry-humping.
Try different shapes of suction cups for riding:
If you have a dildo with a bullet cavity, Tantus's suction cup accessory can serve as an adapter to make a mountable dildo. For dildos with flat bases, try a double-sided suction cup.
Zip tie cum tubes to keep them tidy:
This suggestion is quite a niche topic. Cum tubes on ejaculating dildos can be long and cumbersome. Wind them up and tie them in place to keep the excess out of the way.
---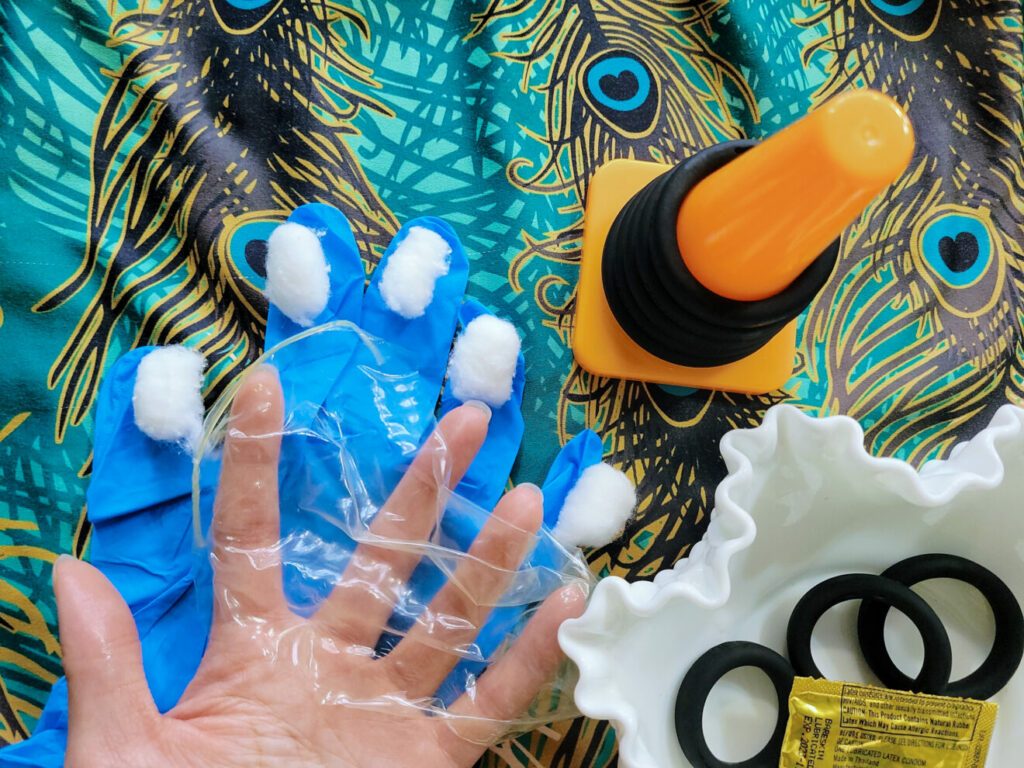 Sexual Health & Body Care Tips
Put lube in a (clean!) soap dispenser:
Epiphora, the sex blogger, 100% gets credit for this idea. Not only did she put lube in a pump dispenser, but she also used an automated one for luxuriously breezy, contact-free re-lubing.
Keep a spray bottle or cup of water around to re-wet the lube:
Lube that's free of the most common irritants tends to dry out faster and get gummy. You don't have to settle for the tackiness, though!
Just spritz the area with water to reactivate. (Heads up: The spray can feel quite cold!)
Stuff gloves with cotton balls to cushion long nails:
You don't have to trim your nails to finger someone safely. Put cotton balls in a glove's fingertips — enough to cover nails' sharp edges. Voilà! No scratches here.
Convert a condom to a dental dam:
In a pinch and want to keep it tidy during cunnilingus or rimming?
Take a condom.
Unroll it.
Snip the tip.
Cut along the sides of the "cylinder" formed.
Now you have a rectangle to use as an easy barrier for oral sex.
---
Closing thoughts
It's easy for me to get into a rut of lying on my back and using one toy at a time. I don't have to limit myself, though.
The combinations of sex toys and ways to use them are endless. This list is only the beginning of my experimentation. What's your favorite sex toy "hack"/conversion?
---

[I wrote this post for SheVibe's blog! You can find the original version there.]