Mini-reviews: Velvet Thruster Teddy, Maia Max/Monroe, and Vixskin Colossus
The OG Velvet Thruster, just over 2 pounds, is the lightweight and refined descendant of a reciprocating fucksaw.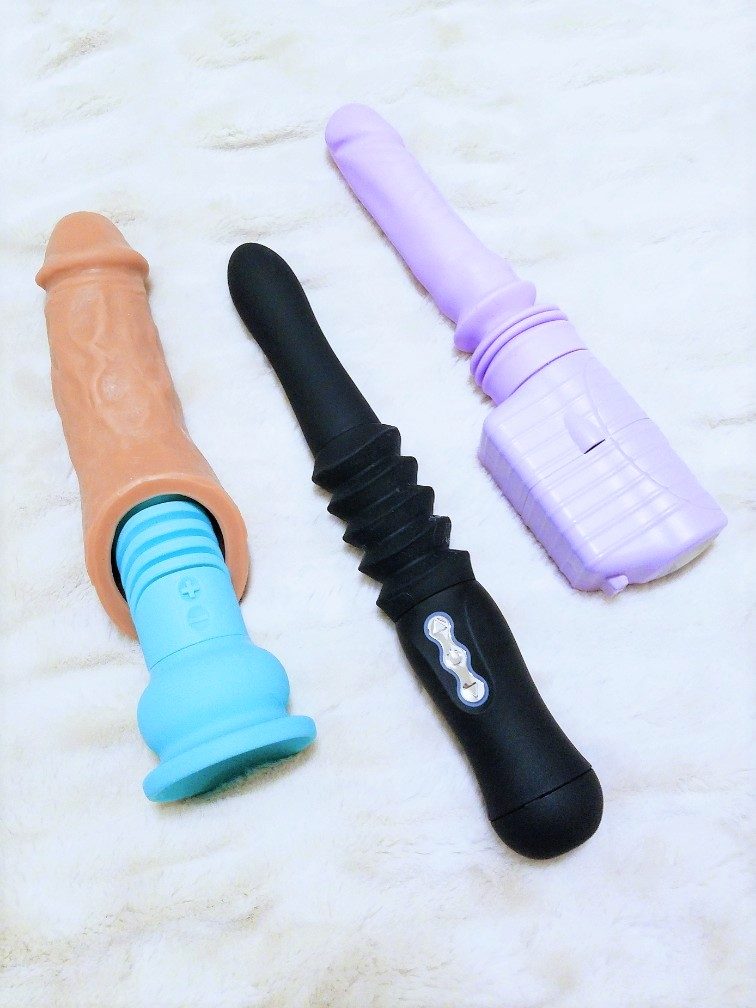 This sexual power tool's self-thrusting mechanism boasts up to 140 thrusts per minute and a robust 3-inch range of motion. It's worthy of the title, "fucking machine," but still streamlined enough to fit in my day bag.
I get all of the heart-eyes-emoji feelings, but the effect takes place faster. Plus, I don't have to work for it beyond washing the dildo, lubing it up, and aiming. The orgasms repeat for as many times as I want, with hardly any effort.

… Orgasms until I'm straight up tired, independently of whether my arms are sore. That's a major plus when you're multi-orgasmic and think, "Well, I COULD go for another. And another. And another…"
But the original Velvet Thruster wasn't perfect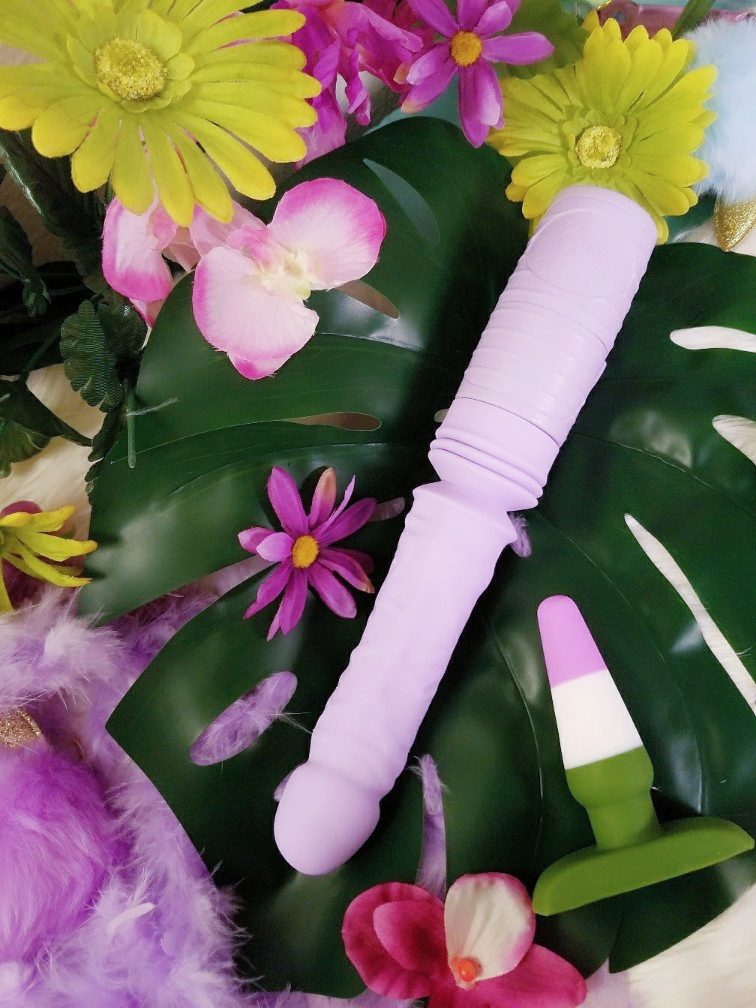 For one, the OG Velvet Thruster is loud and sounds very much like a power drill. It's also clunky to hold— for my vagina to get maximum force, I'd need to prop the Thruster box's base against something like the bed or a cushion. If I do that, I block my access to the control panel on the bottom. And the blatantly open air vents render it not waterproof, which is ridiculous, given the $200 price tag.
These pitfalls weren't dealbreakers for me, a connoisseur of deep penetration and cervical orgasms. But as both a reviewer and a fellow consumer, I was excited to explore more affordable options in the fucking machine micro-niche.
Coming up in this fucking review sampler
You can find Velvet Thruster self-thrusting dildos at both Spectrum Boutique (10% off discount code: SUPERSMASH10) and The Thruster (code: SUPER10)
Introducing the Velvet Thruster Teddy (a.k.a. the mini Velvet Thruster)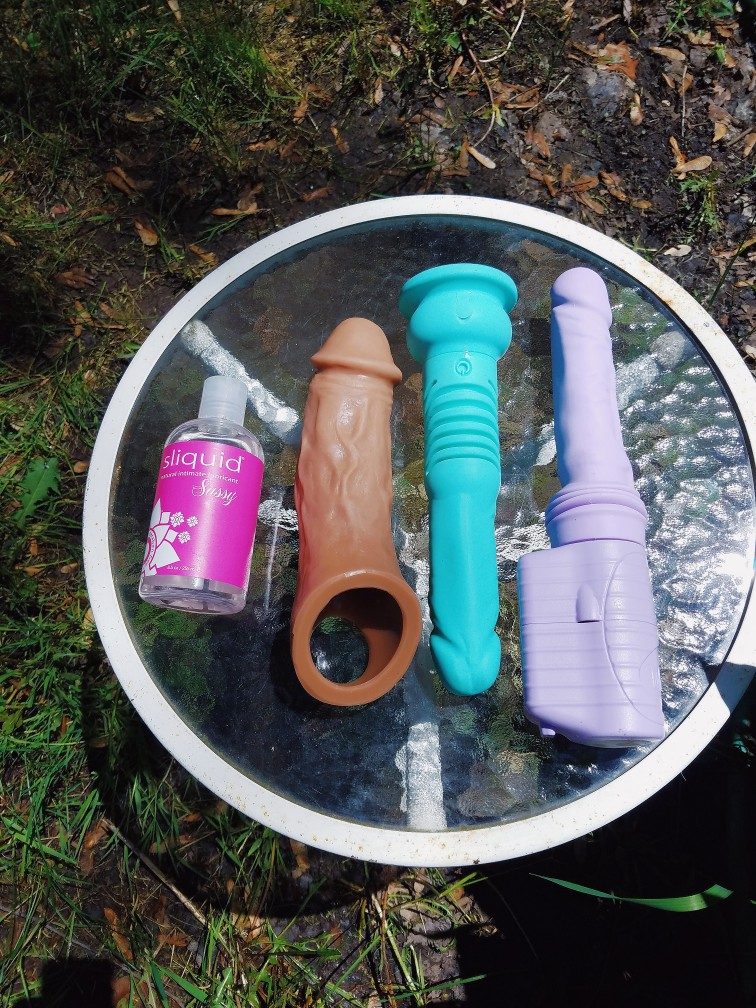 Thankfully, The Thruster took reviewer feedback to heart when they designed their more compact (and further refined) Teddy model. It's lightweight, has a suction cup base, its charging port is sealed off to moisture, and the buttons are on the sides of the unit. AND, as a bonus, I can use the Velvet Thruster Teddy WHILE it's charging.
Much of what I loved about the original Velvet Thruster remains intact in its successor. Effortlessly getting fucked until I feel like fainting. For $150 (or $135 with my coupon code), fuck yeah!
Downsides and trade-offs with the Velvet Thruster Teddy
Unlike the OG Velvet Thruster Jackie, the Velvet Thruster Teddy is not a power tool. In a nutshell, the Teddy sacrifices intensity for ease of use and price, but I think it's powerful enough to make the trade-off worthwhile.
The smaller model is just under 9″ when collapsed and 11.5″ when expanded, far more manageable to hold than the original Velvet Thruster's respective 11″ and 14″. To accomplish this, The Thruster had to downsize the Teddy's dildo portion (5″ instead of 6″), stroke length (2.5″ instead of 3″), battery, and motor.
How does the mini Velvet Thruster's power compare to the original?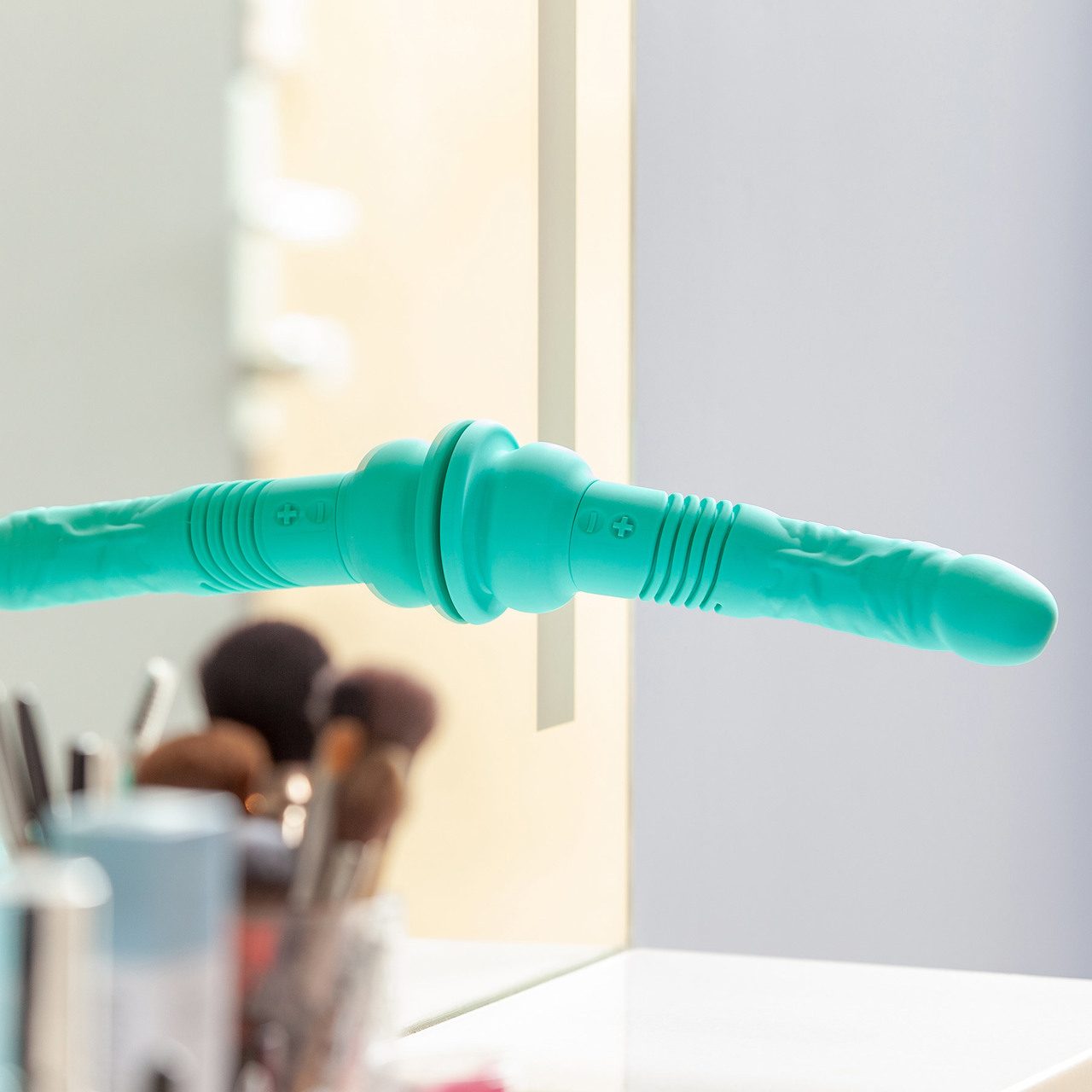 Its maximum speed is 125 strokes per minute instead of 140. That's still admirable on paper. I can maintain the claim that the mini Velvet Thruster Teddy model delivers a little over two strokes per second. In practice, its less robust motor slows down under pressure— for example, when it's all the way in against my ceiling, and I come and clench.
Depending on how much resistance there is, the highest setting's thrust speed can sometimes drop down to 80 thrusts per minute. The lag has never teased me or caused me any problems since I usually want slower thrusting right after I come anyway. However, if you desire more consistent speed control, you might want to stick to the bigger, original Velvet Thrusters.
(Unsure how fast 140 or 125 or 80 thrusts per minute is? Type the number in this digital metronome.)
UPDATE: New-and-improved Velvet Thruster Prime and mini Thruster Teddy models have been released! Read more about them.
Maia Max and Monroe: a more affordable handheld fucking machine?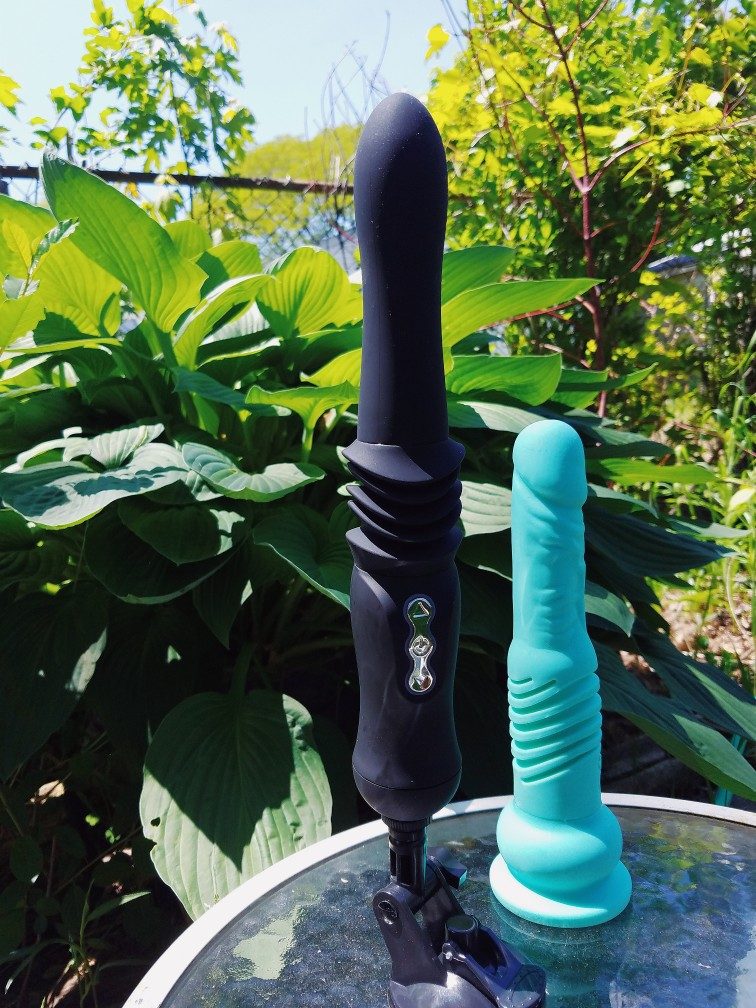 I can barely gather enough fucks to tell you about the Maia Max's (and Monroe's) features. The main thing to know is that I fucking hate this thing and I'd be pissed if I spent $100 on it. A fucking machine's reason for being is fucking. If it's not fucking, it's not working.
The Maia Max is a handheld fucking machine with 2″ of thrust length, three speeds, and a max speed of around 100 strokes a minute. It also vibrates and comes with extras like an angle-adjustable screw-on suction cup and remote control. All this for $100 sounded too good to be true, considering that the OG Velvet Thruster is $180-200.
Indeed, the bells and whistles are irrelevant, because there's (of course) a reason the Maia Max is cheaper than the Velvet Thrusters. I never thought I'd say this, but this fucking machine is no match for the resistance from my walls and ceiling. When I try to push the Maia Max all the way in and bottom myself out, it emits a pitiful barely-there but high-pitched squeal before cowering and practically shutting off.
UPDATE: I spoke to one of Maia Toys' reps about this problem, and he said that it only happens when the product's battery isn't full. However, a fellow reviewer told me that her Maia Max stalled as well, even when charged. And I suck at charging my powered sex toys anyway.
If you prefer shallow penetration and don't plan on going especially hard, the Maia Max might be worth it for you. But I can only repeat the words of Rod Williams in Get Out: "Fuck you! Bye."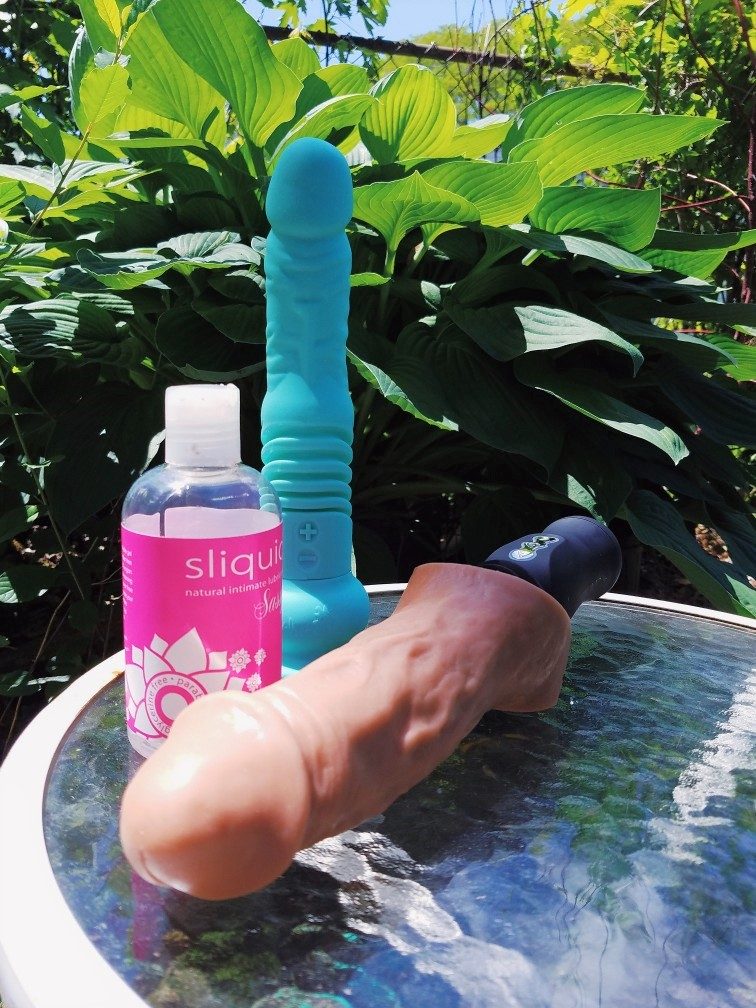 My verdict: get a Velvet Thruster Teddy already
Let's imagine that my house caught on fire. I would retrieve my nearly-indestructible njoy Eleven, but also have to start my collection of powered toys from scratch. In such a scenario, I would 100% buy the Velvet Thruster Teddy and a VixSkin Colossus to put on it.
Sure, the Velvet Thruster Teddy's power can't compare to the Velvet Thruster Jackie. However, I'd happily sacrifice power for ease of use and convenience. The Teddy's button placement makes more sense, its suction cup allows for versatility in positioning, and its closed design means no worries about water getting into the circuitry.
A rad add-on: VixSkin Colossus cock extender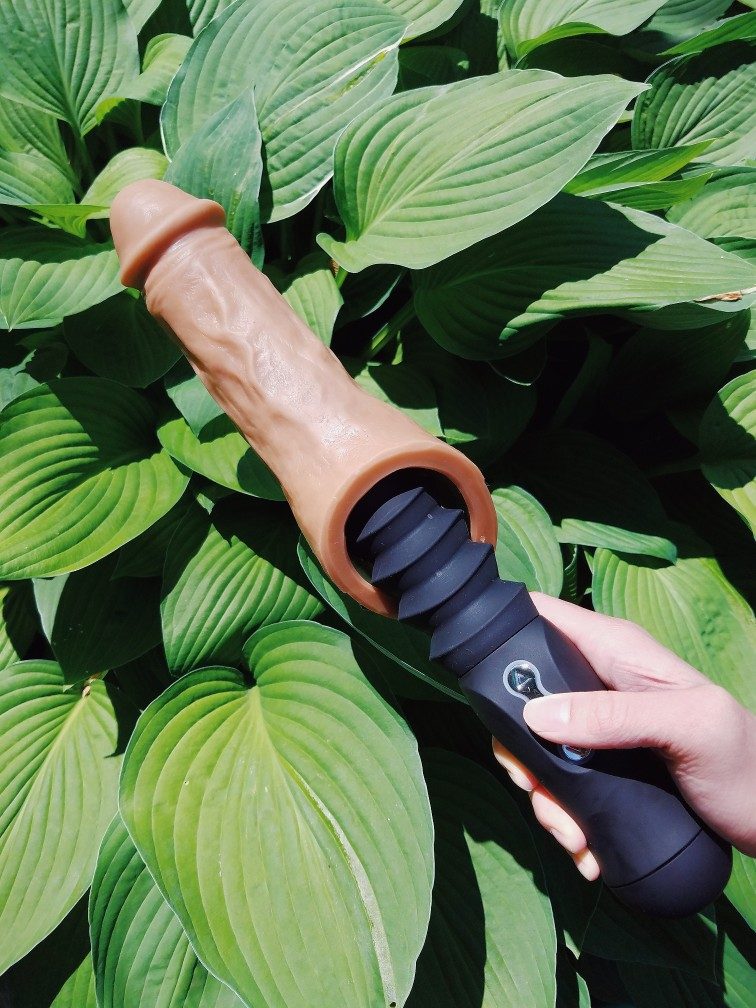 The Velvet Thruster Teddy's lower price also makes it far more practical to pair with a VixSkin Colossus cock extender. I see y'all raising your eyebrows, so let me explain: the Colossus is a squishy silicone sleeve that slips over a penis (or in this case, dildo) for added length and girth.
It would convert any of the aforementioned fucking machines into a longer (6.75″), fat AF (2.25″), self-thrusting, dual-density dildo. Squishy on the outside and firm on the inside, like a cock or like my Vixen Creations VixSkin Outlaw but fatter. Let that sink in: fucking up my walls and ceiling with automated hands-free fucking and a fleshlike feel.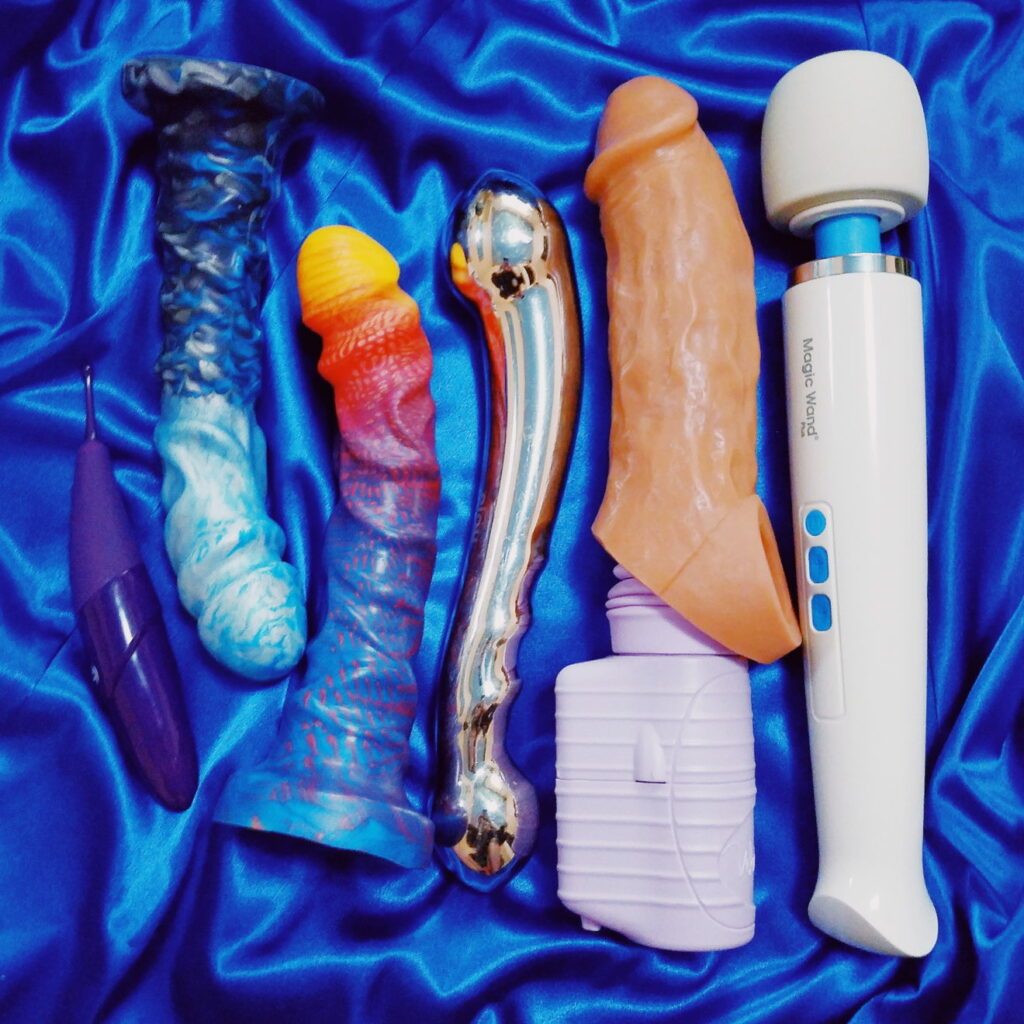 When I started my blog, I never imagined owning a self-thrusting VixSkin dildo, but here we are. I've merged a Velvet Thruster and VixSkin Colossus as part of my job. I am living the dream.
Hand-thrusting the Outlaw and then holding it stationary while I come is an ample oxytocin detonation on its own. But to continue the thrusting without any effort on my part? That is the next sphere of heaven for me, a proud pillow princess of prodigious proportions.