Hot Octopuss Atom vibrating cock ring review
The sooner I review the Hot Octopuss Atom cock ring, the sooner I am free from the misery of testing it.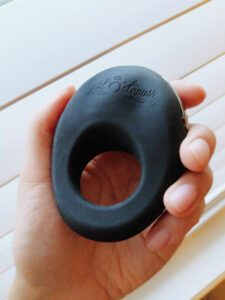 My boyfriend's and my grievances toward it probably peaked when I glared at him, and he responded, "I can't stay hard if I can tell you're not having fun."
What the Atom cock ring is supposed to do vs. what it actually does
Our experience sounds antithetical to the purpose of a cock ring, which is to make erections harder and orgasms stronger. In practice, the Hot Octopuss Atom sucks the fun out of intercourse for me. And, seeing my displeasure, my boyfriend goes flaccid every time. I thought the Atom would be the bomb, but it straight up bombed.
Above all, the Atom packs a punch as a solo vibrator but sucks as a couples' toy— at least for my anatomy. Your mileage may vary.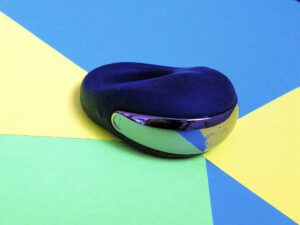 It's intuitive to think that a cock ring with a bulky vibrating compartment is rumblier than with a petite one.  However, if it's so clunky it can't press against my clitoris efficiently during intercourse, then the vibrations don't count for shit. With the Hot Octopuss Atom, I am SOL.
The Hot Octopuss Atom's shape
The Atom cock ring is so bulky that, when my boyfriend wears it, I can't use the entire length of his penis.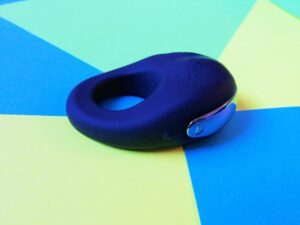 You see how the vibrating box slopes and increases in depth as you move towards the outside edge? Well, thanks to that slope, I'd have to angle my boyfriend's penis away from my cervix to get any pleasurable clitoral contact. If I want him to massage my cervix, I'd have to angle the ring vibrator away from my clitoris.
Despite the raised contour designed to fit between my labia, the Atom's shape is unintuitive for me to grind against my clit. I'd have to use such dainty thrusts that my boyfriend would lose his erection from the lack of stroking— the long strokes that I would prefer. The Hot Octopuss Atom gets in the way for both of us.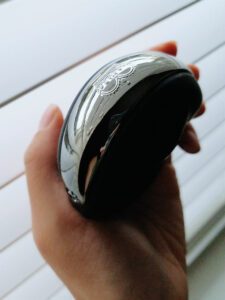 Beyond having to modify our thrusting style, another downside is that the vibrator doesn't have any defined edges for me to target the stimulation. It's so round, flat, and "meh" in the criteria that would have made the most significant difference to me.
How are the Atom's vibrations?
The Hot Octopuss Atom is one of the cases where vibration strength is secondary to shape. Hot Octopuss as a brand has consistently rumbly and starry-eye-inducing vibrations. Hot Octopuss's Pulse III Solo makes my boyfriend come hard as he looks into my eyes and watches me using the Atom on myself and coming even harder.
The Atom's vibrations had so much potential, rivaling my favorite conventional vibrator ever. (It doesn't compare to my oscillators, though.)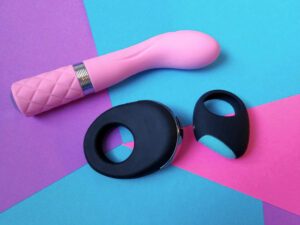 Its top speed is comparable in strength to but rumblier than my beloved BMS Pillow Talk Sassy. For that reason, I can't say I would have been upset about spending $851 on it.
Overall verdict on the Hot Octopuss Atom
But just like a rabbit vibrator isn't shit if it can't romance my clit, I have no use for the Atom as a cock ring. The Hot Octopuss Atom is a couples' toy when my boyfriend or I hold it against my clit. However, if you're looking for hands-free clitoral stimulation during intercourse, this isn't it.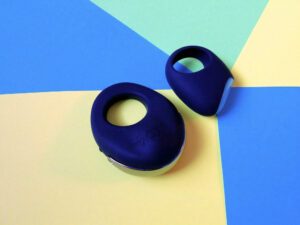 Even the relatively weak Picobong Remoji Lifeguard (mentioned in my Vibrating Cock Rings 101) works better during penis-in-vag because of its more streamlined and targeted shape. After testing the Atom, using the Lifeguard was a sigh of relief for both my boyfriend and me.
Every time he wore the Atom during intercourse, it considerably spoiled our mood for the following few hours. The irritation lingered. But that's okay; we suffered through it so that you wouldn't have to.
Thank you, SheVibe!


SheVibe sent me the Hot Octopuss Atom cock ring in exchange for my honest and freely-given review. The fact that I received it as a marketing sample doesn't change my opinion on it— as always, I tell the truth if I don't like a toy or worse, think it belongs in hell's incinerator.
Footnotes