Review: Strap-On-Me Large silicone ejaculating dildo
I can't wait to get double-stuffed once the COVID-19 pandemic is under control. In the meantime, I can use an ejaculating dildo with my boyfriend. Romantic, right?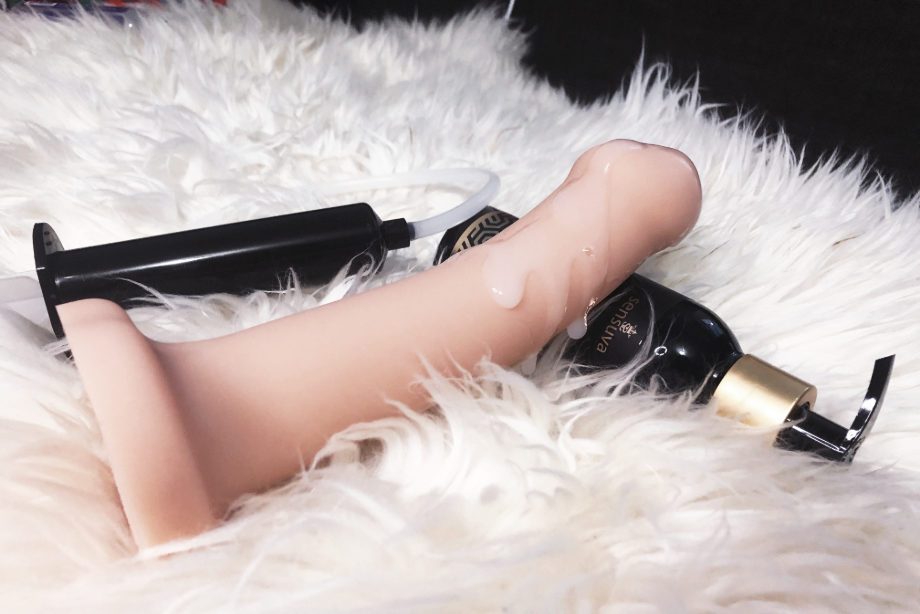 The Strap-On-Me squirting dildo's syringe barrel holds 30 cc of fluid — about two cum shots' worth. Fill it up with your favorite white lube and push the piston at the magical moment.
---
Why use a silicone squirting dildo?
Here are just a few reasons to try an ejaculating dildo:
Imitating the feeling of a sexy simultaneous orgasm
Immersion in double penetration play
Adding eroticism and fun when conceiving via artificial insemination
Because they like how it feels and looks but don't want to risk pregnancy
They like how it feels and looks, period — this dildo is safe for anal use, too!
Personally, I find hot the idea of double vaginal penetration, ejecting the fake cum, and then squatting over a mirror for an even better view watching it drip out.
---
---
Key features of the Strap-On-Me Large silicone ejaculating dildo
This loooong and lean dildo's minimalistic contours include:
A gently protruding corona
Barely-there curvature in the flexible shaft
Silky-smooth matte silicone
A heart-shaped base with three slots to channel the cum tubing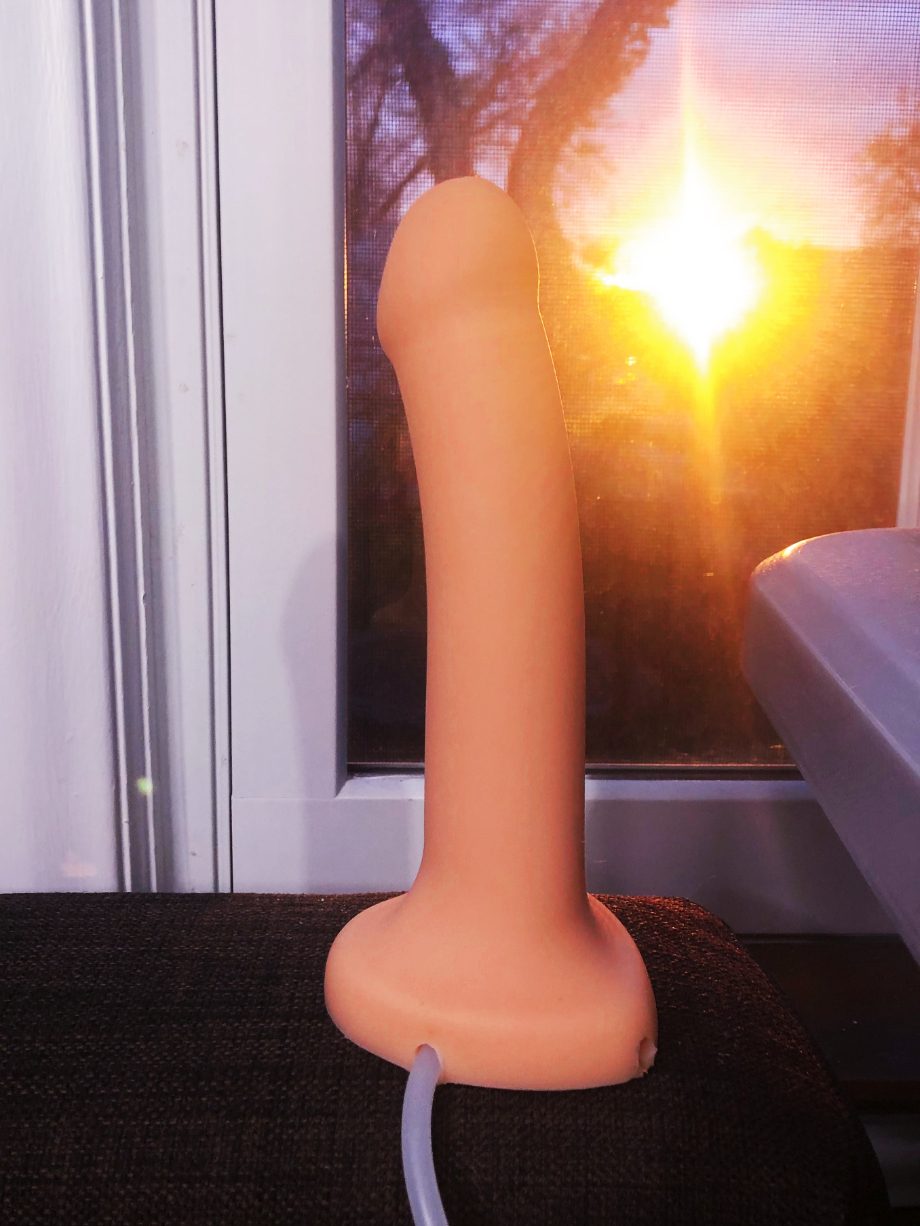 Overall, the Strap-On-Me ejaculating dildo's shape is highly derivative of the Fun Factory Magnum and Amor.
I'm not surprised at the resemblance. Fun Factory formerly made the POP Semenette ejaculating silicone dildo from their Boss mold. It was slowly phased out and discontinued a few years ago, leaving an under-fulfilled niche in the sex toy market. Strap-On-Me swooped in and made a slightly easier-to-use version — minimal assembly required.
Strap-On-Me vs. other ejaculating dildos
Every part of it is silicone except for the removable plastic syringe barrel and piston. The body-safe material choice is a biiiiiig deal in setting the Strap-On-Me apart from other ejaculating dildos.
Realistic squirting dildos are usually made of porous TPE, TPR, or (toxic, chemical-leeching) jelly, all of which can host germs within the material. However, the Strap-On-Me silicone squirting dildos and tubing are practically nonporous and can easily be boiled or sanitized in the dishwasher.
Also, the Strap-On-Me ejaculating dildo is only semi-representational. Not everyone wants a "realistic" dildo with gargantuan, bulging veins like the Evolved Novelties Big Shot. One downside, though, is that the Strap-On-Me only comes in "vanilla" and black. Those who want a dark skin tone may want to consider Betty's Blaster.
I hope that representational dildos can be more diverse soon. Indie companies like Uberrime and New York Toy Collective are great with their skin tone variety, and I'd like for bigger manufacturers to catch up.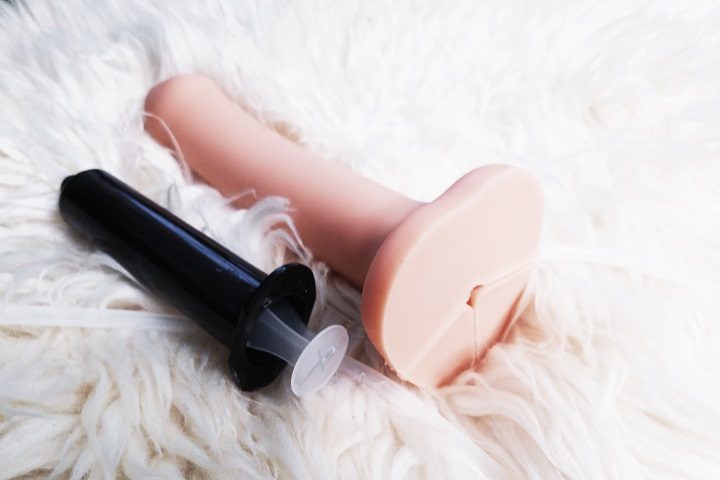 "Large" Strap-On-Me dildo measurements
The dido portion
Total length: 7.7″
Insertable length: 7.2″
Base thickness: 0.5″
Shaft diameter: 1.3″
Head diameter: 1.5″ deep x 1.4″ across
The tubing and syringe
Capacity: 30cc
Total syringe length: 5.3″
Syringe diameter: 1.0″
Soft tubing length: 35″ (!!!)
Tubing diameter: 0.2″ OD & 0.1″ ID
The wide syringe barrel makes fake cum nice and easy to pour lube into! 30cc converts to a little over an ounce or two tablespoons or two cum shots.
---
Positioning and setup
Since the tubing is pliable silicone, I recommend trimming it with scissors or a knife.
If you're harnessing this dildo, the long-ass tube can be cumbersome. Keep it just long enough to tuck the syringe somewhere secure, like in underwear. Or loop and secure it with a zip tie.
The easiest way for me to deal with the tubing during solo use is to anchor it under my leg in bed. Your mileage may vary.
Also, HOLY heck, I was not expecting the hybrid lube that I used to be THAT hard to push out. If your fake semen of choice is on the gel-like side, you may want to water it down a little.
The mixture can still be cloudy and viscous, but it should ideally be able to drip easily, too. In any case, don't expect a spectacular FOUNTAIN of jizz — unless you're pushing really hard and recording in slow mo.
(More on body-safe and vagina-friendly fake cum later.)
---
How it feels in use
I appreciate that I can use the Strap-On-Me Large's gratuitous shaft as a handle for aiming against my G-spot. Sensation-wise, I find that it's best for shallow penetration with steep tilting while clenching.
It's too bendy to do much for my deep erogenous zones during most days of my cycle. Only near the days leading up to my period that is cervix massage with this dildo intense enough.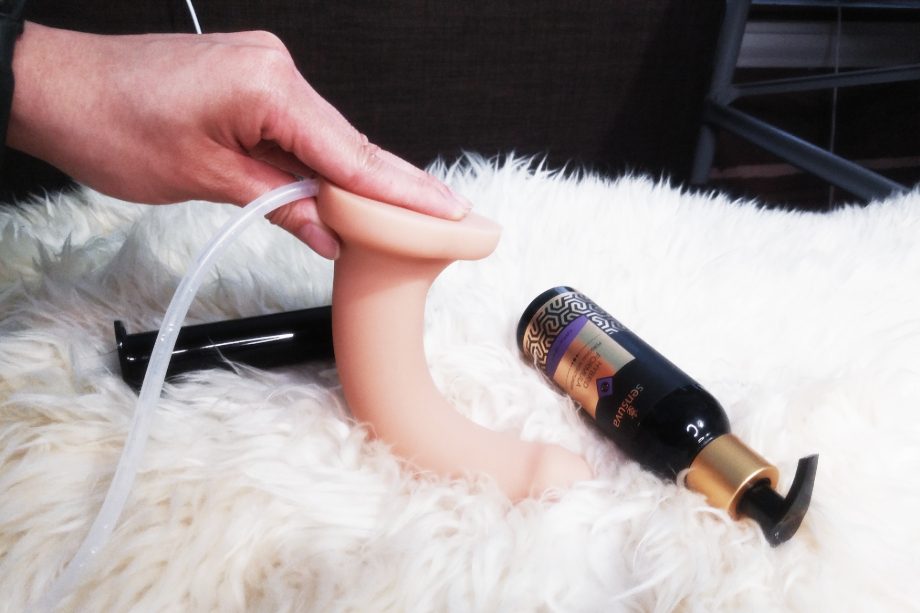 Let's be real, though: solo play isn't my main objective; it's more about the IDEA of someone coming inside me.
I want my vagina to be double-stuffed and stretched and dripping with "cum" — and the Strap-On-Me ejaculating dildo gets the job done during partner play. During double penetration, it's comfortably soft and smooth while still stretches plenty for intense orgasms.
I can't feel the individual splashes of "cum" with high resolution, though. For me, it's more like internal pressure and expansion from the fluid, compounding with the thrusting and intense stretching. Not to mention being filled up with lube is a great warm-up for even bigger insertions and fisting. 🙂
---
Vagina-friendly fake cum: what to use
If it's semen simulation you seek, you've probably encountered some sketchy-ass recipes for homemade cum.
One of the search results advised mixing water and with corn starch. My vagina clamped shut in horror; I don't want anything sugary or starchy near my vulva, lest it feeds the pathogens uncontrolled. No chicken egg whites nor yogurt, nor sour cream in my vagina, please.
Dr. Jen Gunter, the writer of the Vagina Bible, would be appalled and start a new Twitter roasting campaign.
What to look for (and what to avoid) when when buying white cum lube
Many personal lubricants are made to simulate ejaculate, and unfortunately, quite a few have questionable components. Personally, I can't recommend lubes with glycerin, propylene glycol, or parabens for vaginal use — those are among the most common irritating ingredients in personal lubricants.
Cheaper lubes tend to have higher concentrations of petrochemical- or animal-based glycerol that can suck out water from the vaginal lining.
One of the vagina-friendly cum lubes I do recommend is Sliquid Silk, a hybrid lube with very few ingredients. Sensuva Erosense Hybrid (shown below) is another good choice. It does, however, include more ingredients, such as:
Isopropyl palmitate, an emollient (moisturizing agent) derived from coconut oil
Sorbitan monostearate, an emulsifier to prevent ingredient separation.
There's nothing suggesting that vaginal yeast or pathogens could use either one of them as a food source, though. And both of these hybrids are free of the most egregious lube ingredients.
Again, though, I highly recommend watering down hybrid lubes for ease of ejection.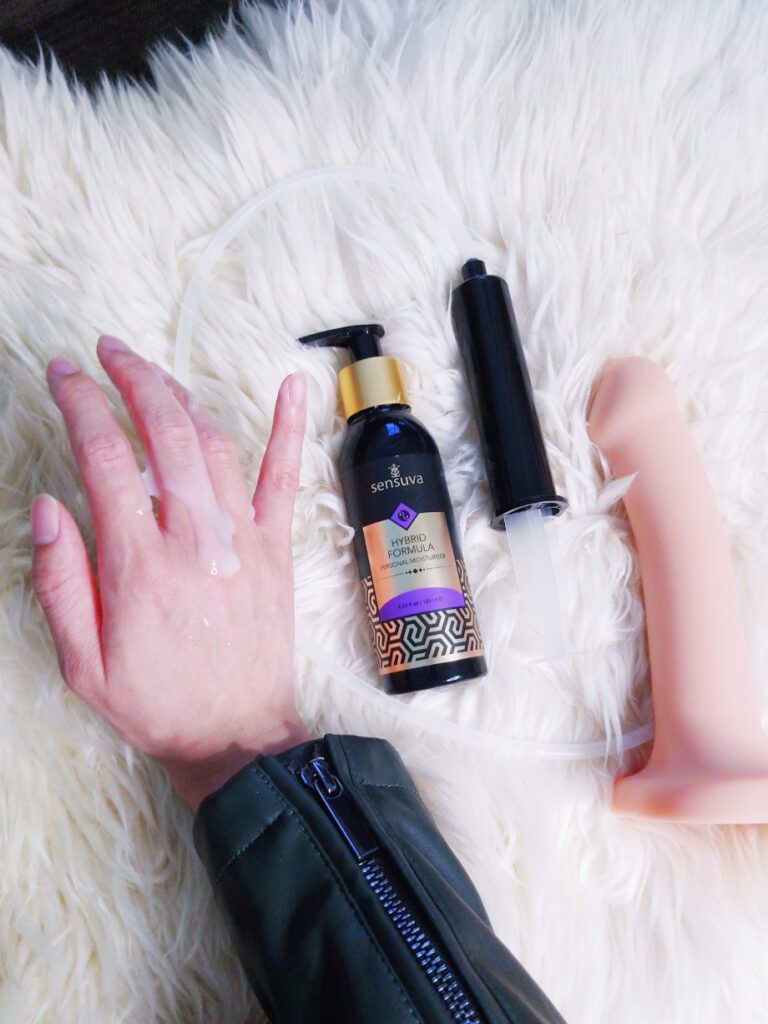 I also can't speak to how well they'll work for every body, since they do contain potassium sorbate or sodium benzoate as preservatives. Many water-based lubricants do, including sex bloggers' favorite non-hybrid (clear) lubes.
If you're sensitive to those particular preservatives or just want a plant-based lube that doesn't contain them, try Slippery Stuff or Blossom Organics. They come out clear, though.
And, of course, don't use oil or pure silicone lubes with silicone ejaculating dildos — they're hella difficult to clean out.
---
Strap-On-Me ejaculating dildo in slow motion
This video is, of course, with the lube watered down. 🙂
---
Cleaning the Strap-On-Me squirting dildo
My biggest concern at first was potentially yucky stuff getting inside the "urethra." To get in there, you may want to find a narrow, pipe cleaner-style straw brush. A long-handled cotton swab could work too.
Otherwise, soap-and-water for everyday cleaning suffices, with occasional boiling or dishwasher disinfecting. Fill the syringe with soapy water, push the piston, rinse, and repeat.
---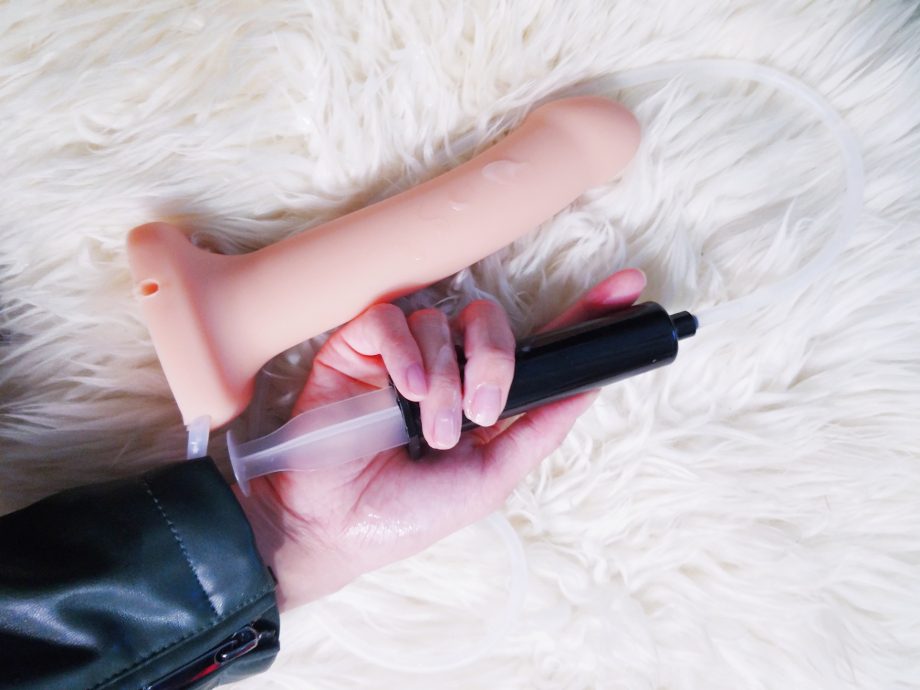 Double penetration with two dark-haired guys who adore me is my current biggest fantasy.
I'm just as horny as anyone else during this pandemic, but seeking out potential new play partners would be irresponsible. What's a horny heathen to do?
One way to incorporate that fantasy safely is to ride my boyfriend's dick and a dildo — and an ejaculating one like the Strap-On-Me takes it to the next level.
What's more, this squirting dildo's sizeable reservoir can fit two ejaculates' worth of fluid, doubling the fun while tripling the cum. What's not to love about that?
Take 10% off your first Spectrum Boutique order
Use coupon code SUPERSMASH10 at checkout. The discount applies sitewide!