Zalo Marie Rococo-themed G-spot vibrator review
Everything about Zalo's vibrators and their Versailles-inspired presentation embodies "extra." Not least, the Zalo Marie's ornate box almost looks like there should be paintings of happy cherubs all over it. Inside the box, the vibrator itself gleams with its intricate handle and 24K gold-plated pendant.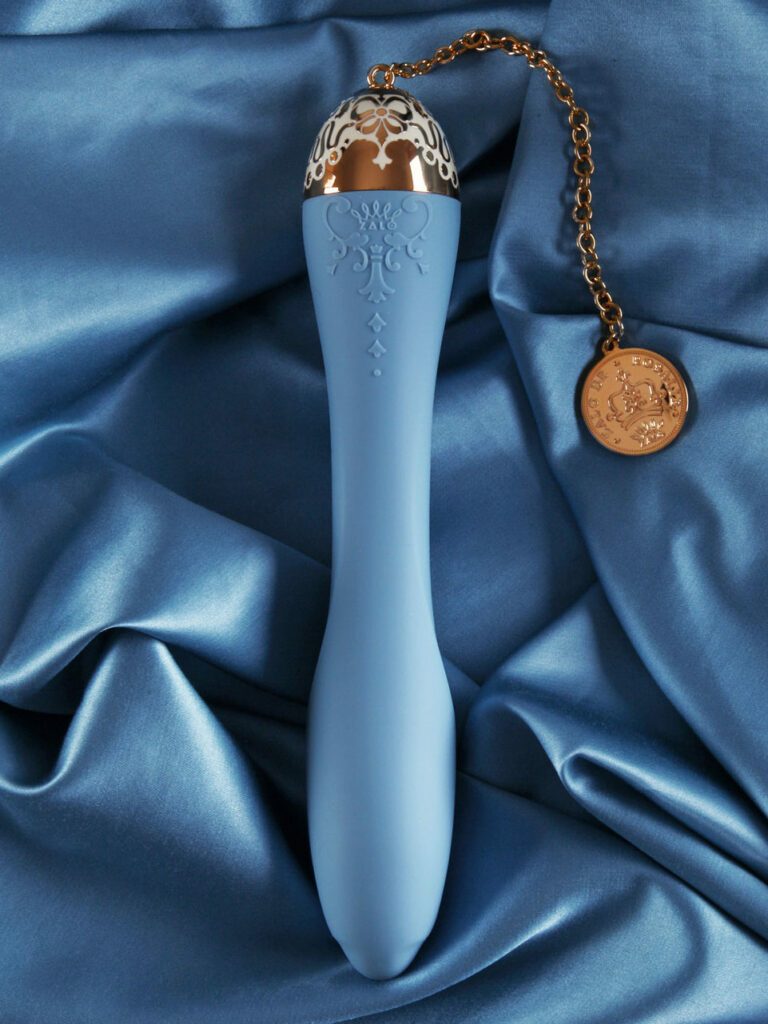 Let's be real about why I pounced at the Zalo Marie, though. First, a friend who works in a brick-and-mortar sex shop told me that Zalo's vibrations are about par with the LELO Siri 2. That caught my attention. Second, the Zalo Marie is available in both a Baroque red and a distinctly Rococo blue. And pink, I guess. But you can't name a vibrator after Marie Antoinette without a soft blue somewhere. No, your honor. I had to have that blue.
In this review of the Zalo Marie
Who does the Zalo Marie's shape serve?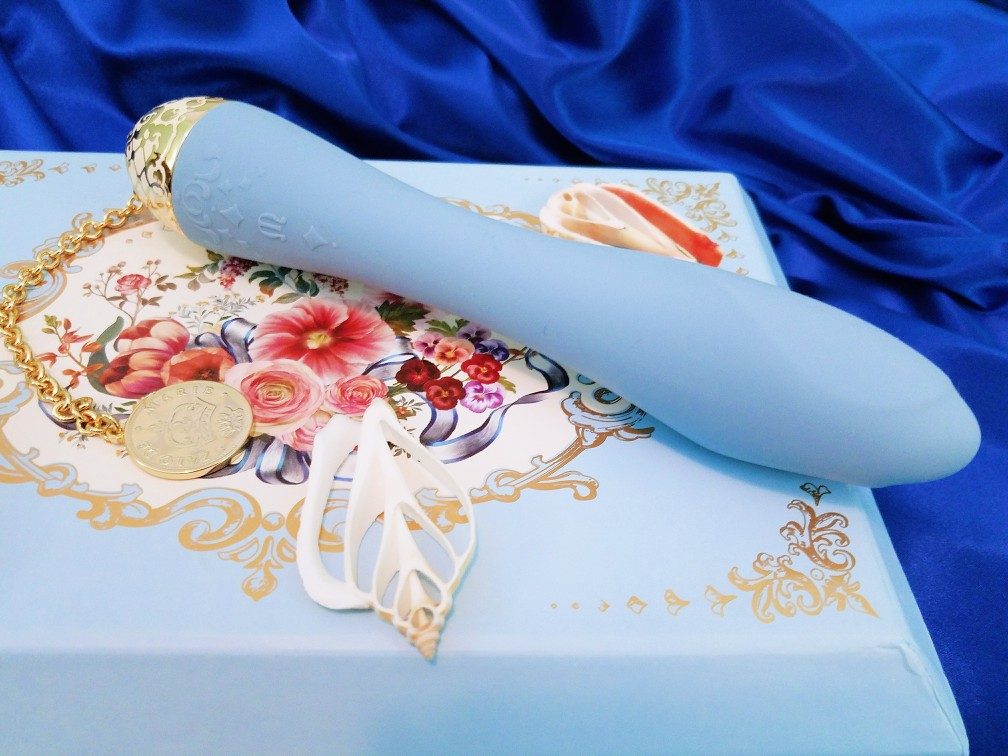 Befitting of the Zalo's trademark airy aesthetic, the Zalo Marie's insertable portion is decorated but delicate. It's 8″ long total with a subtle swell from 1.2″ to 1.4″ wide, with the slightest undulating textures. At its fattest, the Marie is about the girth of the average penis.
G-spot stimulation with the Zalo Marie
Its curvature fits against my G-spot well, though I wouldn't go as far as calling it a "G-Spot expert" like the product information page says. That's not because of any lack of mind-blowing G-spotting. To the contrary: the Zalo Marie was the toy I used when I infamously had an estimated 18 orgasms (probably more) while thinking about a crush. It's more of a versatile generalist for my hot spots than a G-spot specialist. As someone who enjoys deep penetration and pinpoint clitoral stimulation, I find it refreshing.
Unlike say, the We-Vibe Nova, the Zalo Marie isn't a dramatic G-spotting shape that hooks and digs at its target. It's more general, letting the matte silicone finish pull at my front wall as the swell tessellates against my pubic bone.
Deeper penetration: A-spot and cervix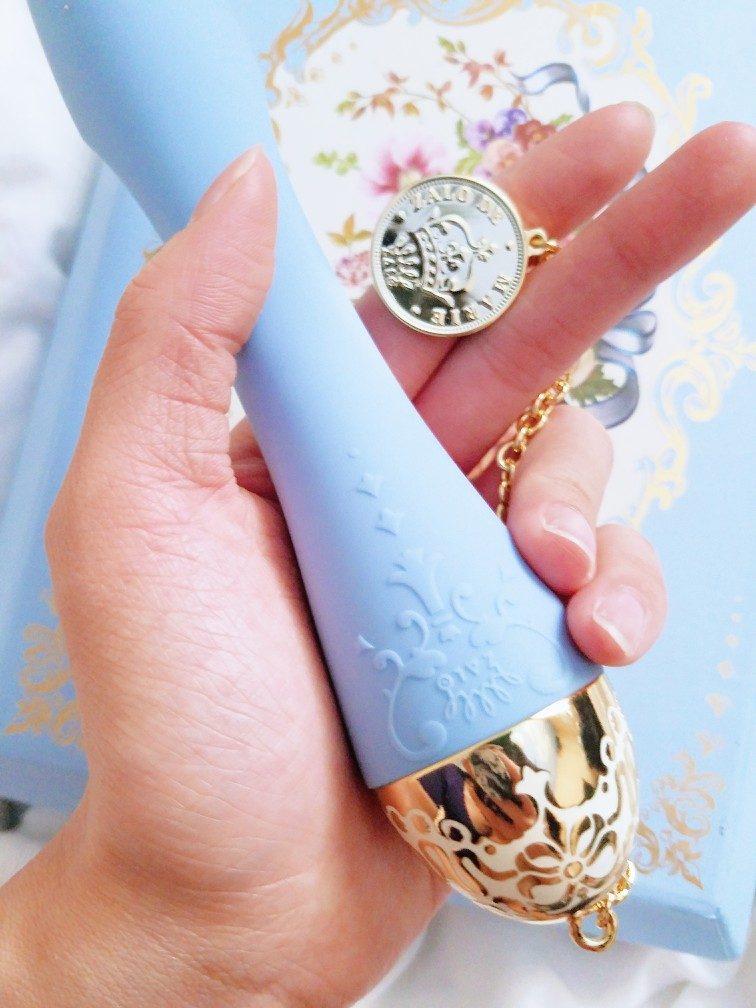 In the past, I have said that I preferred intense G-spot toys I could ram into my G-spot. That's not the case anymore, though. Not when the Zalo Marie's elongated head means I can pull on my G-spot and push the pointed tip into my A-spot (in front of my cervix) in the same stroke. Its head carries a similar appeal to the BS Atelier Max's: heaven for my whole front wall.
My cervix is also a fan of the Zalo Marie's almost entirely silicone-covered body. Even though the product specs say there's 5.12″ of insertable length, there's no distinct boundary of where the shaft ends and the handle begins — no plastic handle seam or mid-shaft charging port to trap my vaginal secretions. If I'm willing to use only the gold cap as a handle— and I am because the Zalo Marie's underlying plastic is firm for aiming— I can insert just under 7″ inside me.
Vibrators that allow me to use more length are nothing short of a blessing for my deep erogenous zones. My cervix appreciates it. My A-spot, just a bit shallower than my cervix, enjoys it. Everybody's happy. I am but a whimpering, human-shaped flask of oxytocin and dopamine. As you can imagine I would be after losing count of orgasms.
How I feel overall about the shape
It wasn't until I tried the Zalo Marie that I could put to words why I don't often use other G-spot vibrators. If I go through the effort of washing an insertable toy before use, then dammit, I'd rather not neglect my cervix or A-spot! I want to go deep. And G-spot-specializing vibrators are often too harshly steep or have too little insertable length to cater to my cervix.
Though there are times where I'm in the mood for only shallow penetration, they're relatively few and far between. So when it comes to versatility, the Zalo Marie's gentle bulge is a solid pick for me.
But are the Zalo Marie's vibrations rumbly?
Let's revisit my friend's claim comparing Zalo to LELO. I haven't tried a LELO Siri 2, but I do have a Mona 2, which is the most powerful of LELO's insertable vibrators. When used externally on the highest setting, the Mona 2's and Marie's pointy tips and concentrated motors deliver very similar vibration quality. The orgasms are ample, intense, and mildly uncomfortable (if I don't turn the speed down).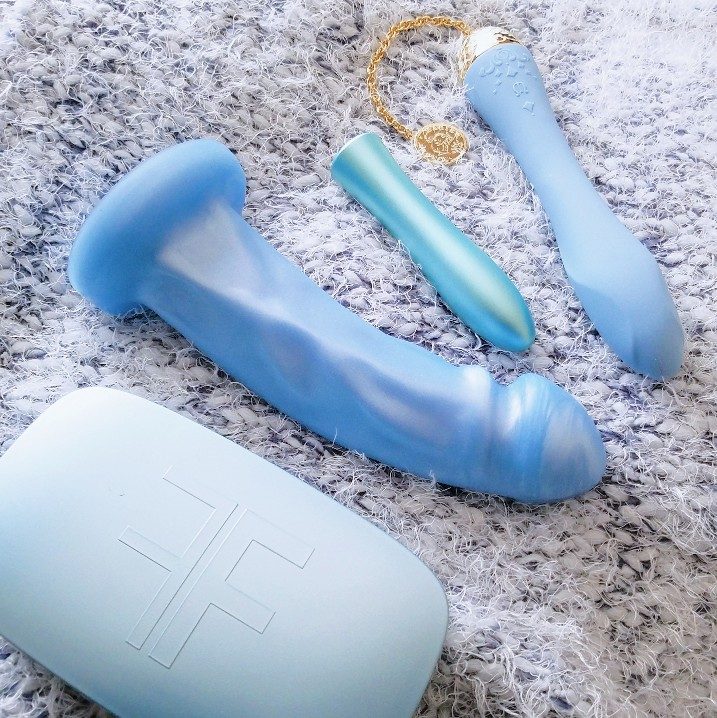 Both the Mona 2 and Marie are moderately rumbly, with a slight buzz that gets a bit pinchy after a while on the highest setting. But it's nowhere near as high-pitched as the FemmeFunn Bougie Bullet. Power-wise, the Zalo Marie's fastest speed is comparable to the Bougie Bullet's lowest.
Both the Zalo Marie and LELO Mona 2 splash a little when dipped in water. The size and number of water droplets show a comparable level of rumble, but the Zalo Marie has less overall power. If the Mona 2's highest speed is a 10, I'd say the Marie's is probably a 7.5
The most striking downside: the price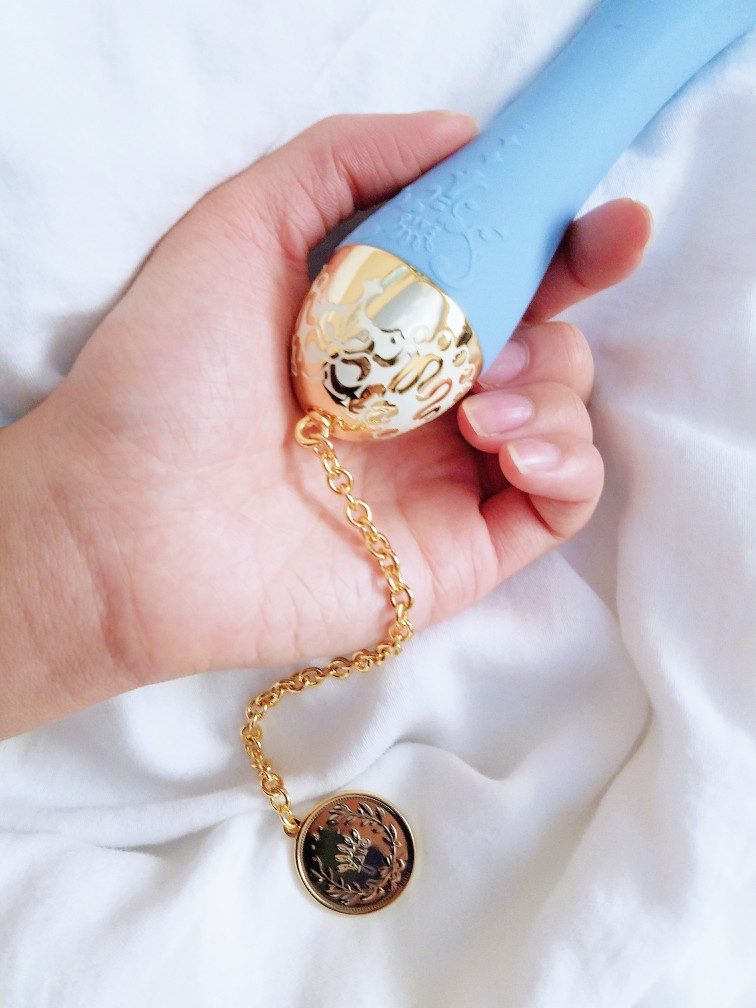 My brain says that the Zalo Marie could have a better motor for the $1591, but my body knows what's up. I can't lie— yes, I usually turn it up to the highest setting, but I've also never had a session with the Zalo Marie that wasn't mind-blowing. Especially when I used it internally. This vibrator is powerful enough that I'll clench around it on a thrumming pattern and orgasm from that alone. And A-spot vibrations? Yeah, I dig that.
Externally, there's no way in hell my Zalo Marie could ever supersede the deep purr of my BMS Factory Pillow Talk Sassy. The Sassy is a mere $54, far less than the Marie, and I'm usually quick to recommend a more rumbly and affordable vibrator. But internally, the Zalo Marie DOES THINGS TO ME that the Sassy and Mona 2 can't. It serves a slightly different purpose. I CRAVE deep penetration with the Marie.
UPDATE: I like the Cloud 9 G-Spot Slim 7 Inch a lot as an A-spot vibrator, and it's under $35!
Yes, Zalo is a less morally shitty alternative to LELO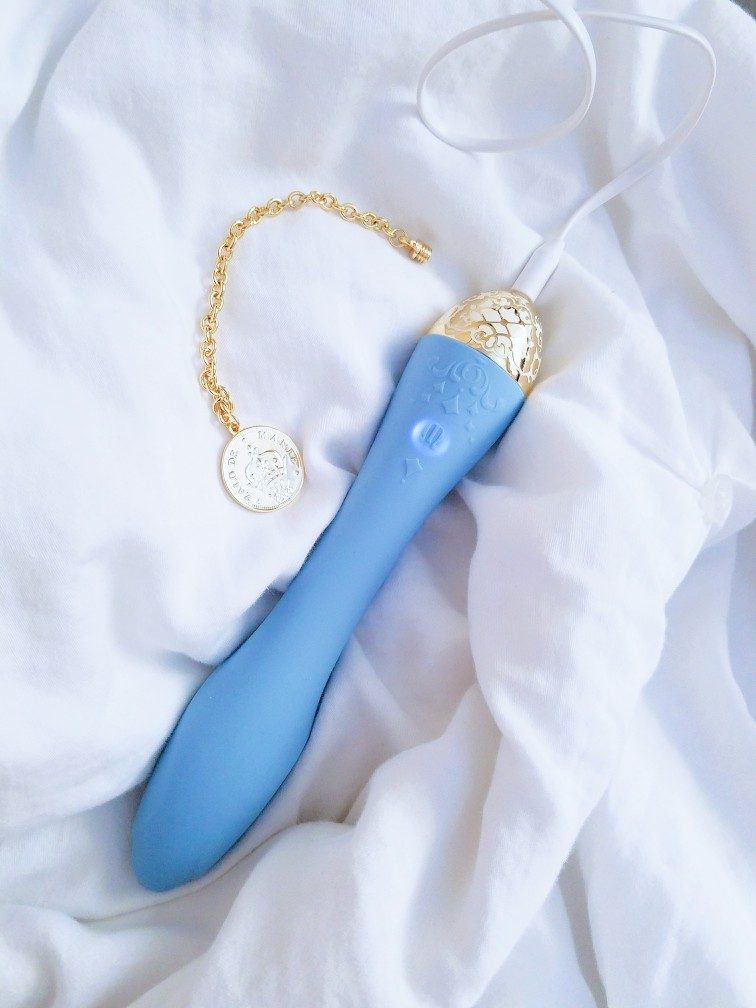 My ardor for the Zalo Marie is neither a case of a bland form rescued by a powerful motor, nor a pointy tip that barely redeems a mosquito-like buzz. The Zalo Marie's shape works for me, even if it's a bit bland. And the motor isn't the best of its size class, but it's solid. The features' synergy is explosive for my body. I'm delighted to recommend the Zalo Marie as a luxurious vibrator par with LELO. But without LELO's shit ethics.
Zalo Marie settings and remote control app
The Zalo Marie's 8-speed range and controls are also top-notch, as they should be. Three buttons allow me to cycle through the patterns and, more importantly, turn the intensity up and down as my orgasms peak and dip. That much is par for the course. This vibrator's smartphone remote control app, however, is about 25% useful and 75% eye-roll emoji.
What does the Zalo app Tease/Flirt mode do?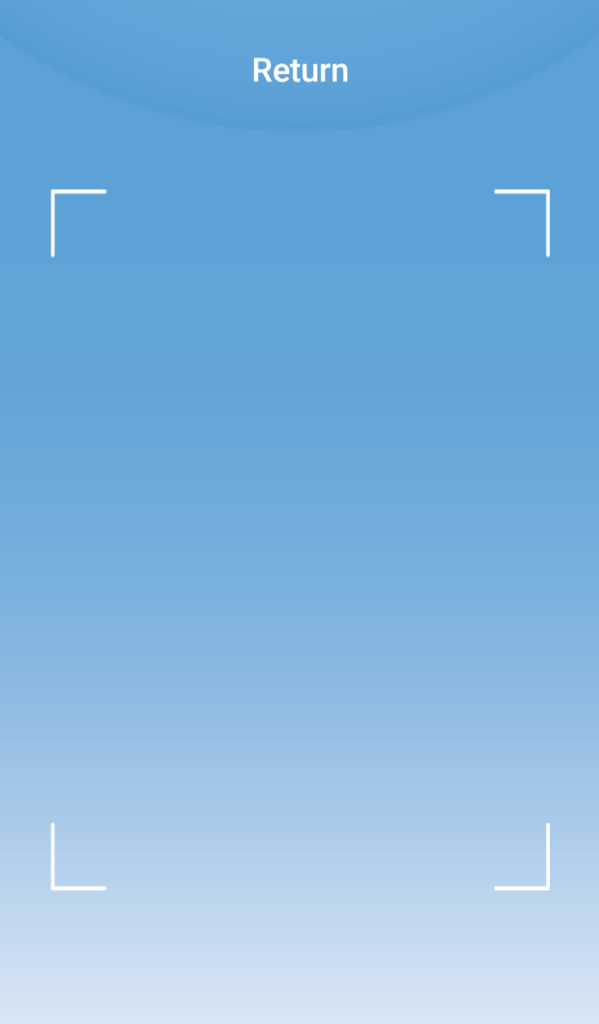 Let's start with the 25%. Ever edged a partner and said, "What if I just stopped?" Or "Stop pouting and I'll give you more. You poor thing." Yes? That's what I thought. The Tease/Flirt mode's screen shows a blank rectangle. Touch the screen within the boundaries and glide your finger up and down to change the speed in real-time. Watch your partner get flustered. It's beautiful. Or use it for some tightly controlled solo play.
Beyond that, my feels toward the app can be summed up with one word: "No."
Even if someone wanted the "calories burned" feature, it'd still be useless. The Zalo Marie could be connected on standby, or on the highest setting, or I could be jackhammering it, and there would be no discernible difference. The calculation is always substantially more than my sedentary metabolic rate. Find me scoffing in Pillow Princess.
Also, I've masturbated to The Weekend's sexy voice, so I'm down for a music-sensing vibration function. But on the Zalo app, two quirks render the patterns unrecognizable unless you're listening to repetitive EDM with a tight kick. For one, there's a time delay. And two, there's very little subtlety in vibration speed— the generated patterns are practically all-or-nothing.
So if you want the vibrations to convey the difference between fucking to "Angels" by The XX and fucking to "Rocket Queen" by Guns N Roses, you're out of luck. The Zalo Marie vibrator itself is solid, but the app is mostly gimmicks.
My verdict on the Zalo Marie G-spot vibrator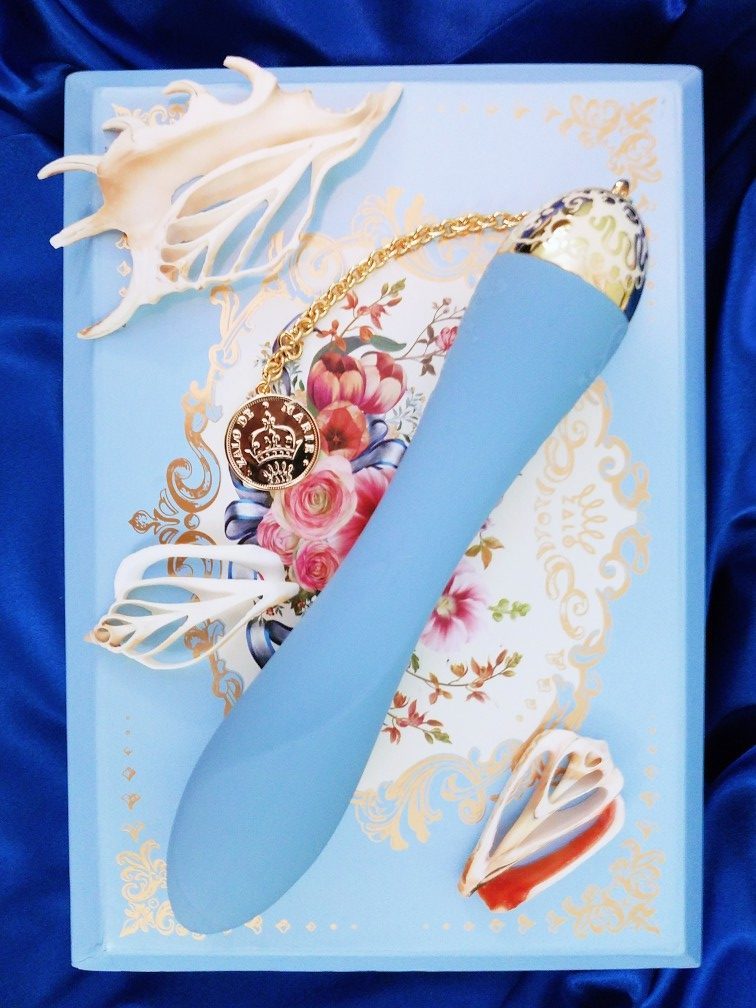 When I'm lost in an endless sea of bullets and G-spot vibrators I COULD be trying, the Zalo Marie stands out as a welcome respite. It packs a punch, has a pointy tip, and its long and elegant curves are versatile for whatever penetration depth I crave.
The speed range also suits a variety of moods, easily accessible via the full control panel on the app. And it carries aesthetic appeal unparalleled even by LELO. What more could I ask of the Zalo Marie?
Maybe it could be more rumbly for those who crave a deep purr. Power queens should consider the We-Vibe Nova, We-Vibe Rave, Swan Wand original, or BMS Pillow Talk Sassy instead. And the Zalo Marie's swell would be more intense if it was off-center like the (non-vibrating) Desirables Dalia.
But it's out of love that I say "Well, it could be a bit more." Until there's a rumblier luxury vibrator that: 1.) has a pointy tip for my clitoris, and 2.) can also satisfy my deep spots, I'm envisioning the Zalo Marie's place in the shrine in which I'll be buried.
UPDATE: I like the Cloud 9 G-Spot Slim 7 Inch a lot as an A-spot vibrator, and it's under $35!
Take it from a deep dildo lover: there's a reason the Zalo Marie has ruined other insertable vibrators for me.
Find the Zalo Marie G-spot vibrator in blue, red, or pink at SheVibe.


SheVibe sent me the royal blue Zalo Marie in exchange for my honest and freely-given opinion. If I hate a sex toy, you'll know. Trust me.
---
Footnotes