Uberrime Helios Sun God textured dildo review
My first dildo from Uberrime wasn't the Helios, but the story begins the same way: it almost too pretty to use. Almost. I oohed and aahed the delectably tight marbling of the colors.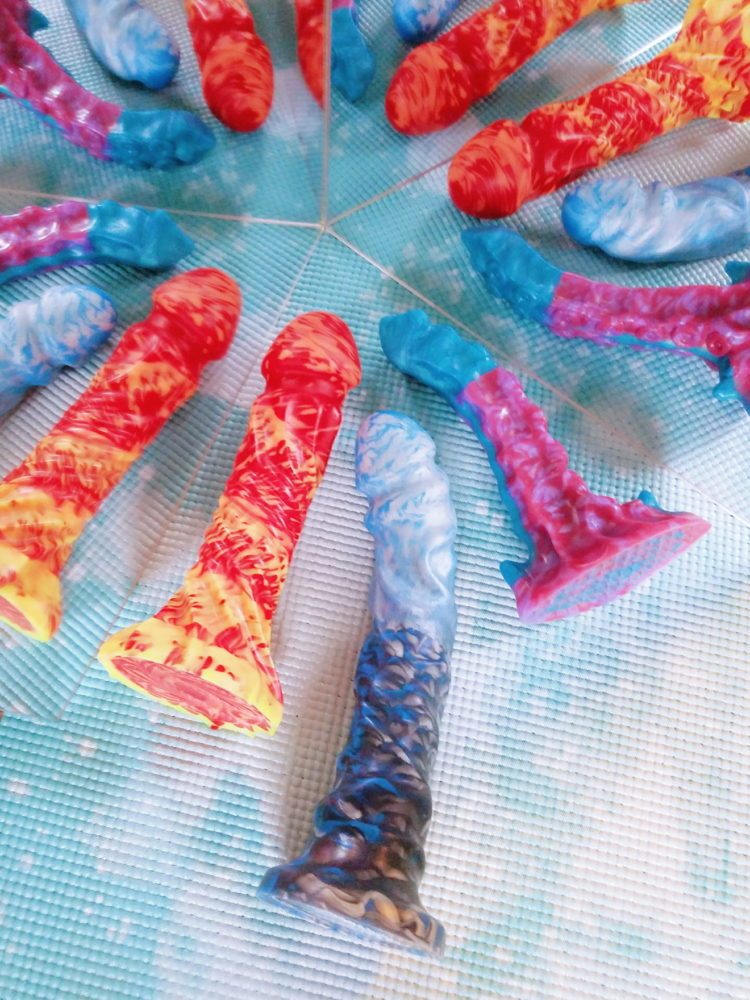 I commanded my boyfriend to hold a lamp over the sink as I took dozens of photos of the Night King in shimmery bath bomb water.
But it took me two or three weeks before I used it— how could any sex toy feel as good as the Night King looked?
What if I was hyping myself up for disappointment? What if inserting the dildo fucked up the Night King's initial honeymoon magic? When I stopped dragging my feet and started testing, I realized how unfounded my trepidation was.
The Uberrime Night King ended up being one of my favorite sex toys in the history of ever. My review of it is the pinnacle of the sex blogger dream. "Gosh, I'm so lucky to have the opportunity to do more of this as a job!" I'd remind myself.
First impressions of the Uberrime Helios Sun God
When Peepshow Toys more recently sent me the Uberrime Helios, I procrastinated for the same reason. But this time, my heart sank at first thrust. What have I done? Hindsight is 20/20. Looking back, I realize that my gripes about the Helios are akin to my trials with the Blush Novelties Avant D5. I can come with just the Helios or D5. Sometimes. But neither comes with ease or consistency— it takes too damn long, and I'd prefer to switch back to my Night King or Avant D4.
To its credit, the ridges that wrap around the Helios Sun God's shaft feel good. However, because they're not as pronounced as the textures on the Night King, they can't get me off on their own. The Helios' coils are merely an interesting extra. And beautiful icing can't save an uncannily mushy cake.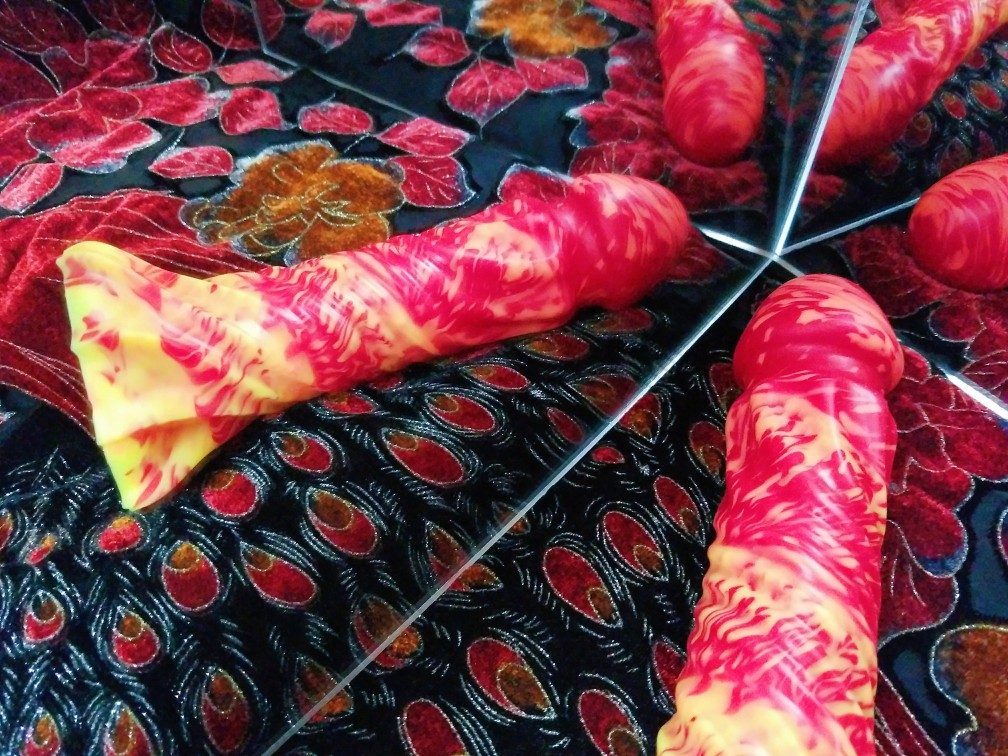 That's what it comes down to: I find the Uberrime Helios Sun God dildo too flexible to do much for my internal zones. The one that Peepshow Toys sent me is 7.5A Shore (medium-soft). It slides and squishes behind my cervix, but lacks the definition to massage the right spot.
The head doesn't exceptionally jut out forward, and there's no curve. And if I try to aim against my cervix, the tip continues to evade and slide past the most sensitive deep spot. Tilting the base of the toy towards my butt does nothing to help angle the toy.
Uberrime Helios for cervix & G-spot stimulation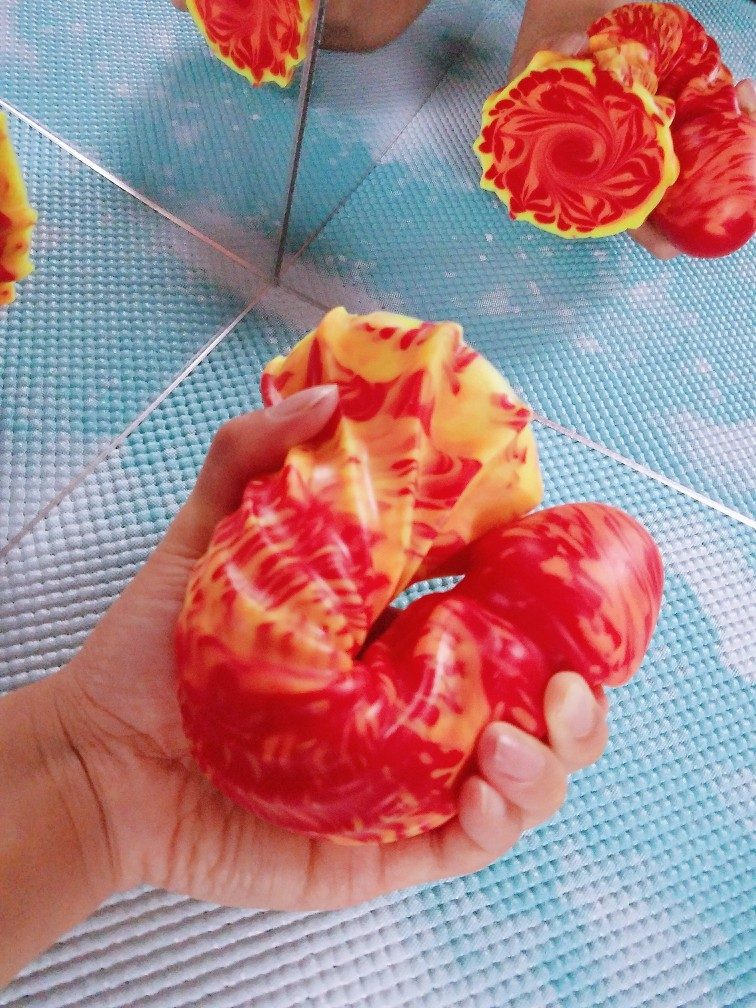 I can come by bottoming myself out and pushing the Helios Sun God in place, all the way in. However, that's not unique to the Helios. I could probably just as easily do that with another, more affordable dildo.
The generic and mass-manufactured NS Colours Soft 8″, for example, is $45. That's a stark contrast to the handmade Helios' $79 price tag. Or I could use any of my firmer and gently curved thrusting toys, like the Uberrime Night King or Vixen Johnny.
Those two other dildos can adequately stimulate my G-spot— another department I find the Uberrime Sun God lacking. When my pubic bone catches in the Helios Sun God's sulcus/dip under the corona, my G-spot is aware of the protruding head. It feels good. But again, it's only pleasant. It's not that the head isn't pronounced. It's more pronounced than the firm Blush Temptasia Elvira. But because I can merely slide the Helios' head without aiming, there's not enough "oomph" to push me over the edge.
Dildos I'd recommend instead of the Helios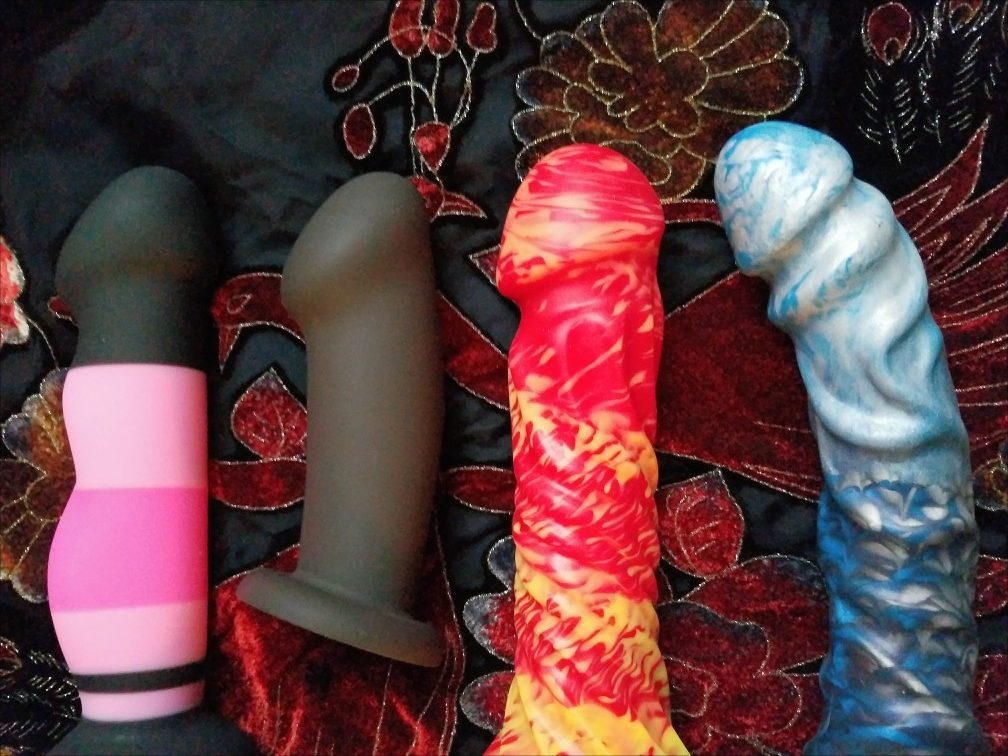 The gist of almost any stimulation I get from the Sun God is that the head, shaft, and textures feel good, but rarely enough to make me come on their own. For that reason, the only feature I find outstanding about the Uberrime Helios Sun God dildo is its good looks. If I want a head that sharply pokes out, I reach for the Avant D3/D4 or Vixen Johnny. If I'm craving twistable and thrustable textures, I'll keep waxing poetic about the Uberrime Night King.
I'm sorry, Marco! I admire the work you put into Uberrime, but the Helios Sun God dildo isn't for me. If a reader needs firmer G-spot stimulation, I'd steer them towards the Uberrime Night King.
I'd recommend the Helios Sun God dildo for people who want a bendy and squishy dildo with girth and small ridges. The sulcus provides some drag and mild G-spot or prostate stimulation, and maybe that's your thang.
But for me, the Uberrime Helios Sun God will stay on my shelf for decorative purposes only. In my household, that's all the Uberrime Helios is good for— being eye candy.
Dildos mentioned in this review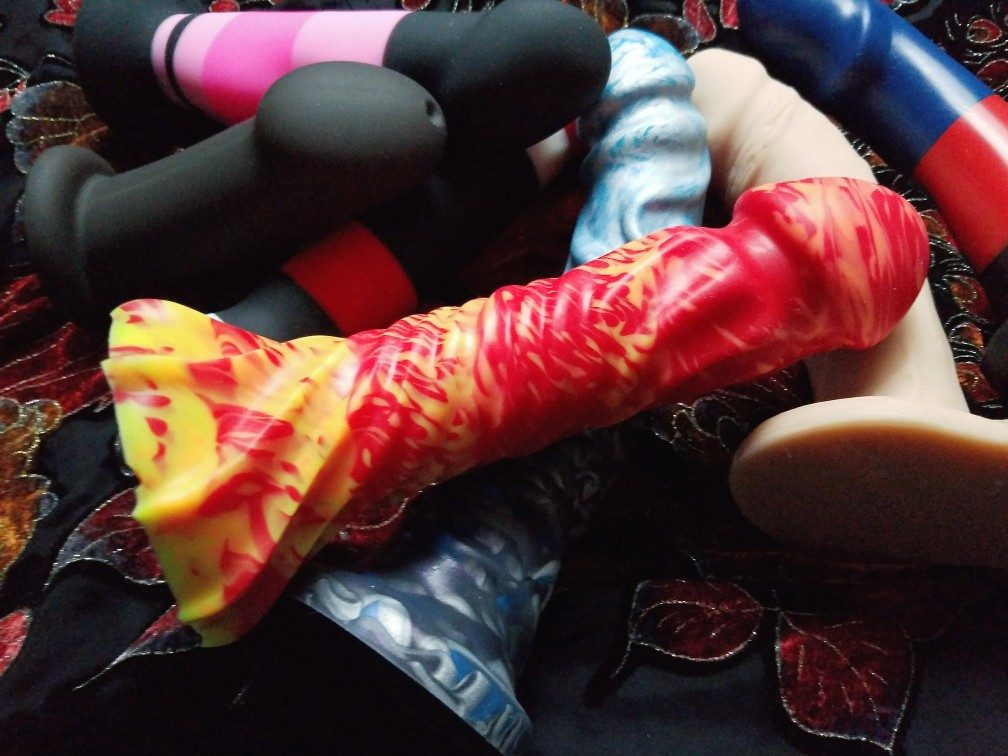 Peepshow Toys coupon code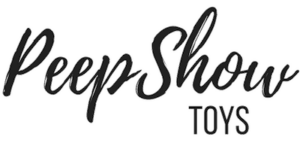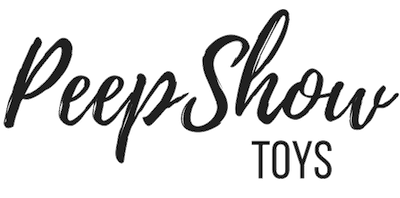 Take 10% off when you buy the Uberrime Helios Sun God dildo or any other toy from Peepshow Toys with coupon code SUPERSMASHCACHE
When you clear your cookies, click my links, and purchase sex toys, I'll receive a commission at no extra cost to you. Thank you for supporting my blog!