Nalone Pure X2 inflatable silicone rabbit vibrator review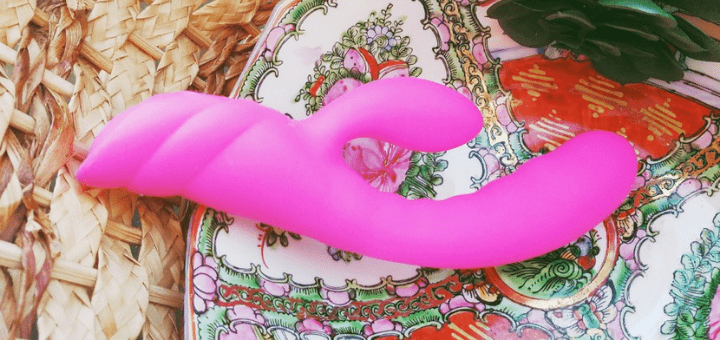 Not many toys carry the Nalone Pure X2's combination of features:
Pumps up to diameters bigger than my wrist
Body-safe, non-porous silicone
Simultaneous internal and external vibration for blended orgasms
I LOVE big toys, and I cannot lie; inflatable vibes are a must-try!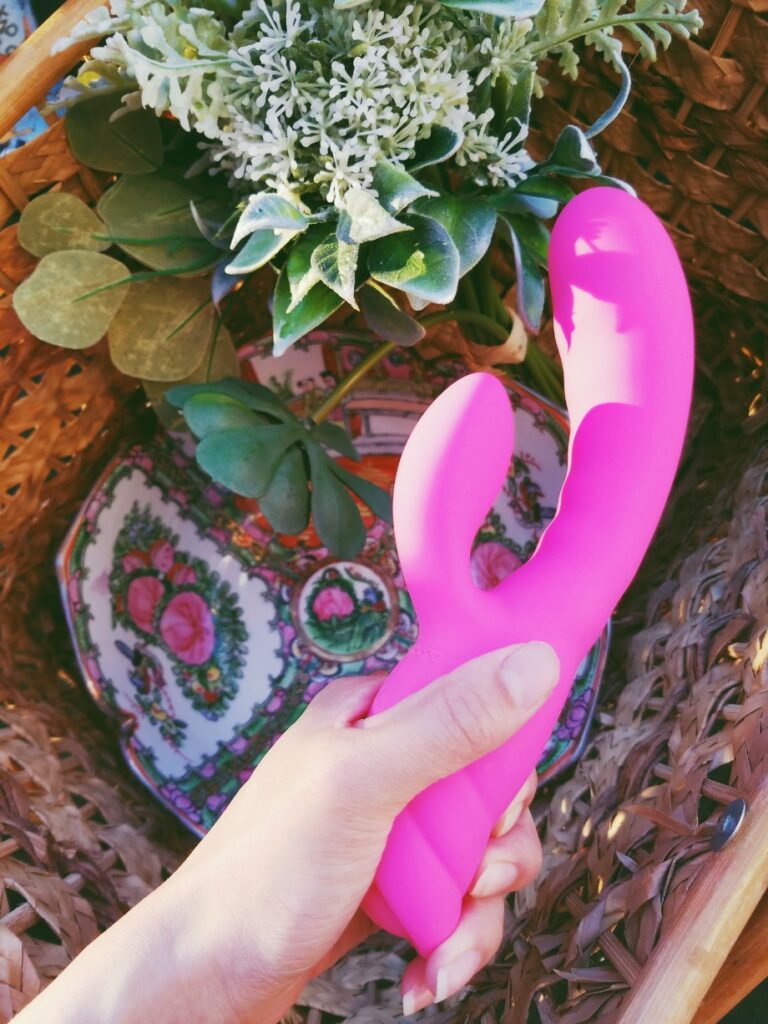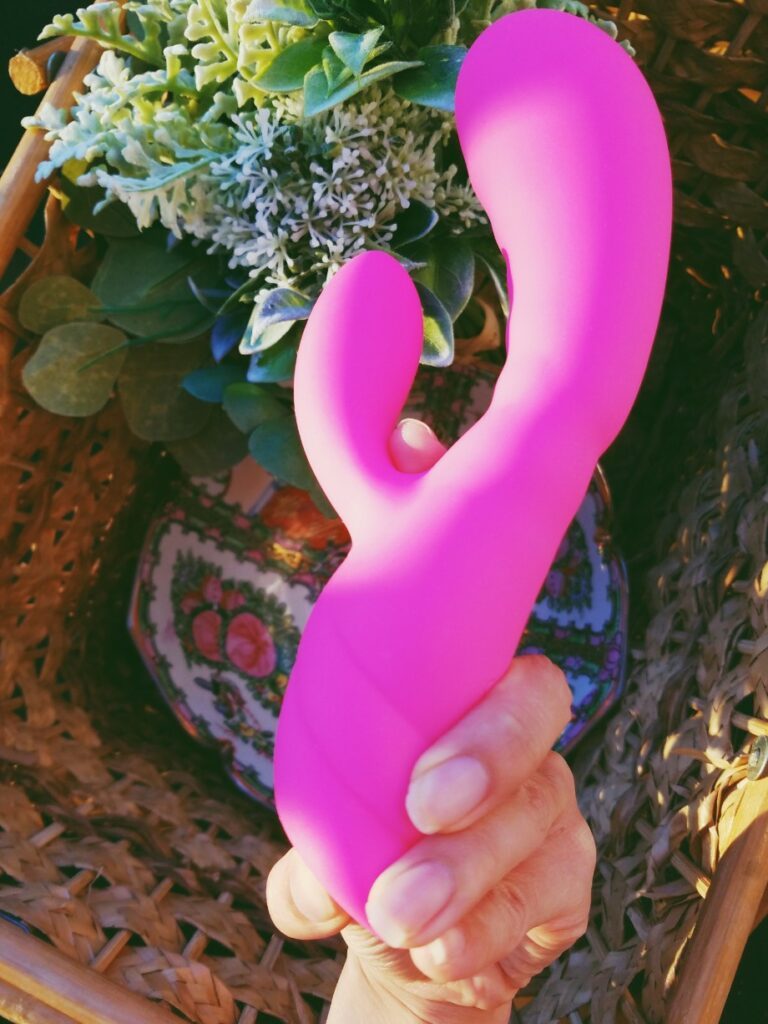 ---
Nalone Pure X2 review table of contents
---
What makes the Nalone Pure X2 so unique?
Body-safe material
While inflating sex toys are nothing new, most are still made of toxic jelly or porous rubber — thus, they're not body-safe. They can house pathogenic microbes or leech harmful chemicals against some of your most delicate tissues.
In contrast, the Nalone Pure X2 is covered all over in silky silicone — no yucky stuff here, as long as you clean the toy properly.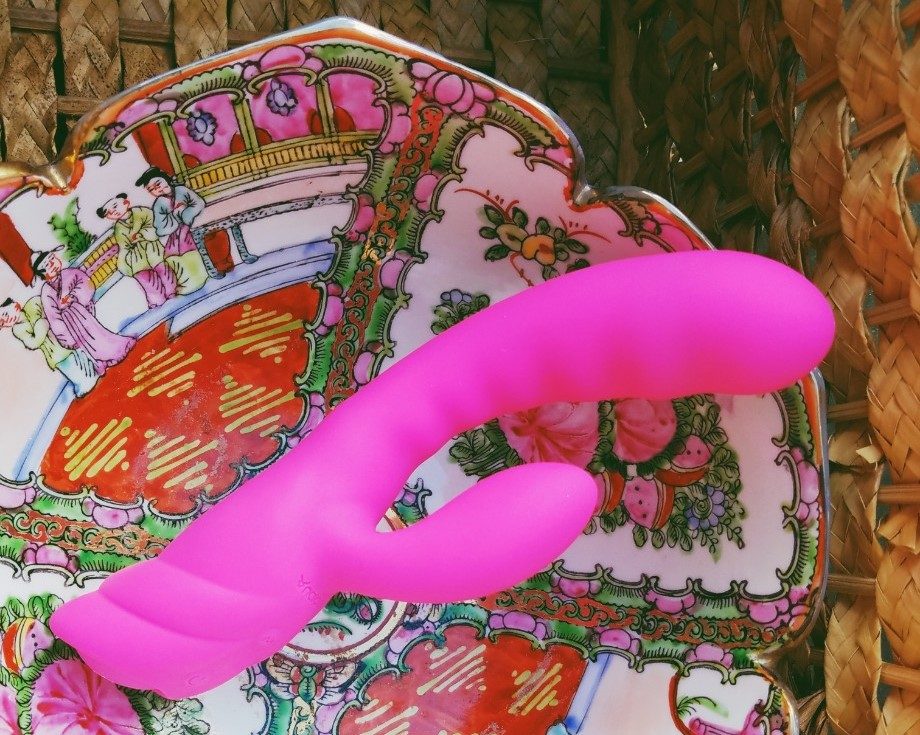 For vaginal use & more
A body-safe, inflating, dual-stimulating vibrator for internal and external sensation is even less common. Though the Nalone Pure X2 is marketed for vaginal and clitoral sensation, those certainly aren't your only options.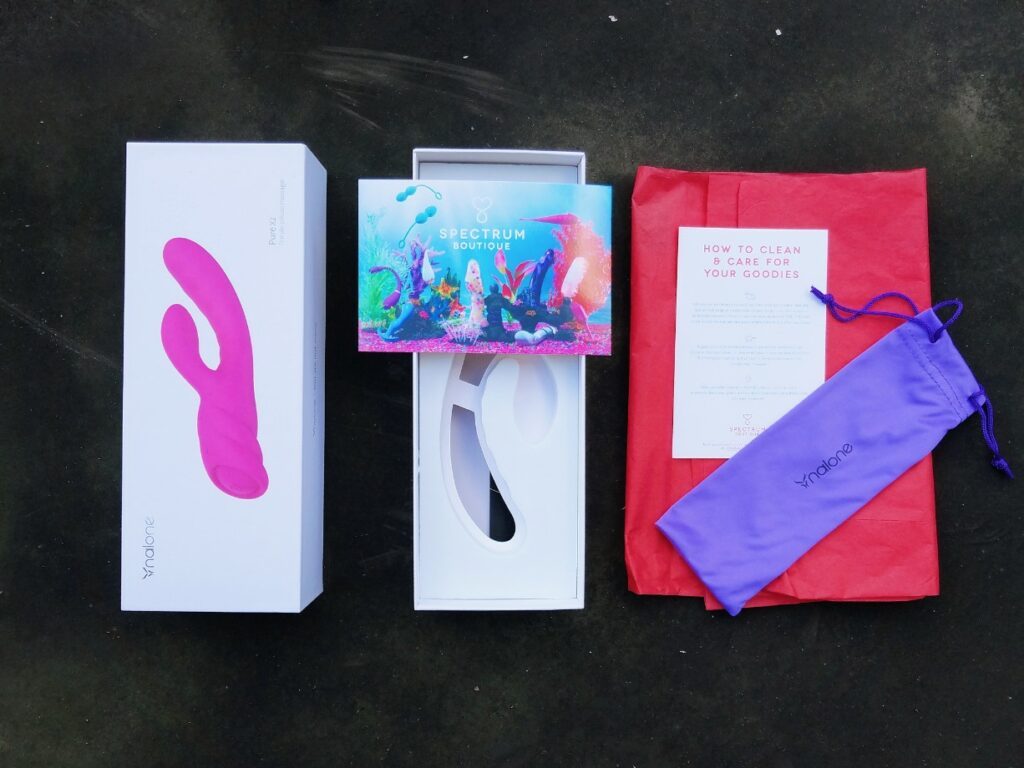 Consider these ways to play with a rabbit vibrator:
Turning it backward for vaginal and perineal stimulation
Using it as a double penetration vibrator
Inserting it anally while the massaging your perineum or testes
Its clitoral arm serves as a stopper, making it butt-safe!
Again though, make sure to clean it thoroughly if you plan on switching holes.
Spray or dip the inserted parts of the toy in a 10% bleach solution. Then, wash thoroughly with soap and water.
---
Nalone Pure X2 inflating silicone vibrator size range and shape
You're probably curious how much the Nalone Pure X2 can expand.
It starts at 1.4″ diameter at rest — about the girth of an average cock. With each "cycle" of pumping, it increases about a third of an inch across.
You can pump it multiple times, going from 1.4″ to 1.7″ to 2″ to 2.3″. See the videos below!
View this post on Instagram
However, I wouldn't suggest going much over 2″. The pressure can stretch out and degrade the silicone, especially if a strong pelvic floor is squeezing around your toy.
We're talking about girth that enters Vixen Outlaw and Randy territory.
That kind of internal pressure is nothing to scoff at, even for me! The result: bountiful orgasms to sate this size queen. Turn up the vibrations for extra leg-shaking "vroom."
Note: while an inflating vibrator popping inside you probably won't hurt you, it can be uncomfortable AF. Don't use your Nalone Pure X2 irresponsibly.
If it breaks during regular play, though, the manufacturer's 1-year warranty covers it.
Other (less interesting) specs of the Nalone Pure X2
8.5″ total length
6″ insertable length
3″ long × 1.25″ wide clit arm

Bendy to accommodate a wide range of clit-vag gaps
Splash-proof
1 hour of play on 2 hours of charge
Subtle ridging on the shaft
Comes with a drawstring pouch
First impressions of the rabbit/dual-stimulation design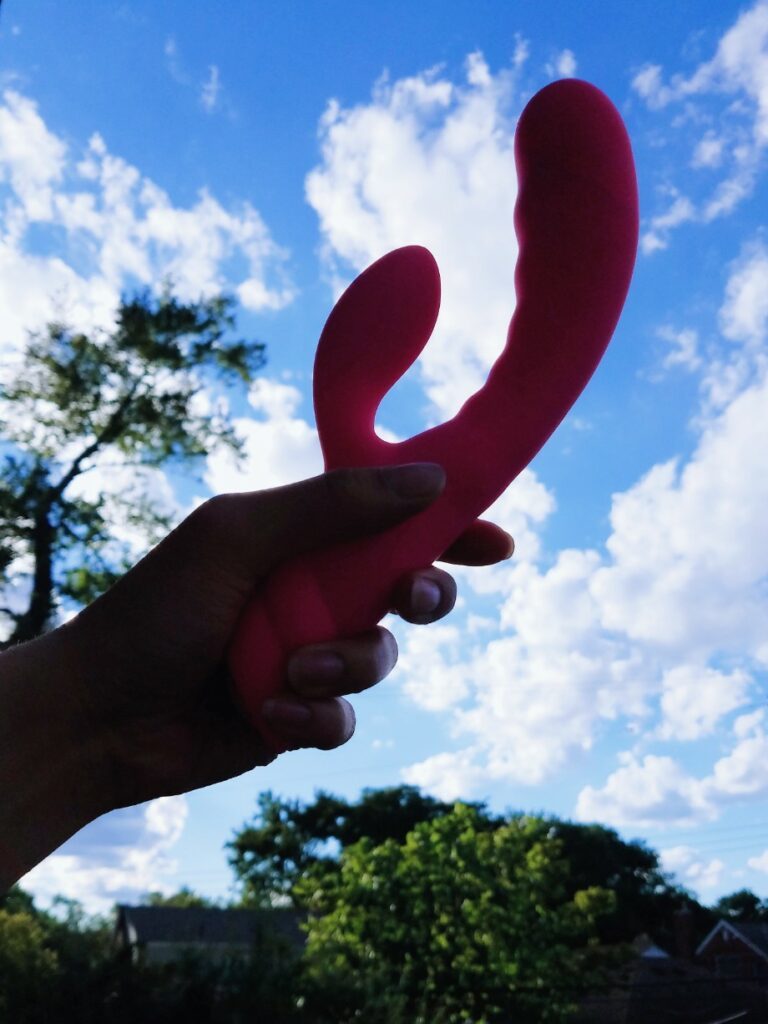 I prefer rabbit vibrators that can deliver a strong clamping, like the original We-Vibe Nova.
The Nalone Pure X2's clit arm is a little flexible for my taste, but only a little. Users with a longer clit-vag gap than me will appreciate that it can bend back.
On the flip side, it's easy for me to apply adequate clitoral pressure with the base of my palm — while pressing on the button at the bottom to inflate, of course.
That's a big plus, considering that dual stimulators are inherently anatomy-specific. If a rabbit vibrator doesn't line up with your clit-vag gap properly, you're SOL.
The Nalone Pure X2's pliability, though, fits a wide variety of vulvas. For most users, I'm not worried about its alignment.
I also enjoy that the inner face of the clitoral stimulator is slightly pointy. Its shape allows for tightly aimed vibration without much extra effort. I wish more rabbit vibrators had this kind of design: focused, but not too prickly or prodding.
I've tried many restrictive or useless rabbit vibrators, but the Nalone Pure X2's design is one of the more versatile options on the market.
---
Nalone Pure X2's functions and controls
There are three buttons on the Nalone Pure X2.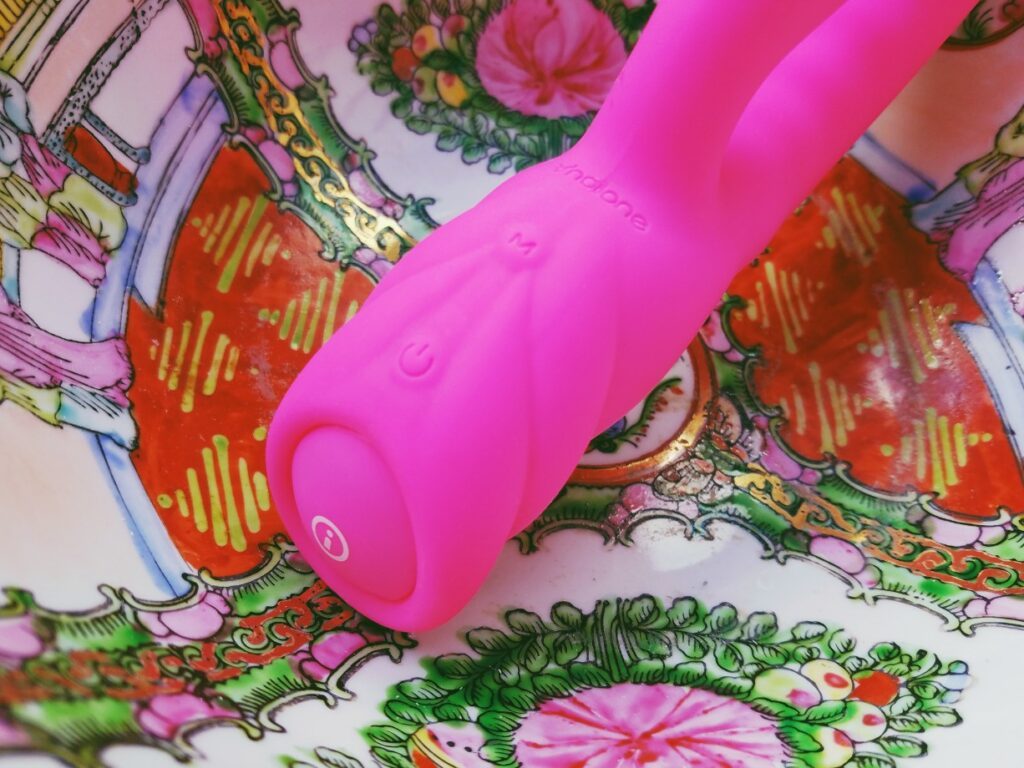 The one on the base inflates and releases/deflates
The middle button turns the toy on/off.
At the top, a button cycles through the vibration settings.
The last one controls both vibrator motors. Our focus is on the external, though, since the air in the inner prong cushions and dampens the machinery.
To inflate the Nalone Pure X2, hold down the button at the bottom.
A tiny hole on the other side will suck in air. When you let go of the control, the vent releases and deflates the vibe.
An inflating vibrator for vaginal use
At first, I was annoyed by the idea of holding down the "inflate" button. In practice, it's not bad.
My index and middle fingers naturally on the bottom of the Nalone Pure X2 while thrusting, anyway. To keep it inflated, I have to apply a little more pressure. But only a little.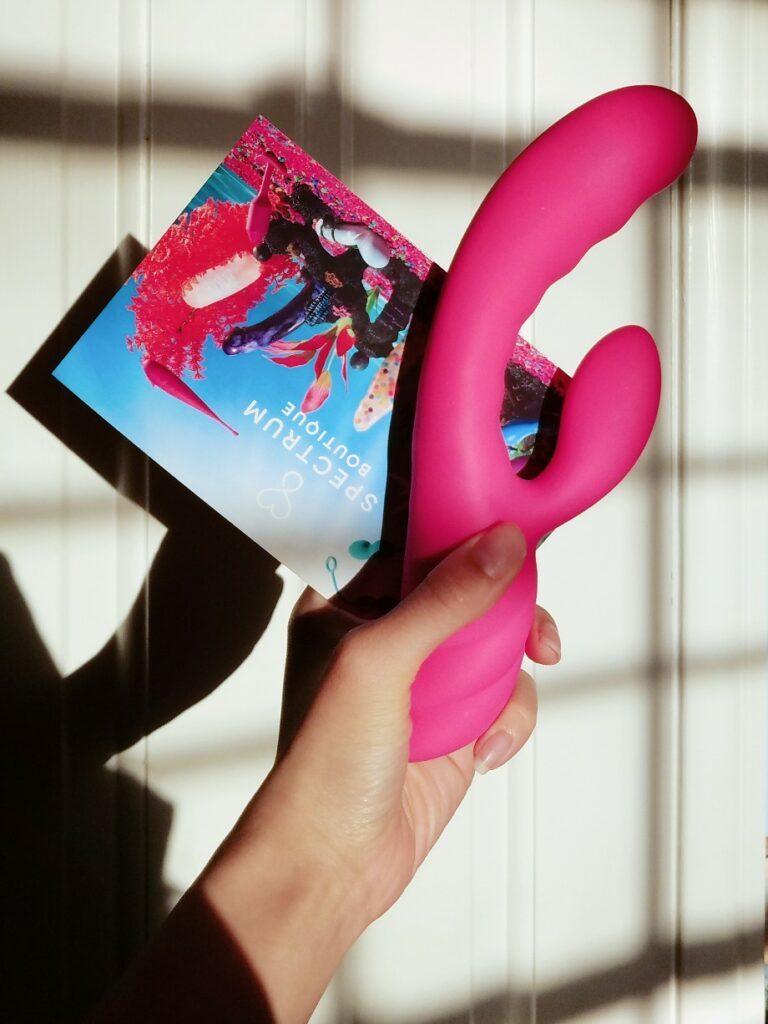 It reminds me of the Minna kGoal's air-cushioned pillow.
I wish the Pure X2 also had separate mechanisms for locking and releasing, though.
If you despise holding down the button, you can carefully wrap a small silicone cock ring over the little hole in the back. That way, once the toy's inflated to the perfect size for you, the vent is blocked when you let go.
Otherwise, if you have mobility problems that might make using this toy difficult, it's not for you.
How are the Nalone Pure X2's vibrations?
The vibrations are very middle-of-the-road and okay.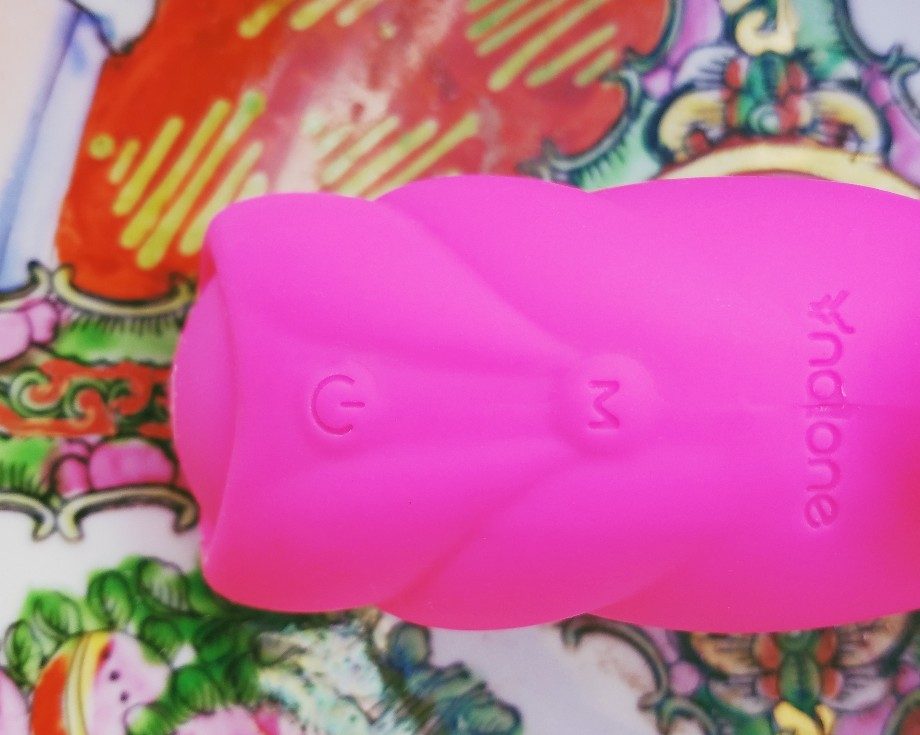 They're not the best or exceptionally rumbly, nor are they the worst.
Again, the internal motor dampens as you inflate more, as expected. But you're not buying the Nalone Pure X2 for the inner vibrations, are you?
In any case, it comes with 7 settings: 3 steady speeds and 4 patterns. 2 of the rhythms are quick thrums that my clitoris appreciates. One is okay for edging. One is useless.
Overall, though, it's a good sign when a vibrator is strong enough that I can get off with a pattern. The targeted, pinpoint shape sure helps!
---
How the Nalone Pure X2 vibrator feels in use
I LIKE THIS INFLATING VIBRATOR A LOT.
I relish increasing the Nalone Pure X2's girth while it's inside me. I adore the overall stretch. All of you know I love big insertable pervertibles against my walls. It's breathtaking, the way the Nalone Pure X2's inflating body synergizes with its concentrated external vibrations.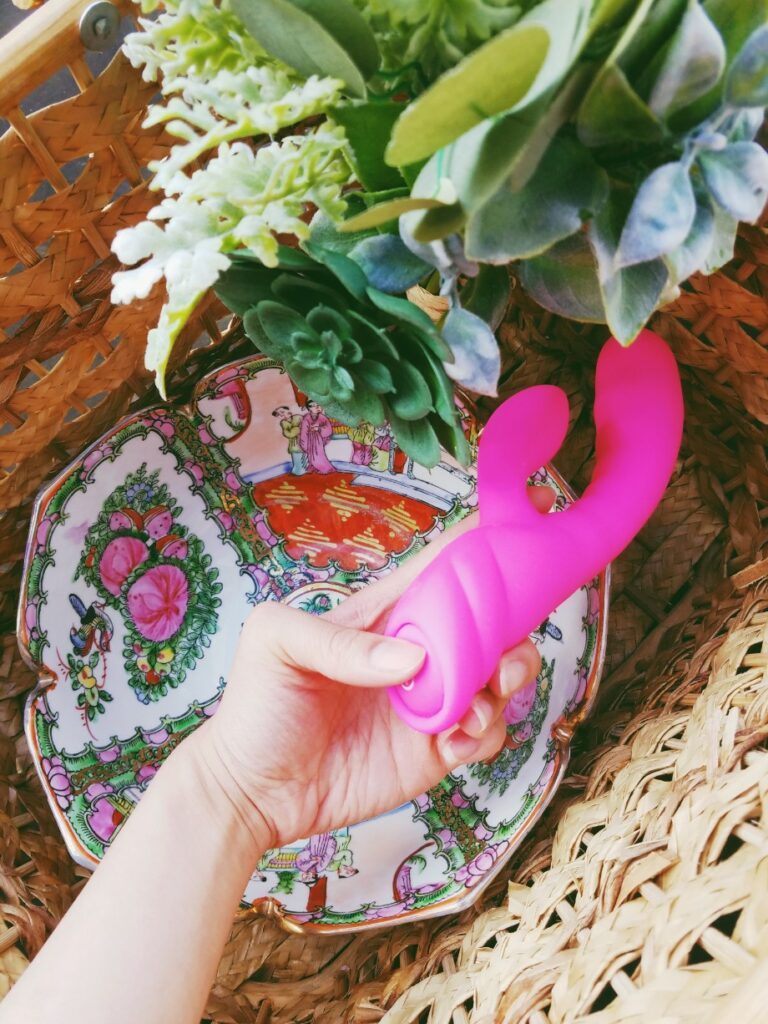 It's a delicious pick for leveling up and trying out bigger girths without buying a gazillion toys.
There aren't many BIG and girthy rabbit vibrators like the Nalone Pure X2. It delivers such intense pressure on the internal clitoral legs while the outside reverberates.
---
My verdict on the Nalone Pure X2 inflating silicone vibrator
If it's a big vaginal stretch you're looking for in a rabbit vibrator, you can't ignore the Nalone Pure X2.
While it's not perfect, it's worth it for the unique experience it offers. The Nalone Pure X2 can pump up plenty, by my standards. Its silicone is smooth as silk. And while the vibrations are nothing to write home about, they're strong enough and focused.
It's all about how the Nalone Pure X2's features come together — more incredible than the sum of its parts.
There aren't many other body-safe inflating sex toys on the market that can come close.
---
Take 10% off with my Spectrum Boutique discount code!
Use code SUPERSMASH10 for 10% off any non-sale items at Spectrum Boutique. The discount applies sitewide, so knock yourself out. Maybe get some good water-based lube to prepare for your future explorations with fat sex toys.
Where to next?
The Nalone Pure X2 inflating vibrator is a dream, but its shape isn't very G-spotty.
If you're looking for a rabbit vibrator for intense G-spot stimulation, consider the We-Vibe Nova instead.
Relevant readings:
Shop Spectrum Boutique now: