Fun Toys Bioskin Gplug vibrating dual-density butt plug review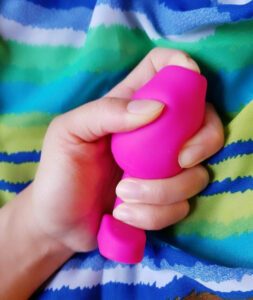 If you think the sex toy market is saturated, I have three words for you: dual-density butt plugs. There aren't that many out there, let alone dual-density vibrating butt plugs. This lack seems like such a disservice when Millennials are known for eating avocados and ass. (As well as killing industries.)
Sex toy manufacturers often treat butt toys as an afterthought, so bravo to Fun Toys London for offering something fresh with their Bioskin Gplug.
Dual-density? Bioskin????
If you've never heard of dual-density sex toys before, it's just the slightly more technical term for "squishy on the outside and firm on the inside." With a well-executed dual-density dildo, you have a firm structural core for easy thrusting, along with squish for comfort and a more realistic feel.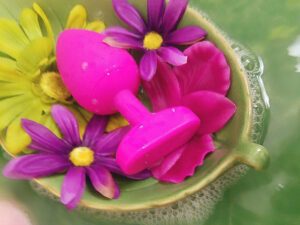 The FT London Bioskin Gplug's outer layer, though, doesn't feel like other dual-density silicone I've tried— it's softer. It's more like there's spongy memory foam under the body-safe silicone encasing.
As a whole, the toy is body-safe because, whatever the underlying material is, the silicone exterior is non-porous and watertight. Soap and water are enough to clean it. If you want a more thorough cleaning, use a 10% bleach solution to kill germs. Then wash thoroughly again with soap and water.
General features of the FT London Bioskin Gplug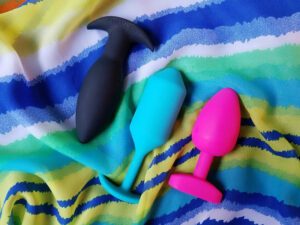 Fun Toys' silicone surfaces always have a gorgeous finish. You'll want to rub the Gplug against your face when you first unpack it. It's not tacky and glossy like Tantus's OG silicone, nor does it have as much drag as Blush's velvety matte finish. It feels much smoother and refined. As a luxury sex toy should.
If I were to take the foam off, the rigid vibrating portion would be a bit over 1″ wide.  With the foam, it's 1.5″ wide and technically the same max girth as my Snug Plug Large, but far more gentle due to the tapering and squishiness. The squish is much more noticeable at the tip than the sides.
Inserting the Gplug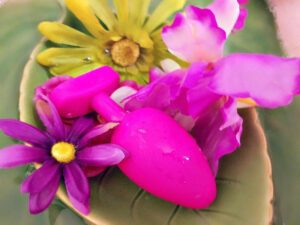 I think this plug is perfect for warming up to anal intercourse or using more rigid toys. It was my go-to for that purpose when I tested the barrel-shaped Snug Plug 3.
The Gplug's smoother surface has little drag and doesn't demand much lube. I recommend Sutil Rich or Sliquid Sassy for their gel-like formulas. You can use just the soft and tapered tip first and insert more as you get more comfortable with girth. I find that the Fun Toys Gplug takes longer to enter than the super-slick, mirror-polished njoy Pure Plug Large. But it's more enjoyable on the way in because of how yielding it is.
However, it's big enough that I'd recommend this plug to those experienced with butt toys or willing to take time using their fingers beforehand. If you want to insert it all the way, keep in mind that, despite the squishy tip, the bottom of the bulb is rigid.
Wearing the Gplug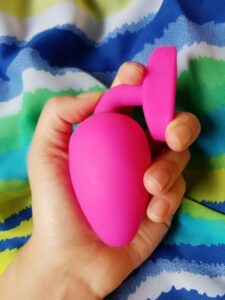 Once it's in, the Gplug is comfortable for long-term wear, due to it sharing many features with my beloved Snug Plug and njoy Pure Plug.
For one, the base is slender and fits between the cheeks. A T-shaped stopper makes so much more sense than a round one. The neck is flexible and bends as you move around. And there's a significant size difference between the bulb and neck, helping the plug stay in place as you go about your day.
Just like any other butt plug, it gives a sense of fullness. However, I don't think that to wear the Gplug while you're out would do the most justice to it. Its squish is best appreciated during vaginal intercourse and experimenting with double penetration.
The Fun Toys Gplug's vibrations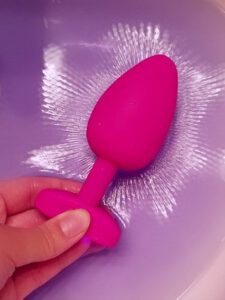 There are six functions on the Fun Toys Gplug: one steady vibration setting and five patterns. And they are among the buzziest I have ever witnessed in a rechargeable vibrator. Buzzier than my VeDO Bam Mini, even.
Turning on the Gplug made my boyfriend ex grimace as if a skunk had just sprayed the air. It gave me flashbacks to when I tried the original Gvibe (before the mini Gvibe came out) and didn't want to dedicate writing 500 words about such feeble vibrations.
If it were a clitoral vibrator, whose success chiefly relied on power and rumble, I'd tear it apart. However, because it's a butt plug, I'm willing to grant amnesty. For one, my butt is way more sensitive to vibrations. Even though anal penetration has never gotten me off on its own, even buzzy vibrations and subtle textures still feel like a lot. They add to the experience.
Favorite butt toys to thrust— a comparison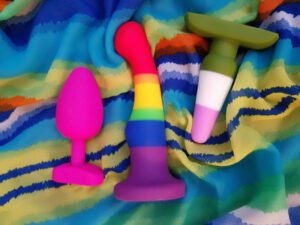 For me, this plug's vibrations are more to help me relax. That's part of why it's so comfortable for me to take. The Gplug's symphony of squish and subtle shivering make it more enjoyable to thrust than the standard butt toy.
Usually, I like a bit bumpiness when thrusting toys anally. Examples include the little swell near the base of the Avant Pride P1, and the bottom of the Avant Pride P5 and P6 plugs' bulbs. The Gplug feels fuller than the P1 and P6 due to its size, of course, and more intense. However, it's almost as comfortable for me due to the smoothness and squish. Despite being about the same size as the P5, the Gplug is far more enjoyable to insert.
Overall verdict on the Fun Toys Bioskin Gplug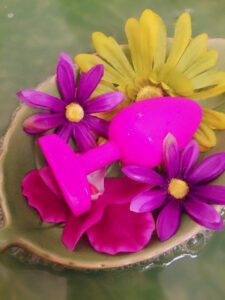 Anal penetration can't get me off on its own as deep vaginal penetration can. But using the Gplug intensifies clitoral orgasms in a way that I can only describe as mesmerizing and trance-like. It gently stretches, and I clench around the dual-density firmness. The orgasms are much more profound and fuller-bodied.
I'll repeat it: it's easiest to appreciate the Fun Toys London Gplug when pairing it with vaginal and clitoral stimulation. The outer layer of the plug yields luxuriously, but its core still has enough structure to thrust with ease. Other sex toy companies should consider joining this gold rush and offering more dual-density options for butt plugs.
Other sex toys you might like
If you want to try a more affordable dual-density dildo of a similar girth to the Gplug, consider the Blush Real Nude Helio. Its outer layer isn't as soft as the Gplug's but squishier than the standard silicone that Blush uses in its (already springy) Avant toys. Just make sure to use even more lube!
If you want a more luxurious and realistic-feeling dildo of moderate size, consider the VixSkin Mustang or VixSkin Raquel. They are quite a bit pricier, but I don't think any company does dual-density silicone better than Vixen Creations does.
[foogallery id="7221″]
If you still want a vibrating dual-density toy, I suggest sticking with the Fun Toys Bioskin Gplug or getting the Fun Toys G Jack 2. The G Jack costs substantially more than the Gplug but is more powerful, more squishy, and with more length. And I appreciate the Gplug at my sphincter, but as I learned with the Snug Plug, length does matter for anal stimulation.
Thank you, Spectrum Boutique!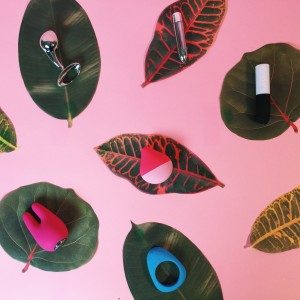 Spectrum Boutique sent me the Fun Toys London Bioskin Gplug in exchange for my honest and freely-given review.
As always, all opinions expressed are my own and honest to the best of my knowledge. I also use affiliate links in this post, which bring me a commission at no extra cost to you. You can shop at Spectrum Boutique and use coupon code SUPERSMASH10 to take 10% off your total.