Blush Novelties Hop Cottontail Silicone G-spot Rabbit Vibrator Review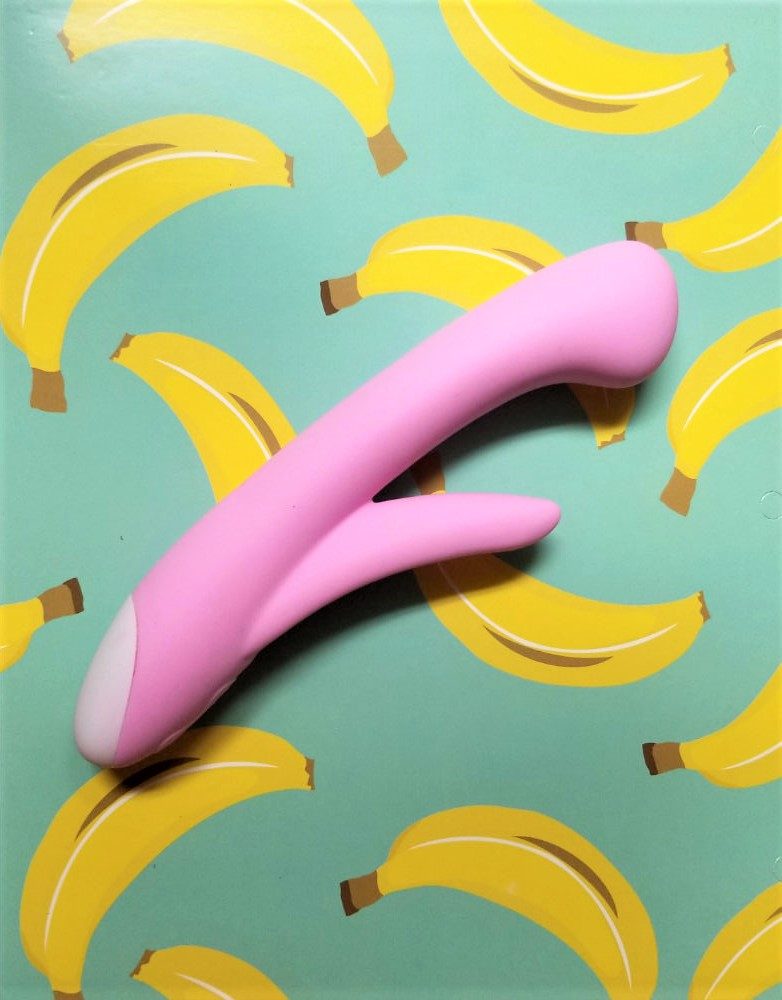 If you've ever drooled at LELO's luxurious displays and their Gigi 2's shape, read on. I'm about to introduce you to something even better for less than half the price. Silky matte silicone. Rumbly vibrations. A classic flat head to knead the G-spot. These features all belong to the Blush Novelties Hop Cottontail.
An affordable alternative to the LELO Gigi 2
No joke: the insertable portion is way better than the LELO Gigi 2 in many ways. For one, it's way more powerful (many sex bloggers agree that the Gigi is underpowered as fuck). With the shitstorm that LELO has been for the past five years, hiding mediocre motors behind suave packaging doesn't cut it anymore. Affordable and body-safe toys are the future.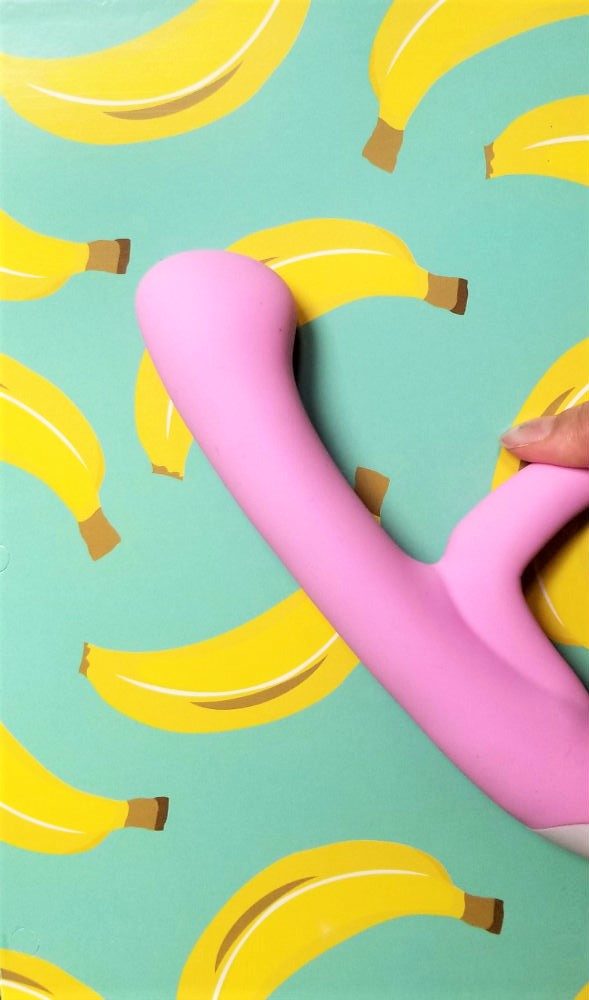 Don't underestimate the Hop Cottontail's vibrations just because it comes in two pretty pinks. Though you'd be justified for hating pink, the motors deserve a luxury price tag.
Zingy but potent vibrations
The Cottontail's lowest setting (out of 3) is a moderate hum, a bit more high-pitched than and not quite as rumbly as my beloved Pillow Talk Sassy. (Fun fact: the Pillow Talk Sassy is rumblier and more powerful than the Mona 2, another popular LELO vibrator.) But the Hop Cottontail is among my favorite affordable vibrators to use on my clit. It has far more intensity than the Sassy, both regarding power and G-spot head shape.
A classic G-spotting head shape
The flattened head of the Blush Hop Cottontail is broader than the Gigi's, allowing it to knead more of my G-spot's surface area. At the same time, it's more rounded and less severely hooked than the LELO Ella or Picobong Moka. The Ella's abruptly squared head tended to miss my G-spot and aim a bit past it— which works for plenty of people, but not me.
In contrast, the Hop Cottontail's relatively rounded head juts out to more snugly nestle against my G-spot's dip. It's as well thought out as a flat G-spot head design can get, and you can push the flexible clit arm out of the way if you don't want to use it. However, its intensity puts me in a weird position to write this review.
I'm doing better than before!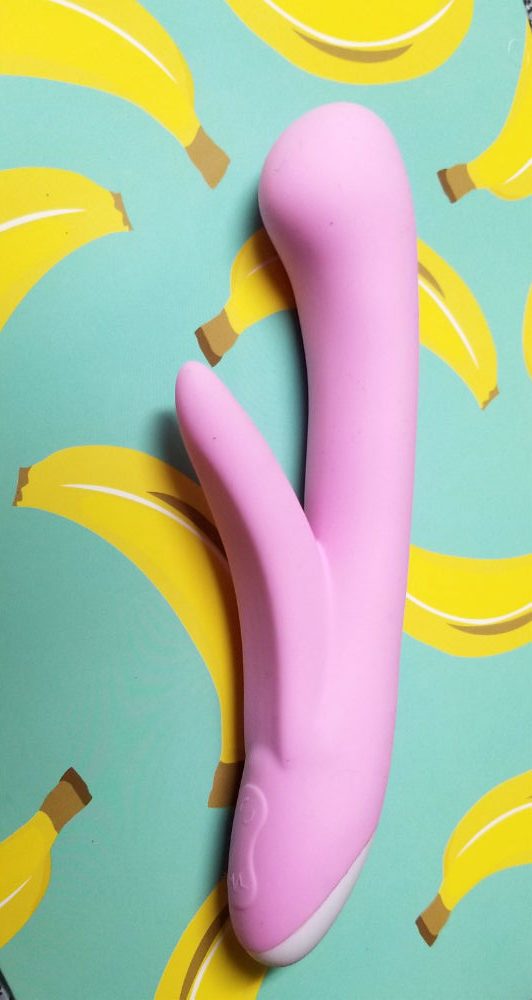 I received the Hop Cottontail rabbit vibe as a review sample from Blush Novelties in August 2018. Its combination of power and G-spotty shape could have taken over a slot in my top five best vibrators at the time. The Eroscillator and Zumio would be first, of course, then the Pillow Talk Sassy, then the Stronic Real. And the Cottontail would come next (I don't count the Velvet Thruster as a vibrator).
I love rigid G-spot earthquakes and annihilators. That's my brand: I have a vagina of steel. My cervix still loves the bludgeon-like njoy Eleven. My G-spot still likes the wooden Lumberjill Grace's pressure and the stainless steel Eleven's rounded head.
But come September and October 2018, I had some health problems that rendered the Hop Cottontail's intensity my nemesis and not my friend. I'm happy to report that my health has improved and I fell in love with the Blush Hop Cottontail again. I'm leaving the following section up, out of compassion for my past self.
Here's what my Blush Hop Cottontail review said before:
But nowadays, my G-spot can't handle more direct stimulation like my boyfriend's curled fingers or being pushed against my his penis's tip. My G-spot no longer deals well with turning on the Cottontail's vibrations or thrusting directly with its rigidity. Even my A-spot hates it— the entire front wall of my vagina cowers in fear.
I don't know why this is happening. Perhaps my family history of endometriosis is rearing its ugly head for me. Maybe I'm witnessing symptoms that may worsen over time, or perhaps a little CBD lube will handle pain in the long run.
My past self's dream rabbit vibrator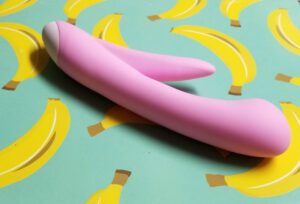 The most important thing I know about this vibe is that, if I had received the Hop Cottontail any earlier, I would only have two gripes. I loved everything else. One, you couldn't control the motors independently. And two, while the shaft's ability to revolve in tiny circles was cool, it didn't add anything substantial to the stimulation for me.
Otherwise, the G-spot head is perfection if you like something intense to thrust or to grind against your G-spot. The clitoral attachment is pinpoint, powerful, with no irritating rabbit ears or anything.
Blush Novelties Hop Cottontail rabbit vibrator measurements
And the Hop Cottontail rabbit's dimensions fit me well. The clit arm was the optimal distance from my vagina, flexible enough that I could easily adjust it. Someone with a longer clit-vag gap could bend it while thrusting to maintain pressure on their clit.
Unlike with other rabbits I've tried, this one for someone with average to closely-spaced anatomy. My G-spot is somewhere between 1 and 2 inches inside my vagina, and my clit-vag gap is an average 1 inch.
The Hop Cottontail's prongs are close enough for me to get simultaneous dual stimulation. And did I mention that the clitoral stimulator is pinpoint and rumbly, one of my favorite combinations?
Preferences are fluid, and changes are okay
Writing this review is was frustrating when the Hop Cottontail's features blow previous rabbits I've tried out of the water. It was a dream come true, but my circumstances aren't right for it now. weren't optimal when I originally wrote this review.
The BMS Pillow Talk Sassy: another affordable LELO vibrator alternative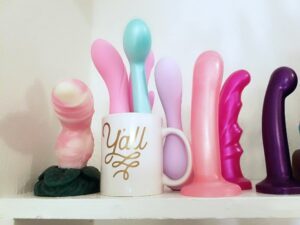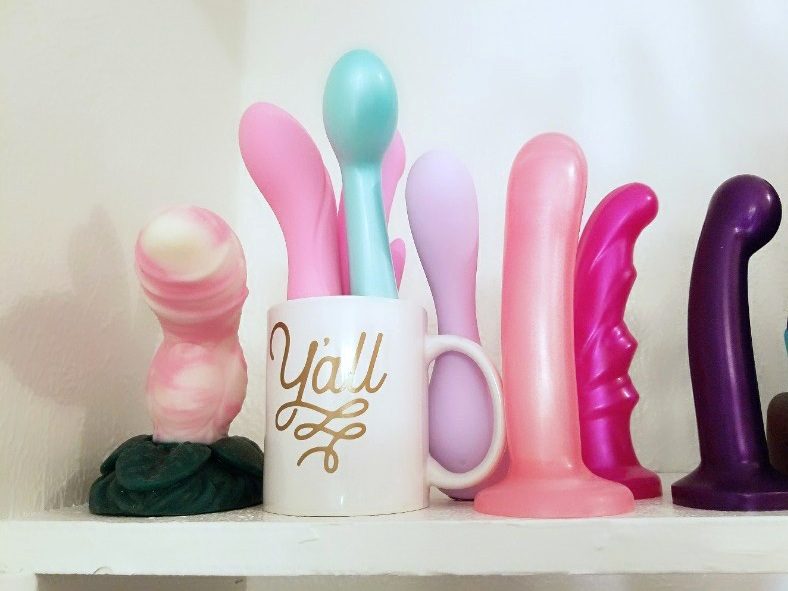 In the interim, my Pillow Talk Sassy was a more versatile and gentle shape that suited my G-spot's needs on more occasions. But also, I still had days where my clit wanted something more potent than the Sassy and less so than the Tango. And there's nothing wrong with using the Hop Cottontail externally sometimes and internally other times. That's the beauty of an insertable vibrator. Likewise, you don't have to turn it on if you're not in the mood, you also don't have to insert it.
My verdict on the Blush Novelties Hop Cottontail rabbit vibrator
The Blush Hop Cottontail is perfect for those who crave firm G-spot kneading and powerful vibration. Its incompatibility with my body didn't mean that the vibrator nor my body was broken. Sex toys should accommodate my experience, my medical conditions, and me in general— not the other way around.
have measurements similar to mine
like pinpoint clit stim
crave intense G-spot grinding
And if you seek a budget-friendly and more powerful alternative to the LELO Gigi 2? You could get a Picobong Moka. But from my experience, I'd say that the Hop Cottontail fits a broader range of G-spots because its shape isn't as extreme. Both the Moka and Cottontail are affordable tastes of luxury— quality but not as pretentious.
Where to get the Blush Novelties Hop Cottontail Rabbit Vibrator
As of 12 September 2019, the Hop Cottontail is on sale at Peepshow Toys for $69.99. You can use coupon code SUPERSMASHCACHE for an additional 10% off, bringing the price down to $59.49.
---
I received the Blush Novelties Hop Cottontail in exchange for my honest and freely-given review. There are also affiliate links in this review, which bring me a commission at no extra cost to you. If anything, you'd save money from using my coupon code.