B-Vibe Rimming Plug 2 review: vibrating butt plug with spinning beads
Vibrators have come a long way since Sex and the City, but the people who innovated sex toys with rotating beads were on to something.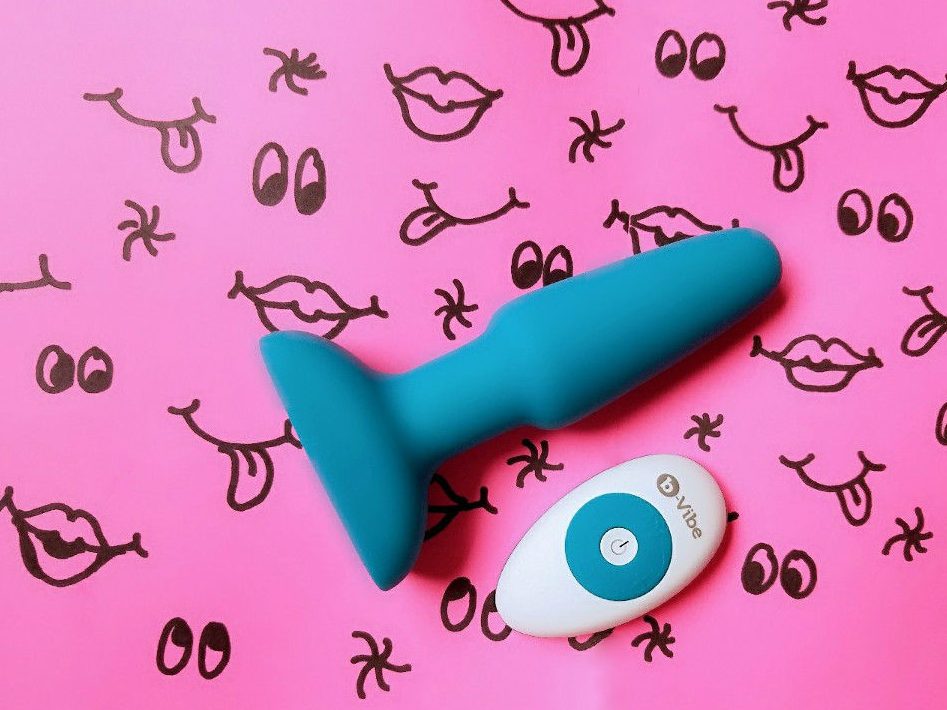 B-Vibe uses the once-trendy spinning bead motor in a novel way: not in a rabbit, but in a vibrating butt plug. More precisely, the B-Vibe Rimming Plug 2's beads occupy the neck of the plug.
Their placement engages the anus's sensitive fine-touch receptors. And that's not all— the beads in the neck can revolve back-and-forth, like a tongue flicking. They can circle in one direction, in both directions, at different speeds, and for adjustable amounts of time before switching. At the tip of the plug is a conventional vibrating motor so you can get the best of both worlds.
You need to know about the B-Vibe Rimming Plug 2 if you're into butt stuff and can handle the 1.5″ max width. However, it's not a toy for everybody (certainly not butt beginners). The spinning motor can only be so narrow— even the smaller Rimming Plug Petite is still 1.4″ wide. And there are more caveats beyond the size.
Using the B-Vibe Rimming Plug 2
Once the Rimming Plug 2 is situated, and I'm relaxed, the beads feel like small but rapid flicks inside. I can't compare it to the times I've been rimmed because, on those occasions, the stimulation was mostly external and with broader motions. There are five rows of beads, and while I can't feel each bead, I can feel the columns as they revolve.
Combining vibration and rotation
My favorite settings are the one where the spinning beads quickly switch direction back and forth, and the one where the spinning gradually ramps up in speed and de-escalates.
You can quickly access the former via the button on the base. For the latter, you need to use the remote control. Both the plug and the remote are splash-proof (but not submersible).
While the spinning one way merely feels good, the different directions and patterns give it a less mechanical and more dimensional feel. You can also combine different spinning sensations with vibration patterns and speeds. Both sets of movements have six speed settings.
Lazy, mostly hands-free orgasms
With the beads' speed turned up, the momentum builds quickly. In just two or three minutes, I go from, "Okay, this feels nice," to gasping and trying to steady my breath. The orgasms are mildly overwhelming, but even more expansive and flowing when I'm deliberate about my breathing.
Despite the Rimming Plug 2's relatively buzzy vibrations and lack of pressure on my cervix, the orgasms don't stop. For me, it's an alternative route for unlocking orgasms that don't quickly dip down from the plateau— coming, again and again, is easy.
Other butt plugs have been arousing and fun to wear, but no other plug has made me come by itself. The B-Vibe Rimming Plug 2 is the most stimulating butt plug I have ever tried— in the best way possible. If I had never tried it, I would have assumed I couldn't orgasm via backdoor stimulation alone.
What is the B-Vibe Rimming plug not for?
It can't replicate a tongue's broad strokes…
…even though its mechanism has its perks. I do have to warn my readers: do not expect the Rimming Plug 2 to replicate "the real thing."
Between each bead column, the dips aren't especially deep. They spin rapidly, but if you seek to replicate the deep pressure changes and big motions of a rimming tongue, this plug's action isn't for you.
As well, the beads spin under the silicone coating, so the sensation is subtle. It's pronounced enough for anal use, though too subtle for me to discern the beads moving in my vagina. If you were looking for a plug to insert vaginally and mimic cunnilingus, you're SOL unless your vagina is responsive to fine sensations.
It does not have rumbly vibrations
I'd throw the B-Vibe Rimming Plug 2 against the wall if it were a clitoral vibrator. It's so weak that it doesn't fit neatly into the buzzy vs. rumbly dichotomy. My boyfriend felt the vibrations and called them "a high rumble. Like if it were any higher-pitched, it'd be buzzy."
When I think of a high rumble, I think of something with depth and an obnoxiously high speed, like the Bodywand Midnight. The Rimming Plug 2 has neither of these things. Instead, it's very surface-level and a moderate pitch. Its buzz isn't inherently a bad thing, because it's not so whiny or shrill that it's irritating.
However, it would have failed by my clit's standards. By my butt's standards, it's acceptable when combined with the rimming action.
It's not for those who need flexibility
The B-Vibe Rimming Plug 2 is mostly rigid. With about 5 inches of insertable length, some may find the Rimming Plug's length pokey and irritating. I like a long butt plug, but I understand that not everyone feels that way. The Rimming Plug Petite is an inch shorter, but still just as stiff.
The rimming action is not discreet enough to use in public
The spinning beads sound like the whirr of a small dental drill. Just don't wear it with the revolving action gong. The vibrations are of a moderate volume when I initially turn them on, but the noise is dampened and barely audible once inserted. I would not recommend the B-Vibe Rimming Plug 2 if you mostly want vibrations, though.
My verdict on the B-Vibe Rimming Plug
I've never had such a high concentration of fun with a butt plug before. And, as always, B-Vibe includes carefully-chosen packaging; with the B-Vibe Rimming Plug 2 and remote control, you get a sturdy carrying case.
I want readers to be realistic with their expectations. While the beads and vibrations offer a one-of-a-kind sensation, the B-Vibe Rimming Plug 2 will not replace a human tongue.
And that's fine— sex toys were never meant to replace humans. The remote control is a well-executed addition that makes it right at home in partner play. When used solo, it makes exploring the combinations of movements far more convenient.
Overall, the B-Vibe Rimming Plug 2 is an advanced and stimulating toy for those who are already comfortable with anal penetration. Despite the downsides, I'd recommend it in a heartbeat for those who don't mind buzzy vibrations and enjoy rimming with small, fast flicks.
Thank you to Spectrum Boutique for sending me the B-Vibe Rimming plug 2!
I received the Rimming Plug at no cost in exchange for my freely-given and honest opinion. As always, I tell you in detail what I like and don't like about this toy.
I also use affiliate links in this post, which bring me a commission at no extra cost to you when you purchase. If anything, you'd be saving money. Take $15 off the B-Vibe Rimming Plug or 10% off your entire order at Spectrum Boutique with coupon code SUPERSMASH10