We-Vibe Rave Review: a rumbly G-spot & A-spot vibrator!
The We-Vibe Rave is the only G-spot vibrator I'd buy if I had to restart my collection from nothing — even after owning over $10,000 of sex toys. There, I said it.
G-spot vibrators don't often do much for me, but this one does. They work, but I get antsy if I go for too long without deep penetration. And there are plenty of good G-spot vibrators, but for me, the We-Vibe Rave blows the others out of the water — including its ability to dive deep.
---
"I'm a few years away from being as excitable as the Rainbow Sponge Lady," I used to joke. When you Google, "lady has orgasm with art sponge," the first result is an infomercial featuring serotonin-saturated Dee Gruenig. She gasps and squeals and "OOOHH!"s and "YES! Yessss"-es.
All for a sponge.
I think I'm already there, now that I've tried the We-Vibe Rave and Fun Factory Sundaze. The average person is less excited about their whole life than I am about the Rave.
I don't need to get graphic about the shuddering, shaking, shouting when I use it, do I?
---
What makes the We-Vibe Rave the best G-spot vibrator
We could split hairs about the exact divide between dildos and vibrators all day — I don't consider pulsators or thrusters vibrators — but that's beside the point. After testing over $10,000 worth of sex toys, the We-Vibe Rave G-spot vibrator emerges as one of the irreplaceable few.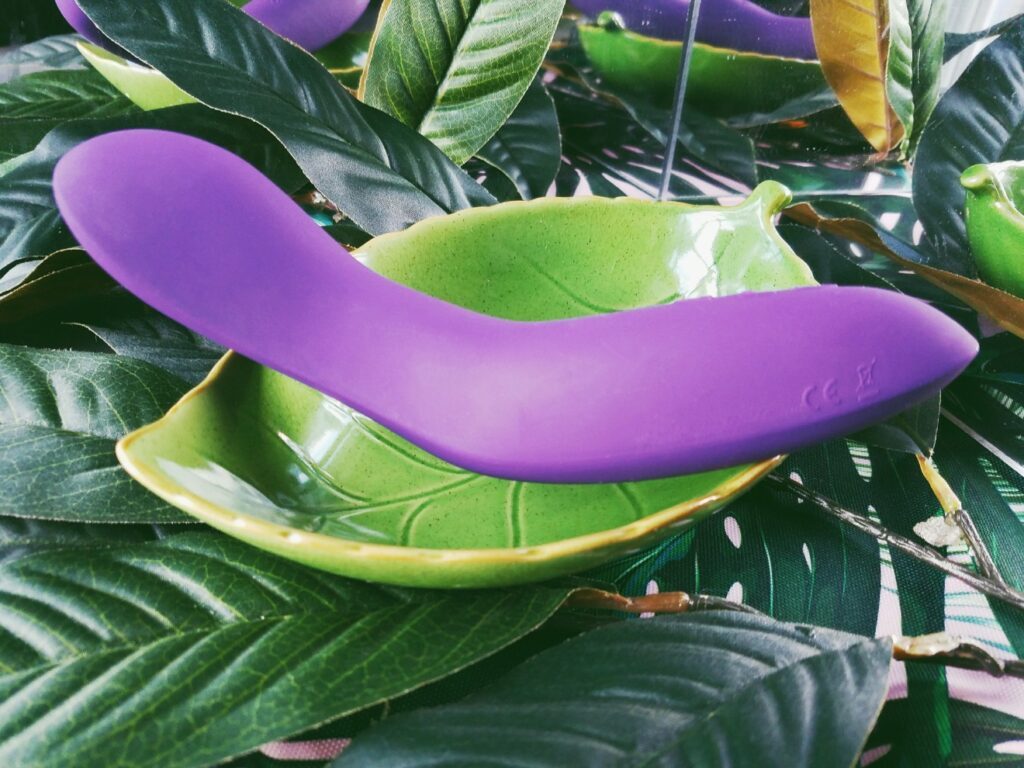 ---
In a nutshell, the We-Vibe Rave is:
Rumbly AF
We're talking We-Vibe Tango-level, deep, almost par-with-wand, splashing like crazy when its head is dipped in water. As far as slender G-spot vibrators go, the We-Vibe Rave's motors are top-tier. It's hard to top such power in this modestly-sized package.
Versatile
The shape allows for G-spotting, A-spotting, cervix massage, pinpoint external stimulation, twisting against the internal clitoris, and more! I'll elaborate on the shape in a bit.
Intense
Oh gosh, the unyielding shaft and 8″ of length was exactly what my vagina needed.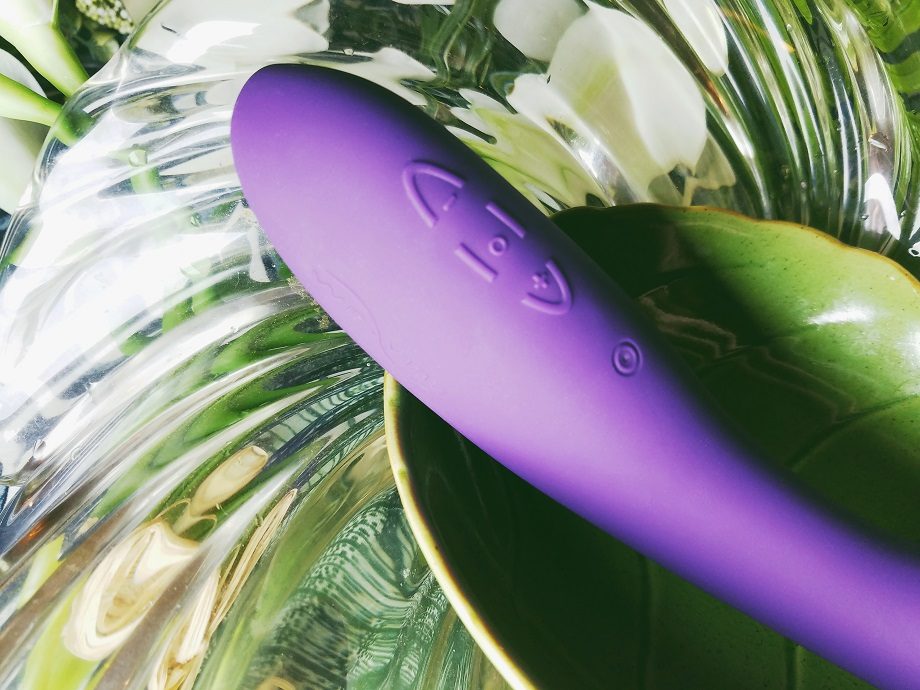 Easy-to-control
Use the three buttons to select from 9 speed settings and 10 patterns. The power range is fantastic. Turn the steady settings up and down as you please, or use the app for FULL CONTROL.
App-compatible
Use your phone as a remote control for the We-Vibe Rave and let your imagination run wild:
Tease and edge your partner by turning the speed up and down
Pilot your partner's device via long-distance chat

SUPER useful in the era of COVID-19

Sync up the vibrations to music and nearby sounds
Create and save custom patterns
---
We-Vibe Rave G-spot vibrator shape
Let's talk about the We-Vibe Rave's shape, what I love about it, and what others might not enjoy about it.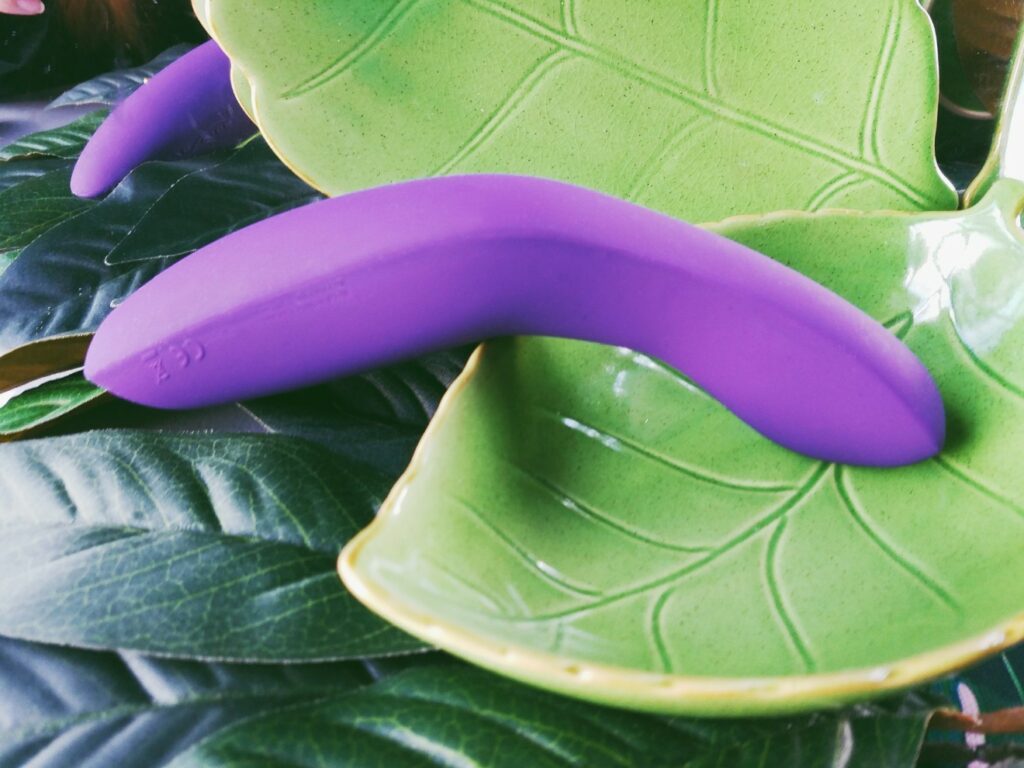 ---
What was delightful about the We-Vibe Rave
I was initially skeptical about the We-Vibe Rave's curve, worried that it would be a bit too steep. Intensely-curved and bulbous insertables are delicious for hardcore G-spot massage, but they're chiefly specialists for shallow penetration. As such, they can be a bit harder to aim at my favorite erogenous zones without irritating my cervix. I wanted a more balanced all-arounder.
It turns out that the We-Vibe Rave is juuuust right for me. Most sessions, its firm body ruthlessly pounds my G-spot and vibrates my whole CUV complex from the inside. The We-Vibe Rave's specialty is slamming on the "in" stroke when it comes to shallow penetration.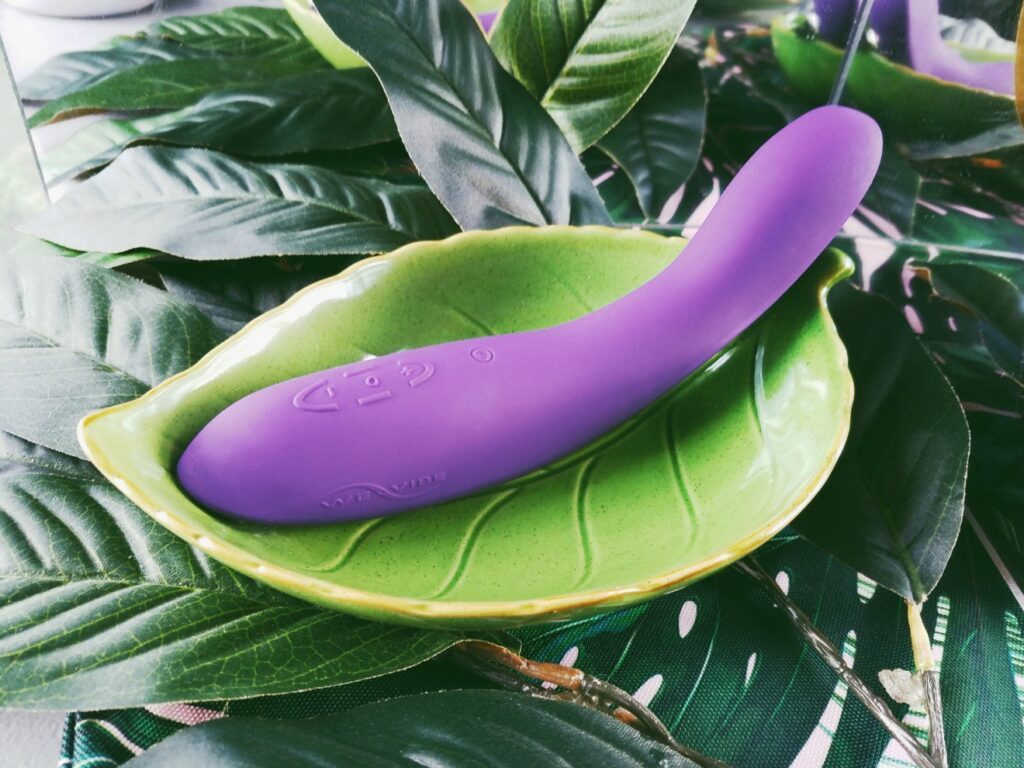 I can gently finesse my front wall by twisting and grinding, too, if I wish to take the scenic route. The asymmetric design was literally made for lateral movements, whether I'm focusing on the We-Vibe Rave's flattened head or its sharp edges. I rarely stay on that path before jackhammering or spelunking, though.
The We-Vibe Rave easily slides behind my cervix and takes minimal exertion to target. Boom, with just a few thrusts, I'm gasping with pleasure, with my face contorted and the oxytocin flooding.
---
Who the We-Vibe Rave is not for
Not everyone loves deep penetration as much as I do — your priorities may be totally different from mine. As well, what makes the best G-spot vibrator head shape for shallow penetration is highly subjective.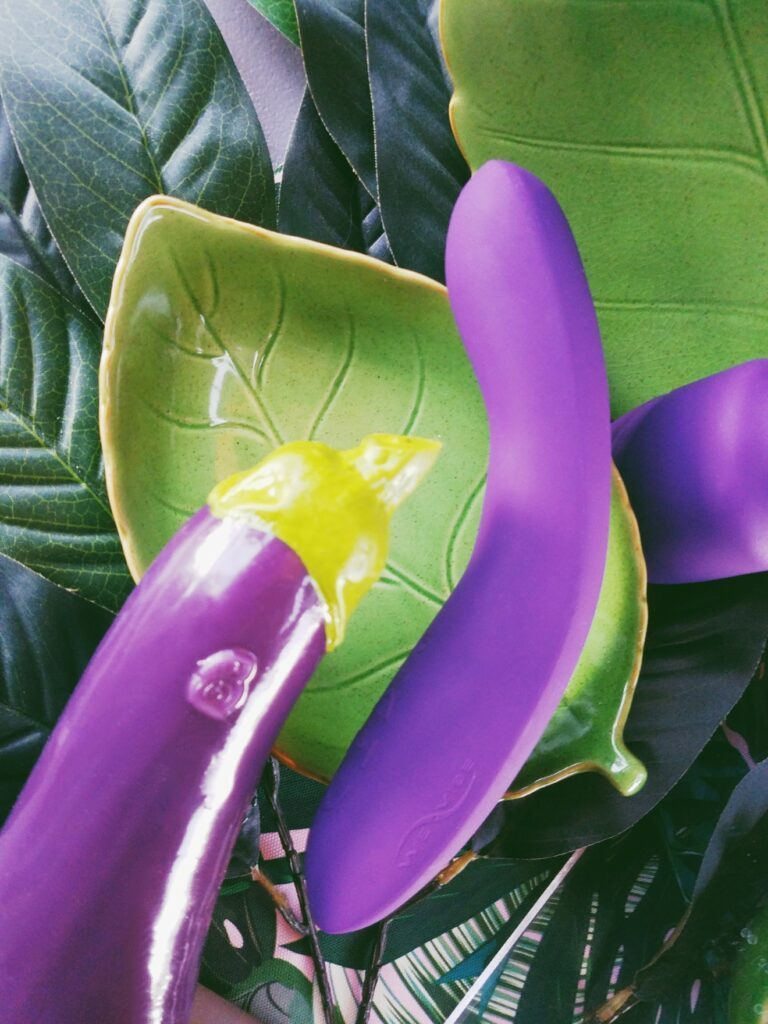 There's some variation in vaginal canal contours, so your mileage may vary. If you:
Aren't already BFFs with your G-spot
Have a highly recessed G-spot
Prefer small rocking motions
…then I don't recommend this G-spot vibrator for you. A more bulbous and flexible toy would be far more effective at fitting the pubic bone's dip like a puzzle piece. If that's what you need, get a Pillow Talk Sassy or Cloud 9 G-Spot Slim 7″. Those G-spot vibrators are made for effortless aiming with a gentle touch.
---
My verdict on the We-Vibe Rave
The We-Vibe Rave's design is more about maximizing intensity once you've already sighted the prey. I don't want to go back to any other G-spot vibrator.
This one is for those who want deep, hard thrusts and vibrations that take the orgasms from "OH GOD, fuck yes," to "OH FUU-HUU-CK" to incoherent, straight up screaming. No words — just octaves and oxytocin.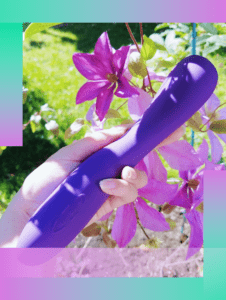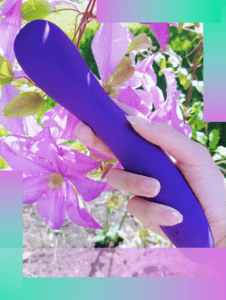 ---
Take 10% off at Peepshow Toys with discount code supersmashcache
The coupon applies sitewide, so consider getting some lube, too!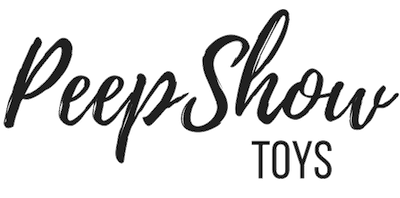 You can also get the We-Vibe Rave directly from the manufacturer.