Velvet Thruster review: self-thrusting dildo & portable fucking machine
I'm so lazy in bed that I don't even take my pants off to use clit vibes. My spoiled disposition means I'm down for anything that does most of the work for me. For penetration, the Velvet Thruster does precisely that.
It's a self-contained fucking machine that delivers 3-inch thrusts, up to 140 times a minute. It's not only a technological marvel but also promises the thing that Fun Factory's Stronic Real couldn't: deep penetration. For me, that means automatic cervix stimulation.
Velvet Thruster vs. Fun Factory Stronic comparison
No disrespect— the Stronics also self-propel, but far more quietly and with a shorter stroke length. The relatively contained jiggling more precisely hones in on my internal clitoris.
But every time I inserted a Stronic all the way and turned on the self-thrusting, it would jiggle itself back to the shallower half of my vagina. And that's not a problem per se, but it's not the motion I imagined in my dream sex toy.
In contrast, I can aim the Velvet Thruster's motion as deep or as shallow as I please. Despite my cervix's preference for short strokes, I found that the Velvet Thruster's stroke length was generally irrelevant. At least, as long as I turned up the speed fast enough. And maintaining my hold on the box but not super-tightly.
But how do you feel about the Velvet Thruster?
The Velvet Thruster Jackie is currently part of my heavy rotation— the toys I use most often. It's everything I love about cervical stimulation, but quicker and more exact. It's the difference between powder cocaine and crack. I get all of the heart-eyes-emoji feelings, but the effect takes place faster. Plus, I don't have to work for it beyond washing the dildo, lubing it up, and aiming. The orgasms repeat for as many times as I want, with hardly any effort.
This handheld fucking machine is the closest any toy I've tried has come to feeling like intercourse. Sure, it's not a human. It's not the same as wrapping my legs around my boyfriend's hips, but it's pretty dang similar if I look into his eyes while using the Velvet Thruster Jackie. And that's nice if he's tired or recovering but I need to have something bash near my cervix.
There are ten speeds, and the fastest setting is my favorite for vaginal use. That way, the tip stays in contact with my cervix for longer. You can find a video of the Velvet Thruster's fastest speed on my Instagram. The dildo's flexibility means that I can tilt the shaft forward so that the tip massages my cervix, while the shaft bends against my internal clitoris, near my front wall. I can get some indirect G-spot stimulation from the Velvet Thruster Jackie, but I think deep penetration is its claim to fame.
Velvet Thruster Jackie attachment
When it comes to the dildo, I find Jackie attachment pretty standard but useful. It's a straight-shafted 6.5 inches long, 1.5 inches wide, with some flexibility from the tip to halfway down the shaft. The matte surface is a beautiful balance between draggy and silky, and there's some light veiny texture. Nothing to rave about, but it works.
When the thrusting mechanism expands, the entire silicone attachment is 9 inches long. That's more than enough for me. I've seen people suggest upgrading it with the Vixskin Colossus Extender for girth and a realistic squish. It would be cool to have a fat, body-safe, dual-density, self-thrusting dildo, but I think the Velvet Thruster works well enough that I'd think twice about spending an extra $110. Even though I do love VixSkin.
UPDATE: Want a dual-density self-thrusting dildo at a lower price? Check out the BMS Naked Addiction 9″ thruster!
UPDATE: The new-and-improved Velvet Thruster Prime is quieter, waterproof, and has swappable attachments. PLUS there are plenty of mini Thruster Teddy options now — including the girthy Sammie and Teddy XL!
Other Velvet Thruster attachments
My parcel from Velvet Thruster also included the Walter anal bead attachment, which I have only used in my butt once on the lowest setting. I think my butt is just much more of a diva and control freak, and I'd rather hand-thrust beads or a plug. (Pssst! If you're eyeing that beautifully striped plug in the photos, that's the Avant Pride P6. You're welcome.)
Currently, SheVibe sells the Thrusters separately, and you can't swap the dildos. There are other textured attachments you could get, but none of them are especially appealing to me for deep penetration. I like to jiggle textures in place with short thrusts as the Stronic Surf would.
The Velvet Thruster's mechanism
Unlike the Stronics, the Velvet Thruster doesn't contain a magnetic weight. Instead, it works like a reciprocating saw with a barrel cam. You can watch an animation of the internal mechanism here.
If you can't see it, understand that there's a fast AF spinning barrel. There are diagonal grooves that wrap around it, and the attachments trace the grooves to convert the spinning into back-and-forth pushing. Think of how a screw gets pushed in the more you turn it. That's an oversimplified description but enough to get the picture across.
And that's why the Velvet Thruster sounds like a drill. A power tool. One of the last toys I'd recommend for discretion. But it's a miniature fucking machine, for crying out loud. A small one with a significant range of motion. One that is both non-porous and doesn't cost over $500.
One that you can position at different angles and move around.
Downside: positioning isn't effortless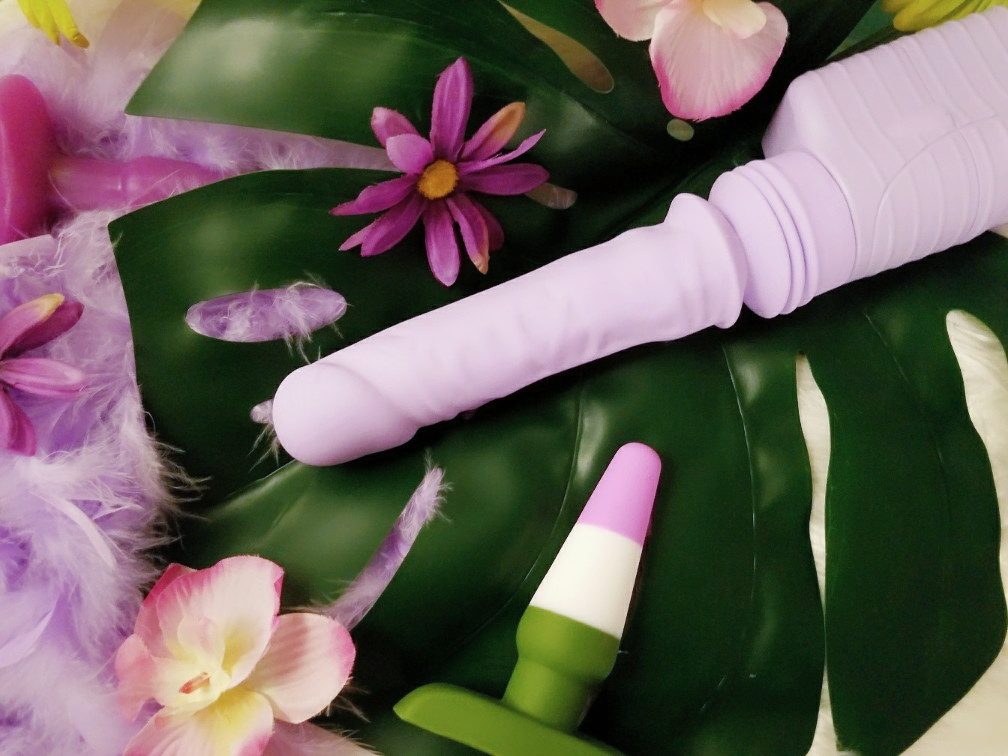 Unlike with a traditional fucking machine, you don't have to stay in one position while your Velvet Thruster jackhammers horizontally. You can have it vertically, at a diagonal, and switch up the angling as you please. But a fucking machine turned into a handheld toy is bound to be bulky and that's a dealbreaker to some.
Let's break down the measurements: the Jackie dildo itself is about 6 inches, the thrusting accordion 3 inches, and the box 5 inches. That's 15 inches of STUFF to reach around. The length makes it more difficult to hold than the Stronics, so bear that in mind if you have short arms, aren't flexible, or have body fat that would get in the way of reaching.
The most comfortable way position for me is to place the Velvet Thruster's box against a thick cushion, lightly wrap my legs around that, and place a pillow under my back. I can use it by holding it in my hand. However, it's far easier to teach the right spot when you have positioning aids.
UPDATE: The Velvet Thruster Prime now has options for angled handles and suction cup attachments!
How practical is it to have a Velvet Thruster?
It does have its downsides, like being bulky and indiscreet. Fat chance of using it if you have roommates and thin walls in a dorm. And though you can wash the silicone part, the box isn't waterproof or submersible. And that's kind of a bummer for something that costs $200. Back in 2014, when I got my first Stronics, all of the Velvet Thruster's cons would have been dealbreakers.
UPDATE: The newer Velvet Thruster Prime is quieter and waterproof. Also, consider getting a mini Velvet Thruster Teddy if you want similar power in a smaller, slightly less expensive package. The smaller Thrusters actually cost less than the Fun Factory Stronics now.
(Read Thruster Prime, Teddy GS, and Teddy XL review.)
I have no qualms with saying that if I had to keep just one self-thrusting toy in my collection nowadays, it would be the Velvet Thruster. They all cost about the same, but unlike the Stronics, the Velvet Thruster gives me the kind of stimulation that drives me wilder. I live with my boyfriend, and I'm usually in bed and on my back when I masturbate. Thus, the drawbacks don't apply to me anymore.
Overall verdict on the Velvet Thruster
The attachments are silky-smooth, and the machinery makes the toy. Let me remind you: the Velvet Thruster can thrust up to just over twice per second. Orgasms until I'm straight up tired, independently of whether my arms are sore. That's a major plus when you're multi-orgasmic and think, "Well, I COULD go for another. And another. And another…"
Without knowing how often I would use it, I initially dismissed the Velvet Thruster as "just" a novel toy to mix things up. But there's no denying how often I reach for it now. The Velvet Thruster has spoiled me, amid the over 100 toys I've tried. Some days, I have to treat myself.
You can treat yo'self to a Velvet Thruster at SheVibe or The Thruster. If you buy it from The Thruster, be sure to use my coupon code, SUPER10 for 10% off your order.