NU Sensuelle Trinitii XLR8 tongue-flicking and clit-sucking vibrator review
Sometimes love is blind, as the homely Zumio, Eroscillator, and Magic Wand Plus have demonstrated. The NU Sensuelle Trinitii is another such example: a clit-licking vibrator with the aesthetic of a pore cleaner or ear thermometer.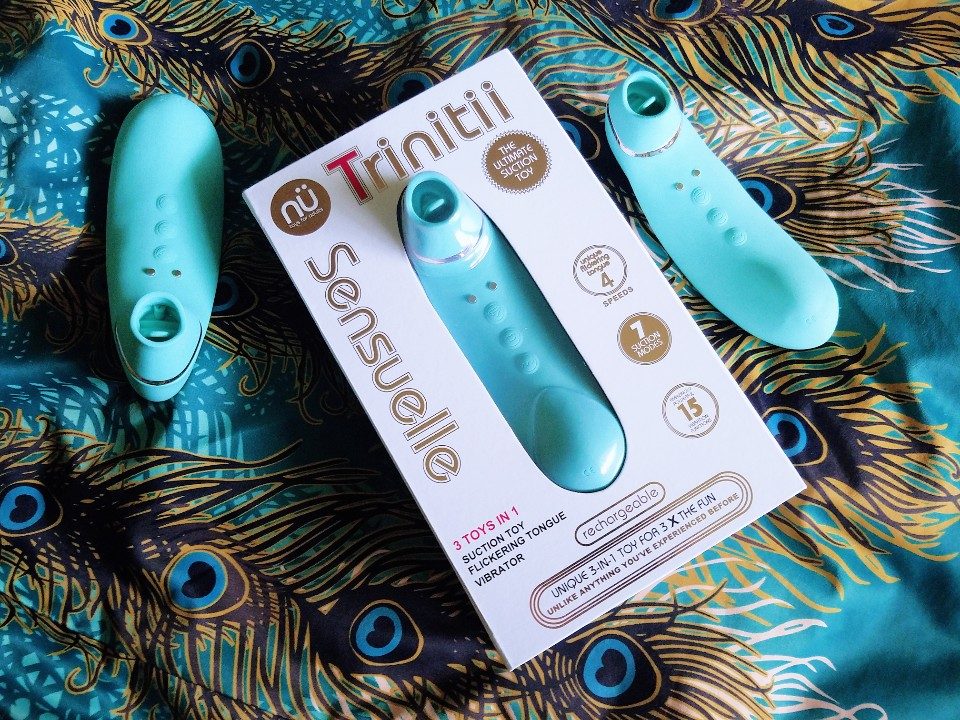 It doesn't look bad with its electric blue (or purple) silicone and rose gold accent, but it's not exceptionally pretty.
Yet, I (and hundreds of my followers) don't give a fuck how the Trinitii XLR8 looks. Not when it sucks, licks, and vibrates, with three buttons to (mostly) control the functions independently. Most importantly, it not only does All The Things, but it does all of them well.
TABLE OF CONTENTS
Other options for sex toys that lick
What makes the NU Sensuelle Trinitii stand out as a licking vibrator?

Tongue measurements
Licking speed

The NU Sensuelle Trinitii's suction function
Vibrator shape, quality, controls
Verdict and recommendations
Sex toys that simulate cunnilingus: a quick run-down of your options
One question frequently asked of sex bloggers is, "If you never had sex with a partner again, what would you miss most?" I'd always answer, "Sex toys can't self-wash." The most popular response, though, is "Oral sex."
I don't think sex toys are anywhere near replacing cunnilingus. However, of the body-safe oral sex simulators I've tried, the NU Sensuelle Trinitii is my favorite.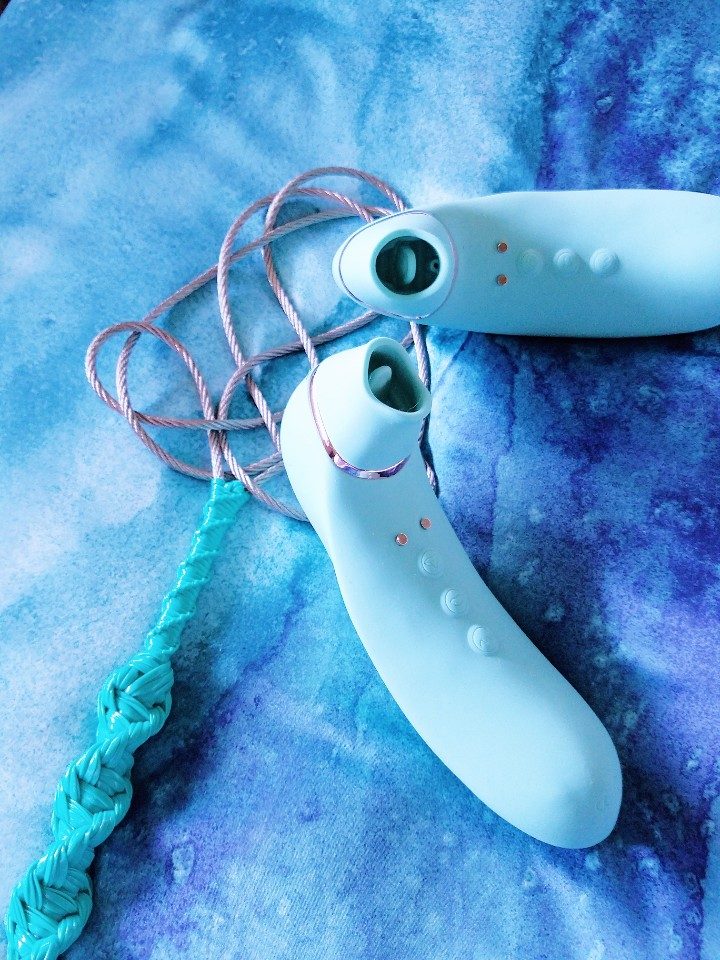 At $89.99, the Trinitii is a steal compared to the overpriced AF LELO Ora 2. The Ora 2 feels good, but not $189 good. And not worth the weight on my conscience. The Sqweel Go's power is "meh." Its larger predecessor, the Sqweel 2, is worth it for $46, but also a lube hog that's harder to clean. The Her Ultimate Pleasure by Pipedream isn't as pinpoint as I would like. And finally, the Fun Factory Volta is worth every penny, but to me registers more as conventional vibration than licking.
What makes the NU Sensuelle Trinitii XLR8 stand out as a licking vibrator?
Sure, its nozzle looks and feels like an alien's mouth, and sounds vaguely robotic. But the Trinitii is potent. It's not fucking around, and it's not for the faint of clitoris. I prefer clitoral stimulation over my hood most of the time, but if you like direct clitoral friction, using lube is a must with the Trinitii.
The Trinitii's tiny silicone tongue measurements
Its tongue is flexible at the tip, but thicker and reinforced towards its base. It's not floppy, by any means. Most notably, it's tiny, measuring 1.0 cm wide by 1.3 cm long by 2 mm thick— nothing like a human tongue. The sensation is far more pinpoint. I enjoy vibrators with sharp edges, as well as pressing a fingernail over my clit hood, so the Trinitii's concentration works amazingly for me. If you need a broader stimulator, the Trinitii won't work for you. The Sqweel 2's bigger flaps aren't a bad option if you don't need a lot of power to get off.
How fast the NU Sensuelle Trinitii XLR8 licks
I am thoroughly pleased with the Trinitii's speed options. At the fastest of the four, I'd estimate that its tongue licks two back-forth cycles per second (120 per minute). Back-forth-back-forth. I can only ballpark because it goes so ridiculously fast that it's too overwhelming for me to count with precision. 1-2-3-4, every second, until the battery dies out, which takes about a half-hour.
On to the NU Sensuelle Trinitii's suction function!
There are three big things you need to know about this clit toy's suction:
1

INSTEAD OF ALTERNATING PRESSURE PULSES, THE NU SENSUELLE TRINITII DELIVERS ONE-WAY SUCTION.

A hole in the back allows the sucked air (or water) to vent. The unit as a whole is splashproof and the nozzle easy-to-clean, but make sure that lube doesn't get into the suction channel and dry up.
2

THE TRINITII XLR8'S ONE STEADY SPEED IS POWERFUL AF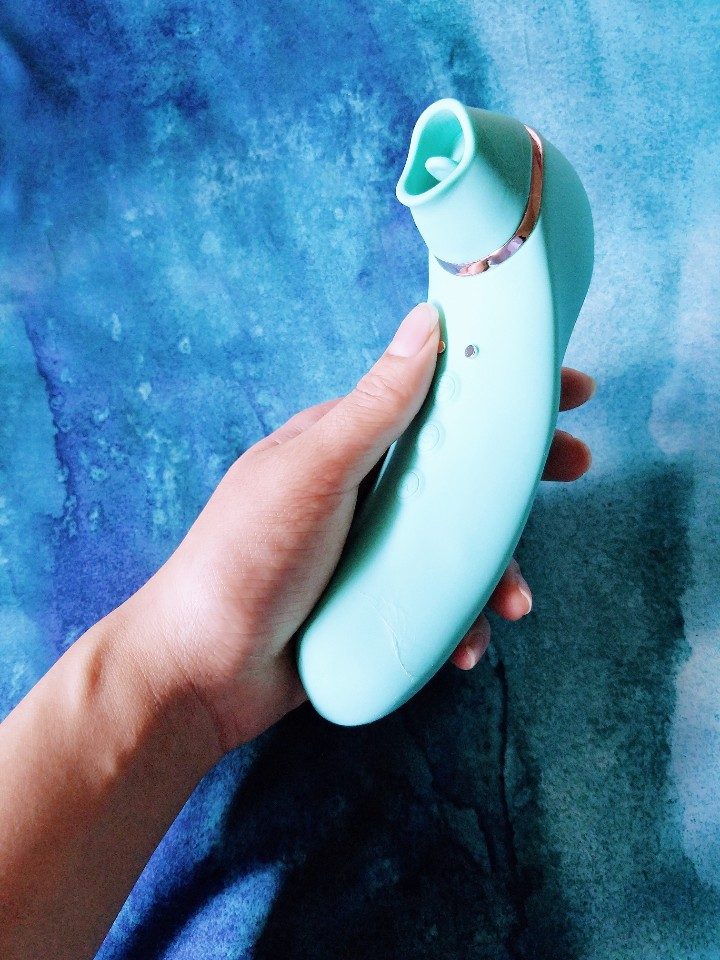 It latches to whatever I hold it against, regardless of whether I've parted my fleshy labia minora or moved my hood out of the way. If you plan on using the suction and licking at the same time, I suggest turning on the aspiration first and then adjusting positioning from there.
Patterns comprise the other six suction functions. Most of the rhythms feature long pauses between the suction phases, which I would usually consider useless. However, since the continuous setting's intensity may be too much right away for some, I recommend clicking through the patterns first for a warm-up. The Trinitii's most intense suction setting can get me off on its own, but the orgasm straddles the discomfort-pain threshold.
3

ITS NOZZLE IS BIG AND ACCOMMODATING, BUT NOT FOR EVERYONE.

If your junk doesn't fit inside the Trinitii's nozzle, it won't seal all the way around. Luckily, the Trinitii's opening is more substantial than other suction or pressure wave toys I've tried— about 1.5cm wide, 2cm long, and 2cm deep. Unlike with The Butt Chicken, there's ample space in the Trinitii's head for me.
Vibration settings: does the Trinitii live up to the Sensuelle hype?
The Sensuelle Point and Point Plus bullets are often suggested as powerhouse We-Vibe Tango alternatives. In other words, they're among the strongest mini-vibes. I have high expectations for NU Sensuelle's vibrators at large for that reason.
NU Sensuelle Trinitii shape and vibration quality
The Trinitii's motor is in its handle, which features a broad face and sharp edges. This shape gives the user options for concentrated or diffuse vibrations. In one word, I'd call its vibration quality "zingy." It's strong and fast, and I can't complain about its range of motion. It does not lack rumble.
But it doesn't have a basslike purr like, say, the Hot Octopuss Digit or BMS Factory Pillow Talk Sassy. I'd say that the NU Sensuelle Trinitii's vibrations are almost par with the FemmeFunn Bougie Bullet and its moderately high pitch — fantastic but not the absolute deepest.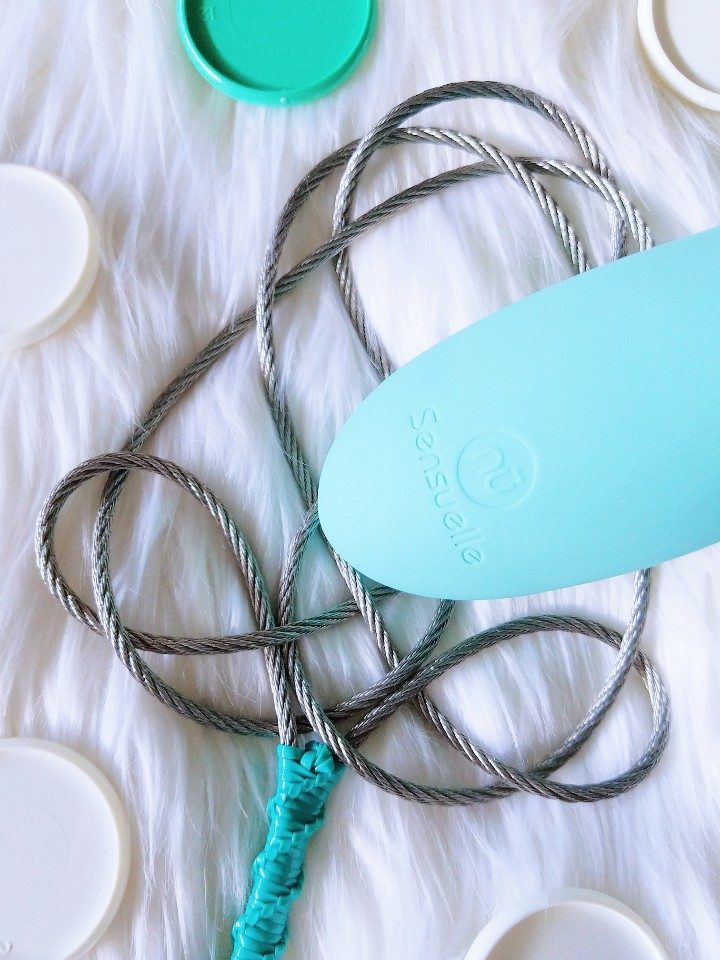 Vibration controls and functions
A perk that the Trinitii has over the Tango and Bougie Bullet is its incremental speed range. Here's a breakdown of the three's number of settings:
I very much appreciate that there are more options for steady vibrations. The motor is at least robust enough that 2 out of the 7 rhythms can still get me off, but I don't care much for patterns. One button loops through the Trinitii's vibration settings, keeping the control panel straightforward when there's so much going on.
My verdict on the NU Sensuelle Trinitii clit-licking vibrator
I usually don't care for toys that try to do everything. Still, the NU Sensuelle Trinitii is well-executed: fast and pinpoint licking, potent suction, and solid vibrations, all in one body-safe silicone package.
The main downside is that the functions aren't 100% independently controlled. If you press the button to turn the suction off, it turns off the entire unit. And, again, be mindful of lube clogging the suction channel. Ultimately, though, those are small gripes compared to everything that the Trinitii delivers. It's a unique addition to my collection.
TL;DR THE TRINITII'S TINY TONGUE IS PERFECT FOR THIS PINPOINT PRINCESS
No, it can't replace a human mouth, but it's my favorite of the licking toys that I've tried so far. The thing that would make it a better all-arounder is if the handle was a nicely G-spotty shape.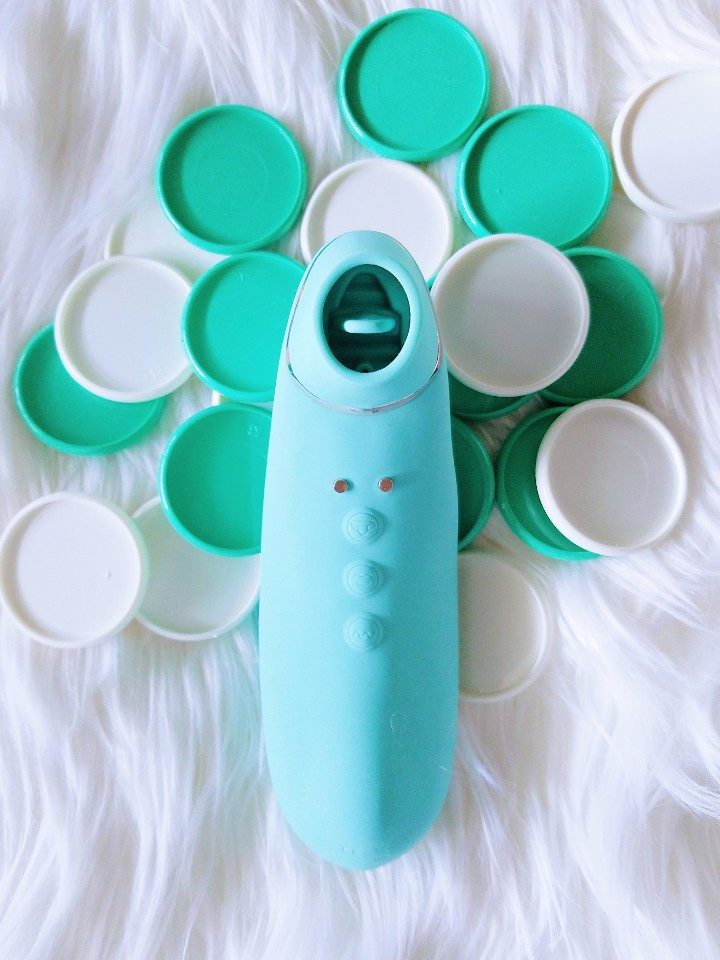 As far as external-only toys go, though, the Trinitii's ergonomic handle is both easy-to-hold and versatile for diffuse or concentrated vibration. And its "tongue" feels like it was designed just for me. I'd recommend it to anyone who loves pinpoint stimulation as much as I do.
Get the NU Sensuelle Trinitii XLR8 oral sex simulator
You can find this oral sex simulator at Peepshow Toys. The Trinitii is part of their FedEx 2-day shipping collection, AND you can take 10% off your whole order with coupon code SUPERSMASHCACHE