Fantasy For Her Ultimate Pleasure: another tongue-flicking suction vibe review!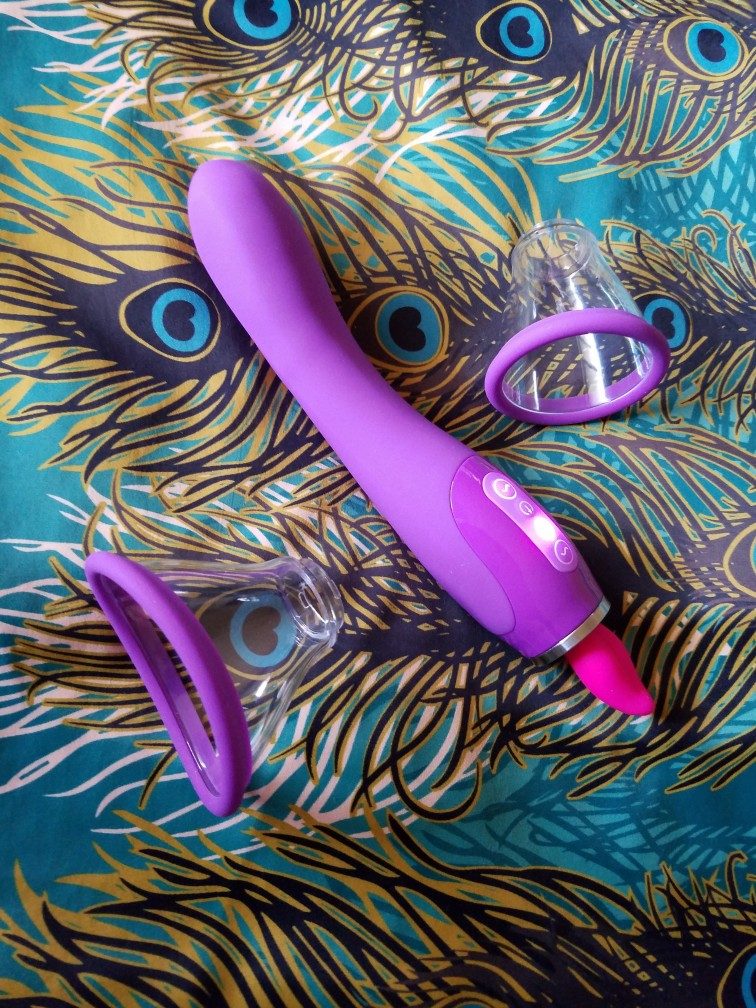 No other sex toy has sent me on as much of an emotional roller-coaster as the Fantasy For Her Ultimate Pleasure. I have gone through every stage of Kombucha Girl.
My initial thought was, "Ew, a product by Pipedream." I usually wouldn't accept products from them for moral reasons. But a highly principled sex shop CEO whose judgment I trust — one who quoted 'There is no ethical consumption under capitalism' — decided to stock the Her Ultimate Pleasure. So that had to mean something.
I'm no stranger to compromises, as my review of the LELO Mona 2 might suggest. Sometimes, a company sucks, but a product it offers is exceptional. The Her Ultimate Pleasure went viral for a reason, not least because it delivers suction and 100 licks per minute. And that's worth talking about. I had to find out for myself two things about it:
Is this wacky contraption worth the hype?
How does it compare to the NU Sensuelle Trinitii?
Both the Trinitii and Her Ultimate Pleasure are toys that lick, suck, and vibrate, but they look and feel drastically different from each other.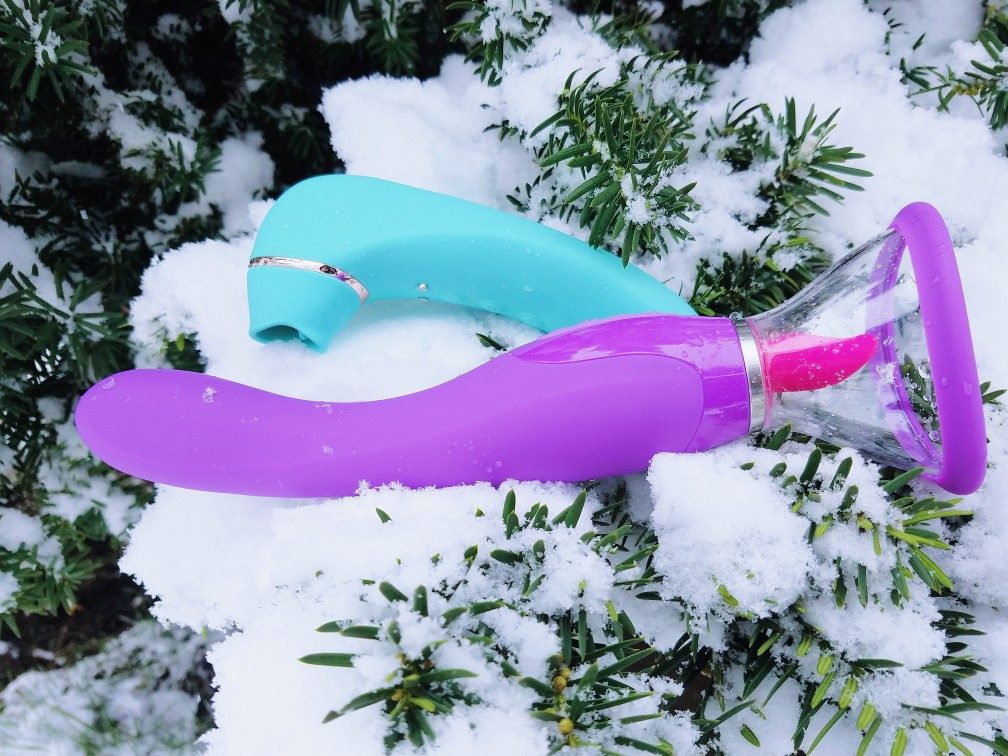 For one, the Fantasy For Her Ultimate Pleasure features a broader suction area and fit a wider variety of anatomies than the Trinitii does. As well, its hilt is slimmer and curved, with insertion in mind. Despite the gendered name, potentially anybody can use this toy. The flared cup serves as a stopper and prevents it from getting lost in the rectum, making it safe for anal insertion. And, of course, you can use the Fantasy For Her Ultimate Pleasure's tiny tongue, without suction, anywhere you desire its licks. Versatility is the name of the game here.
Using a full-coverage pussy pump was a new experience for me, though. Two suction-cup attachments come with the Her Ultimate Pleasure, as well as a soft, textured sleeve for the tongue. One cup is an oval (2″ long by 3″ wide) contoured to fit over a vulva, and the other a 2.75″ diameter circle with a flat opening (suggested use: nipple stimulation). Both are made of hard plastic with removable silicone rims for easy cleaning. I'd like it if the silicone was thicker and plusher because the hard edges uncomfortable against my bony bits the first few times I used the Her Ultimate Pleasure.Over time, though, I got better at positioning it, and it grew on me.
In this review of the Pipedream Fantasy For Her Ultimate Pleasure: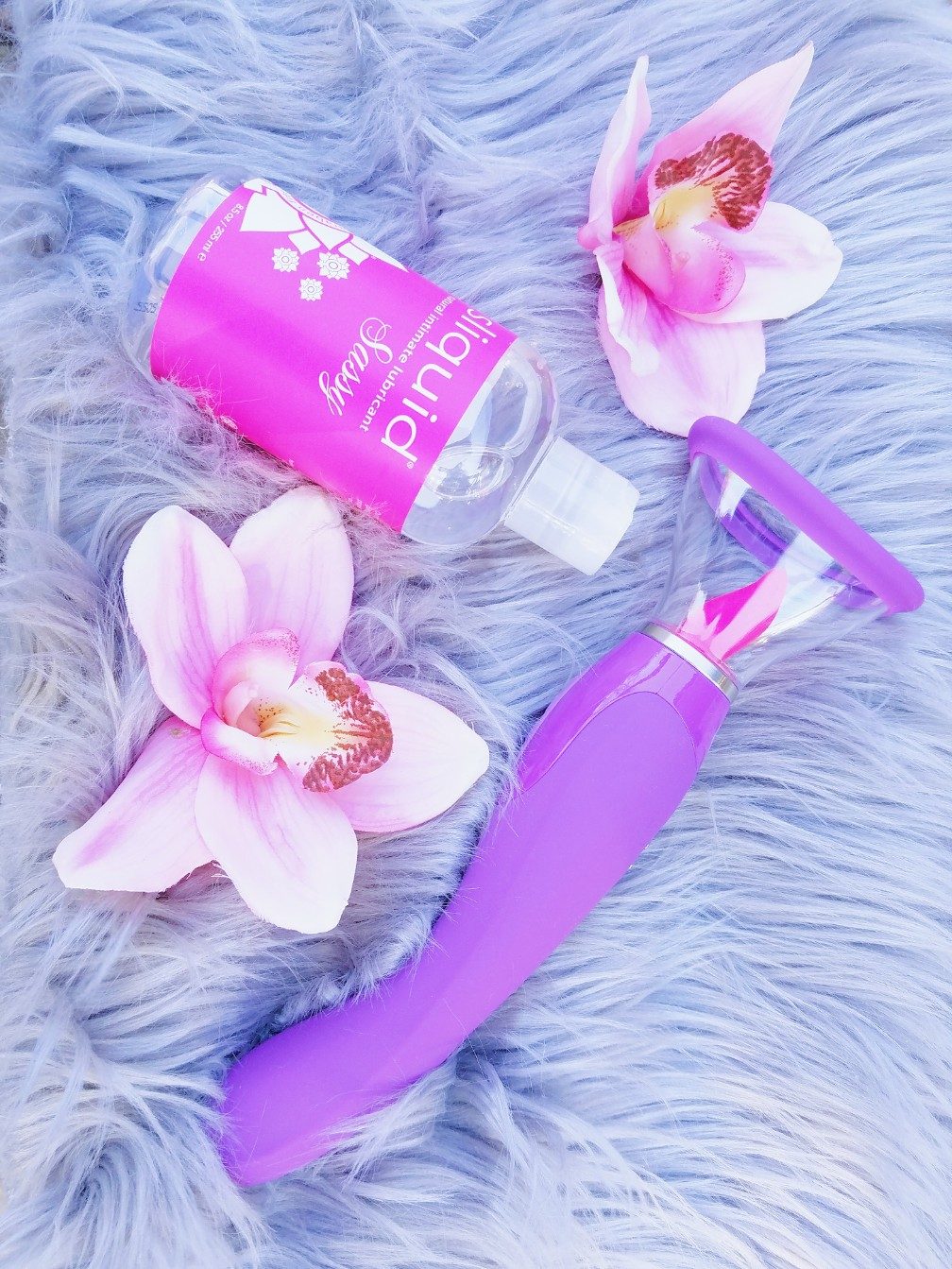 Let's begin with the big question on everyone's mind:
How does the Her Ultimate Pleasure's licking feel?
Short answer: its highest speed, about 100 licks per minute, is only a little slower than the Trinitii's 120 licks per minute. Plus, the Her Ultimate Pleasure's tongue features subtle but concentrated vibration. The long answer is that, of course, there are pros and cons to both products.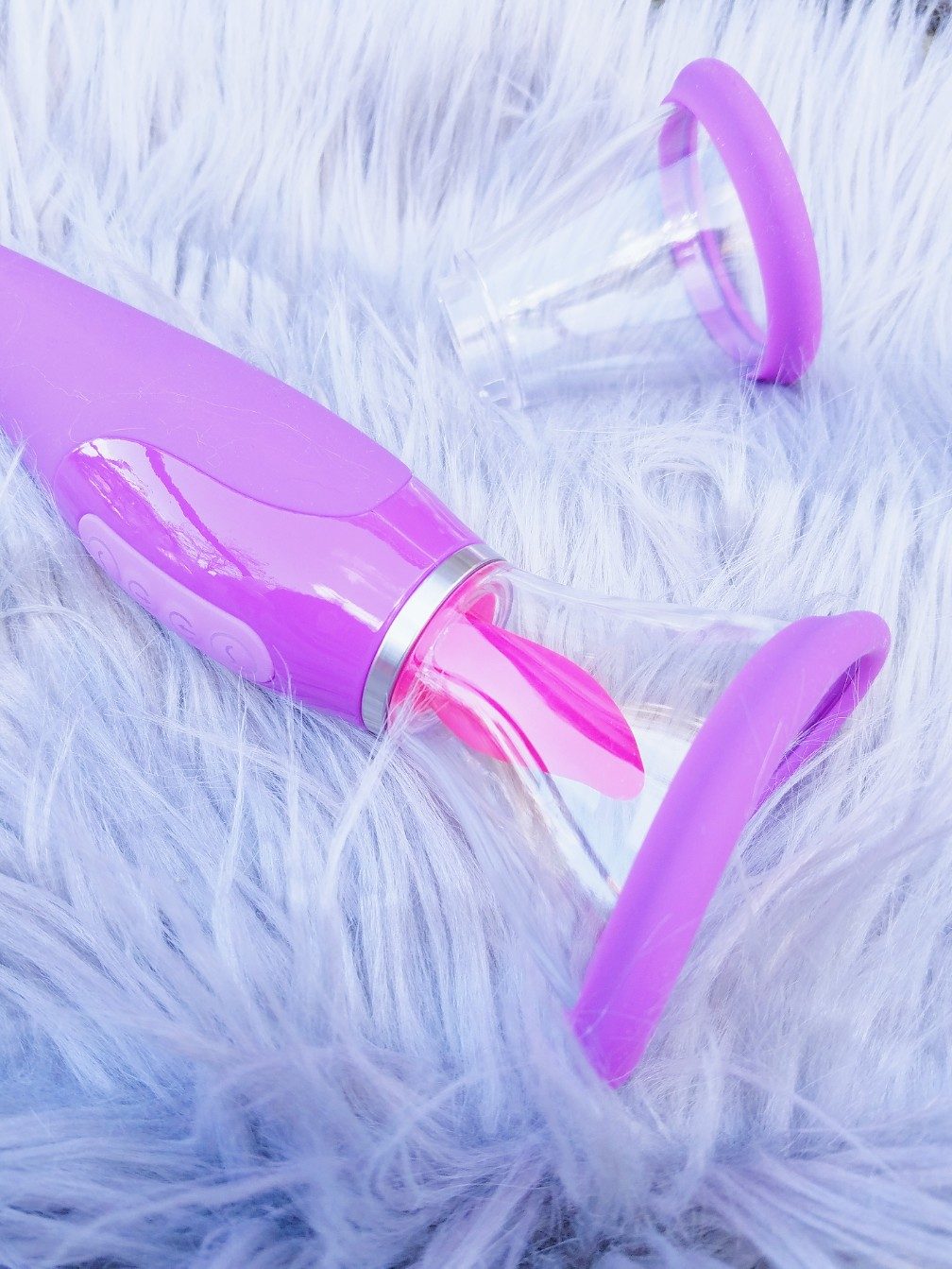 For one, both sound robotic, but the Her Ultimate Pleasure is quite a bit louder. You may want to play some background music if you live with other people.
It also slows down with pressure more than the Trinitii does. When you push on the Trinitii's flexible silicone tongue, it bends but maintains its speed. There's only a little hardness at the base where it attaches to the motor. In contrast, the tongue on the Fantasy For Her Ultimate Pleasure is mostly rigid with a somewhat pliable tip. It makes sense when you consider that the silicone encapsulates a vibrating motor.
If I'm not using the suction attachment to hold the unit in place, the movement sometimes transfers to the handle. I find that it's easier to keep it steady when stimulating myself with the edges of the tongue rather than the tip. It's targeted, but not nearly as sharp as the Trinitii or Aria Flutter. There are three steady tongue motion speeds on the Fantasy For Her Ultimate Pleasure and four patterns.
Most times, I use the highest speed. But the motor is also powerful enough that, of the four patterns, I could use two to get myself off. The other two rhythms have stilted pauses, rendering them useless to me. One button cycles through the seven tongue settings.
The Fantasy For Her Ultimate Pleasure's suction function

The suction feature is the one department where the Fantasy For Her Ultimate Pleasure blows the NU Sensuelle Trinitii out of the water. Yeah, the aspirating motor is serious business. Observe in the thigh picture how much the Her Ultimate Pleasure pulls my flesh into the sucking chamber.
This pussy pump stimulates the entire vulva, instead of isolating the glans of the clitoris. I still mostly prefer targeted pressure with conventional vibrators and oscillators. But with this toy's pumping mechanism, there's something about the increased blood flow to my clitoral crura that gets me going.
The suction doesn't only feel good but also helps increase the tongue's pressure, because my junk is being pulled farther into the cup. All three suction settings on the Fantasy For Her Ultimate Pleasure are patterns, which annoyed me at first. Its lowest sucks for about two seconds and releases for one second each cycle, the middle for three and one, and the highest for four and one. Those pauses meant that my clit didn't stay firmly pressed against the tongue.
Fortunately, I found a way to maintain the vacuum and work around that. To keep the stimulation steady, I like letting the suction run and then turning it off at the peak of the cycle to "freeze" my labia in place. Two buttons control the Her Ultimate Pleasure's suction. One of them powers on/off (long hold) and cycles through the settings (short press). The other quickly releases the vacuum. As a rule of thumb for safety, I'd say not to keep your bits pumped for more than 10 minutes at a time.
The vibrating handle? Hardly worth talking about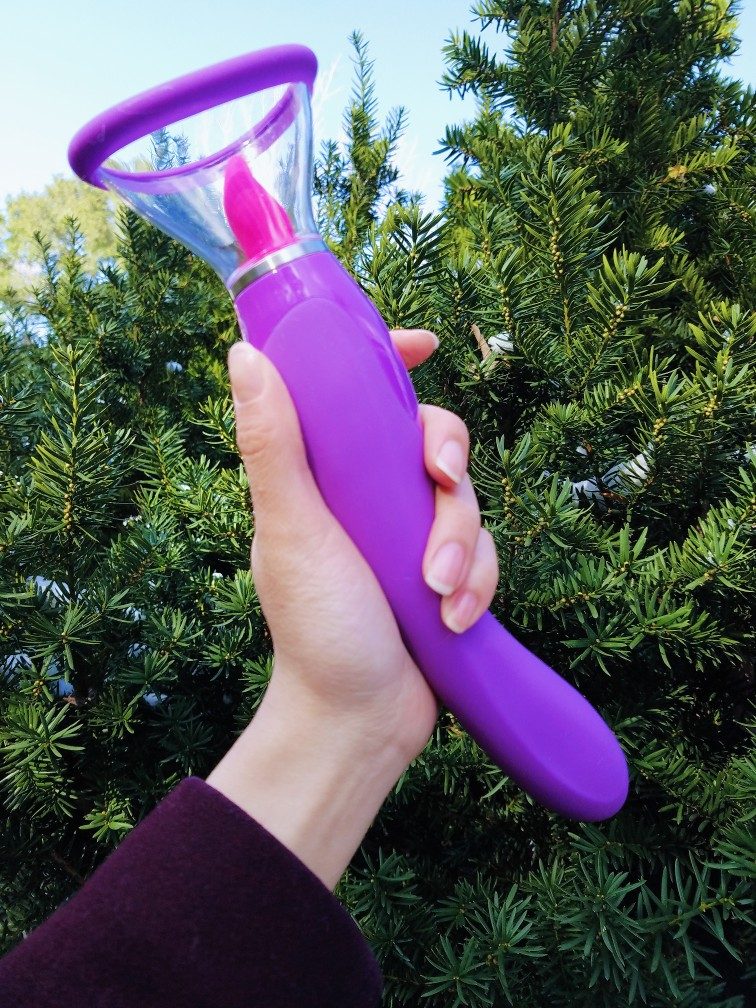 The insertable end does nothing for me— I'll probably never use it as anything but a handle. Yes, there's a slight bulge/curve, but the straight taper misses my G-spot. It's also flexible, which makes it even more frustrating for me to aim. I much prefer firmer G-spot toys or those with a more voluptuous dip to fit behind my pubic bone.
With five bendy inches of insertable length, the Fantasy For Her Ultimate Pleasure's internal stimulator isn't long enough to satisfy my A-spot or cervix. Can it reach those erogenous zones? Yes, but it's not practical to thrust as freely with it as I would like. I keep thinking about the annoyance of cleaning vaginal secretions out of the seam between the silicone and plastic control panel.
What's more, the vibrations are buzzy. Unlike with the NU Sensuelle Trinitii, I can't see myself using the Fantasy For Her Ultimate Pleasure's handle as a clit vibe. The Trinitii's motor is on the moderate-to-high-pitched side of rumbly, but it's robust and has defined edges for concentrated stimulation. The Her Ultimate Pleasure's G-spot vibration motor is the epitome of "meh." It can't get me off, unlike the Cal Exotics Surf City Centerfold, which is buzzy but at least has a pointy tip.
Why I'm not a fan of Pipedream as a company
The toxicity of Pipedream, the manufacturer, goes far deeper than the gendered name of the Fantasy For Her. In a nutshell, they continue to embody everything that was sleazy about the sex toy world in the 1990s and early 2000s.
Yes, the Fantasy For Her Ultimate Pleasure is made of body-safe silicone and hard plastic, but most of Pipedream's products are toxic and porous "jelly." And their marketing is all kinds of bigoted, from racist to sexist to transphobic. If you've found pocket pussy packaging that sounds like a Boomer brainstormed every possible stereotype of a marginalized group, there's a good chance that Pipedream made it. I don't have to explain why that's bad, right? Right.
Why the black sex toys get so racist and weird wit they descriptions pic.twitter.com/3XOio6XLlG

— ??SHAQUILLE SUNFLOWER?? (@Chief_Rokka) August 11, 2019
Check out the following pages for more about why Pipedream is shit:
My verdict on the Pipedream Fantasy For Her Ultimate Pleasure
So why did I write this review? Because I knew that people would look for it.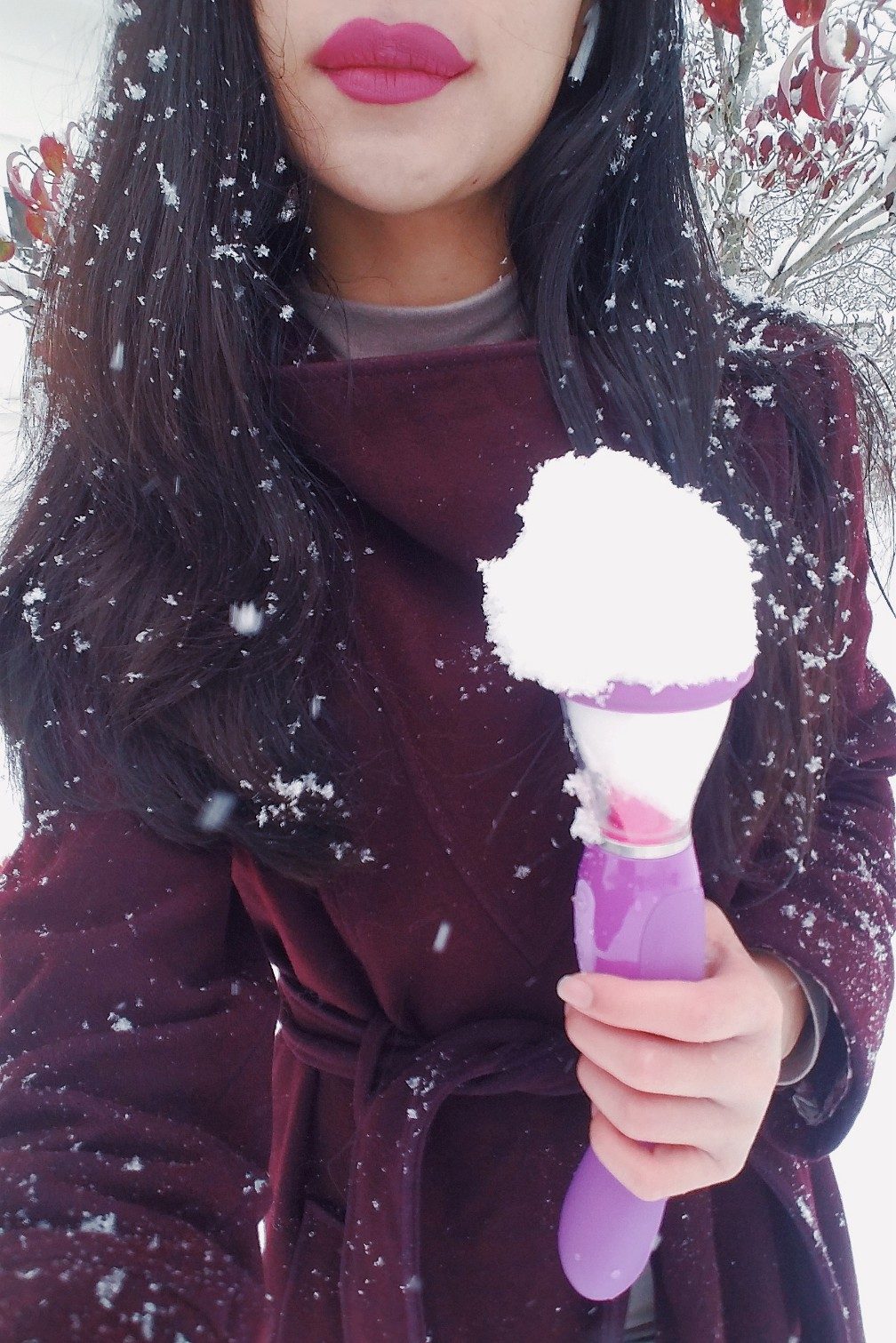 If this post is the thing that convinces you not to buy the Her Ultimate Pleasure, I respect that. If you do decide to buy it, I get that, too. At least get it from the lovely people at SheVibe, so that you're supporting a business that cares about its shoppers.
If you're new to sex toys and not especially picky about your insertables, the Fantasy For Her Ultimate Pleasure's features make one hell of an initiation into the sex toy world. Even by my standards, it offers a plethora of novel sensations — and I've been collecting sex toys for over five years.
If the 2014 version of me time-traveled to 2019, this is what I would tell her:
Okay, maybe it looks mildly gimmicky, but the ridiculous-looking external stimulator is my favorite part of it. This toy's tongue-flicking and pussy-pumping action are solid. The vibrating handle, though, feels like an afterthought. Not that I was expecting exceptional quality vibration from Pipedream. ¯\_(ツ)_/¯
Despite all the things the Fantasy For Her Ultimate Pleasure can do, I wouldn't want it to be my only sex toy. Between the G-spot mediocrity and limited insertable length, that would have held back 2014 me's exploration. Every body is different, and this vibe might fulfill all of someone else's sexual needs, but I don't want anyone to think that it's the end-all and be-all of sex toys.
As a consumer, I probably wouldn't buy the Fantasy For Her Ultimate Pleasure.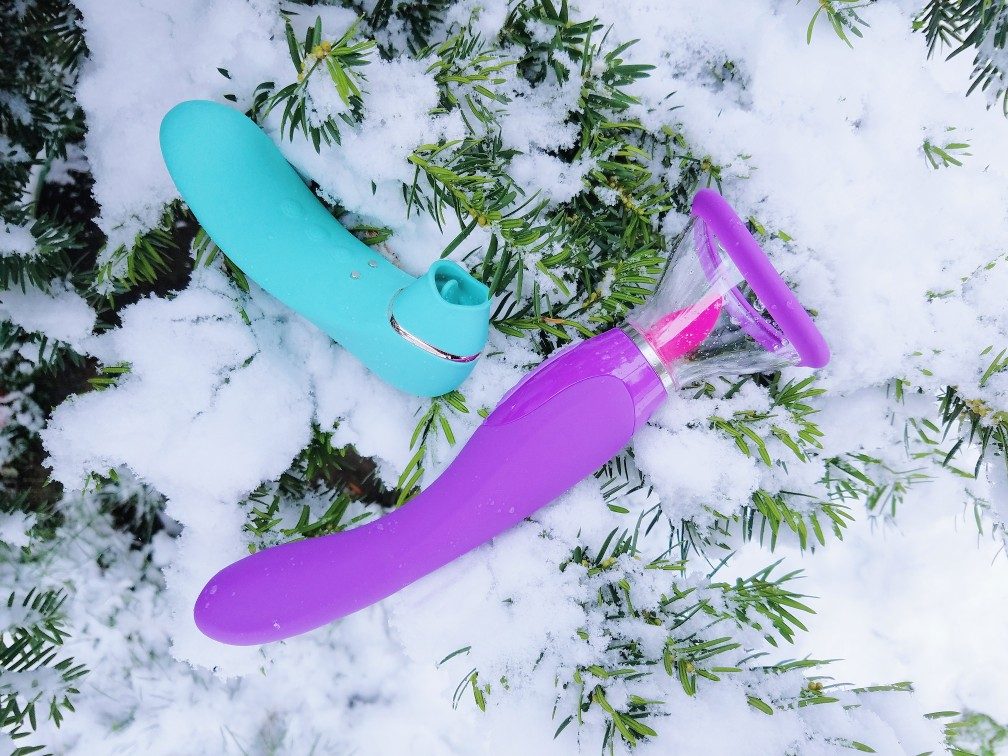 Let's imagine that there was a house fire that destroyed all of my sex toys (except the indestructibles). I'd replace my Velvet Thruster Teddy and VixSkin Colossus in a heartbeat. The Fantasy For Her Ultimate Pleasure? Probably not.
I like its licking, but I prefer the NU Sensuelle Trinitii's sharper tongue, even if its suction is more isolated. And the Trinitii's vibrations are far stronger — about par with the Bougie Bullet. Most likely, I'd buy a Trinitii. It's an all-in-one toy where I love everything it does, including the simultaneous tongue-flicking and suction.
Maybe you don't want both sensations at the same time
In that case, here are some recommendations to save money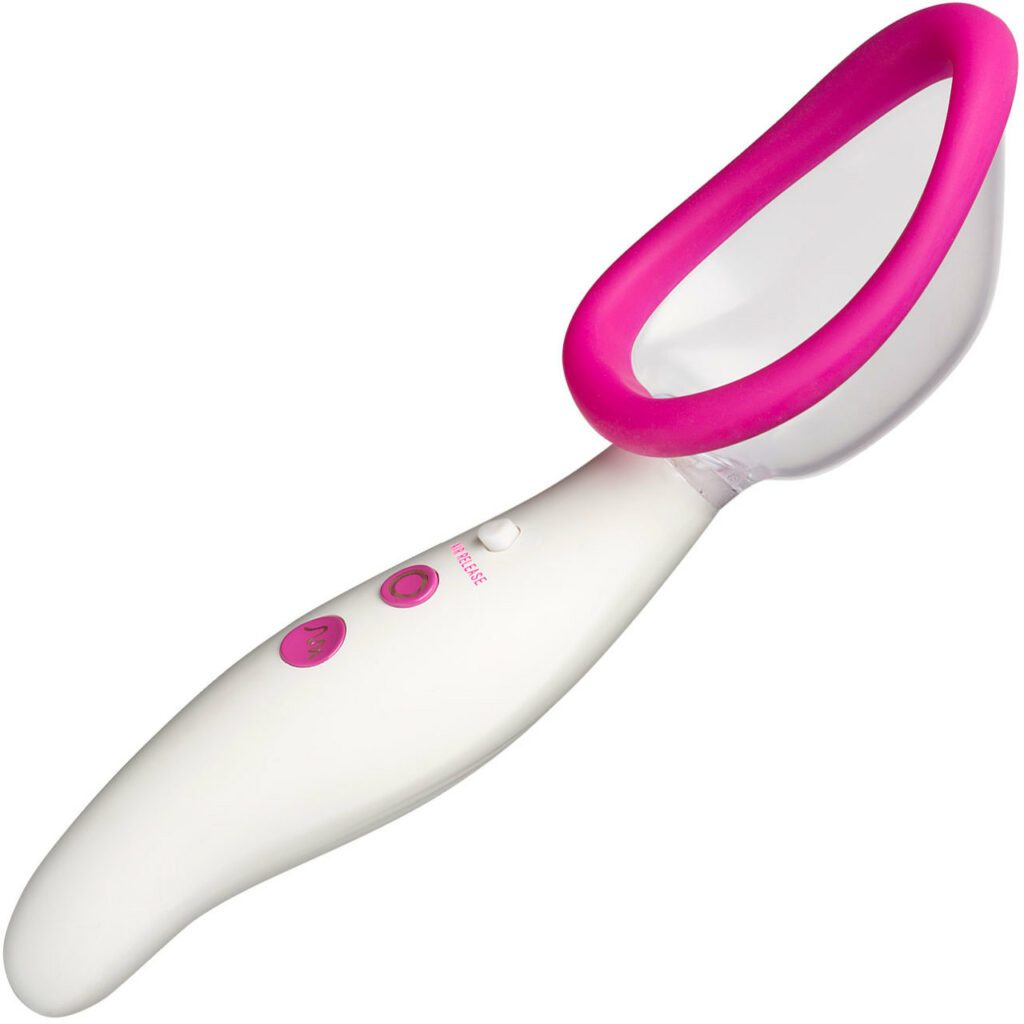 For broad and automated suction, get a rechargeable pussy pump. The ones from Doc Johnson are usually around $60, which is $30 less than the Her Ultimate Pleasure.1 And yes, Doc Johnson is another one of the Big Five sex toy manufacturers.2 They do have some porous products, as do the rest of the Big Five, but their marketing isn't as trashy as Pipedream. From the perspective of voting with my dollars, I'd feel comfortable with that decision.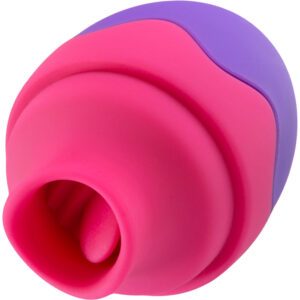 For pinpoint licking, get the Blush Aria Flutter. It's $30 at SheVibe3. With a price tag like that, I highly recommend getting it if a.) you're strapped for cash, or b.) suction and vibration aren't your top priorities in a new toy.
tl;dr I like the Fantasy For Her Ultimate Pleasure, but I'm not head-over-heels for it.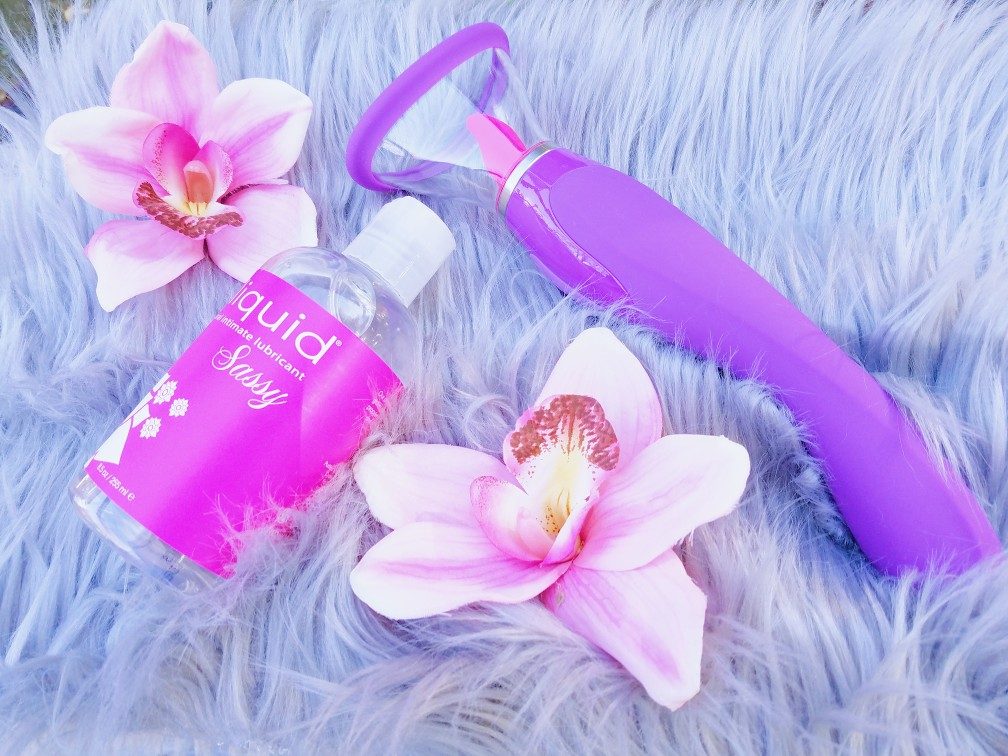 It's a prime example of how far sex toys have come since I started collecting them. As such, I respect that it's still among the few options sating the demand for sex toys with tongue-like, back-and-forth movements. And for $90,4 I actually like the Her Ultimate Pleasure a lot.
However, it's not the best fit for my preferences. I am, after all, a cervical orgasm connoisseur and pinpoint princess. I'm sticking to my classics: the flapping Fun Factory Volta, the Trinitii's tiny tongue, and, of course, properly cervix-loving insertable pervertibles. There's no roller-coaster ambivalence there — just love.

Want a Fantasy For Her Ultimate Pleasure? Get it from SheVibe!
Another note: this review was super long and labor-intensive. If you'd like to support me and make more posts like this possible, you can do so by clearing your cookies and buying sex toys via my links. Also, consider tipping me. I appreciate it!
---
Footnotes