Review: 10-Setting Tongue-Shaped Clitoral Vibrator via BestVibe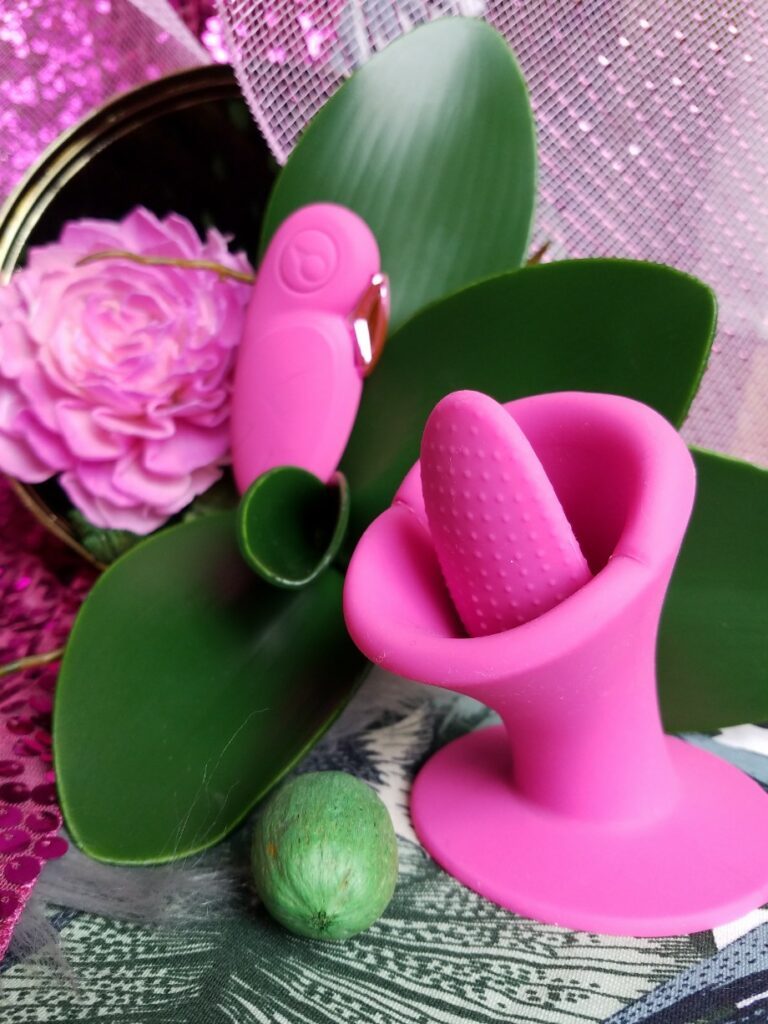 I was truly a sex toy scavenger when I first started collecting them. Any way to get sex toys for cheap or free, I did: buying used (and disinfected) toys from fellow reviewers, pro-domming, stacking coupons and deals— you name it. Perhaps the most questionable was obtaining them from unfamiliar white-label shops overseas.
Nowadays, I have an endless list of sex toy retailers I trust to label their products honestly. However, I understand the thinking behind buying something cheap from China. That's what I did when I bought my first glass dildo, after all. So here's a look into what I consider when shopping for cheap or affordable sex toys.
A tongue-shaped vibrator with texture and a flexible rim
BestVibe sent me their silicone tongue-shaped vibrator, which retails for $23, for review. Its shape allows the user to decide between pinpoint and broad external stimulation with the dotty tactile textures.
The actual "tongue" part is about 2.25″ (5.51 cm) long, 1.75″ (4.45 cm) across, and 2 cm thick at the base, tapering down to a rounded edge. Because it's so chunky, though, it doesn't flap or oscillate, nor does it have a motor designed for flicking. It's a vibrator, not an oral sex simulator.
The "lips" encircling the motor are about an inch thick, and also transmit vibration for labial (read: clitoral crura) stimulation. As well, there's a suction cup base. Overall, its design reminds me of the Fleurotics Lily and Cal Exotics Slay Tickle Me ($29), but bulkier and (again) less fluttery.
First in-person impressions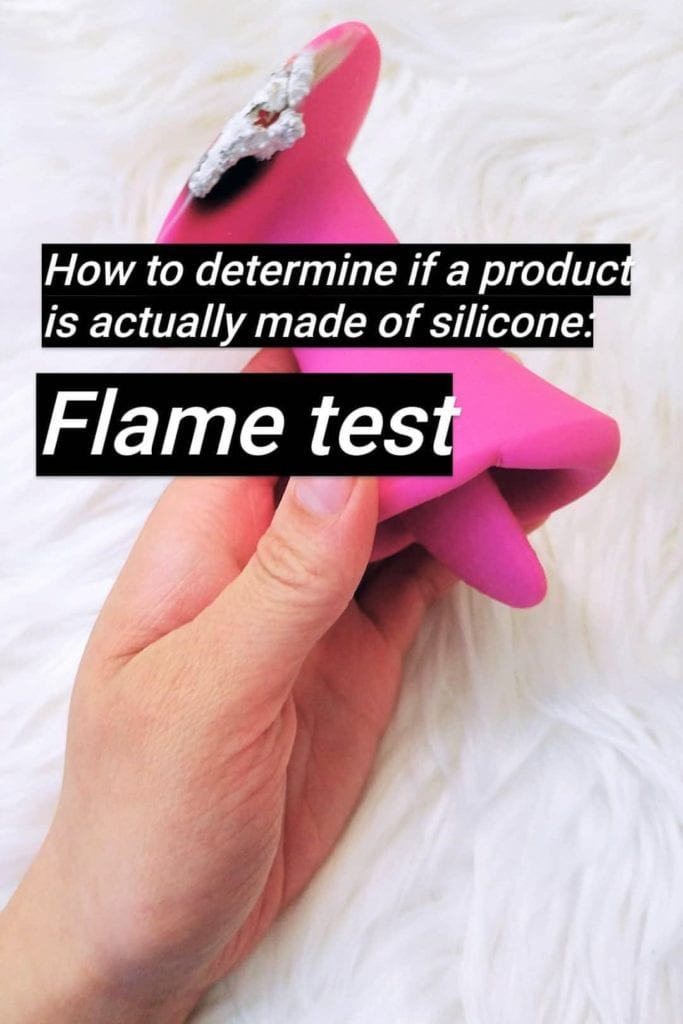 Packaging & discretion (or lack thereof)
Unfortunately, the envelope says, "massager" on the customs label. It gave me flashbacks to when I was 16 and bought my first sex toys online. Those arrived with the slightly cringe-worthy description, "health care gadgets."
Once unwrapped, the tongue vibrator's actual box is minimal: white cardstock with pictures of the product, text that reads, "FLEXIBLE TONGUE" (emphasis theirs), and icons with short descriptors. My favorite is "INNOVATION DESIGN."
Material and flame test result
The packaging also claims that this vibrator is made of "medical silicone," which sounds dubious at this price. I doubt that the FDA tested the material. Nevertheless, even if it's not medical-grade, it is made of silicone and safe for external use. When I set fire to a small section of the vibrator, it settled down quickly and left behind pale gray ash.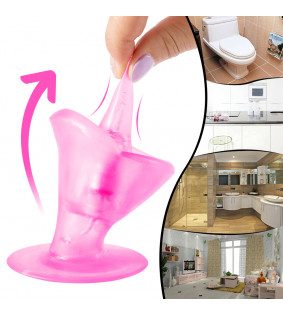 The transparent version of their suction-cupped tongue vibrator wouldn't have passed the flame test. Silicone is never that clear— sometimes, it's firm and translucent, like in the Luzarte Jollet. A transparent and super-stretchy toy is a telltale sign it's TPE, TPR, or worse, jelly. Read this other post to find out why sex toy material matters.
Tl;dr be careful when buying from an unknown sex shop. Some of BestVibe's products might be body-safe, but definitely not all of them. Sex toy labeling is unregulated and runs on the honor system.
How the flexible tongue vibrator feels in use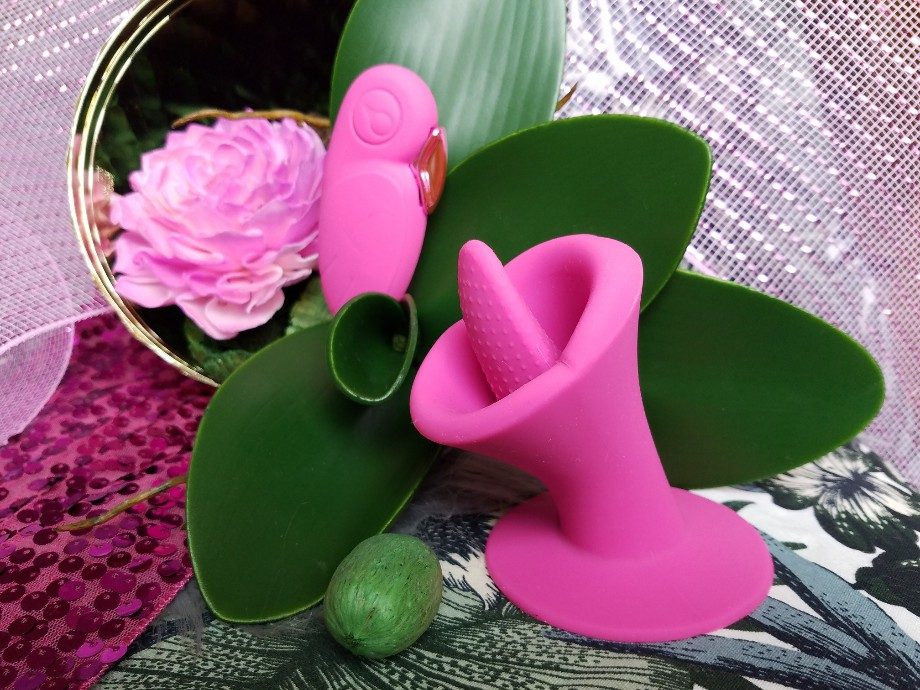 First things first: despite the lack of flutter, I like that the tongue is structurally reinforced for pinpoint stimulation with firm pressure. Second, I generally don't like direct clitoral friction, but the tongue's bumps are subtle enough for me to rub and grind on, even without lube.
The motor reminds me of the VeDO Bam Mini. It's high-pitched and surface-level, as expected— but strong enough for me to orgasm. If you like buzzy vibrations (yes, I know there are others out there who do!), the power is acceptable for the price. It gets the job done.
One button controls the ten vibration functions, which sounds great until you realize that there's no rhyme or reason to how they're ordered. Multi-speed vibrators generally start with the lowest steady setting. When you press the button and toggle, it incrementally increases to the highest, and then patterns before looping back to the beginning.
But this vibrator?
Here's what I wrote in my notes about its settings…
Steady
Lower
Lower wobble pattern
Fast wave
Fast wave but slightly longer pulses
Steady lower
High with a slight wobble
Also high but a bit less wobbly
Slower staccato
Highest
I just— what? Y THO. The patterns menu is even more aggravating than the Pink B.O.B. Alex's, and that's saying something.
My verdict on shopping at BestVibe for sex toys
Purely based on shape and vibration strength, I don't hate the flexible tongue vibrator from BestVibe. It was the control and setting options that ruined it. Most of my readers will want rumblier vibration quality, but every body is different.
Just like there's an audience for the VeDO Bam Mini, Fleurotics Lily, and Cal Exotics Slay Tickle Me, there's one for this toy. And while this one is nothing to write home about, I think what it offers for $23 is decent. Nothing more.
---
This post was sponsored. All opinions expressed are my own, as always.