Flavored Hathor/SUTIL Body Glide lube review: coconut, mint, vanilla, cherry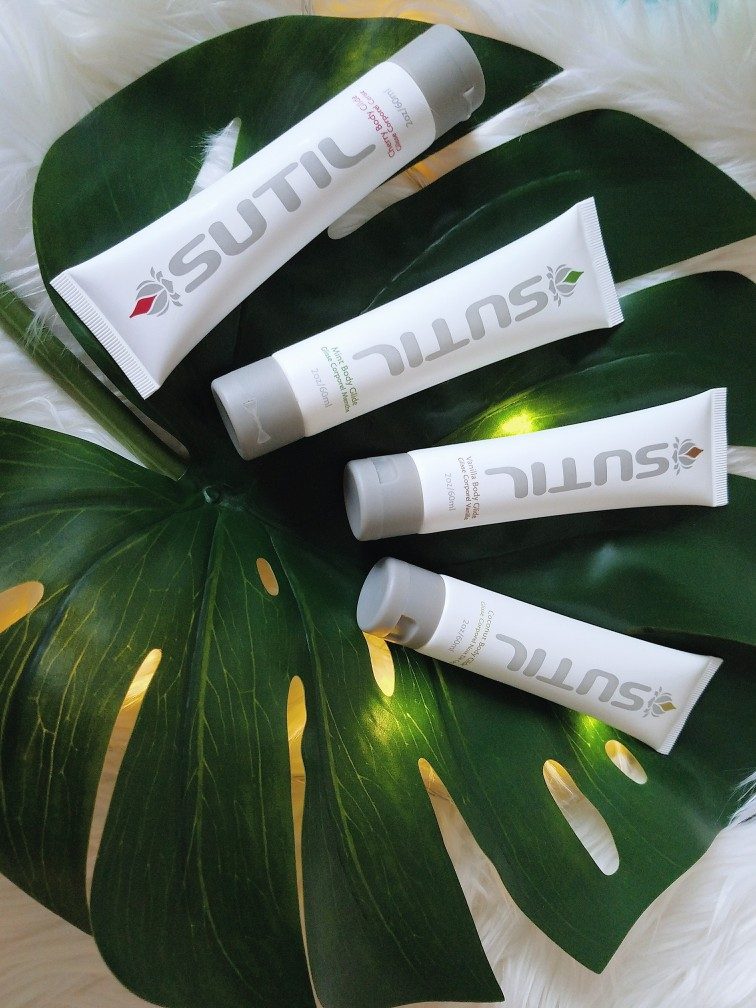 "Green" beauty and personal care products are in vogue now, but Hathor, the company behind SUTIL lube, has had green in its blood since its genesis.
Its plant-based ingredients are thoughtfully chosen and sourced, and the tube is biodegradable. I've heard a lot about Hathor/SUTIL's products: that they're the best water-based lubes, that they last super long, and that the botanical ingredients are highly soothing. I'm not a lube consistency connoisseur, but I do have a biology degree and a vagina, and I had to try this legendary formula for myself.
The folx at Vibrant sent me all 4 of SUTIL's Body Glide flavors: cherry, coconut, mint, and vanilla. There's plenty of variety to appeal to different palates, so I had my boyfriend, a food scientist who has contributed to my posts in the past, test the flavors with me for a second opinion.
Which flavor has gotten my blowjob-reticent self to anticipate giving oral sex? Which one made my boyfriend and me both grimace? And is SUTIL lube as magical as the rumors say?
How Sutil Body Glide feels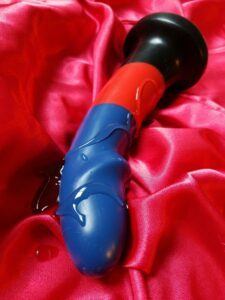 SUTIL Body Glide has the same base formula as Sutil Luxe. In use, it feels as close as you can get to a silicone lube without it containing any silicone at all. The first time my boyfriend and I used it, he asked me, "Is this water-based?" in concern of ruining my silicone toys.
A little goes a long way. When you squeeze the tube, out comes a slightly runny gel that blends well with natural vaginal lubrication. It's among the longest-lasting water-based lubes I've ever tried but washes off easily.
SUTIL Body Glide lube also doesn't feel as heavy as hybrid lubes I've tried, nor does it have the stickiness that water-based lubes often leave behind when they dry out. Instead, these SUTIL lubes blend in and feel like I put lotion on the area.
This personal lubricant comes in four sweet flavors, which I've ranked in order from my favorite to least favorite.
The four SUTIL flavors

My rating: 8.5 / 10 (my boyfriend's rating: 8)
The mint flavoring in SUTIL's lube is more peppermint than spearmint. It's delightfully subtle with a slight, cooling sensation like menthol. However, it's mild enough that it doesn't irritate my vagina the way most tingling personal lubricants do.
Hathor/SUTIL Mint Body Glide is perfect for those who want a flavored lube but are hyper-aware of sweeteners (like my boyfriend) or don't like the typical candy-like lube flavors. It gets my boyfriend's and my stamp of approval— we'd recommend it to almost anyone.
My rating: 8 / 10 (my boyfriend's rating: 7.5)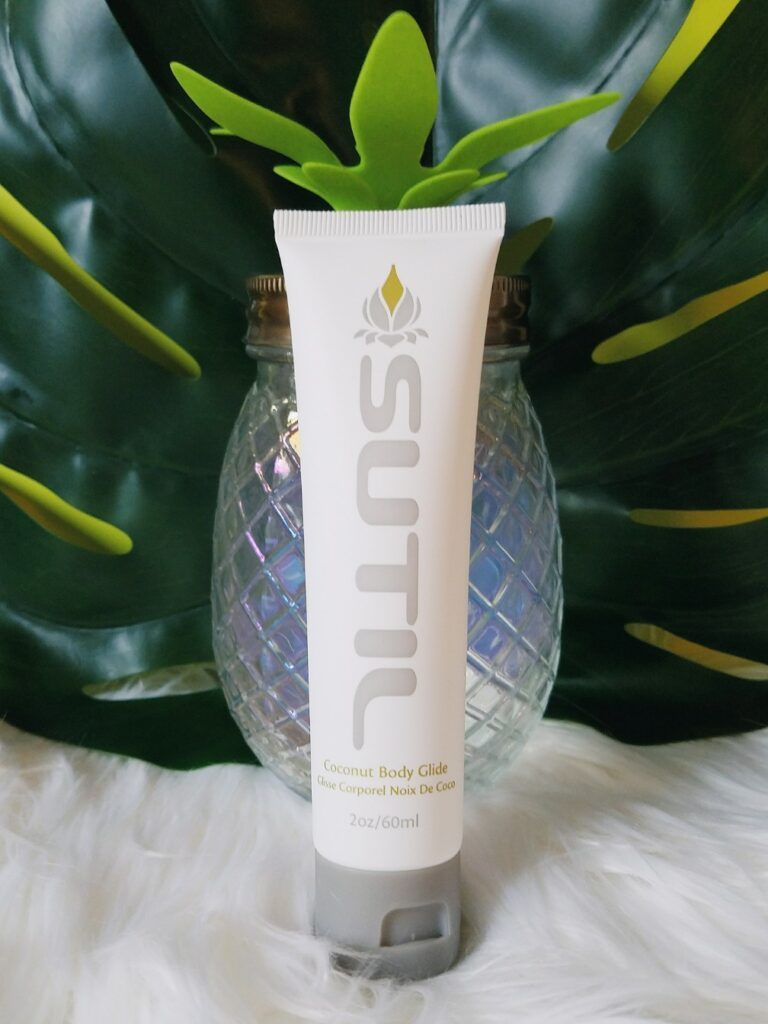 Coconut SUTIL Body Glide tastes like a pina colada. Think of a sweet and tropical coconut flavor rather than the milky and buttery kind. Its aroma instantly puts me in a better mood and its taste complements the Stevia sweetener well, making it one of my favorites.
It's a winning combination with the natural tartness of vaginal secretions. Perfect for a couples' staycation or any time. I don't give blowjobs often, but this lube flavor is so good that I'm down for licking it off of my boyfriend's penis any time.
My rating: 6 / 10  (my boyfriend's rating: 5)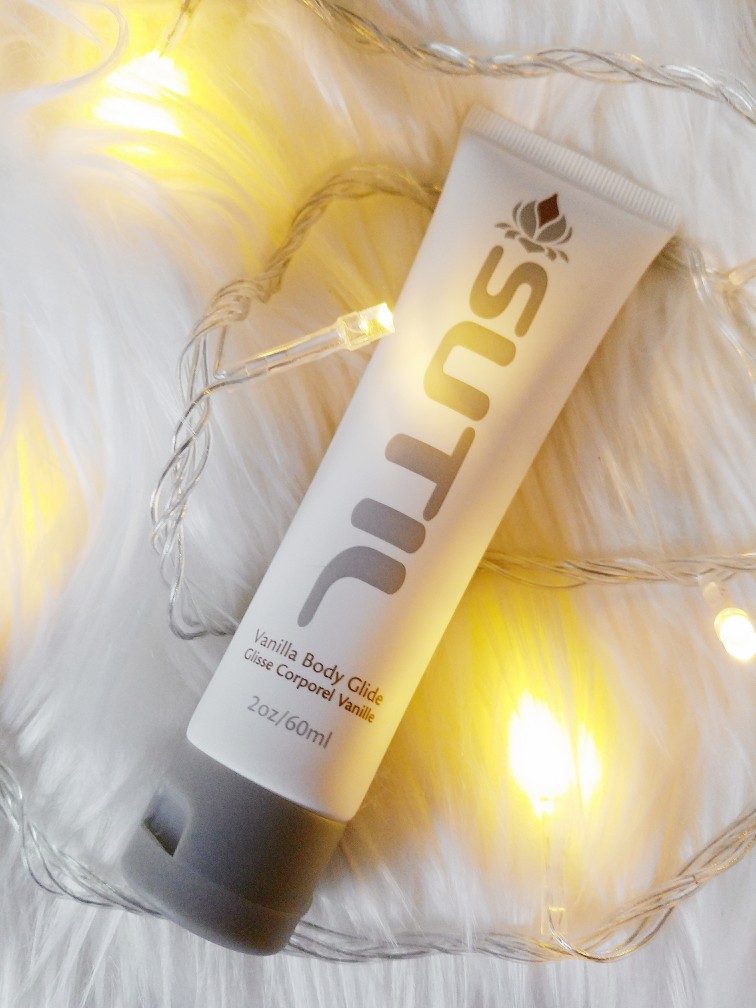 The vanilla flavor was my boyfriend's least favorite. It's "not a good vanilla," he said,  describing it as "alcohol-y" and bitter. The taste and smell are comparable to maple syrup, but the reason is that maple is sweet with bitter notes.
If you've ever tasted vanilla extract on its own, you know what I'm talking about. The bitterness of the vanilla flavoring probably comes from the carrier— the alcohol or whatever organic solvent was used to extract the flavor. The high-intensity sweetener slightly masks the bitterness, but I won't buy another tube of the vanilla Sutil Body Glide once I run out.
4

Cherry Body Glide
My rating: 4 / 10 (my boyfriend's rating: 5.5)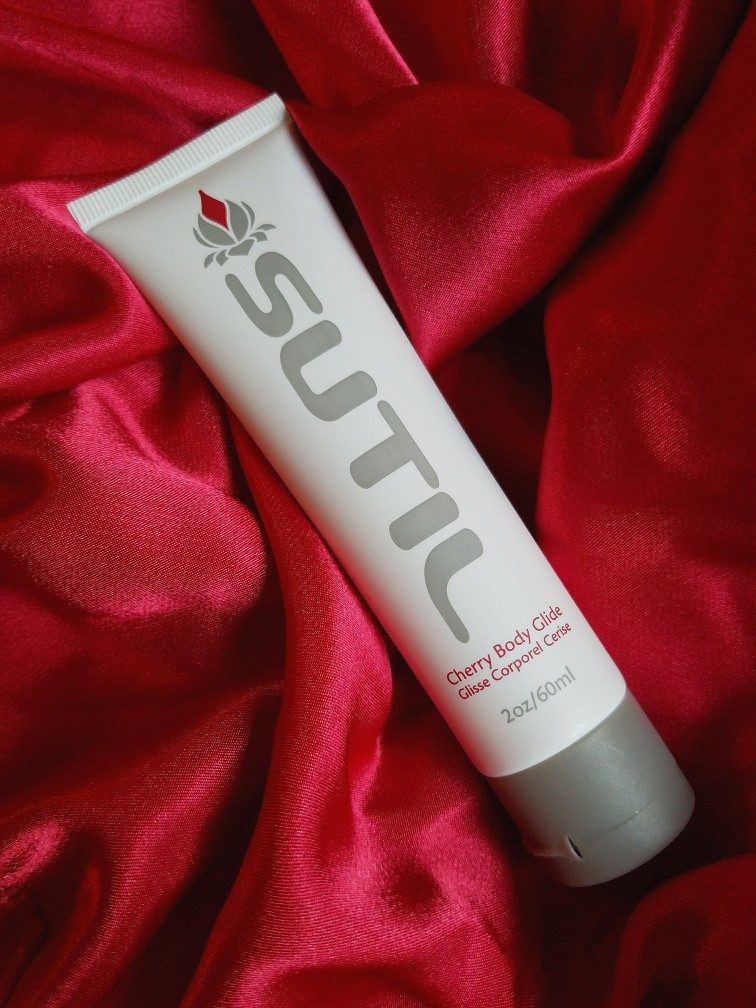 Our first impression was that SUTIL's Cherry Body Glide straight up tastes like cough syrup. Once I get past the formula's initial bitterness, the aroma isn't awful. The problem is that it's too familiar in an unsettling way.
Sure, the label says, "Organic Flavour," but the taste might as well be artificial cherry. And the last thing I want to think about when licking lube off of someone is childhood memories of someone pinching my nose so that I'd open my mouth and accept cherry-flavored cough syrup.
If you want a more pleasant-tasting cherry-flavored lube, try Sliquid Swirl in Cherry Vanilla. It's almost tasty enough to put on ice cream.
What is SUTIL Body Glide made of?
SUTIL Body Glide ingredients:
Aqua, Propanediol* (Botanical Source), Organic Flavour (Aqua, Organic Gum Acacia, Organic Flavour), Hyaluronic Acid (Botanical Source), Nelumbo Root Extract* (Lotus Root), Oat Beta Glucan*, Stevia Rebaudiana Extract, Gluconolactone, Sodium Benzoate*
*Eco-certified ingredients.
Okay, but what the hell does that all mean?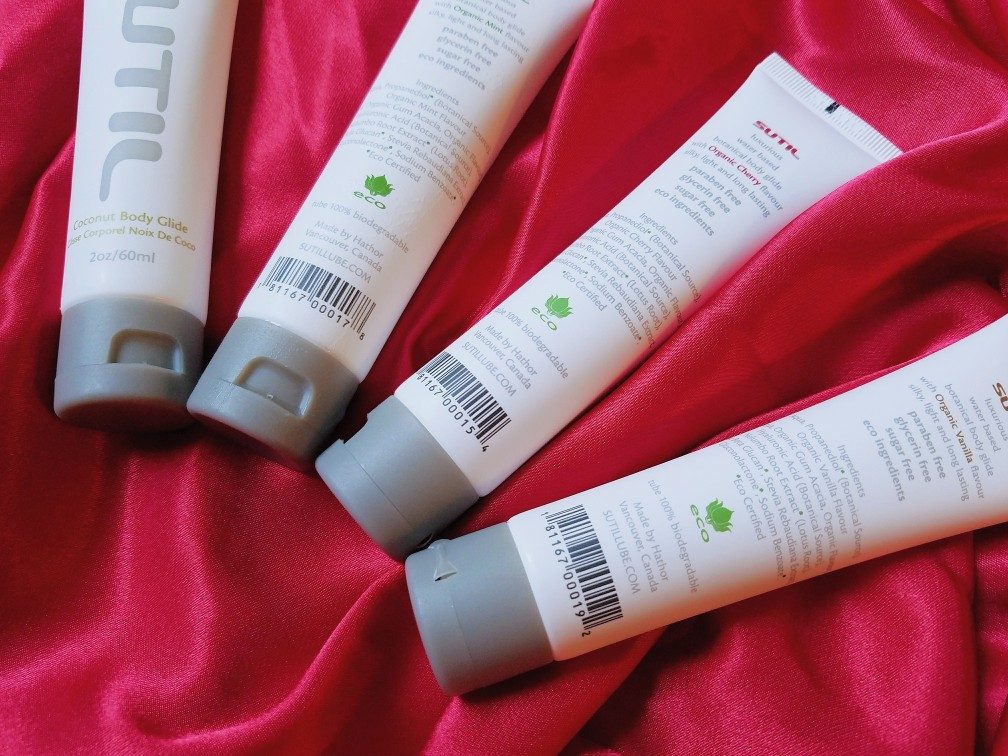 In a nutshell, SUTIL is "green" and free of glycerin, parabens, silicone, synthetic perfumes, and dyes. It's also sweetened with Stevia instead of sugar, so it doesn't feed yeast and bacteria. You can read more about the ingredients on SUTIL's info sheet.
But let's focus on the most abundant ingredient (after water). Propanediol is what makes SUTIL lube viscous, slippery, and soothing. SUTIL uses it where other brands more commonly use glycerin/glycerol or synthetic propylene glycol.
While the research isn't black-and-white, the main thing you need to know is that plant-based propanediol tends to be more eco-friendly than the other two common humectants. As well, the propanediol reduces the bitterness of the other flavor carriers. It does, however, still tend to be hyperosmotic to the vaginal epithelial tissues. If your vagina is sensitive, consider using these for the external bits only.
Environmentally sustainable sourcing
For one, glycerin and propylene glycol are often derived from petroleum or animal fat, though there are companies that use plant-based sources and do a better job of refining.  The propanediol that Hathor/SUTIL uses is derived from fermented corn sugar, then purified and refined so that there's no sugar left. The whole process is environmentally sustainable.
Note: In this context, we're talking about 1,3-propanediol. If you want to get technical, then sure, propylene glycol is 1,2-propanediol. They both have the same number of carbon, hydrogen, and oxygen atoms, but the molecules' shapes are different, giving them different properties.
The folks at Hathor/SUTIL don't consider osmolality a selling point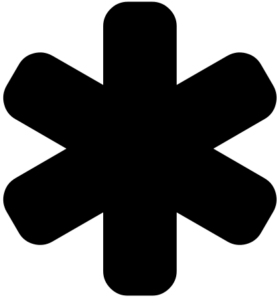 I didn't find any information about osmolality on the Hathor/SUTIL website, so I emailed them to ask. Their response was as follows:
We have stopped talking about osmolality because after spending over two years researching, reformulating and working with different labs we and other research scientists have come to the conclusion that the research on osmolality is inconclusive.

One interesting detail that came up is the fact that some high osmolality lubes show cellular irritation while others with the same or higher osmolality do not.

The high osmolality lubes that caused cellular damage also contained similar toxic chemicals and parabens.

Another point that came up is that low osmolality lubes do not last. They dry up quickly and in themselves cause irritation.
I don't know the osmolality of SUTIL lubes, but I wish the information was more readily available for those who wanted to know. Everything else is so transparent in comparison.
As always, find what works for you
My somewhat sensitive vagina usually dislikes glycerin, and finds some lubes with propylene glycol or propanediol okay. With any lube, I suggest patch-testing and waiting 24 hours to see if irritation occurs before using it internally. There may be a delayed reaction.
My verdict on SUTIL Body Glide flavors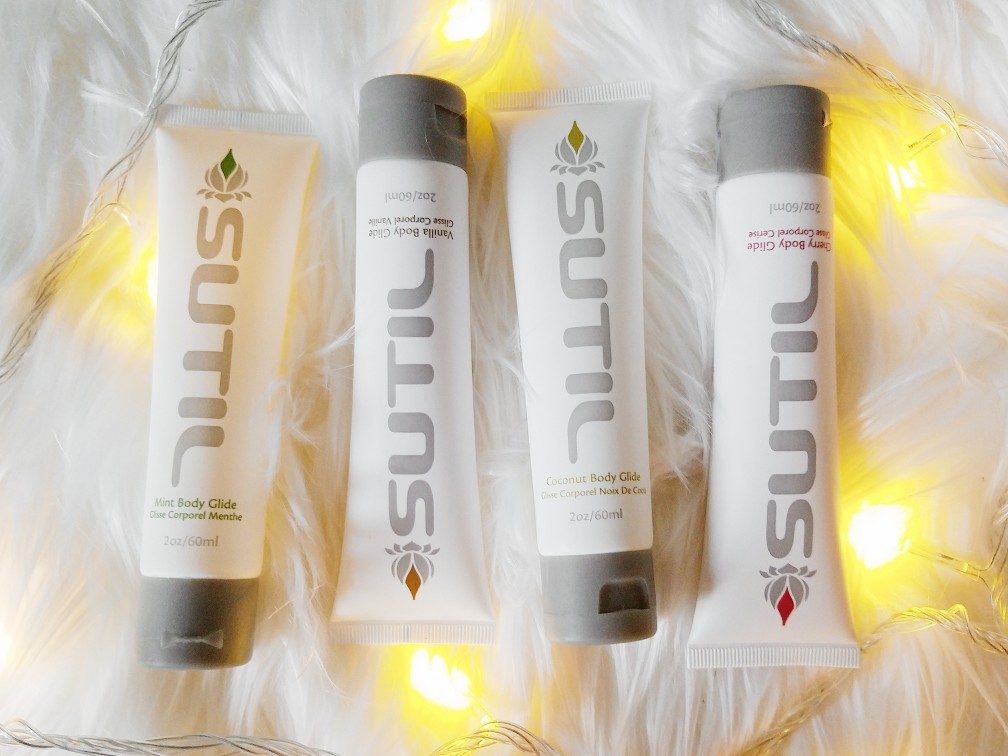 Well done on the coconut and mint! A premium lube that's both water-based and coconut-flavored combines two of my favorite things. Cooling mint is a classic, but SUTIL executes it exceptionally well with a delicate taste and sensation that isn't overpowering.
The saccharine vanilla flavor leaves something to be desired, but I respect that there are plenty of people who like maple syrup more than I do. The only one I'd steer most people away from is the cherry.
---
Disclaimers
I received SUTIL Flavours from Vibrant at no cost in exchange for my honest and freely-given review. None of this changes my opinion of the product. As always, I'm honest if I don't like a product, even if it goes against the grain, and if it straight up sucks.