Review: L'Acier Capo and Slide stainless steel vibrators
I ordered underwear that reads, "This machine does not know the difference between metal and flesh, nor does it care." That's how much I love stainless steel sex toys.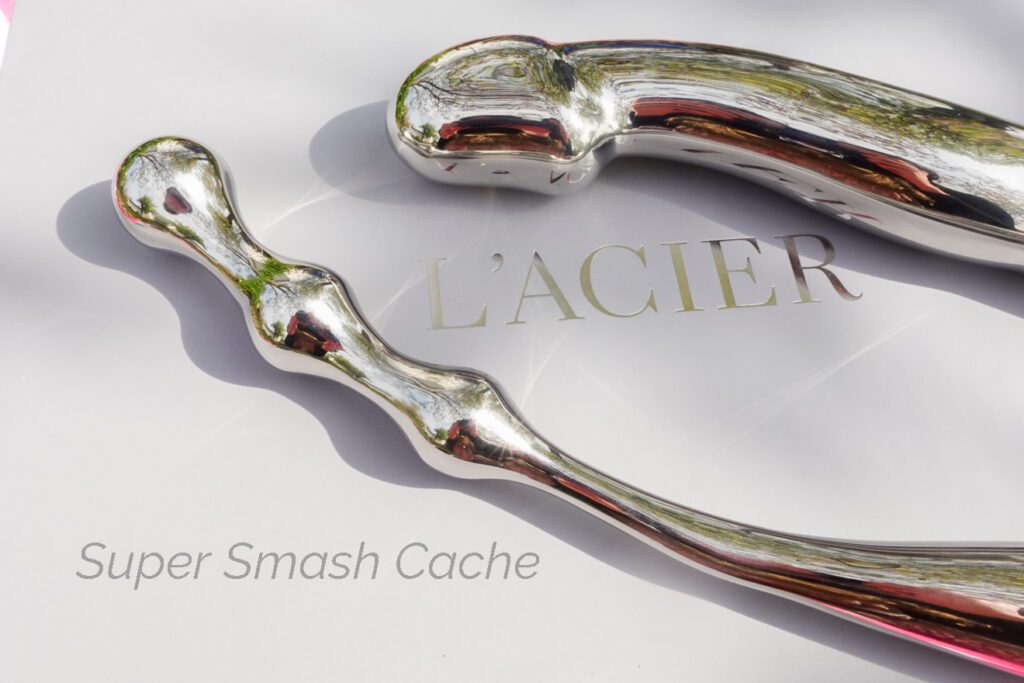 "L'acier" means "the steel" in French, in case you were wondering. And this review of the L'Acier Capo and Slide might as well be summed up, "AAAAAAAAAAAA."
I've reviewed plenty of metal and glass toys before, but the L'Acier line was my first experience with stainless steel vibrators. The L'Acier Capo, Slide, and Reverb dildos all come with bullet cavities to slip a rechargeable bullet inside — or not.
Also included are two handles. If the positioning aids look familiar, it's because the same parent company makes L'Acier as The Thruster. One of the handles is angled for easier reach when masturbating while lying on your back.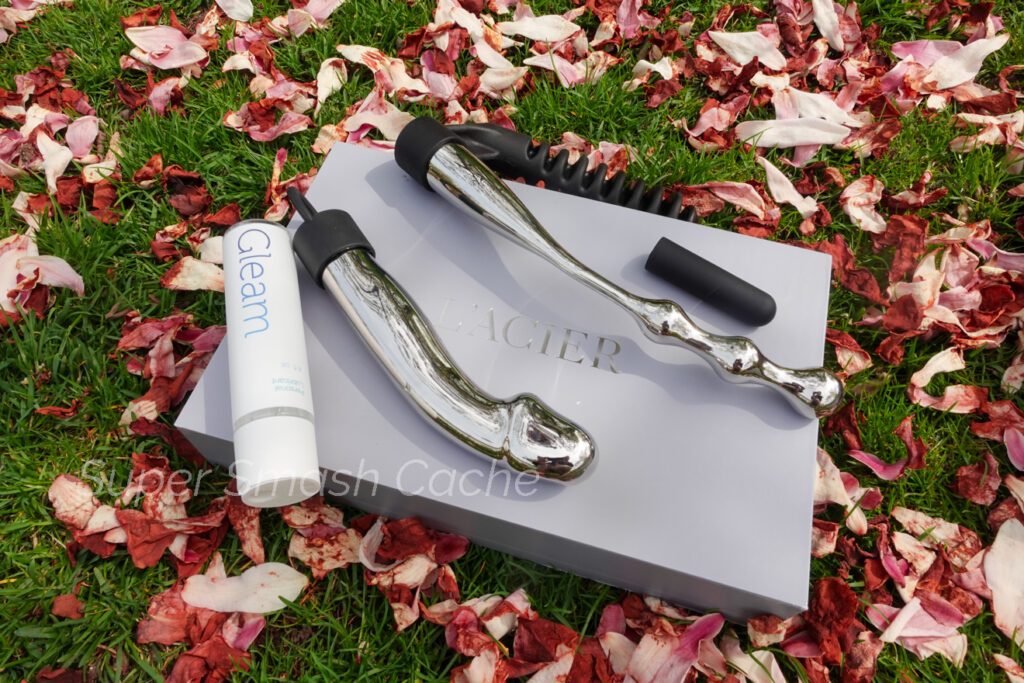 You don't need super long arms to use these toys. And that's notable when the L'Acier Slide is a loooooongboi — about a foot long. I don't know why it's so lengthy, but I like going deep with it vaginally against my A-spot. The handles do make these steel dildos safe to use anally, too.
L'Acier stainless steel dildo measurements
The "realistic" / representational one
8.25" total length
7.25" insertable
1.3" head width
1.5" head depth
1.2" under corona
1.5" near the base
916 g with bullet and handle
The long, beaded one
12" total length
11" insertable length
1.1" first bulb diameter
1" second and third bulbs
0.5" minimum diameter
1.25" near base
658 g with bullet and handle
How the steel dildo shapes feel in use
The L'Acier Capo dildo's head is semi-realistic — designed after a penis but stylized for extra impact. There's a substantial contrast between the glans and the sulcus/dip underneath.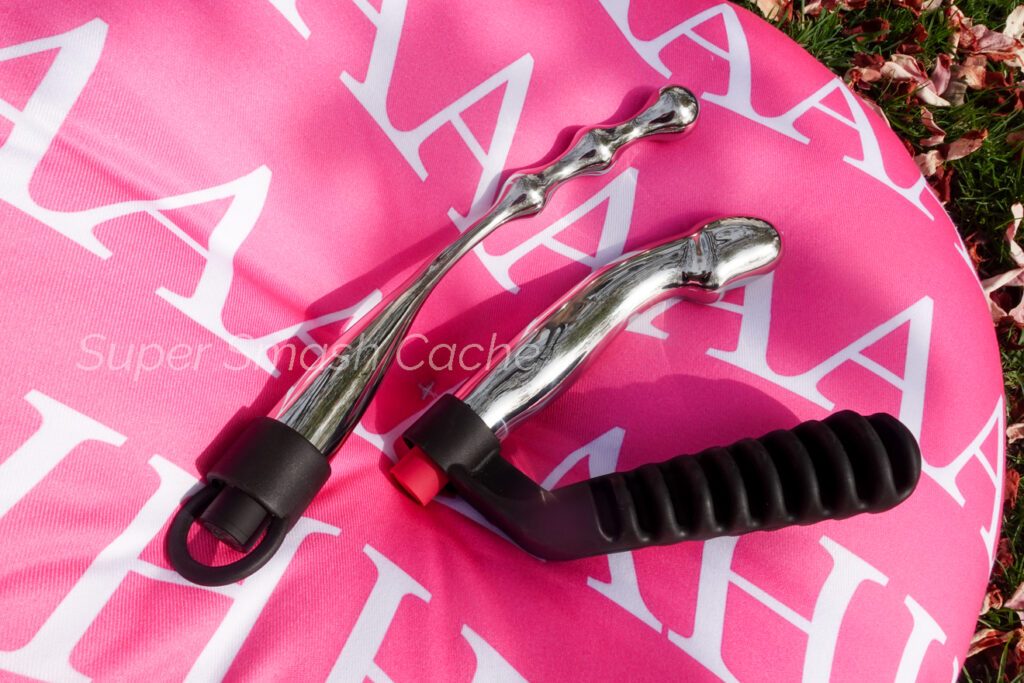 The result? Intense hooking. Its flattened head kneads just past the pubic bone, while the curved corona can press onto the urethral sponge a bit more. For G-spotting with this dildo, I prefer to use shorter thrusts, pulling the head on the "out" stroke. The front-loaded and forward-facing tilt also fits the formula for best toys for A-spotting and cervix stimulation.
L'Acier's Capo features ample insertable length, is firm, and comes with a handle — all features that further make it ideal for deep penetration.
To compare and contrast, the L'Acier Slide is slender and moderately curved. Its first bulb is slightly more voluptuous than the rest, and you can use the bend to push against your prostate or A-spot if you wish.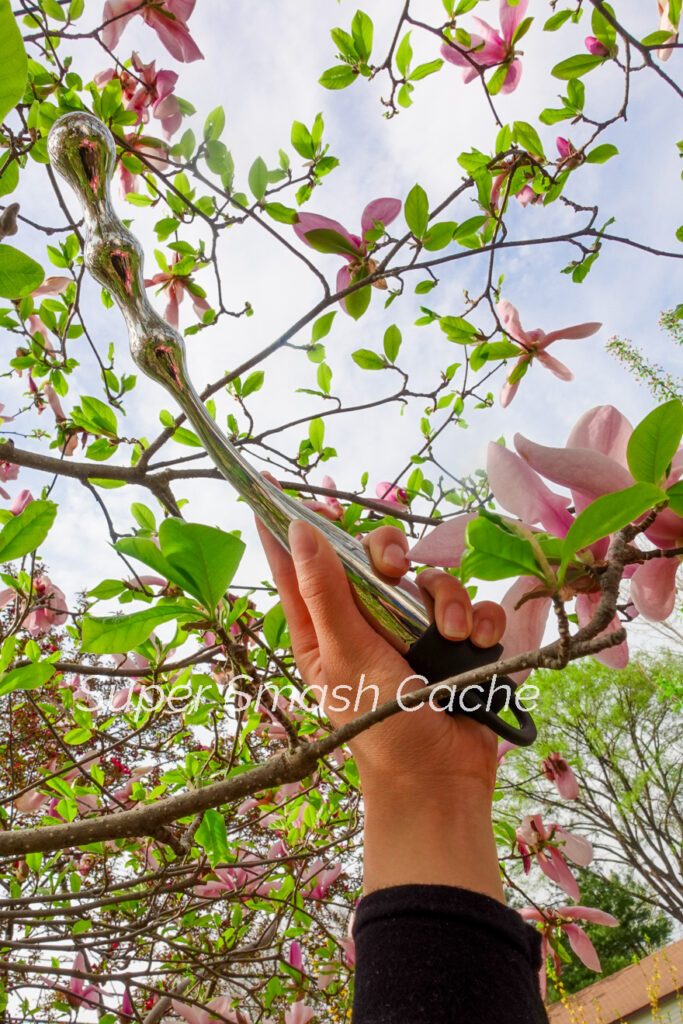 The L'Acier Slide was made to be rigid anal beads to stretch and contract around, though I like using them vaginally. Just look at that length and curvature. Mmmmph, delightful for depth play. Cue drool emoji. (In contrast, the njoy Fun Wand and Pure Wand are more for shallow penetration.) It's decidedly pinpoint, though, which isn't ideal for massaging the cervical os.
L'Acier's stainless steel dildo line also includes the Reverb: a vibrating steel plug with a tapered tip and bent shaft to make it very butt-safe. I have yet to use that one, though.
L'Acier vibrator settings and controls
Additionally, popping on the finger loop base makes navigating the vibrating bullet's control easier. One button cycles through the ten settings. There are three steady speeds and seven patterns, one of which is a fast-pulsing staccato rhythm.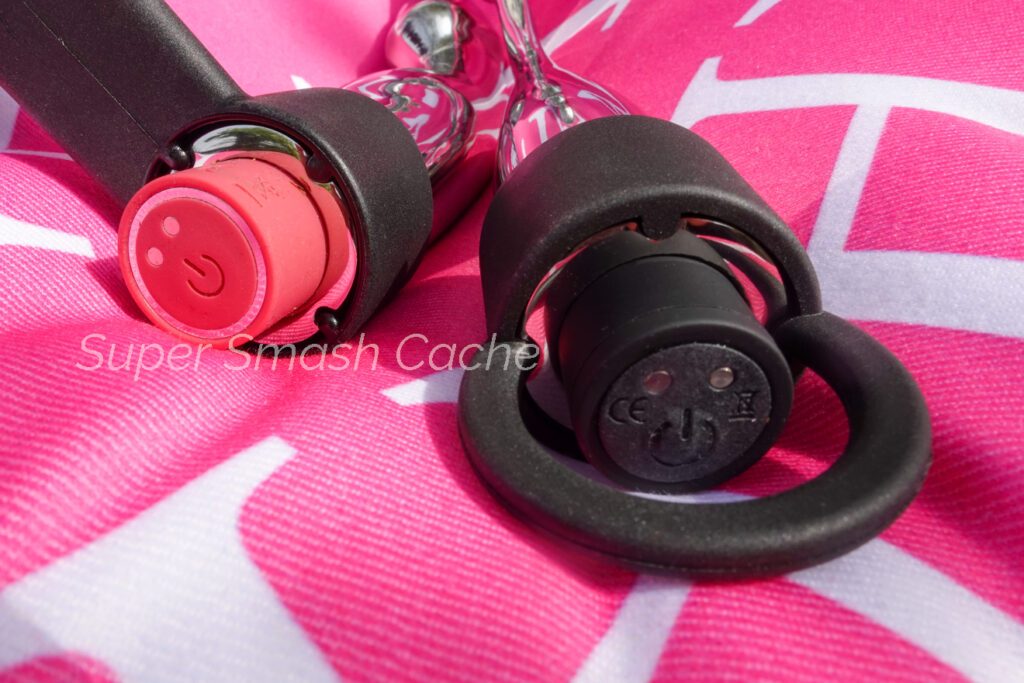 As for whether the motors add to the penetration sensation, I could take them or leave them. The vibrations have moderate strength but are very buzzy.
Hypothetically, you could swap the Slide's bullet for an Exposed Nocturnal or Realm Silver Bullet. Don't quote me on that, though; I would if the original vibe wasn't so challenging to take out. As for the Capo, its bullet cavity is a bit wider, so I don't have the right size mini-vibe to fit that slot.
Perks of stainless steel dildos
It's a good thing that L'Acier's stainless steel dildos pack a punch with or without vibration. You can credit how heavy these toys are.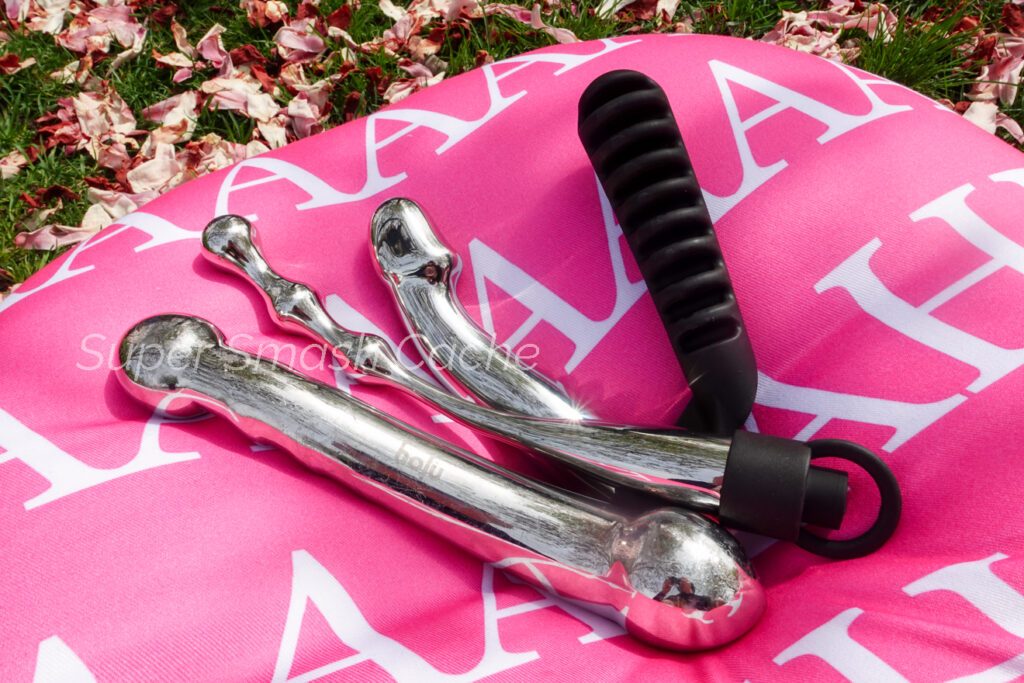 As with all steel toys, the mass allows them more force and momentum, pressing harder against your walls. They're also unyielding, making them easier to aim against highly focused hot spots. (I'm looking at the Slide.) Moreover, you can put stainless steel dildos in hot or cold water for temperature play sensations.
It's a double-edged sword, though. What makes stainless steel dreamy to me as a dildo material makes it a nightmare for others. It's heavy! It's slippery! The unforgiving nature of steel can be uncomfortable for some users!
Your mileage may vary. I think hard material dildos are underrated. Their slick surfaces mean little-to-no need for lube. The heft is intense. The rigidity allows for more precision.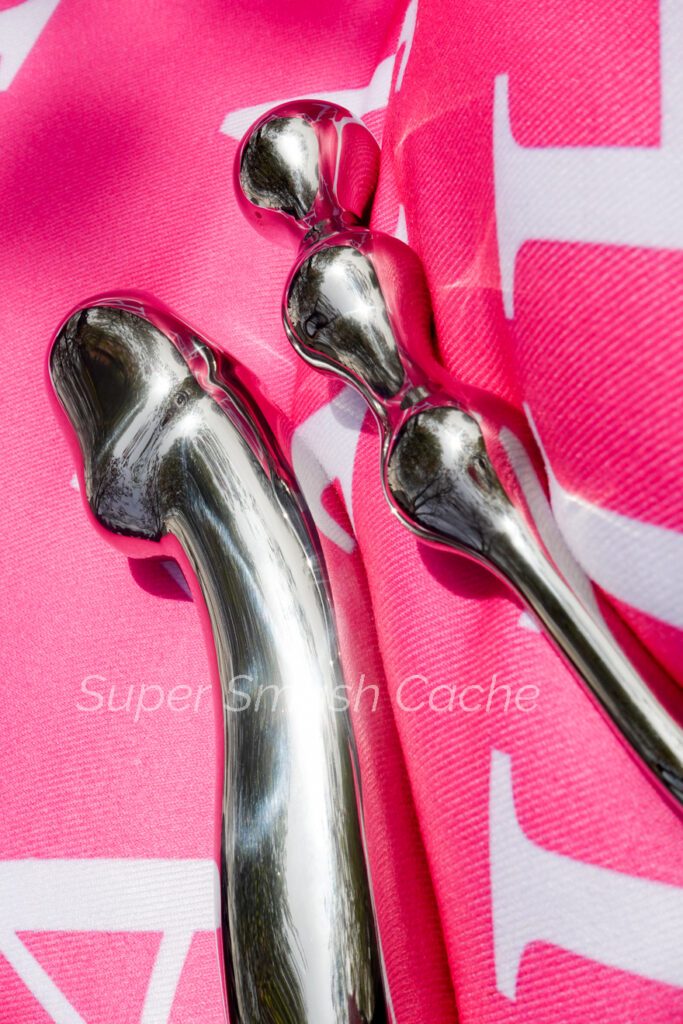 If you're in doubt, experiment with some glass toys before trying stainless steel dildos. I know what I like, though, and I think metal sex toys are so, so underrated. I love the depth, fortitude, and gusto when I get stuffed — all things the L'Acier Capo can provide.
---
Further reading
---
This post was sponsored. L'Acier gifted me the items reviewed, but the opinions expressed are my own.