Review: Velvet Thruster Prime, Nanci (FKA Abbey), Sammie, Teddy GS
Velvet Thruster's latest handheld fucking machine designs bring us the hard-and-fast power I know and love, and more.
These new handheld fucking machines are bringing us:
Major improvements on the original — swappable heads and a sleeker, waterproof exterior
Positioning add-ons, like a long reach handle and a suction cup base
NEW SELF-THRUSTING DILDO DESIGNS, for both their bigger Velvet Prime and mini models

A hardcore G-spotting attachment and a girthier representational one
That last bullet point especially got me excited. Because I, Cy Smash of Super Smash Cache, sculpted the Velvet Thruster Nanci (FKA Abbey) and Teddy GS's clay model!
And they've added a bigger self-thrusting dildo design to the line: the Prime Sammie.
My brain is little more than confetti flying and champagne popping right now.
Both the Velvet Thruster Nanci/GS and Sammie shapes made me come within seconds. I can't promise the same for you, but I'm upfront about how intense the sensations are. I only need four different letters, to sum up how I feel about the new Velvet Thrusters:
WTF (but in the best way possible)
AAAAAAAAAAAAAAAAAAAAAAAAAA
But you know I wouldn't just leave it at that. There's a lot of ground to cover in this review of the Velvet Thruster Prime, Sammie, Nanci FKA Abbey, and Teddy GS.
---
Table of Contents
---
What stayed the same and what's new
The makers doubled down on what I loved before and took constructive criticism seriously.
This handheld fucking machine offers a similar stroke length to the original (3″) and almost the same top speed: 136 thrusts per minute.
You get 6 settings instead of 10, though. Velvet Thruster's most popular attachments are still available with the Thruster Prime, and of course, there are new ones! More on them later.
Here are all of the Velvet Thruster heads now available:
Jackie, the average-sized representational dildo
Frankie, for fanatical front wall texture
Walter, AKA self-thrusting anal beads
Sammie, the super girthy one
Nancy, FKA Abbey, the dazzlingly delicious G-spotter
Velvet Co. considered doing the swappable attachments before, and I got a taste of it in 2018. However, the full-fledged creation didn't hit the market until this year, baked to perfection. The fittings lock into place, snugly against the base unit's grooves.
Velvet Thruster Prime vs. original Thruster
YESSSS, the Velvet Thruster Prime is quieter than the original. It's not quiet, and its sound is still mechanical, sure. But we're not veering into the decibel range of, "Are you drilling holes in the wall for your ethernet cable?"
The button placement is also now at the sides — and sensibly so. It used to be that the Velvet Thruster's buttons were at the bottom, rendering them inaccessible if I propped it up against a hard surface. Not anymore, though! And it's water-resistant, as a luxury toy like the Velvet Thruster should be.
New Velvet Thruster positioning add-ons
Positioning aids screw on to the port at the bottom of the Velvet Thruster Prime:
A steeply angled handle for holding during solo play
A suction cup to mount your compact fucking machine
A straight handle for partner play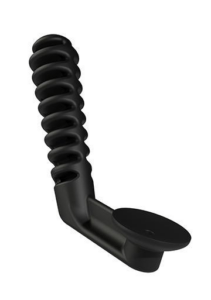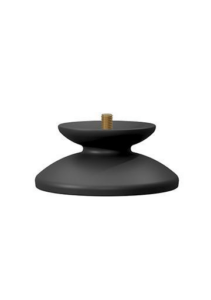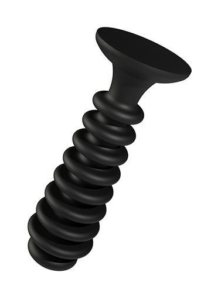 The Velvet Thruster is powerful, but because of that, it wasn't always the easiest toy to hold.
If you don't have hands of steel or a secure base, the handle may wag without the inner portion moving much. For that reason, I rarely actually hold it; I prefer to mount it, cowgirl-style. Not everyone is comfortable doing that, though.
Designs that help me, a thin and non-disabled person, be luxuriously lazy with masturbation can also be game-changing for people with limited mobility or reach. I can't speak for everyone's experiences, but I do know that someone wanted The Thruster to be a tool to help disabled people experience pleasure.
The one downside, though, is that the Velvet Prime's buttons can be a bit hard to push. I really have to dig in my fingertip and nail.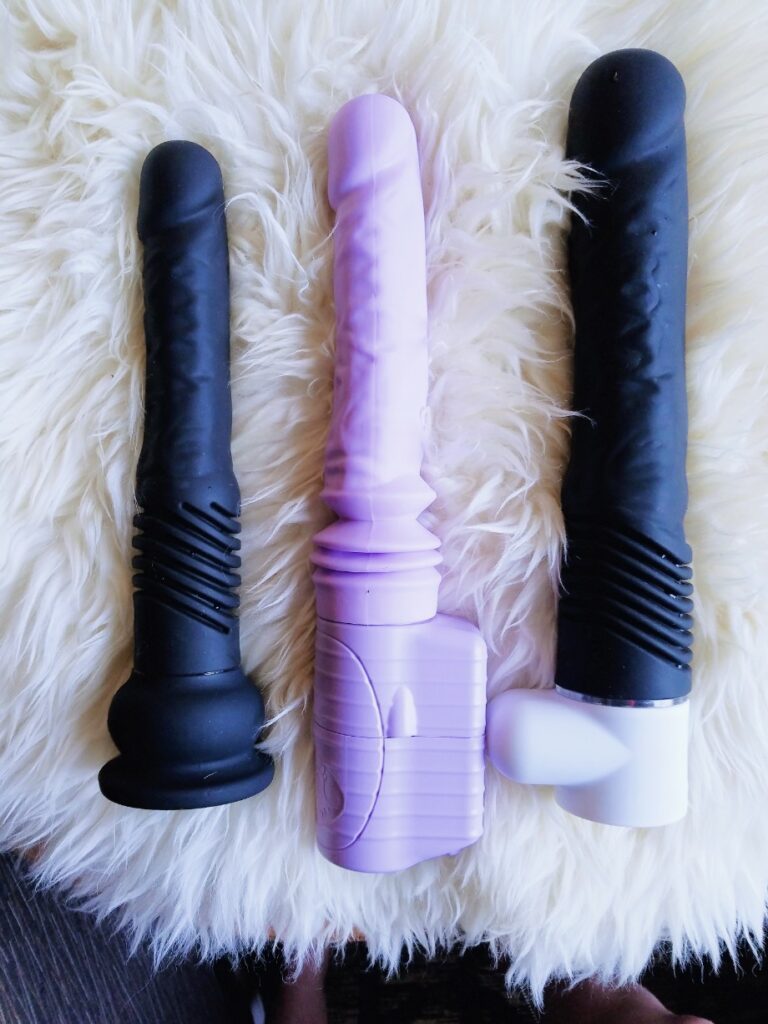 Left to right: Teddy TX mini, original lilac Jackie, and Sammie XL on Prime
Velvet Thruster is certainly expanding its audience.
The Thruster Prime is more for people who know they absolutely want a versatile fucking machine. Its ideal user wants to invest, to try all the positions, and to have options. The mini thrusters are for those who are on a tighter budget or want to stick to one contraption.
Mini Velvet Thruster models
They're smaller than the respective Velvet Prime models, of course, making them more travel-friendly.
---
Velvet Thruster measurements and size comparison
| Name | Shape | Diameter | Dildo Length | Stroke Length | Thrusts Per Minute (Max) |
| --- | --- | --- | --- | --- | --- |
| Jackie | Realistic | 1.5" | 6.5" | 3" | 136 |
| Frankie | Ridged | 1.5" | 6.75" | 3" | 136 |
| Walter | Beaded | 0.85" – 1.35" | 7" | 3" | 136 |
| Sammie | Realistic, XL | 1.85" | 7.25" | 3" | 136 |
| Nanci | G-Spot | 1" – 1.5" | 7.25" | 3" | 136 |
| Teddy TX | Realistic | 1.5" | 5" | 2.5" | 125 |
| Teddy XL | Realistic, XL | 1.5" | 5.75" | 2.5" | 125 |
| Teddy GS | G-Spot | 1" – 1.5" | 5.75" | 2.5" | 125 |
---
Sammie vs. Jackie/Teddy TX
While the Jackie dildo is 6″ long by 1.5″ diameter, the Sammie's is a waaaay heftier 8″ x 1.9″.
Before the Sammie came out, I loved modifying my Velvet Thruster Teddy and Jackie with a VixSkin Colossus extension sleeve to add girth and squish. That's an extravagant pairing, though, and not practical for the average consumer's budget.
How does the Velvet Thruster Sammie feel?
With the Sammie, that dip under the corona and the veining pull at my G-spot and front wall like crazy. I come. I clench. The G-spotting is intensified. I come again nearly immediately. I clench harder.
Continue the feedback loop with ample stretching and yummy cervix massage. I'm usually a fiend for deep penetration — and get a lot of that with the Sammie — but that somehow takes the backseat. It's dynamite for front wall stimulation, in charge with its spellbinding internal clitoral pressure.
Closing thoughts on the Velvet Thruster Prime Sammie
The Velvet Thruster shop version is a bit squishier than the one I have, which is probably a plus for most users. But oh gosh, I love the Velvet Thruster Sammie's shape. I have nothing negative to say about it.
We need a more nuanced conversation about the G-spotty Nanci FKA Abbey and Teddy GS design.
Using those Velvet Thruster models was every bit as spellbinding as I hoped. However, G-spots and pubic bones vary a lot. Let's talk about who they are and aren't for.
I sculpted the clay model for the Nanci and Teddy GS at an influencer consulting meet-up in July 2019.
Take a behind-the-scenes peek at the Velvet Co. meeting.
Taking inspiration from other designs I loved, I wanted a broad but rounded head. ("So you're making an njoy Eleven?" another toy reviewer asked.) Velvet Co. 3D scanned and modified the form.
The end result deviated slightly from my original vision.
The Velvet Thruster Nanci and Teddy GS have a stronger hook and sharper, more squared-off head. Their release was originally scheduled for spring 2020 but postponed due to COVID. Fast forward and here we are!
---
Velvet Thruster Nanci FKA Abbey and GS modifications
How do I feel about the Nanci and Teddy GS?
I had my qualms about head shape until I actually used it! It's been nothing but love ever since.
G-spot toy shapes I like tend to be rounded off — or at least bendy to get into my pubic bone's dip and rub the most sensitive part of my front wall.
Flat and square G-spotting heads are super common in Toyland — much to my dismay. While many other reviewers adored the likes of the LELO Ella, Picobong Moka, Blush Wellness G Ball, and Fun Factory Stronic G, none of those worked for me. They aimed too far past my pubic bone, missing my G-spot. Most of them are too firm and restricting, especially if their shafts are steeply curved.
The key to the Velvet Thruster Teddy GS and Nanci FKA Abbey's success is in their flexibility.
The topmost 2.5″ or so of the insertables are entirely silicone. With some force, you could bend them 90 degrees in either direction. The Velvet Thrusters' "skeleton" doesn't start until about mid-shaft under the dildo attachment. You don't have to worry about the shape fitting the pubic bone perfectly.
Plus, the flexibility means plenty of options for aiming. That includes turning the Velvet Thruster Teddy GS or Nanci backward for cervix or perineal sponge stimulation. I prefer the slower speeds for my G-spot and the faster speeds for deep penetration to maintain contact with my cervical os.
I adore that I get pinpoint AND broad stimulation in different spots. The rounded part of the tip pushes, the flat face kneads, and the sharp hook pulls.
Velvet Thruster Nanci FKA Abbey and GS vs. Fun Factory Stronic G
The Stronic G, in contrast, doesn't bend as far back.
Just 1″ or so of the boxy head is silicone and not so much the shaft. It's silicone-coated, but you can easily tell where the hard plastic shell is under it. The jiggly magnetic thrusting can't push the Stronic G's head against my pubic bone as hard as I'd like.
Don't get me wrong — the Stronic G is powerful, but its half-inch strokes and square tip don't jive with the boniest part of my vagina. (I like the Stronic Surf a lot, though, since its shape fits more neatly against my wall. And the Fun Factory SUNDAZE uses the same technology for external stimulation.)
Velvet Thrusters, meanwhile, use a barrel cam mechanism for longer thrusts with more "oomph"; they're half a step short of power tools.
The result? Velvet Thruster's Teddy GS and Nanci feature a strong shape in a springy material — a sensible middle ground between yielding and forceful.
---
My verdict on the latest Velvet Thruster models
If it's the intensity you seek, the new Velvet Thrusters may be just the thing.
I'd wholeheartedly recommend the Sammie to size royals who want a semi-realistic fucking machine.
As for the Velvet Thruster Abbey and Teddy GS, they're everything I hoped for in use, but they're not for everyone.
Those who have a history of steep toys snagging and grinding on their pubic bones should steer clear. As well, some dildo connoisseurs hate pinpoint internal stimulation.
It's a trade-off; I like feeling the sharp hook pulling inside me, but not everyone does.
The Velvet Thruster Teddy GS and Nanci are not those who want subtlety. Nor is the Sammie.
But if you're internally screaming, "YES! GIVE ME MORE!" you're in luck. Velvet Co. has distilled its intoxicating essence into something even more formidable and fuckable.
View this post on Instagram
---
Take 20% off the Thruster with discount code SUPER20
You can use this code any time — even when there isn't a sale.