Shots Chrystalino Gallant review: cobalt blue glass A-spot dildo
Thanks to rad sex toys like the Chrystalino Gallant, I'm still finding new ways to awaken my sexuality, even 4 years into collecting them.
This glass dildo features two swelling bulbs, about 1.4″ at the widest diameter, and a tapered tip. It looks rather unassuming and slight in pictures, but I was taken aback by the heft when holding it in my hand. The slight parenthetical curve is off-centered and well-shaped for a not-so-well-known area along my front wall: the anterior fornix.
Acquainting my A-spot
I love deep penetration, especially behind my cervix (in the posterior fornix/PFE zone). However, I had never stimulated the area in front of my cervix (the AFE zone / A-spot) in any meaningful way until this year.
Perhaps my biggest misconception about my A-spot was that stimulating it would mirror the way I stimulate my PFE zone. Stimulation in my PFE zone results from going all the way in, pressing against my cervix. It seems that A-spot stimulation, at least for me, is independent of my cervix; I press on the front wall about an inch shallower than where my vagina ends.
It wasn't until I used the Blush Novelties Avant D4 that I discovered this distinction. The Avant D4 is an intense treat when I want to usurp orgasms from every inch of my front wall. If I want something targeted for my A-spot and less overwhelming (read: no need for warm-up), however, that's where the Chrystalino Gallant dildo comes in.
A pointy tip for A-spot precision
Stimulating my A-spot with the Chrystalino Gallant is a different experience from with the Avant D4. Both toys are bumpy and smooth, but that's about where the sensations' similarities end.
See, the main appeal of the D4 is that it's so chunky and rigid that the head's pronounced coronal ridge has nowhere else to go, but press against my A-spot. The head and bumps are spaced apart. With the dildo inserted almost all the way in, the silicone finish drags a little against my G-spot. However, the head's steep slope angles away from my A-spot.
The tip of the Gallant comes to more of a point. Its bump doesn't jut out quite as sharply as the Avant D4's head, but it doesn't need to. The angling of the head itself is more than enough for me to get off on it quickly, with a little bit of fast, hard thrusting.
Gentle G-spotting with the Gallant
The Chrystalino Gallant can be a good fit for someone who wants something mildly bulbous, instead of a G-spot-assailing specialist. Surprisingly, it I find that it works better for my G-spot if I turn it so that the tip is angled towards my back wall. It's the second bump from the tip that I like pressing into my G-spot.
There's no drag, of course, but it's moderately filling with just enough variation in the shape to feel the pressure change as the bulbs slide along my front wall.
Unlike with the Chrystalino Champ, the Gallant is more for tilting towards my G-spot and thrusting, rather than clenching around and jiggling. For me, the Gallant massages more surface area than the Champ does, thanks to the two bulbs.
I still like them both. For many people with vaginas, the Champ helps locate the G-spot more easily if they don't already know where it is. I'm already BFFs with my G-spot, though, and know I don't need (nor even prefer) anything severely hooked or dramatically bulbed to stimulate my G-spot. As such, I enjoy the Gallant's broader G-spot stimulation more.
---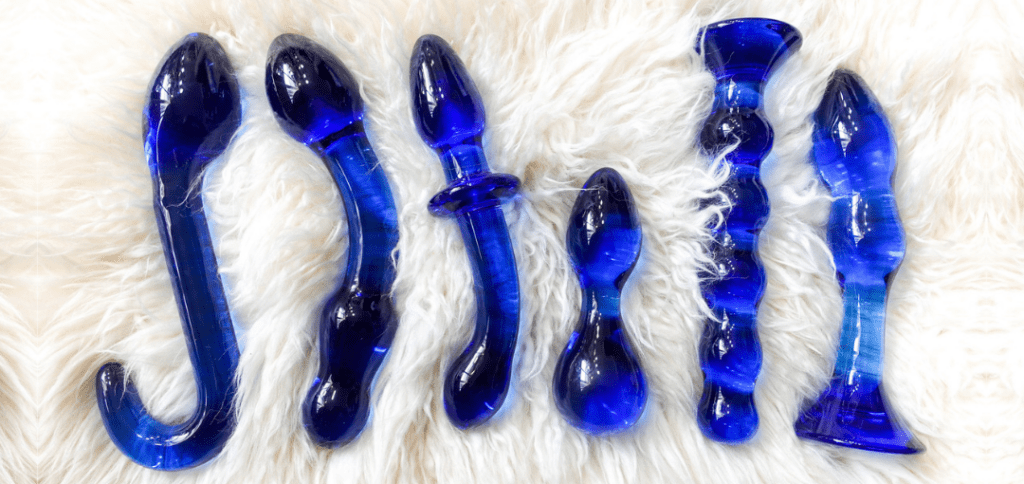 ---
The Chrystalino Gallant's base isn't optimal for solo vaginal play…
For starters, the Gallant's rigid, flat and flared base is a pain in the ass to grip. Even with rigid silicone, at least a base of that shape would have some give. I can tolerate the hard base because I come quickly with adequate penetration. Someone else who takes longer might find that their hands hurt too much to proceed and finish.
And because of the perfectly round base and very slight curve, it's not always obvious which side should face front. It's not an issue if I'm in a well-lit room; I can rotate the Chrystalino Gallant until I see its curved profile. However, I probably wouldn't use the Gallant in the dark, contrasting with its S-curved cousin, the Chrystalino Champ, and the slightly slimmer C-curved Chrystalino Superior.
The relative lack of differentiation is also annoying if it's already inserted. Glass slips and sides, meaning a round toy like the Gallant sometimes rotates loses aim. I can rotate it until it presses against the right spot, but it'd be way faster with an asymmetric base. The teardrop bases on the Tantus Slow Drive and Sport are good examples.
…but it is anal-safe and harnessable
Just because the Chrystalino Gallant's base isn't ideal for the way I use it, doesn't mean it's not a good toy (especially for the $40 price tag!). The full, flat base is friendly for harness play, resting flush against the wearer's body, And as always, I can only recommend toys with flared bases for anal use; without a big base, a dildo or plug could get lost inside one's rectum.
As well, since the glass's slick surface has very little friction, a little lube goes a long way, even for anal play. I recommend a silicone-based lube or hybrid lube for longevity. They last longer than water-based lube and are safe with glass toys, including plugs in the Chrystalino line.
Final recommendations
All of the Chrystalino dildos and plugs are sexy cobalt candy for the eyes. And not only are they visually appealing, but the glass's rigidity and heft also make the Gallant and Superior's designs excel at deep penetration.
The Champ can reach my A-spot, but it feels like too much of a broad, indefinite blob for that purpose. I'd say it's better for pressure on my cervix from behind, rather than in front.
I used to think that the area in front of my cervix didn't respond to stimulation, but I wasn't using the right toys for that purpose. The Chrystalino Gallant exceeded expectations and ended up being my anterior fornix's favorite dildo. It will always have a special place in my heart, no matter how many sex toys I try. At $40, the Gallant is a must-try for those who love deep penetration and rigid toys.
See also my comparison guide to a buuuunch of other Chrystalino dildos!
Disclaimer
I received the Chrystalino Gallant from Peepshow Toys in exchange for my honest review. All views expressed are entirely my own.
I use affiliate links throughout this post. However, even if I don't care for a toy, I'll let you know. That's still true, when I really want to like a dildo but don't, and if my review goes against the grain. Thank you, Peepshow Toys!