Bestvibe Triple-Motor G-Spot Rabbit Vibrator Review
"It looks like Squidward, with an erection, beckoning you to fight him," said a friend upon his first impression of this toy. Later on, he compared it to a bunched-up rendition of Squidward's "masterpiece" self-portrait.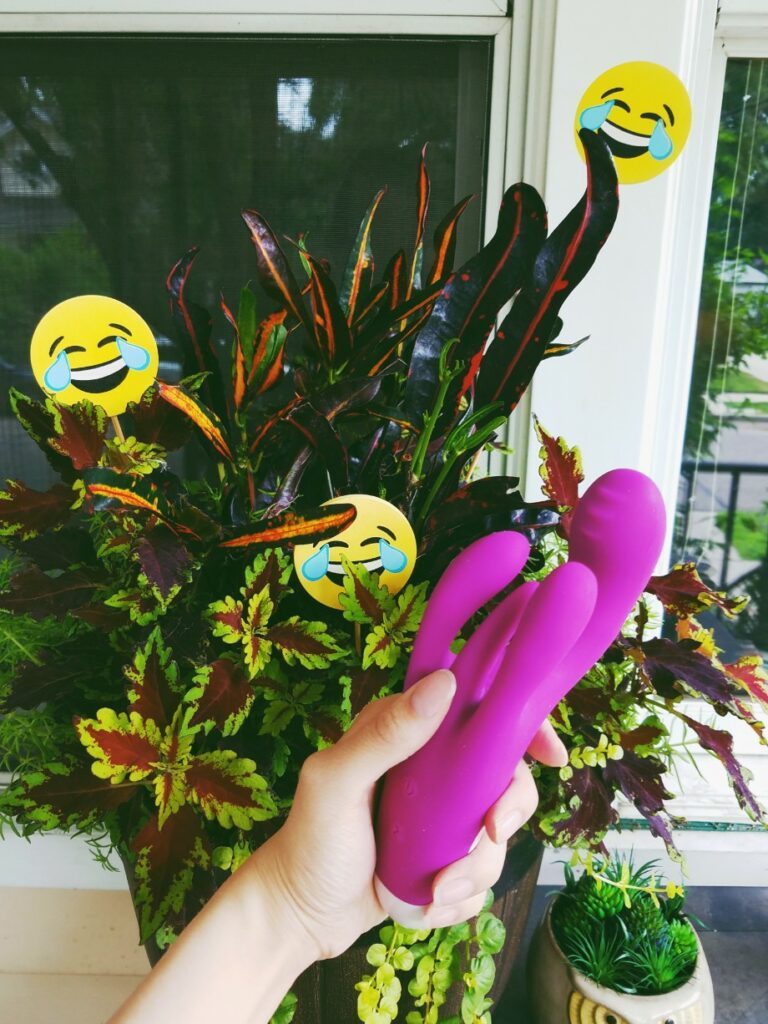 It's not quite a dual stimulator — there's an insertable G-spotting portion, a clitoral arm, and two for labia massage. To many of you, this three-motor rabbit vibrator looks W I L D ! I'm mostly unfazed by all the doodads on this gizmo — skeptical, but a fan of massaging my clitoral crura.
See, most of the clitoris is internal and shaped like a wishbone, wrapping around on either side of the vagina. (Its ends also tend to be near the anus, hence why butt stuff can feel good.) I love pressing a rumbly wand against my labia to rattle the whole clitourethrovaginal complex.
This four-pronged vibrator should be up my alley, right? I've mentioned before, though, the more things a vibrator tries to do at once, the more likely it is to fail. So let's inspect this four-pronged frankendil a little more — and then put it to the test.
A four-pronged rabbit vibrator: my first impressions
I have strong opinions on both ends of the spectrum, even before turning on the vibrator or inserting it:
G-spotting arm
The insertable portion is a delight: bulbous, slightly flexible neck, generously curved, and not too squared off at the 1.5″ wide head. My picky G-spot and I have no qualms about that part of its shape. If anything, it reminds me of the Cal Exotics Embrace G Wand, which I reviewed a few years back — and adored.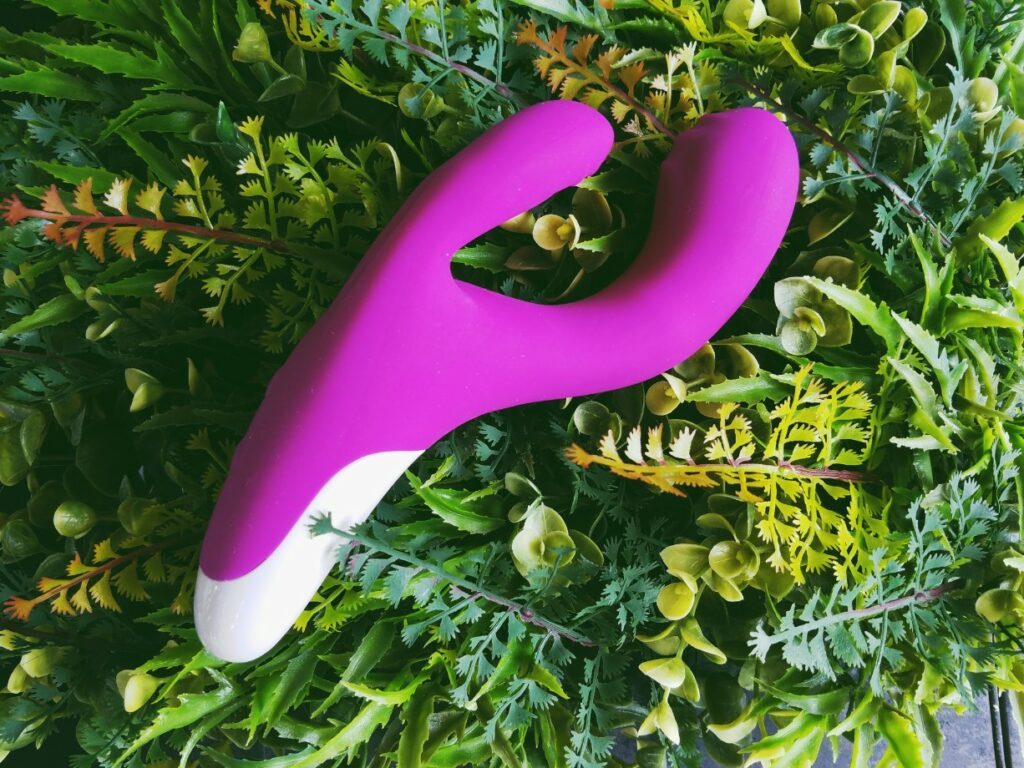 It's worth noting that the Bestvibe website claims this product massages the A-spot (anterior fornix), too. I call BS — generally, longer dildos with a more shallow curve are better for A-spot stimulation.
Also, my "favorite" part of the product info page reads, "OMG! I bet you will spray it out!" ??? I'm speechless.
Motor placement
Note that I said this vibrator has four prongs but only three motors. That's because the center spike is solid silicone — it only takes on residual vibrations from the side pieces. My 4-letter response to that is, "Y THO?" Surely the most obvious place to showcase vibrations is up against the clitoral glans.
Labial massagers
Another odd choice is how flexible the lateral outer arms are. They're hollow near their bases, making them even bendier than they'd otherwise be. My clitoral crura and I are BFFs, so I wanted to give the design the benefit of the doubt. However, I knew full well that this toy wasn't going to provide enough external pressure on its own.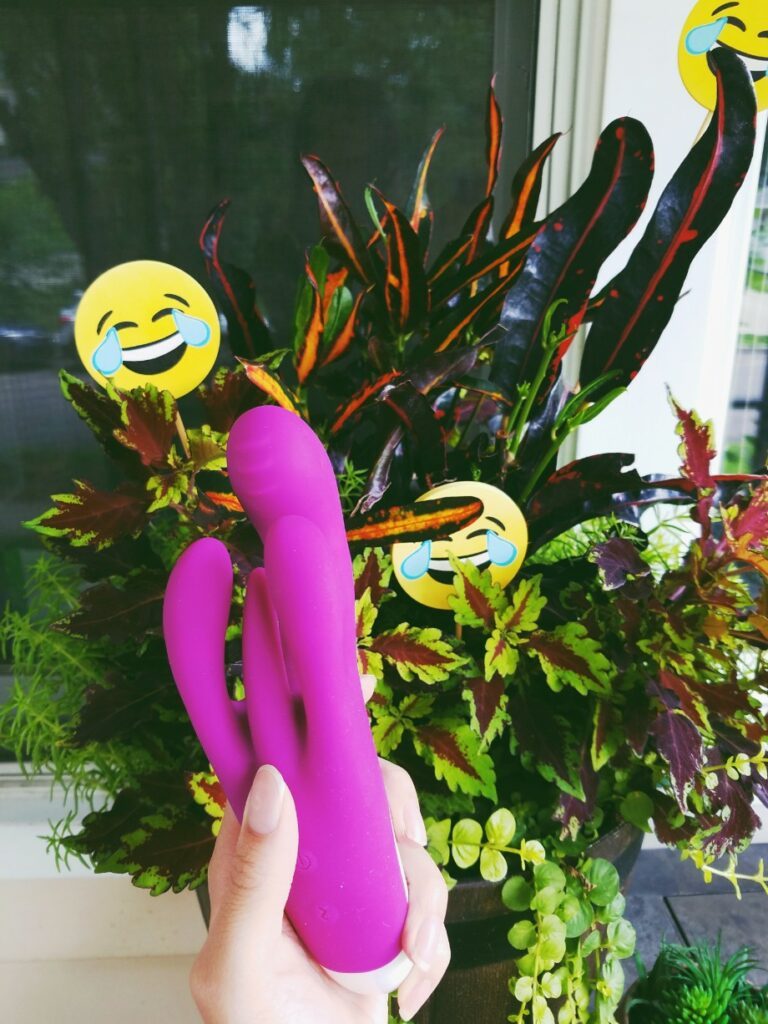 (You best bet I'm jilling off with my tightly-clamping We-Vibe Nova after this review.)
Vibration quality
Oh no, baby. What is you doing? The G-spotter's vibrations are on the fringes of acceptable. They're buzzy AF, but still tolerably strong. The side arms, though, are about par with the VeDO Bam Mini. You know — the bullet I tore apart to show what a weak vibrator looks like from the inside.
Could I get off with such buzzy sensations on my clit? Yes. Would I choose to? 85% of the time, no.
How this triple motor vibrator felt in use
What I liked
What about the other 15% of the time? Sometimes I do crave buzzy vibrations, especially if they're pinpoint. When I pinched the external stimulators closer together, they had a biting feel, like targeted lasers on my clit. It's not for everyone, though.
And as expected, I liked using this vibe a lot as a G-spotting dildo! The neck is just the right flexibility for me, meaning that it's firm enough for targeted pressure, without restricting where I can push it. (My G-spot has a long history of being picky with rigid toys. It's so apparent when one doesn't fit well against my pubic bone.)
What I didn't like
The moment I turned the internal vibrator on, I grimaced. It reminded me of a (well-meaning) friend who said, "Some vibration is better than no vibration, right?"
I'D RATHER HAVE NO VIBRATION when it's this buzzy against my G-spot. Not only is the low-amplitude and high-pitched movement ineffective, but it's also irritating! My insides were in pain during use, and my front wall slightly numb after. When your foot falls asleep, does it ever feel the way TV static looks? Yeah, the vibration sensation is kind of like that, but micro.
While I liked the "rabbit ears" around my clit, that was only with significant effort positioning  — and no thrusting at all. When I aim the G-spotter, the external prongs moved too far away from my vulva to do anything. The pointy one was useless, at best.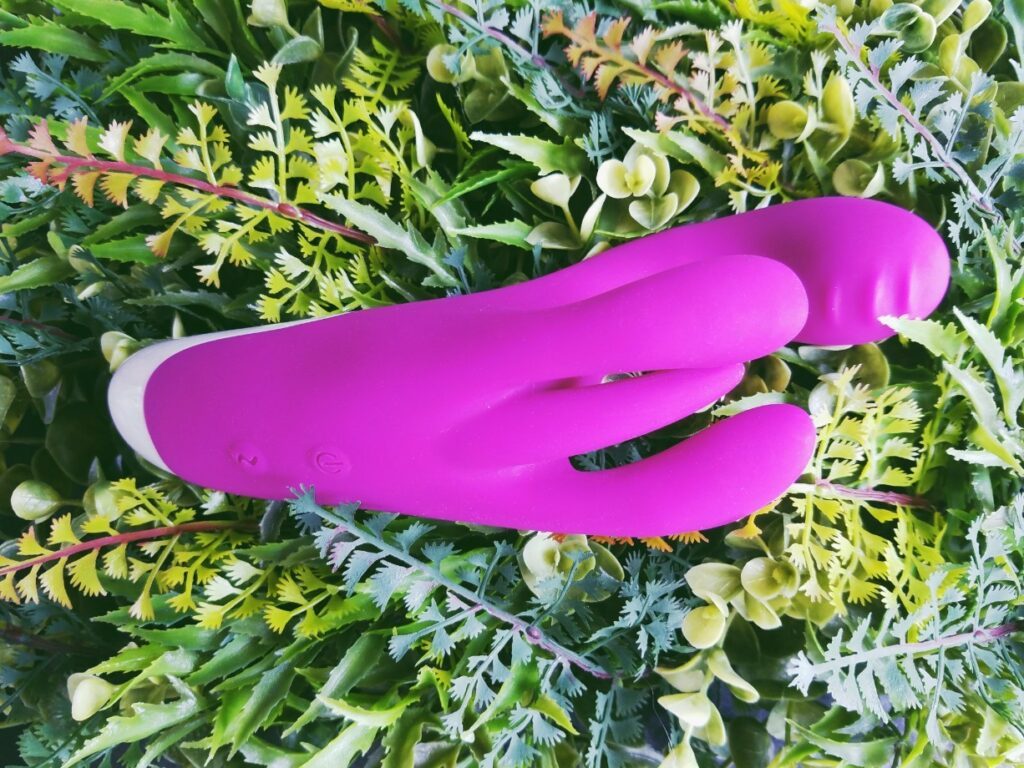 What I would have bought instead
Rabbit vibrators are tricky. There are so many functions to orchestrate at once; that's hard to accomplish when anatomy varies so much.
So I'd rather get a G-spot toy like the Pillow Talk Sassy or Cloud 9 G-Spot Slim 7 Inch and a separate bullet vibrator (or two). That way, I can target internal and external stimulation, just the way I like them.
Let's wrap it up with my verdict!
There were features I liked about this triple stimulator rabbit vibrator. Its shape as a non-vibrating G-spot dildo was delicious. But as an all-in-one unit, it's sensory cacophony for me.
Are you feeling adventurous? Try it for yourself.
---
This post was sponsored. All opinions expressed are my own, as always. Want to sponsor a post? Let's get in touch!