Satisfyer Pro 4 Couples review: wearable suction vibrator for intercourse
I refuse to believe that the Satisfyer Pro 4 Couples could be anything but an afterthought. It's as if the folks over at Satisfyer HQ made the Satisfyer Pro Plus Vibration and the G-Spot Rabbit, then scrambled when they realized that they failed to budget decently for a third toy design.
If anything, I'm almost resentful that I took decent pictures of the Satisfyer Pro 4 Couples before my boyfriend and I tried it.
Okay, so what even is this?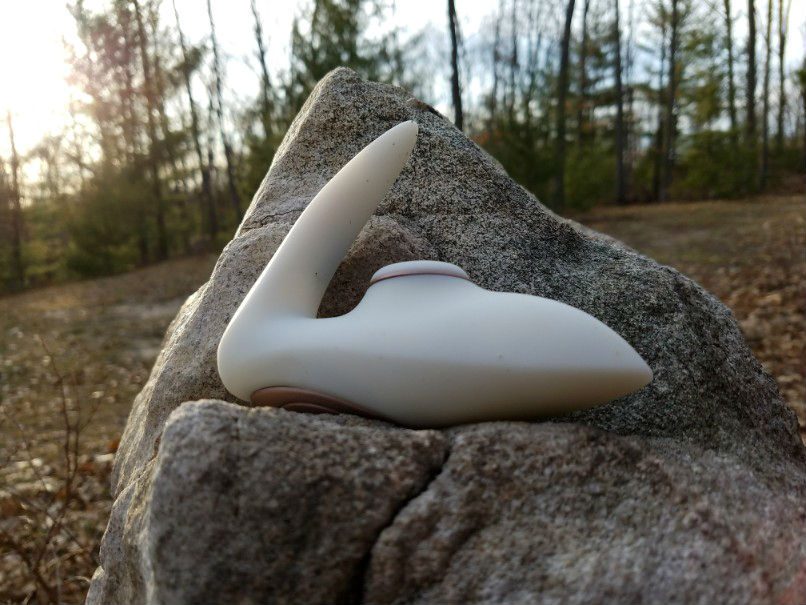 The Satisfyer Pro 4 Couples is a vibrator designed for cis, heterosexual couples who want to add "hands-free" clitoral stimulation during vaginal intercourse.
It's supposed to work by having one vibrating end inside the vagina, while the other forms a seal around the clitoris and simultaneously applies touch-free pressure. Basically, the outer part rapidly alternates between lightly sucking and blowing air.
It's not surprising that Satisfyer would want to make a wearable, PIV (penis-in-vag)-friendly, clit-sucking vibrator. They've made rip-offs of Womanizer's original pressure wave stimulator (now discontinued), so it's not surprising that they'd come for the We-Vibe (made by the particularly litigious company, Standard Innovations) as well. With the Satisfyer Pro 4 Couples, they capitalized on a quarter-assed combination of those two patents.
4 reasons why I question the Satisfyer Pro 4 Couples' sheer existence
Any single one of the design flaws alone would have been a dealbreaker for me:
Keep in mind that when it comes to vaginal intercourse, I'm very much "go hard or go home"; more often than not, I need deep penetration to enjoy PIV. This preference affects how I used this toy.
1

The vibrations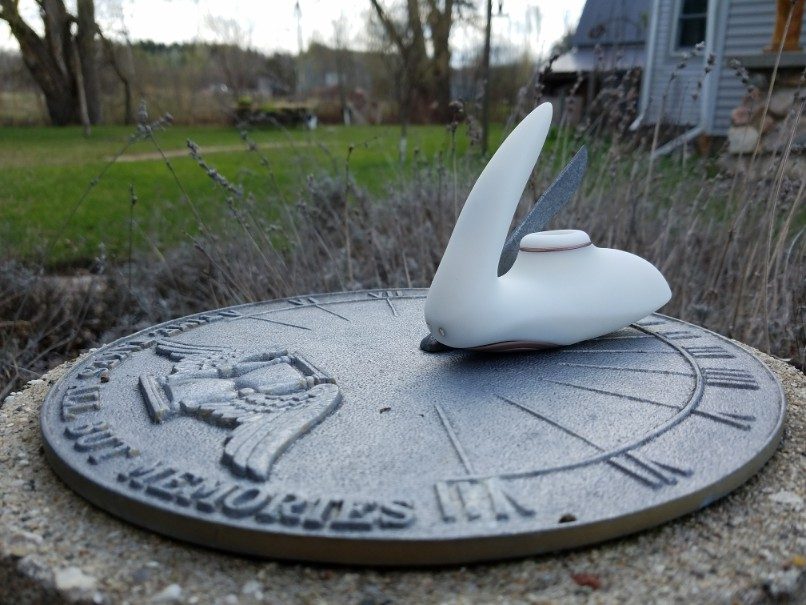 The internal arm's vibrations, on the lowest speed, legitimately sound like they could be coming from a buzzing cell phone. On the highest speed, it's like a mosquito flew into my ear. It's just so pitiful that I almost want to laugh at the absurdity.1
It's not the buzziest vibrator I've ever tried. That's a high bar to set, I know. While a cheap, shitty bullet is just disappointing, it's hardly extraordinary. I'd rather spend my energy steering readers toward better clit vibes. This Satisfyer model, though, disgusts me in so many other ways that I find the otherwise mediocre vibrations exponentially offensive.
2

The button placement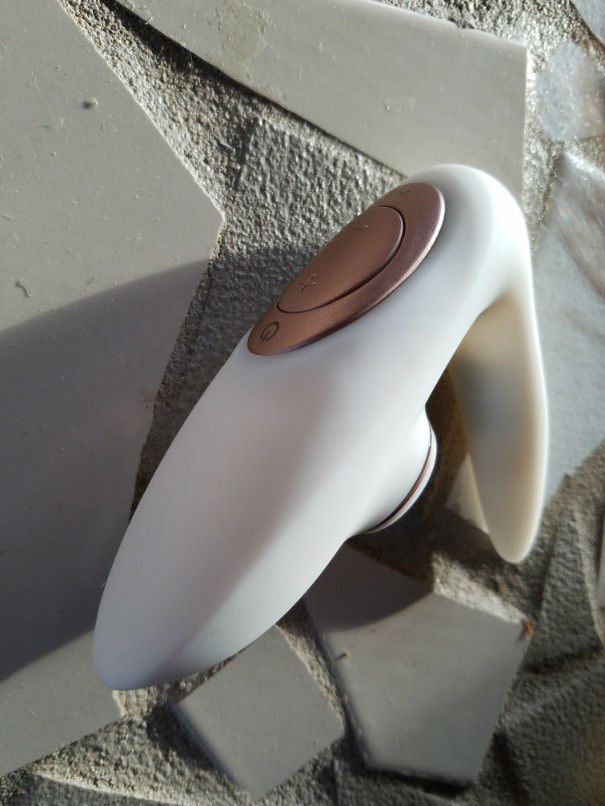 Click, click, click, click, click. My boyfriend's pubic bone pressed the buttons with every thrust. With the Satisfyer Pro 4 Couples inserted during missionary and cowgirl, it's impossible for us to keep the pressure wave motor running at a consistent setting.
The problem lies in the buttons' placement and their bulk. The control panel rests on a convex surface between two pubic bones bashing together. If Satisfyer didn't have the budget to design smaller, recessed buttons, they could have placed the control panel on the other end of the clitoral arm. That way, at least the surface would curve away from the users' bodies.
3

The suction nozzle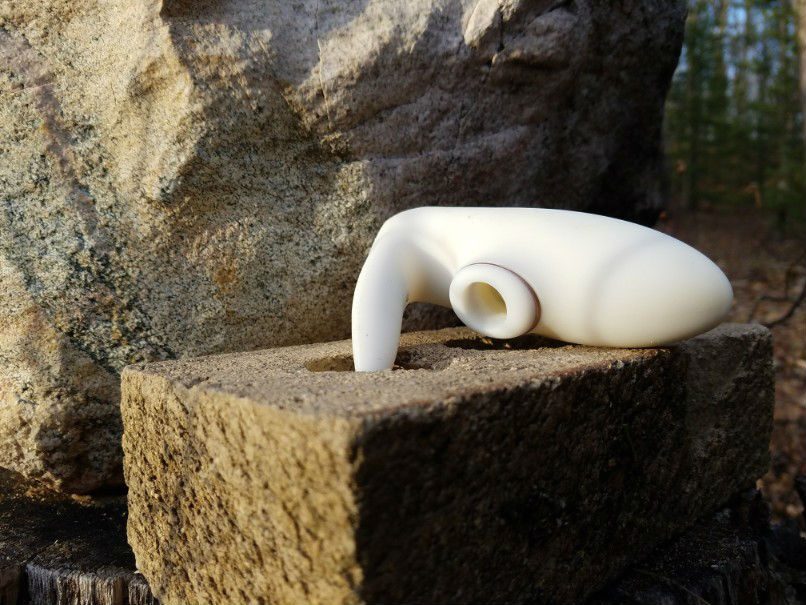 But moving the control panel wouldn't have made the Satisfyer Pro 4 Couples less painful. The suction nozzle that seals around the clitoral glans is a rigid tube. In ventro-ventro sex positions, the nozzle's hard ring hammers against my skin and bone. The tip might have been more comfortable if the rim was wider and cushier.
My boyfriend and I didn't try doggy-style with this vibrator inserted; I'm not committed to seeing how dismal a sex toy could get. However, I don't think trying different positions would have helped when every thrust inward pushed to burrow the suction tip in farther.
4

The shape of the internal arm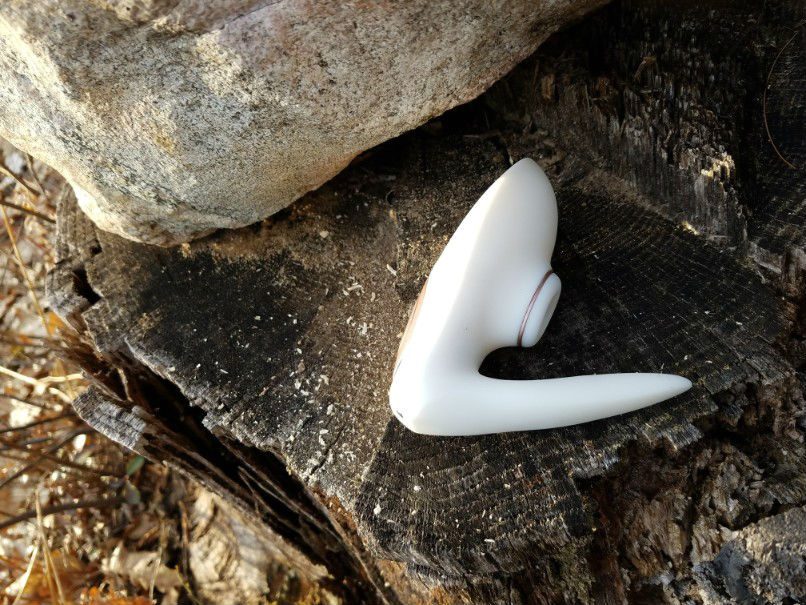 Likewise, the "out" stroke of each thrust pulled the vibrator out a little. When I was on top, it would be especially prone to popping out-of-place.
Unlike say, the We-Vibe Sync, the Satisfyer Pro 4 Couples doesn't have any bulging or texture in the internal arm. Such features would help to lock it in place past the pubic bone. It's totally smooth and comes to a point. Yeah, it might be easy to fit a penis in because it's so slim, but what good is that when the tip moves around and pokes my vaginal walls?
The few good things about the Satisfyer Pro are all "Yeah, but…"s
Yeah, the clitoral suction nozzle aligns with my clitoris, but that's because the distance between my clitoris and vagina is fairly average at 1 inch. Unless you've measured and know your clit-vag gap is the same, you can't know whether the Satisfyer Pro 4 Couples will align correctly.
If you yearn for a "couples' vibrator," the We-Vibe Sync has hinges that adjust so it can fit a variety of vulvas. However, the hinges and dimensions are obviously limited, so I can't absolutely promise you that it will fit you. The internal arm is still buzzy, but the clitoral arm has rumbly vibrations.
Yeah, the pressure wave stimulation is awesome, but if you want that during intercourse, you could get a handheld Womanizer Starlet. You have way better options, like the We-Vibe Melt, Dame Aer, and Satisfyer Curvy 3+. They're, non-intrusive, and it doesn't matter how big your C-V gap is.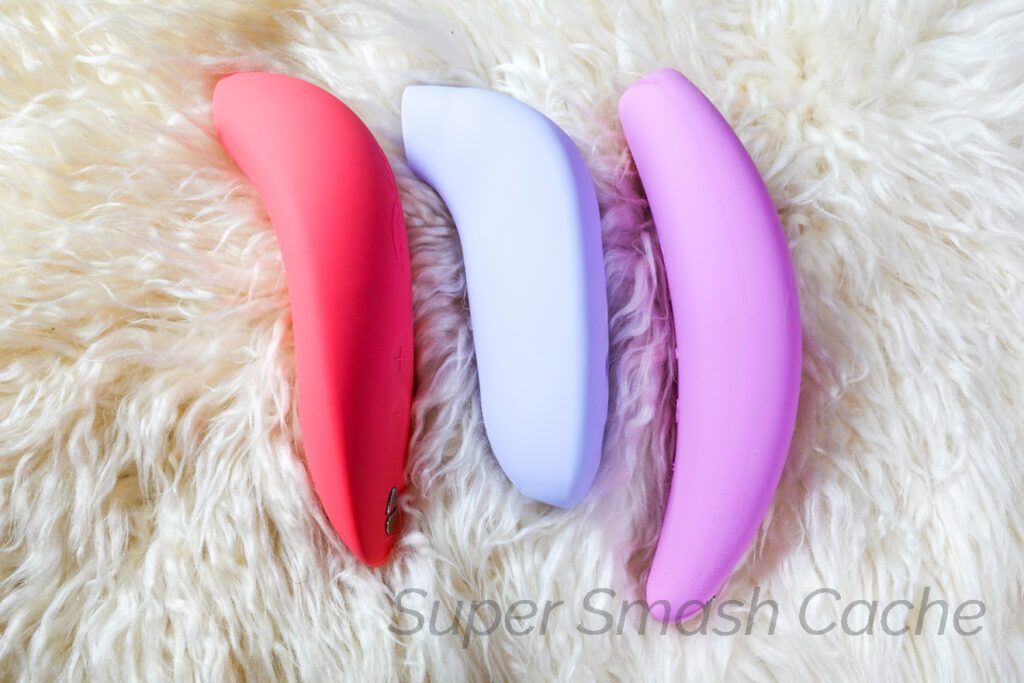 See my mega-guide to best clitoral air pulse toys for more details. Among other factors, it'll help you decide which one is the best for pairing with intercourse.
Most of all, you can point the handle away from your vagina. With the Starlet, it'd at least be achievable for my boyfriend and me to position without discomfort.
The more things a sex toy tries to do at once, the more likely it is to fail
In order for a rabbit-style vibrator to be successful, the user would have to enjoy:
the internal arm – shape and size
the external arm – vibration strength, flexibility, tip shape
the relationship between the two arms – distance and angle
It's like finding a bra that fits: there are so many variables. And adding the partner penetration aspect just makes it so much more complicated.
I don't usually write reviews about dual stimulators, but I made an exception for the Satisfyer Pro 4 Couples because I seriously wonder whether humans actually tested it. If you're someone like me, who prefers deep, hard penetration, you will absolutely despise this sex toy.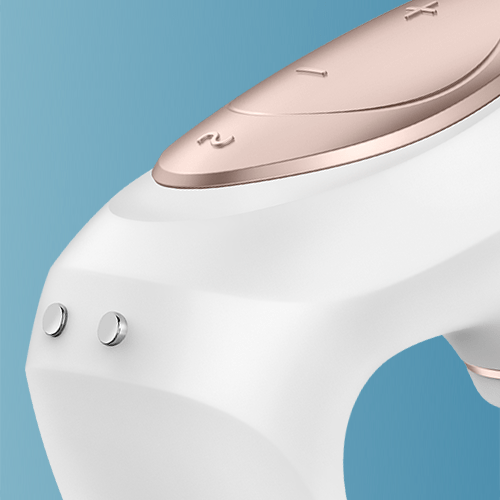 Someone who might enjoy the Satisfyer Pro 4 Couples would fit the following description:
has a clit-vag gap of 1 inch
enjoys high-pitched internal vibrations or none at all
likes slow sex (so that the toy doesn't get knocked out-of-place)
For just about anyone else, I'd recommend getting a Womanizer Starlet instead. It'll be more likely to work for you and you'll be much more comfortable. I don't even want to give anyone my extra Satisfyer Pro 4 Couples because I don't want to subject people to it.
Disclaimer
I received this item from Satisfyer in exchange for my honest review. This toy sucked. In a bad way. And I'm not getting paid to say good things about this toy— I'm honestly trying to look out for my readers.
Footnotes