BMS Factory Naked Addiction vibrating and spinning silicone dildo
Most of the BMS Naked Addiction Vibrating & Rotating Dildo's features are remarkably average. Not least, its name is akin to store brand white bread.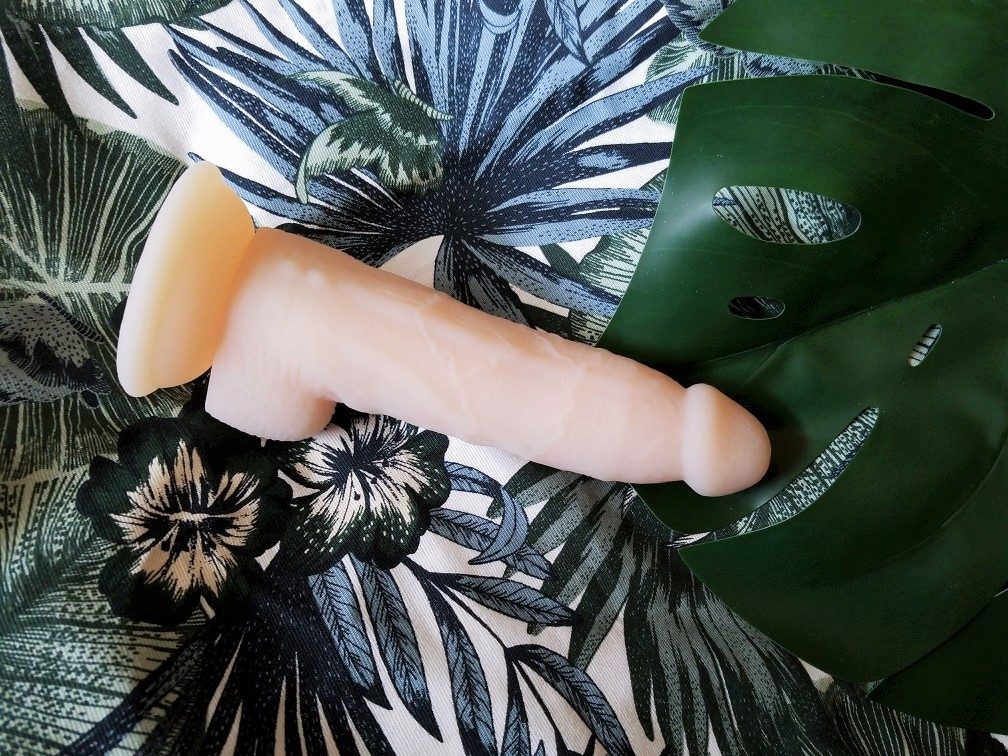 It's only available in "Vanilla" color. And it measures just under 6 inches insertable length and 1.5″ diameter at its widest. If I were in a brick-and-mortar sex shop, I wouldn't have looked at this vibrator twice. I probably wouldn't have looked at it once.
But I do most of my sex toy shopping online. So let's imagine swiping through a dating app. I see a picture of a Bradley or Connor from the suburbs in his shorts and New Balance shoes, holding up a fish he caught. That's his only profile picture. His Spotify account is linked, and his chosen anthem is by Nickelback.
But I swipe right because there's ONE exciting detail that I can't gloss over in his (brief) bio. It's kind of like that.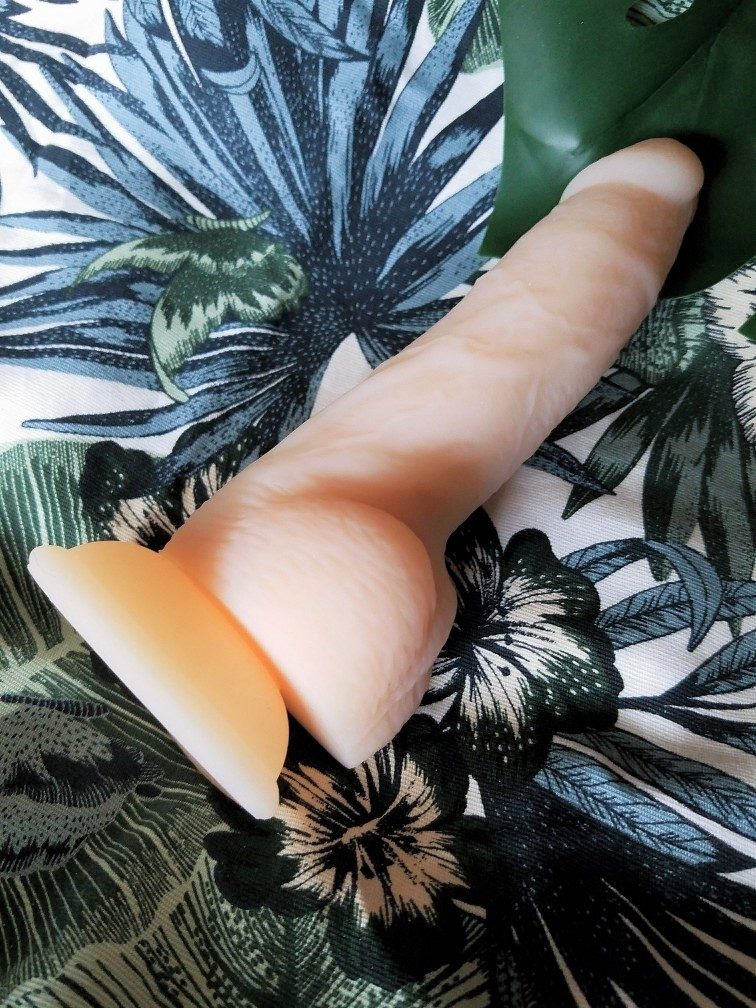 When I felt the dildo in person, I couldn't stop gliding my fingers along the corona or squishing the tip. BMS Factory has its matte silicone finish on lock. I usually eye-roll at unnecessary trademarks such as "IncrediFeel™ platinum silicone" and generic claims of "incredibly lifelike feel." No sex toy will ever feel EXACTLY like a penis, and certainly not one with a stiff motor inside. But whoever incorporated the subtle texture of the balls and penile skin on this dildo knows what they're doing. (I can't say I've encountered many cocks as noticeably veiny, though.)
I prefer the rigid core because it's easier to aim against my cervix. The BMS Naked Addiction Vibrating & Rotating Dildo has about 5.75″ of insertable length, a straight shaft, and a head that isn't especially pronounced. Thanks to the core, deep thrusting and cervical orgasms are doable for me. The dual-density, non-vibrating version of this toy would feel more realistic but probably wouldn't get me off.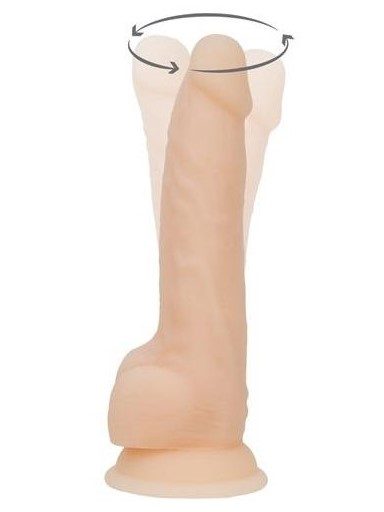 So let's get to what drew me in: the spinning action. The BMS Naked Addiction Vibrating & Rotating Dildo doesn't rotate, unlike what its name would suggest. Instead, the tip revolves. A well-designed (unlike the LELO Hula Beads) dildo that traces circles behind my cervix sounds like a dream.
The execution, however, is hardly revolutionary. This BMS Naked Addiction Vibrating & Rotating Dildo's range of motion is nowhere near what the graphics would suggest. Its promotional materials should have included the word, "Dramatization". And I'm here to make sure you have very realistic expectations for this somewhat realistic vibrator.
When I turned it on for the first time, I definitely thought, "…that's … it???" The tip moves in circles, yes. But the circles are only one centimeter in diameter. Combine that with my vagina's constriction, and the toy's motions feel like next to nothing. Though they feel good, all four of the spinning settings are far too subtle for me to justify spending $80.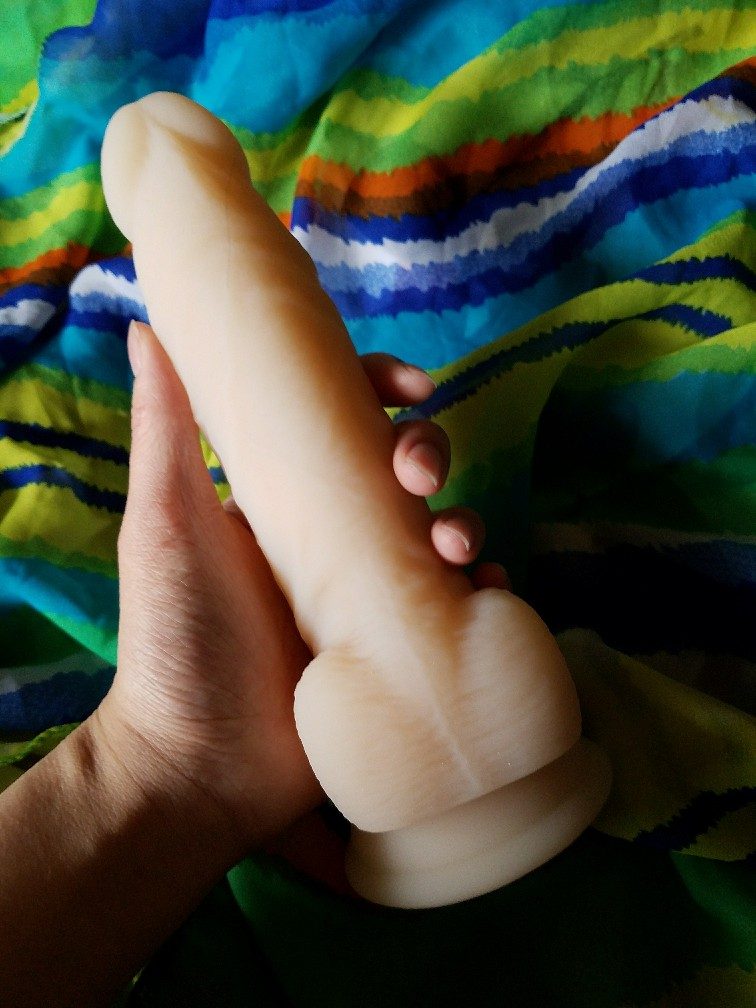 The two buttons allow independent control of the motors. Unfortunately, the one for the spinning function allows less space for the vibrating motor. The result: vibrations that epitomize "meh". I understand that, with such soft silicone, vibration dampening comes with the territory.
If the BMS Swan Wand's rumble is any indication, BMS Factory can do far better than the Naked Addiction Vibrating & Rotating Dildo. By all means, I think they should expand the Naked Addiction line to include more sizes and skin tones. And give them more interesting names to do justice to the flawless, squishy silicone and meticulously skin-like detailing they've demonstrated with the non-vibrating version. That's what should be in the limelight— not this gimmick. I fell for it so that you wouldn't have to.