Review: Love Hamma thruster & BMS Pillow Talk Lively rabbit vibrator
The Love Hamma's marketing missed an opportunity. Where are the "get nailed" jokes?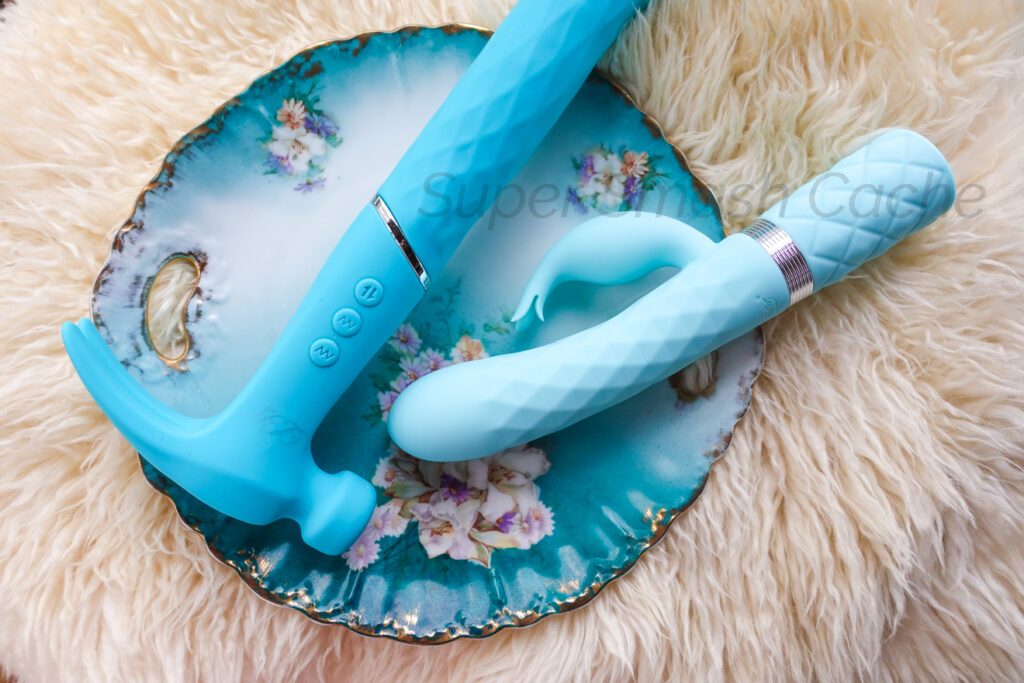 Perhaps the copywriters knew that the hammer-shaped vibrator spoke for itself. It's possibly the silliest sex toy I have ever encountered, with decently strong vibrations in both ends and an internal thrusting mechanism (for "head 'n' handle pleasure").
BMS Factory's Pillow Talk Lively has the opposite problem. Its appearance hardly stands out in a sea of rabbit vibrators, but in use, it's quite the unsung hero. The Pillow Talk Lively follows in the Sassy's footsteps as one of the best vibrators in its class.
Both the Lively and Love Hamma feature gently curved and textured shafts for G-spotting. Both have flexible flaps for fluttering clitoral stimulation, but I find the Lively's external vibrator more pleasurably focused. And, least important but still exciting: both are available in teal!
---
---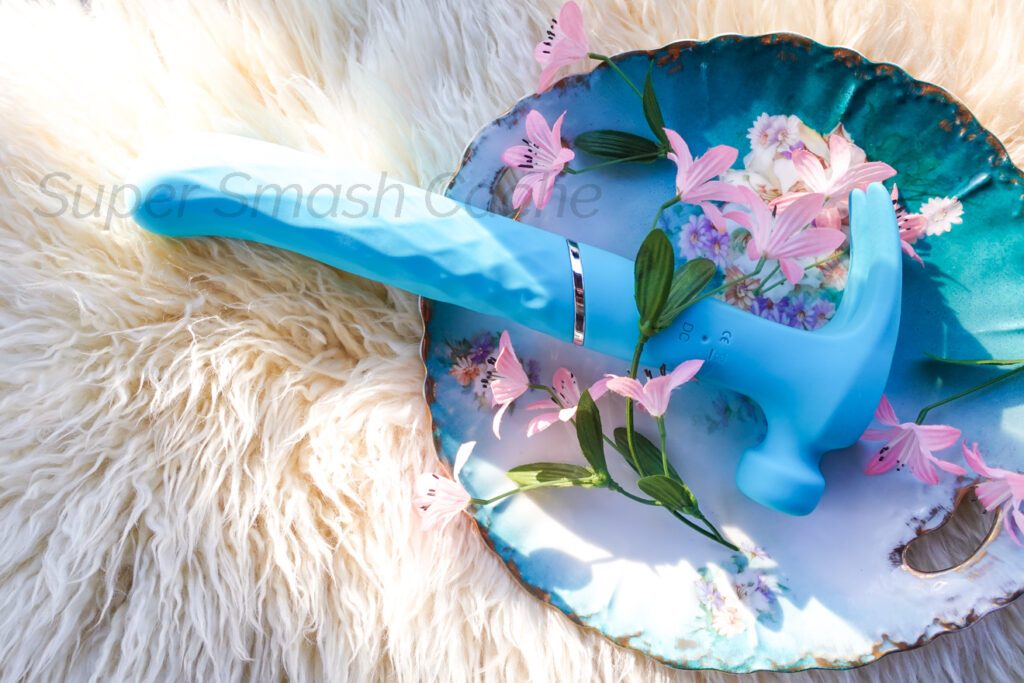 Love Hamma hammer-shaped thrusting vibrator review
The Love Hamma is undeniably a visual showstopper. I knew the world needed an eggplant dildo, but a hammer vibrator and pleasure tool belt? A+ for creativity.
Mine comes with a slight bend at the tip, suitable for both A-spotting and G-spotting. You can get a straight-tipped version, but that's not my jam. Near the end of the handle is the zingy vibrator motor, while the linear thrusting mechanism rests mid-shaft. The hammerhead also vibrates.
With an ABS plastic shell under the silicone, most of the Love Hamma's handle is fucking hard. There's practically no plushness or yielding to the insertable portion. Keep that in mind; the size might be pretty average, at 6" insertable length and 1.5" diameter, but it will feel more filling than a penis of the same size.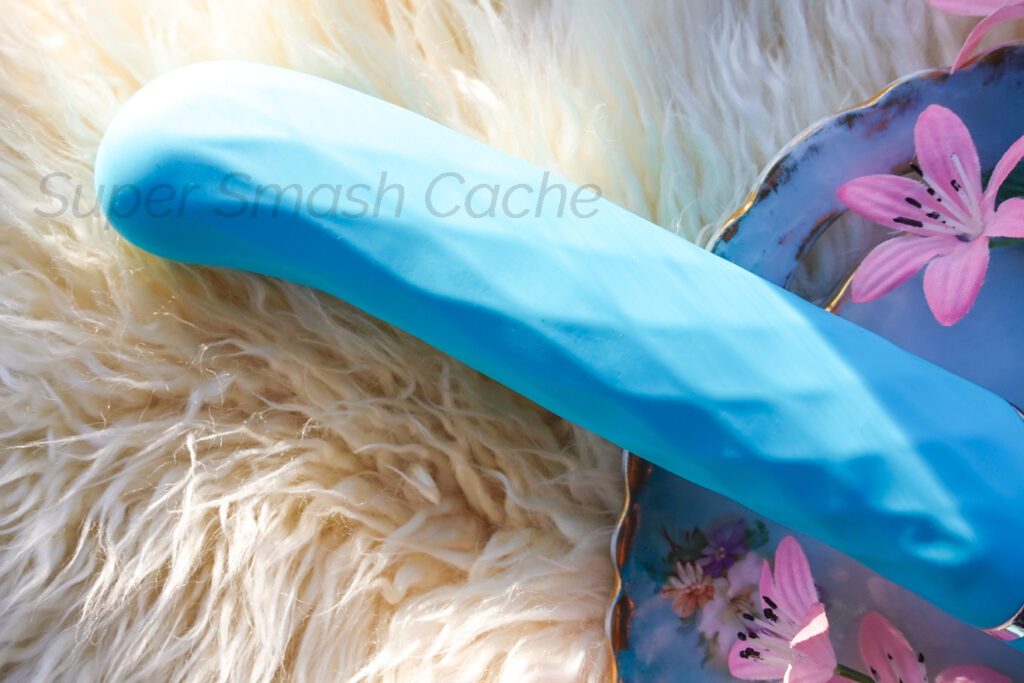 Each of the three motors is independently controlled:
Head vibrations – 3 steady speeds, 7 patterns
Handle vibrations – 3 steady speeds, 7 patterns
Handle thruster – 3 steady speeds, 4 patterns
Love Hamma vibrator motors
You have options for diffusing vibrations with the flat face or focusing them with the edge on the hammerhead end. If you have issues with reach or mobility, the head's angle to the handle can also help you position and apply pressure to the clit.
The Love Hamma's vibrations are quite strong, almost on par with LELO. Not a mosquito, not a deep purr. Just run-of-the-mill but dependable on steady speeds. They're not strong enough for me to get off using a pattern, though.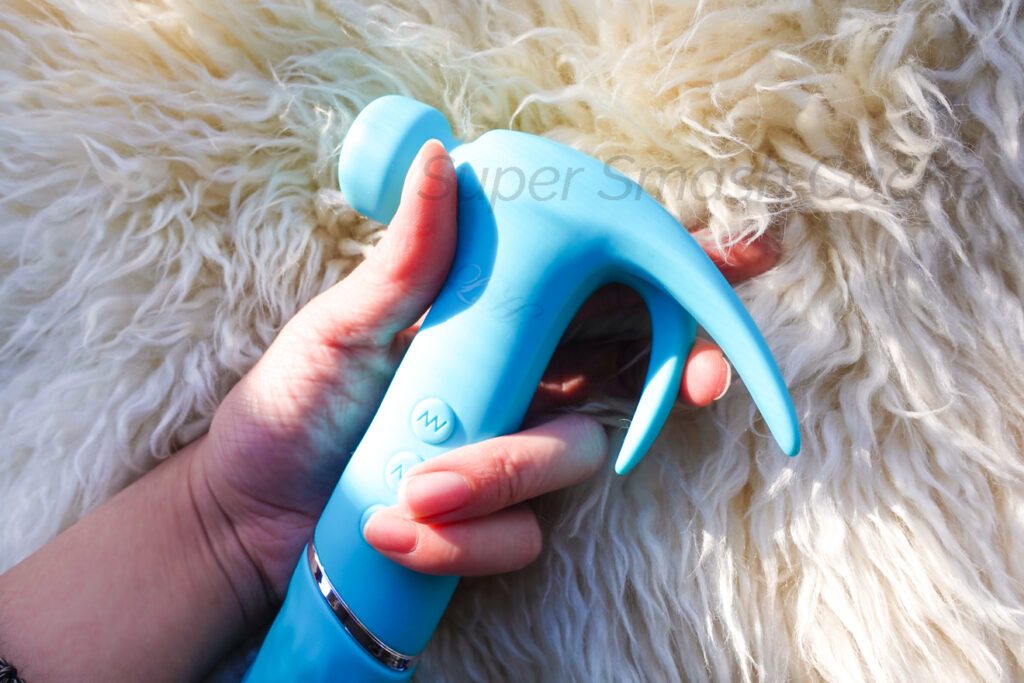 On the other side of the head, the claw is ostensibly there for light, fluttery stimulation, like rabbit ears. In practice, they're too flexible (and the motors too gentle) to do diddly squat for me.
Love Hamma thrusting mechanism
The Love Hamma seeks to imitate the Fun Factory Stronics' self-propelled back-and-forth thrusting with magnets. It's quiet, sounding vaguely like a distant, distant helicopter. But that's about where the merits end; it far from duplicates the Stronics pulsators' intensity. There's no way you're getting any of Fun Factory's thrusting depth or OOMPH with the Love Hamma.
Consider also: the Zalo Sweet Magic Desire thruster is stronger than the Love Hamma only by a little, but its pulses have more pinpoint focus for external stimulation. In short, does the Love Hamma's thrusting work on my hot spots? Sure, but nothing stands out about it.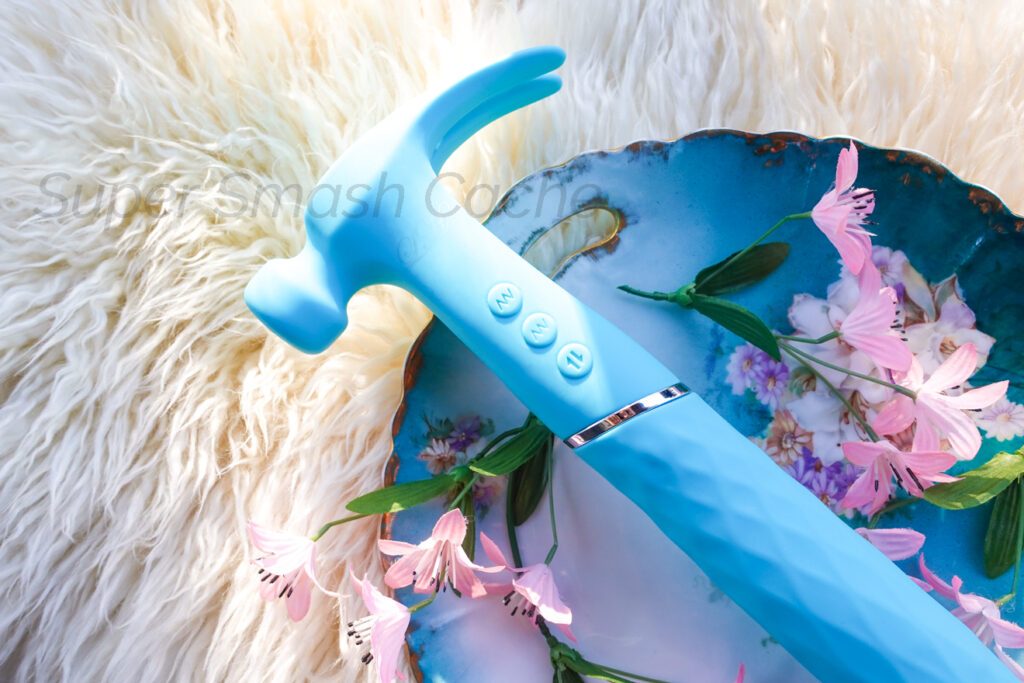 My verdict on this hammer-shaped vibrator
In my envisioned future museum of sex toys, the Love Hamma will be a display piece, but not a hall-of-famer. I think we all knew what we were getting into.
Hardly anyone's starstruck by the mechanics, but the Love Hamma is a fun novelty to look at — perhaps worth it for roleplaying picking up men farmer Sapphics at the hardware store.
Take 10% off your first order at Spectrum Boutique with discount code SUPERSMASH10
---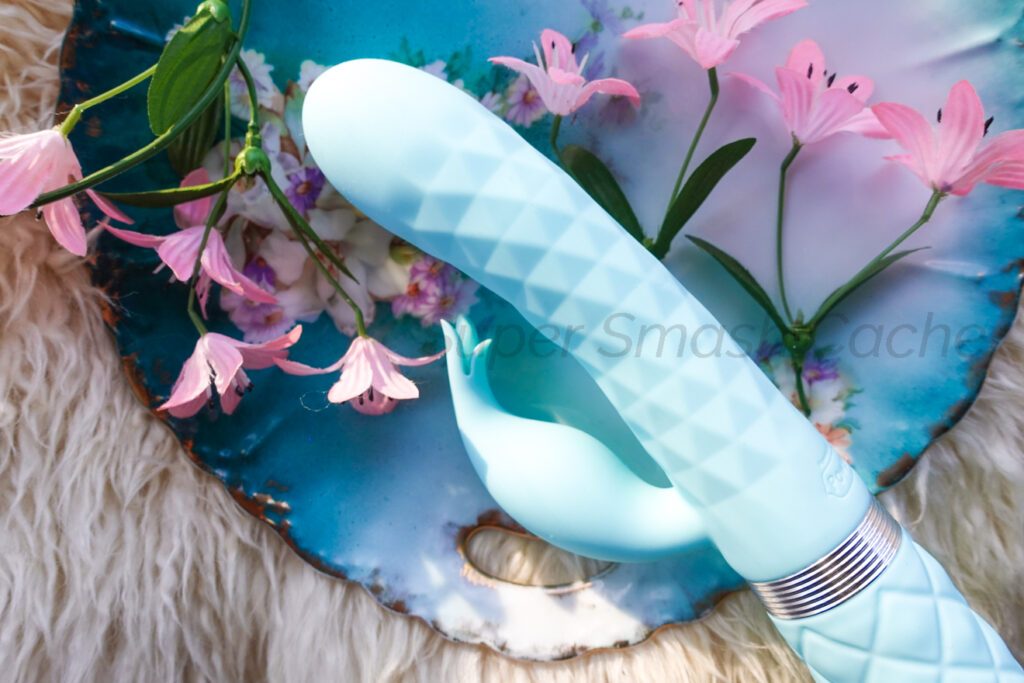 Pillow Talk Lively by BMS Factory
My review of the BMS Pillow Talk Lively is going to be quick. In summary: "AAAAAAA IT'S GREAT. WORDS WORDS WORDS WORDS WORDS."
The BMS Pillow Talk Lively's swiveling oscillation around my cervix is something I can't do with my dainty distal appendages. Its tip pushes forward to get into the G-spot or anterior fornix but follows a half-circle arc with each side-to-side motion. Or set it to revolve a full 360 degrees; you can do both. 
That motion is exactly what my cervix craves from fingering. It's like bumping the "eject oxytocin" button over and over again until I have become one with the bed.
Shape and size
While this rabbit vibrator's insertable length is "only" 5 inches, its curvature and gyration sensation target my front wall and cervix well. It doesn't need to be big or deliver brute force to deliver cervical orgasms. 1.4" maximum diameter is plenty.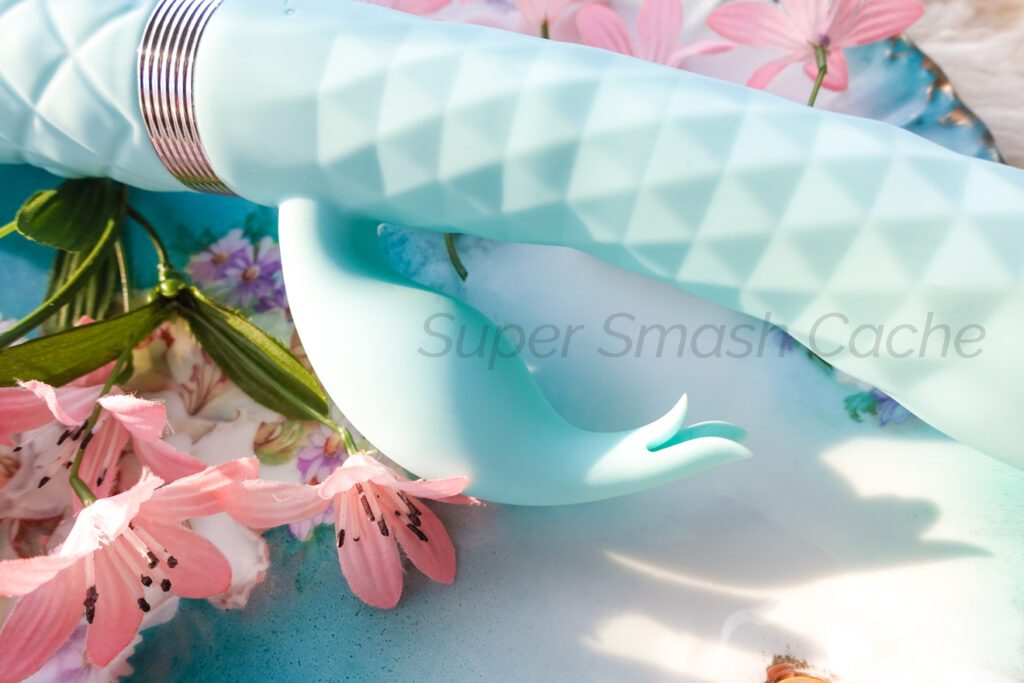 And the BMS Pillow Talk Lively's flexible external stimulator fits my clit well. Maybe not as tightly as I'd like, but it's easy to position my hand while thrusting to apply more clitoral pressure. If your clit-vag gap is wider than mine, the outer prong does bend back easily, as well.
The three fluttering tips are soft and splay apart easily. Thank goodness, because I fucking hate when stiff rabbit vibrators poke directly at my clit. And the Pillow Talk Lively's external vibrator stays over my clitoral hood, where I want it. Your mileage may vary, though. It's not hard to go under the hood with it.
And the vibration quality? Definitely strong and rumbly for its size. I wouldn't expect anything less from BMS Factory.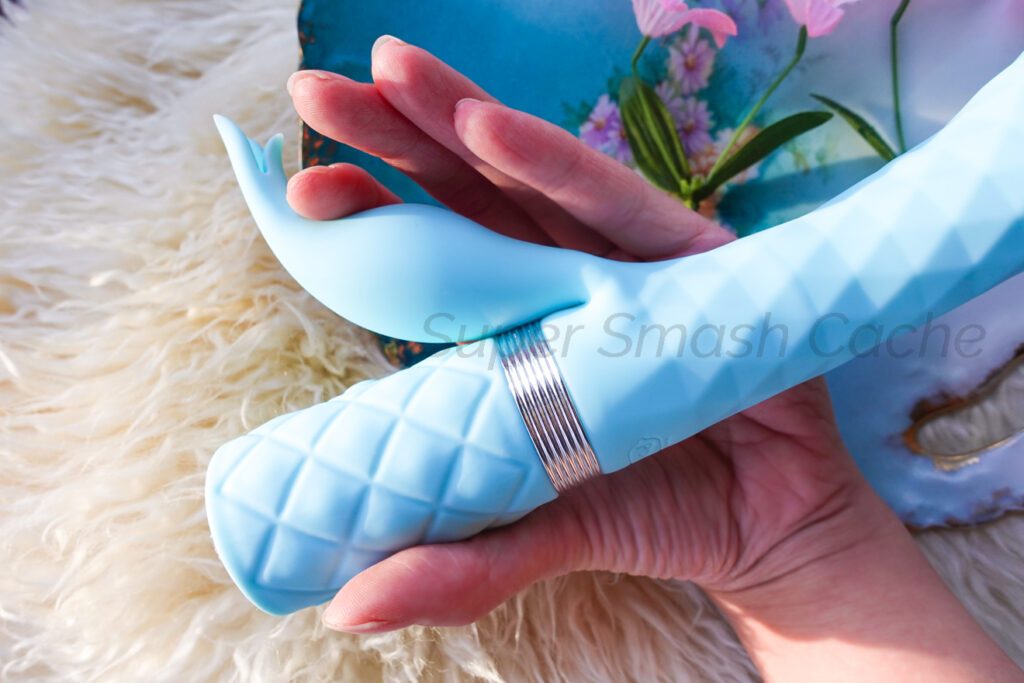 BMS Factory Pillow Talk Lively controls
Much is going on with the BMS Pillow Talk Lively's two motors; a single press-and-hold button wouldn't quite cut it. Unlike with the previous Pillow Talk models, two buttons control the Lively.
The button on the top side of the handle cycles through different combinations of internal revolution/swiveling and external vibration. Meanwhile, the Swarovski crystal on the base ramps up the intensity in both motors concurrently. There's a continuous range rather than discrete speed settings.
Here are the functions controlled by the Pillow Talk Lively's top button:
180-degree swivel with vibration.
360-swivel with vibration.
No swivel with vibration.
Slow 360-degree swivel with no vibration.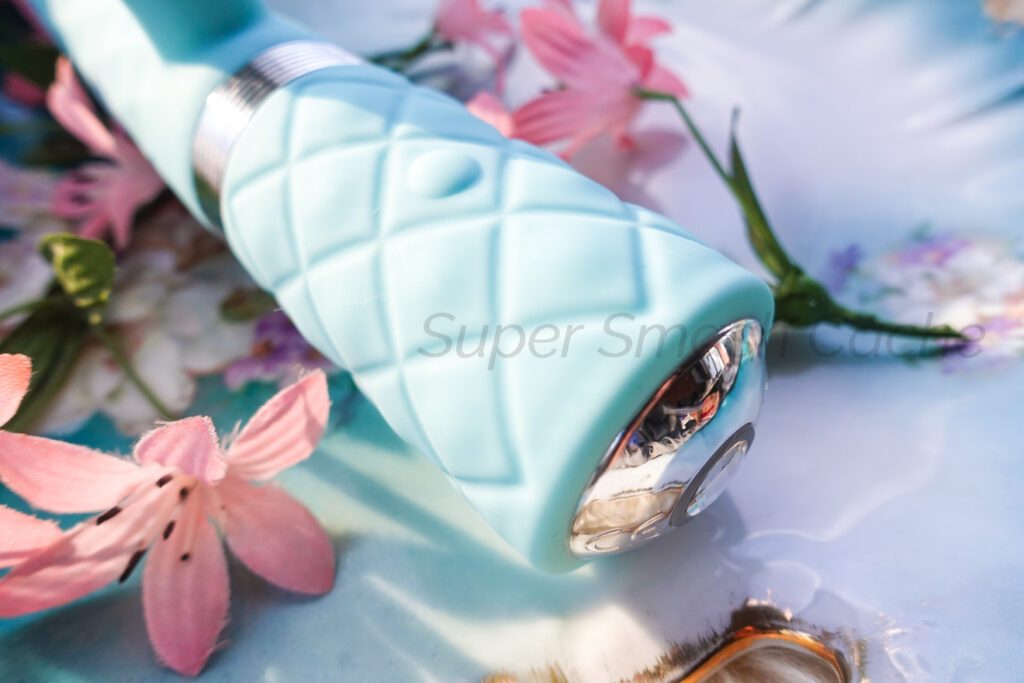 I appreciate that the Pillow Talk Lively gives the user options to use just the vibration while clenching around a stationary phallus or vice versa.
My verdict on the BMS Factory Pillow Talk Lively
I FRIGGIN' LOVE THIS THING. It's not quite as soulmate-level as the self-thrusting Cal Exotics Santa Cruz Coaster, but as far as spinning rabbit vibrators go, the Lively is up there. It offers more insertable length than the Cal Exotics West Coast Cutie and costs a little less.
Simulate the glory of some nimble, circling fingers on your A-spot while solo. Or have a partner use it on you and go in deep.
Take 10% off your order at Betty's Toy Box with discount code SUPER