Review: Ursula tentacle dildo & Mr. Moonlight dual-density dildo from Laphwing
Did I choose these pretty dildos solely to match my galaxy bayonet? Yes. Do they feel as good as they look? Also yes ⁠— depending on how you use them.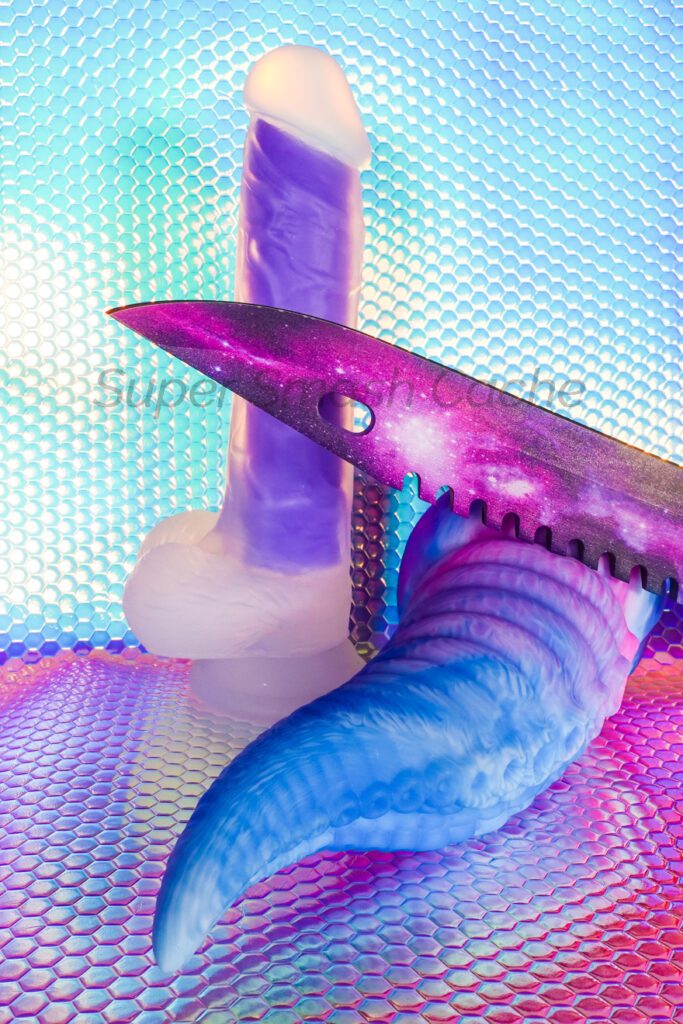 Today, I'm reviewing the Laphwing Ursula and Mr. Moonlight dildos. The former is a girthy AF silicone tentacle dildo that maxes out at 3.3" diameter, while the latter is a glow-in-the-dark dual-density dildo. The Laphwing Ursula and Mr. Moonlight may have dramatically different target audiences, but I can appreciate both.
---
About white-label sex toys and branding
If you're getting deja vu regarding the Mr. Moonlight dual-density dildo, it's not just in your head. I've written about the Evolved Novelties Luminous Stud before. The Luminous dildo series and Mr. Moonlight are white-label products — generic, mass-manufactured items that distributors can add their own branding if they wish. 
White-labeling isn't bad, per se — it's just business. Just remember that these designs aren't made by independent artisans or mom-and-pop shops. (Yes, that applies to the tentacle dildo here, too.)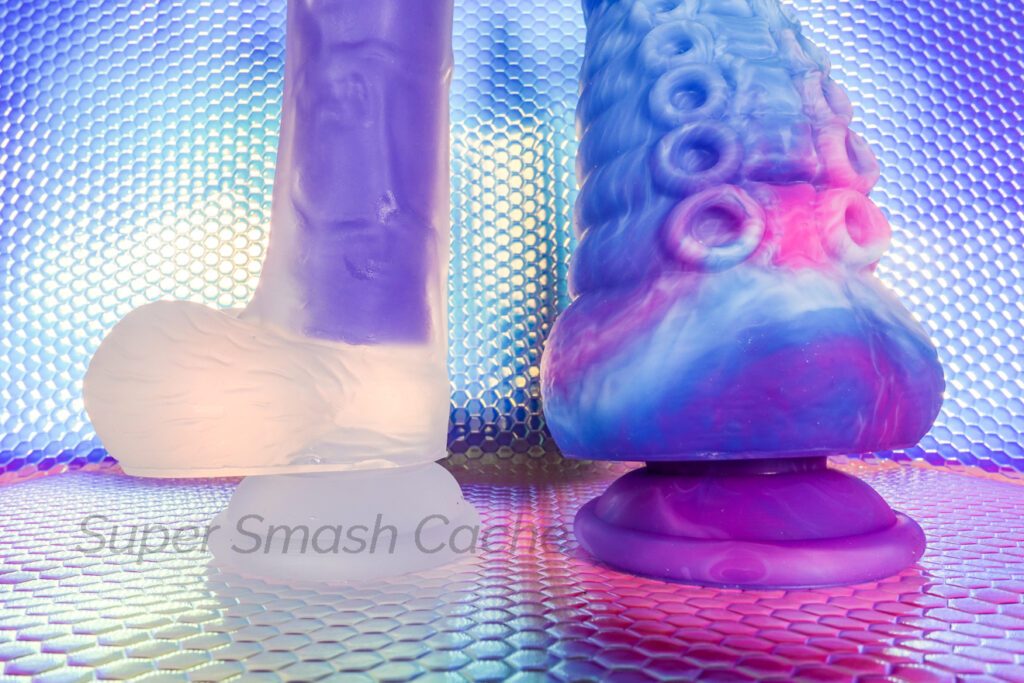 After you've seen enough sex shops, you can spot white-label products from a mile away. Not all of the product listings feature odd verb conjugation choices, but this one definitely does. Notice it on the Laphwing Ursula's product page: "SO NOVEL EXPERIENCE LIKE NEVER EXPERIENCE BEFORE" and "EXPAND ANUS, CHALLENGE THE LIMIT."
I only used the Laphwing Ursula vaginally, but I can see why someone would have trepidation about its shape for that purpose.
---
The Ursula silicone tentacle dildo is L O R G E — swelling to something substantially bigger than my duck-billed hand. Yet, its color palette is quite soft, with pastel blues and pinks.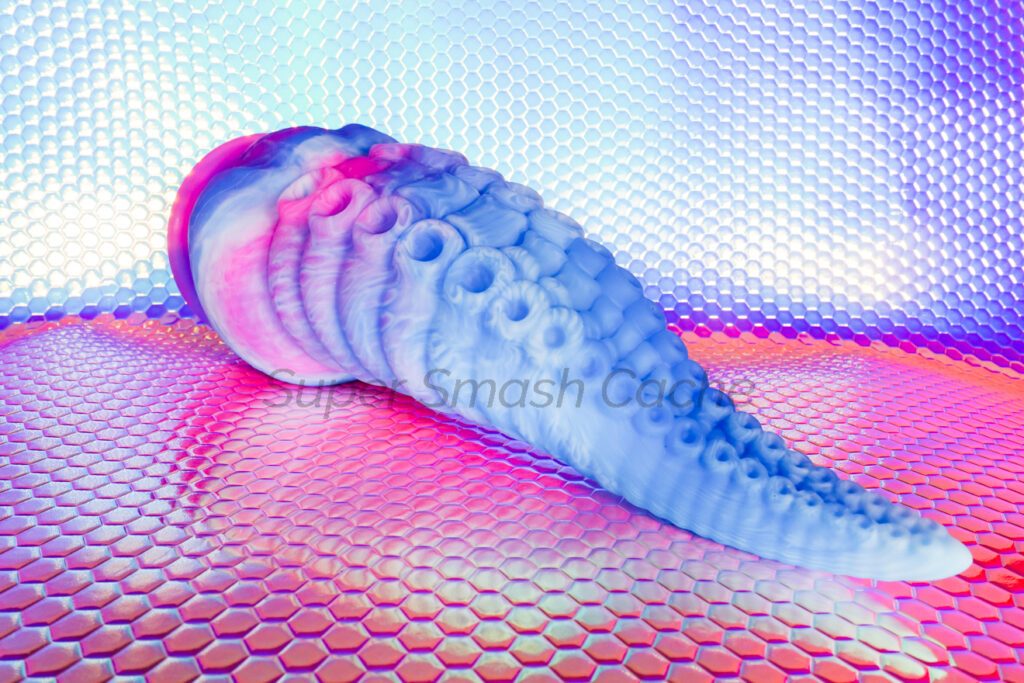 Even someone who isn't size royalty can appreciate it, since the tip is slender. Its pointiness can be good or bad, depending on the insertion depth. The suckers swell in size as you move down the shaft. They feel delicious against my front wall, and clenching around the tip can feel intense. As a bonus, there's a suction cup base so you can mount it and ride it hands-free.
Laphwing Ursula tentacle dildo measurements & specs
8.6" total length
7.6" insertable length
2" mid-shaft diameter
2.7" diameter just before the broadest knob
3.3" maximum diameter
Shore ~8.5A firmness silicone

Use a soft-bristled toothbrush with soap and water to clean the crevices
Boil to disinfect the hard-to-reach areas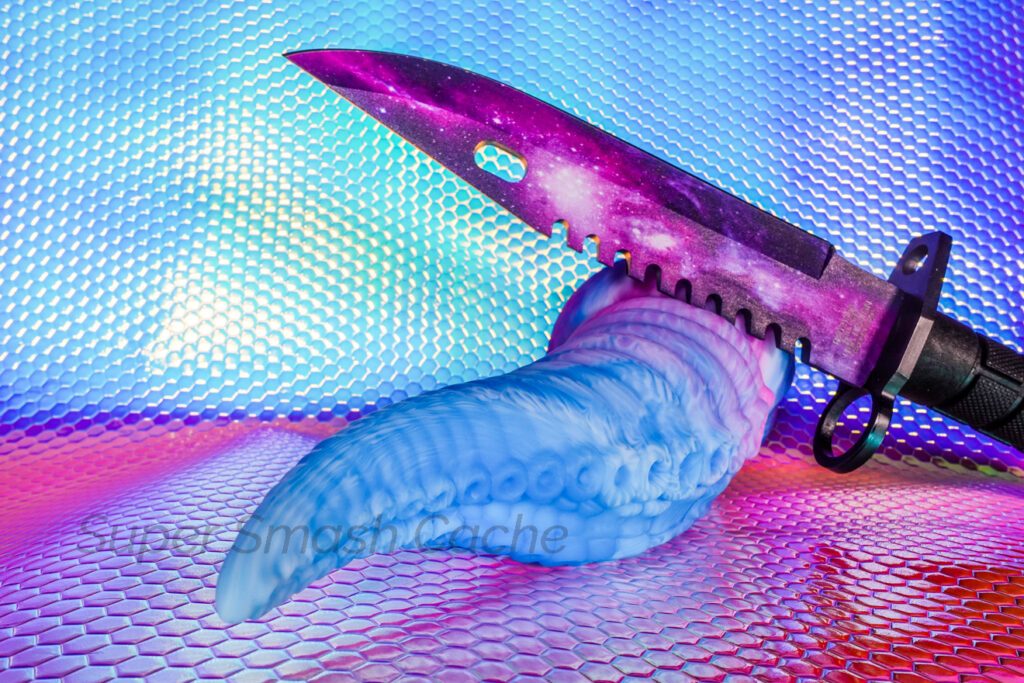 How this dildo feels in use
My Shore hardness measurements aren't exact, but the main thing to note is that this tentacle dildo isn't just T H I C C — it's also pointy and relatively firm, as far as fantasy toys go. Do not get this toy if your cervix is easily irritated or jabbed.
You'll be fine if you easily navigate deep penetration, though. The Laphwing Ursula's body features the subtlest S-curve, making the pointy tip a liiiittle easier to direct away from the cervical os. It's too acute to do much good for my cervix. Still, you'll want to go deep if you want to savor the girth and textures fully.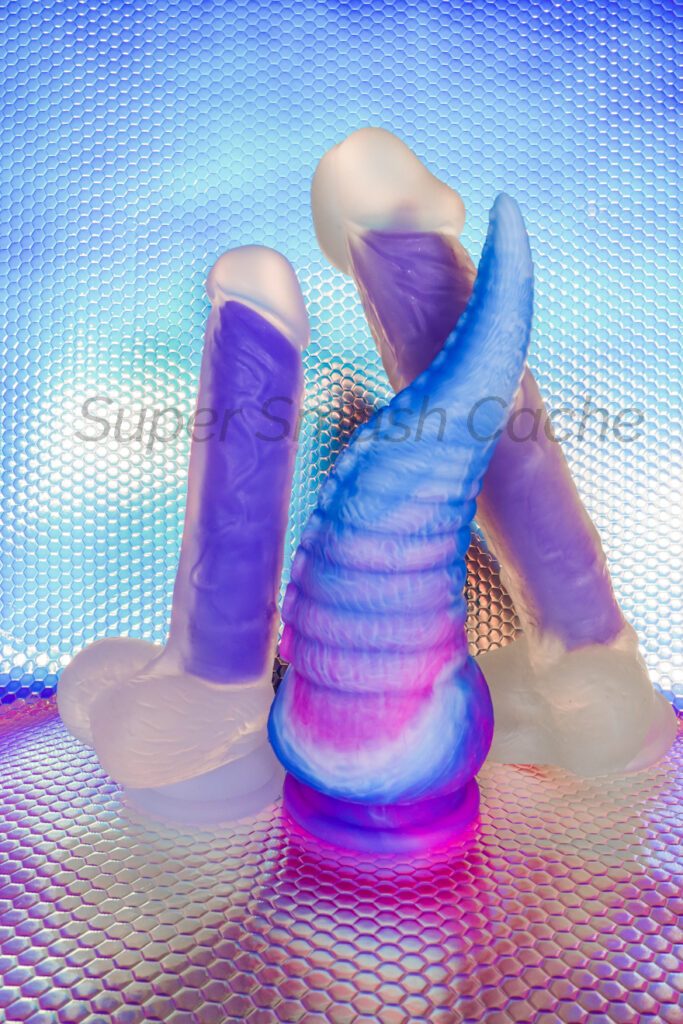 I don't dare insert the final segment yet, but the 2.7" diameter just above that is still quite serious. Luckily, the gradual taper means it doesn't feel as aggressive as the Tantus Fist Trainer. No urethra irritation here! Just a delicious stretch at the vaginal opening.
When going deep, I prefer the suckers facing the back wall. That way, I can tilt the base so that the most prominent hump serves as a clitoral grinding mound while rocking the Laphwing Ursula back and forth. (Your mileage may vary. My clit-vag gap  is on the short side, whereas yours might be more spaced out.) While the side without suckers doesn't have as much pizzazz, there are still bumps galore.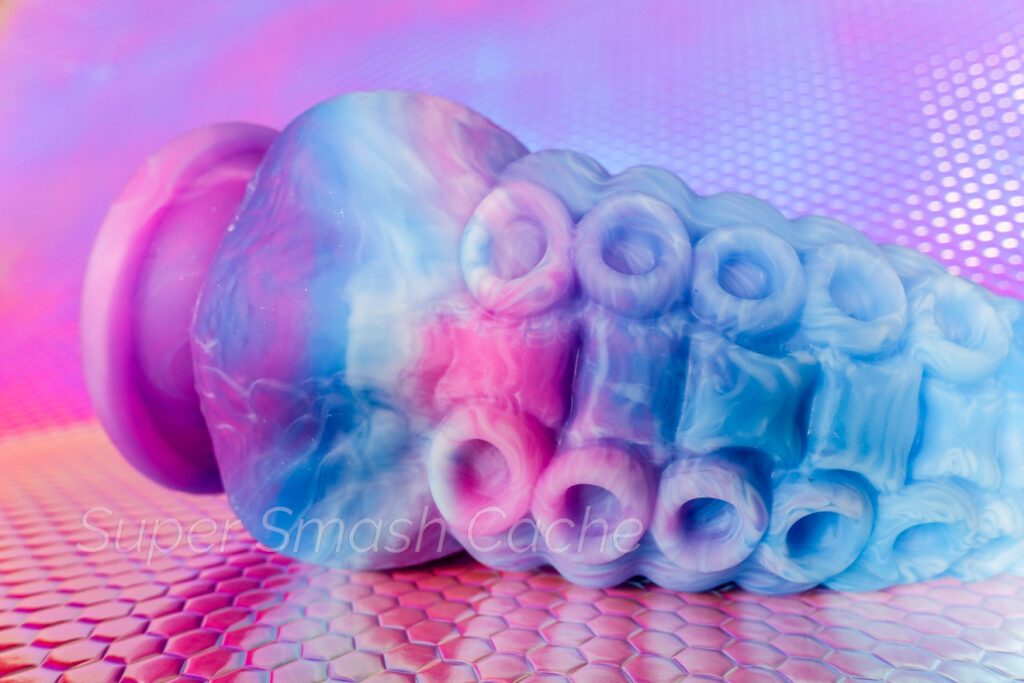 Closing thoughts on this tentacle dildo
Overall, I'd recommend the Laphwing Ursula if you:
Enjoy tactile sensations and intense ribbing
Want to increase your capacity for girth — up to a 2.7" diameter
Don't mind something long, firm, and pointy
Like indirect clitoral grinding during penetration
---
I'll reiterate what I wrote about the Laphwing Mr. Moonlight's more prominent sibling: sensation-wise, I have nothing negative to say about them.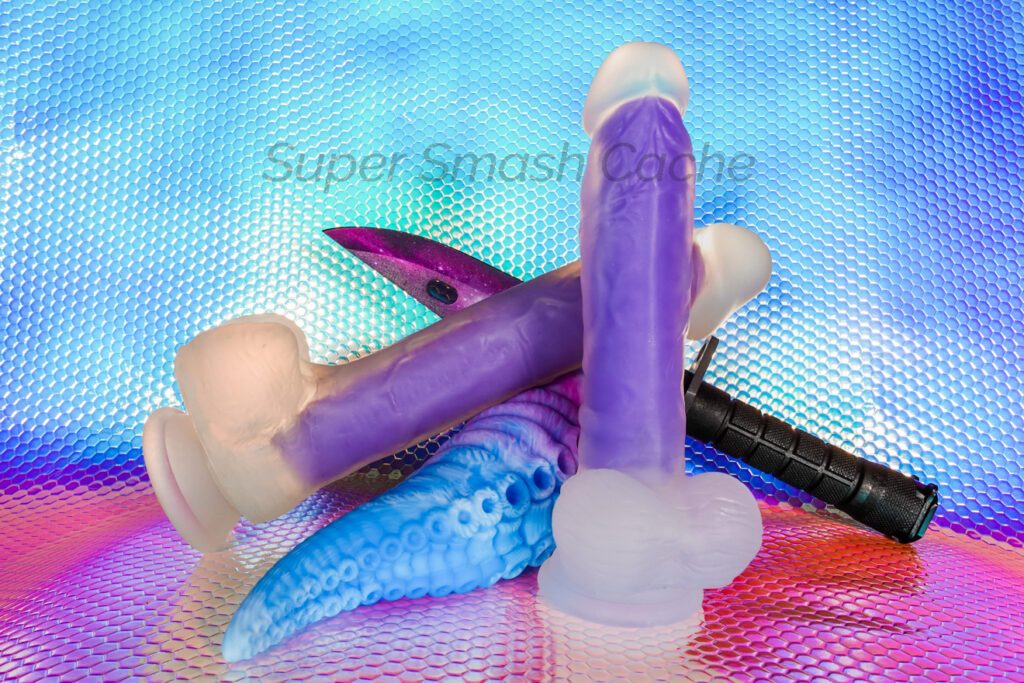 Both the Mr. Moonlight and Evolved Novelties Luminous Stud feature:
A firm glow-in-the-dark blue core for stability
A squishy silicone "skin" layer and exceptionally soft tip and balls
Veiny textures along a matte finish
A suction cup base for riding
A suuuper realistic-feeling combination of dual silicone densities
Glow-in-the-dark dual-density dildo measurements
The main difference is the size. Evolved Novelties; Luminous Stud dildo is about 2" across the widest part and boasts 8" of insertable length (10.5" long total). It's about the same size as the Vixen Creations Outlaw, but is a tad firmer and costs way less.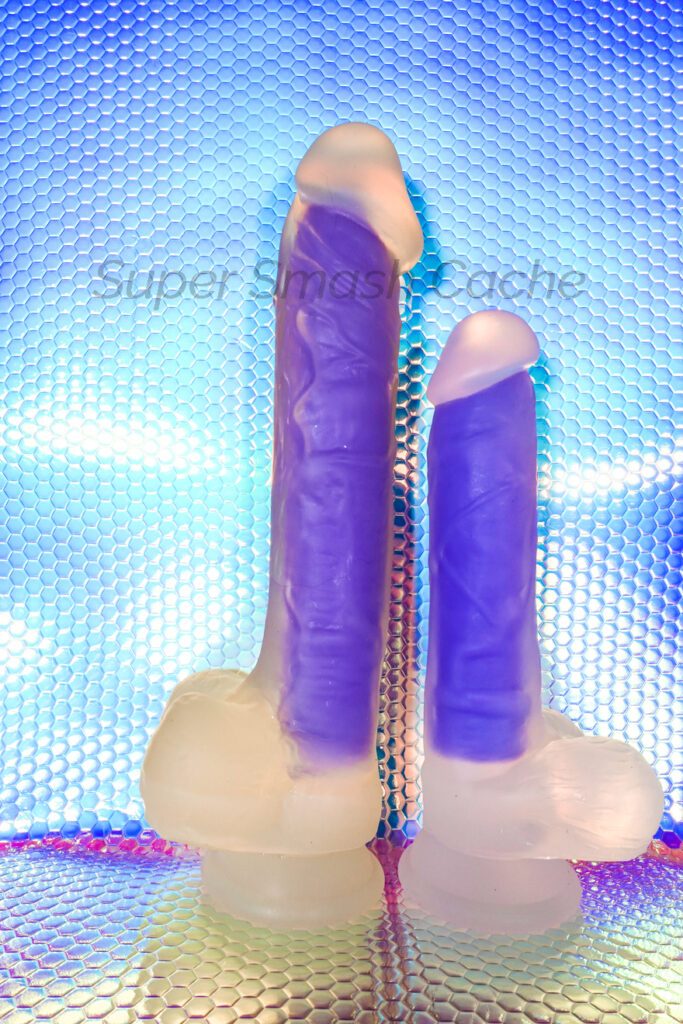 In contrast, Mr. Moonlight from Laphwing is about average size:
1.5-inch diameter
6.25 inches insertable length
8 inches total length.
Both sizes of this dual-density dildo feel fantastically lifelike. Whether you want an average diameter dildo or a girthy one is up to you. Bigger isn't always better, though.
How it looks and feels in use
The plus side to Mr. Moonlight's size is that it's long enough to reach my internal hot spots and sufficiently flexible to grind against my clit.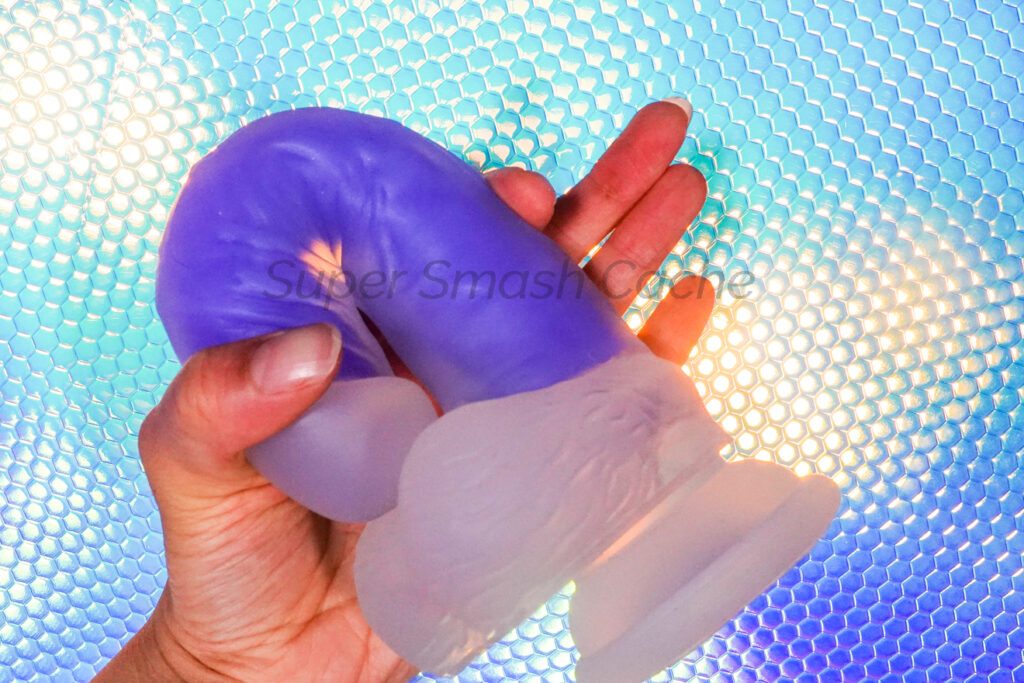 Rather than long, hard thrusts, I anchor the bottom of the shaft against my vulva. From there, I pivot the inserted portion to rock it back and forth with small strokes. If you like the coital alignment technique during intercourse, you'll probably appreciate this dildo's bendiness.
There is a cosmetic downside to the material's formula, though. These dildos' translucent silicone turns yellow over time due to oxidation. There's no way that I know of to reverse it safely. You can, however, slow it down by keeping it out of sunlight and not using harsh cleaners on it. (For example, don't leave it in bleach for longer than necessary.)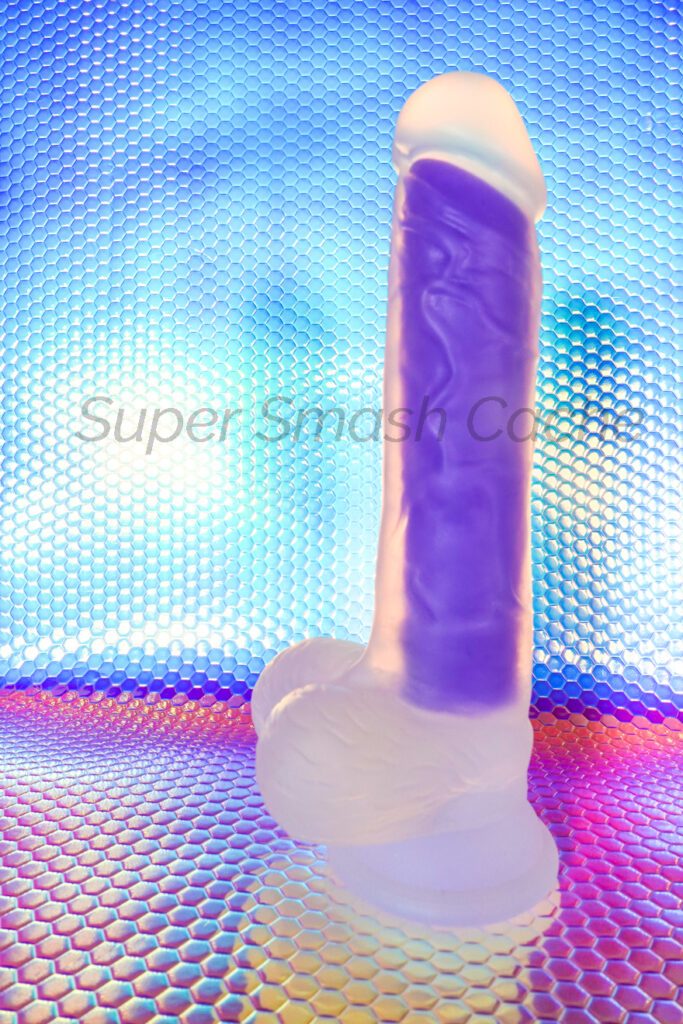 The irony isn't lost on me: the inner core glows in the dark and can be "charged" in the sun or under UV lamps, yet the outer layer is best kept out of those same conditions. What's your priority: daytime or nighttime appearance?
Closing thoughts on the Mr. Moonlight and Luminous Stud
Dual-density dildos used to be purely in the realm of luxury toys, but not anymore. These squishy members are almost perfect for the spicy shopper wanting realism on a budget.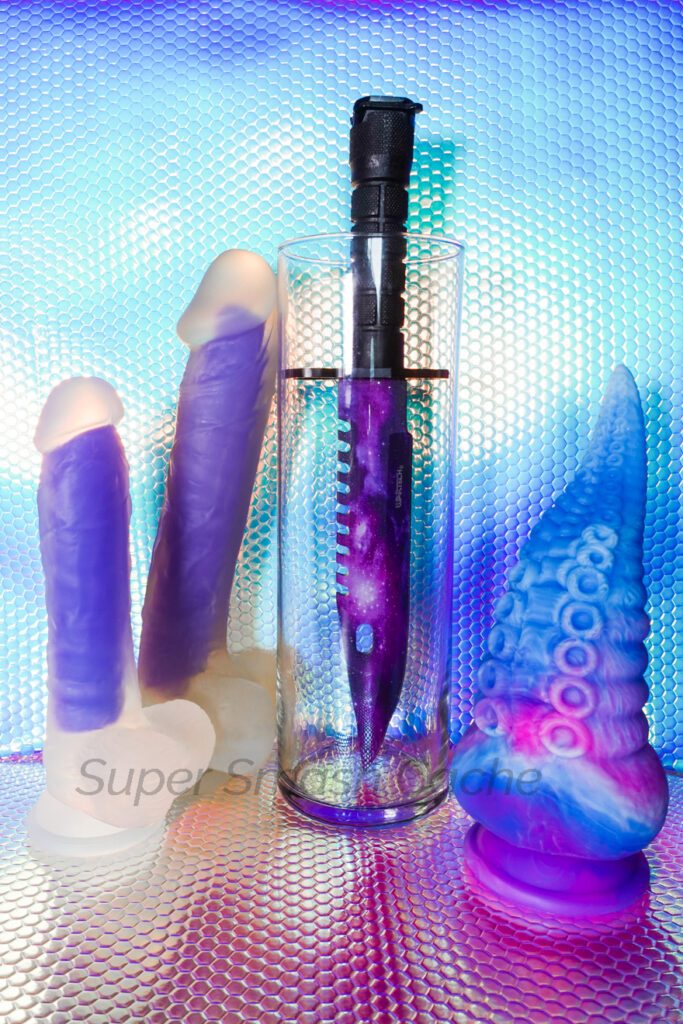 ---
Further reading on the Super Smash Cache blog
---
This post was sponsored and Laphwing sent me these products in exchange for my honest review. The words and opinions expressed here are my own.