Hole Punch Toys Mother Interior silicone nun dildo review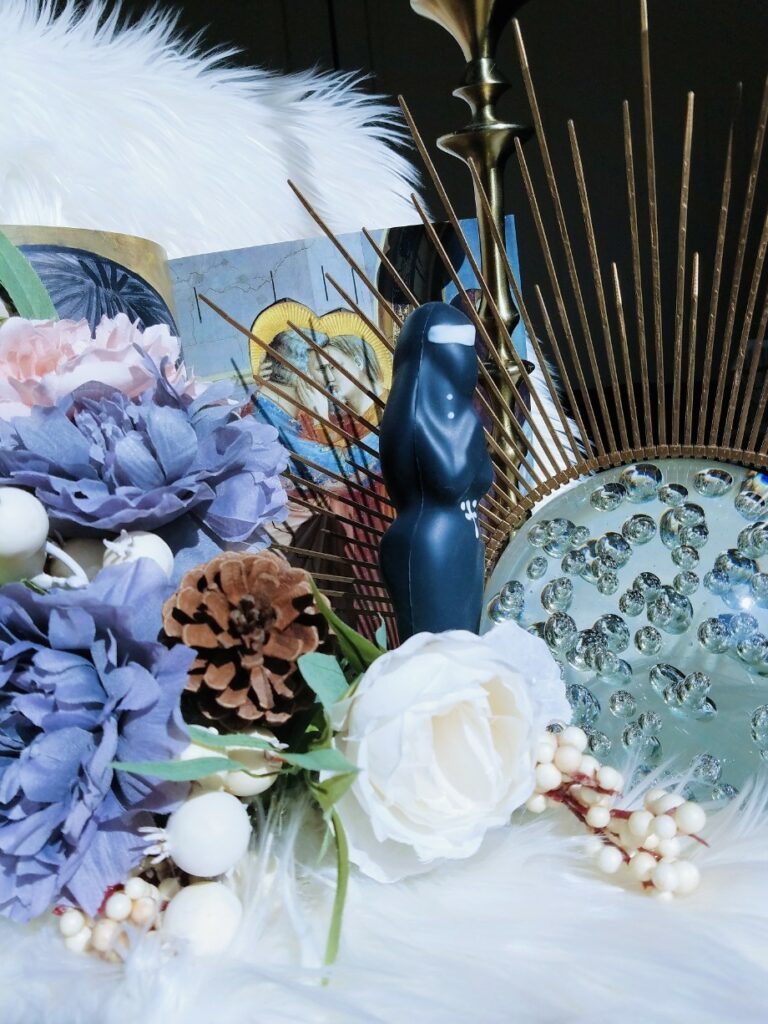 Would you rather fuck a dildo-sized nun or a nun-sized dildo?
Hell had never felt so heavenly until the Hole Punch Toys Mother Interior. If you're looking to get fucked hard in the land of gods and monsters, this dildo will bring it. You just might have a new habit.
Hole Punch Toys doesn't take their creations too seriously, hence the irreverent designs and bad puns. (I'm looking at you, Plugs Bunny!)
The Mother Interior nun dildo is cheeky in more than one way. Though she's no Emojibator Chickie, she is THICC and (more humanly) booty goals. Her butt could be a G-spotting bump if you choose to insert it all the way in.
Hole Punch Mother Interior nun dildo measurements
That's a big "if" due to a combination of reasons. This dildo stands 8.75″ tall, with about 7 of those inches insertable. And at its broadest cross-section— across the veil and bent elbows in prayer position— it's about 1.8″ diameter. In other words, there's some serious CHONK to this dildo. It's long, thick, and firm. There's some bounce to the silicone, like a gummy bear left in the fridge.
The density means that it takes time to let my canal extend and insert the nun's booty. Even with full vaginal tenting, I can "only" let in about 6.5″ of this dildo's length. It's at approximately the 5.5″ mark that the butt dips in and joins the back of the figure's legs. And that leaves the bottom-most inch of my vagina to close up under that.
G-spotting bump/sacrilegious nun booty placement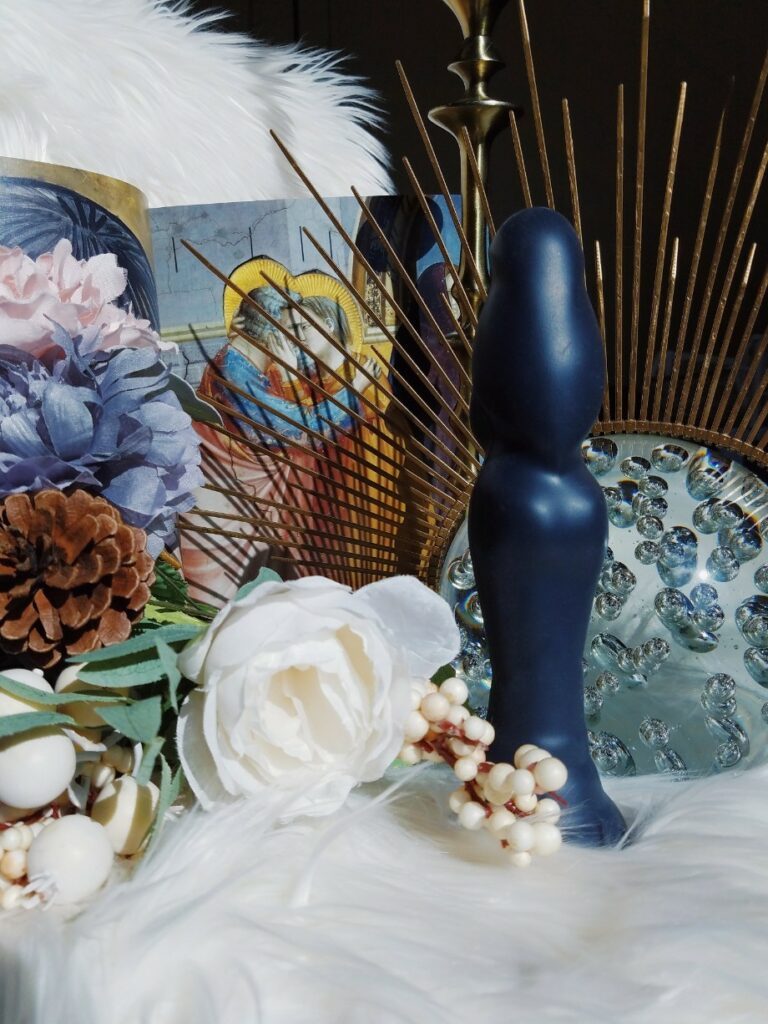 As such, that G-spot bulge barely passes my pubic bone when I thrust inward. If your cervix is low, your vagina is short, or you otherwise don't want deep penetration, keep this factoid in mind. There's still plenty to love about the Hole Punch Mother Interior, but you might not fully appreciate all of its contours.
During the out strokes, the Mother Interior's booty bump presses into the mouth of my vagina, stimulating my internal clitoris and urethral sponge, reminiscent of the "speed bump" on the Blush Novelties Avant Pride P1. All while the head slips into my posterior fornix and massages my cervix. I adore its firmness and how easy it is to aim this dildo against my front wall.
Instead of heart-eyes emojis, the Mother Interior dildo turns me into somewhere between the drooling emoji (?) and the woozy-faced one (?), all while taking the lord's name in vain. Whoops. Pray the rosary for my broken mind.
If you'd prefer pressure further past the pubic bone, or have a short and easily-irritated clit-vag gap, this dildo isn't for you. If you like pressure and stretching at the entrance, you'll love the Mother Interior. And great news for the anal aficionados: this dildo is butt-safe, thanks to the nun's flaring skirt! Of course, if you want to switch back to vag after anal use, wash this dildo and disinfect in bleach solution or boil it first.
What about the headdress and hands clasped in prayer?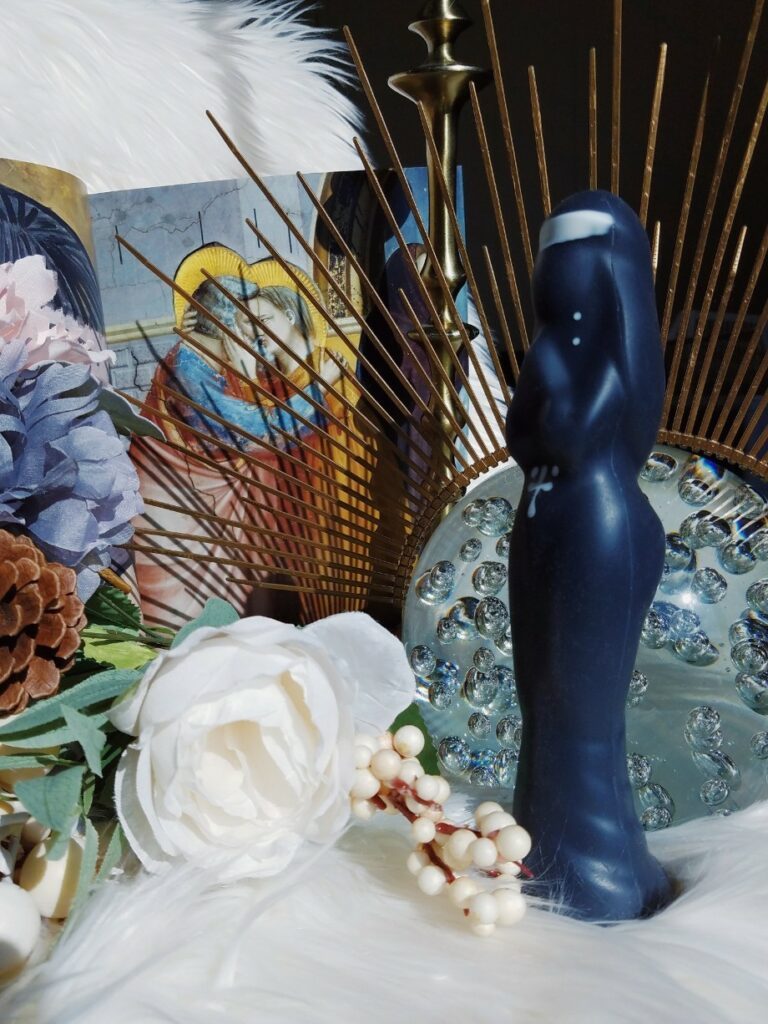 Other key features of this landscape include the relatively pointed elbows and the draped veil. I come stupidly quickly when twisting the former's pronounced eminences against my G-spot. And because they're about 3.5″ down from the head, more users will be able to enjoy this elevation. ("You'll be saying your prayers when you go to bed with this sister.")
The veil's structure is minimal, flaring out and converging just a little past the Mother Interior's hourglass hips. It won't give you deep and persistent G-spot pressure like the LuzArte Jollet's hump, but instead, delightful drag as your entrance opens up and closes around the peaks and troughs.
This sacrilegious nun dildo reminds me of some of the things I liked about the Blush Novelties Avant D3 and D4, like the similarly firm silicone and bumpy shaft. Though it lacks a boxy head, I find the trade-off enthralling. Whereas the D3/D4 is more A-spotty and presses against my front wall with greater gusto, the Mother Interior slides more easily behind my cervix.
Any downsides?
I suggest getting a good lube with this dildo. Hole Punch Toys' finishes tend to be on the draggy side of matte (think of the texture of eggshells but in silicone form), The Mother Interior is no exception, despite its otherwise sleek design. As well, be aware that there are seams along the sides, due to Hole Punch Toys' artisan nature. I don't notice these edges during use, but you might be more sensitive to them than me.
My verdict on the Hole Punch Toys Mother Interior Catholic dildo
Overall, though, the Mother Interior is a hand-poured piece of art with consideration for aesthetics and anatomy. Its convexities dig into just the right spots in my cave. If you enjoy deep penetration, heavenly humps, and sacrilege kink, this is for you.
It's the kind of dildo I'd want a partner to fuck me with, while a cross necklace he's wearing dangles over my face, and I'd say his name again and again like my only prayer.