Review: BMS Naked Addiction & XR Thump It self-thrusting realistic dildos
It's the "I can't stop coming" kind of dildo that I'd set aside time to use all night.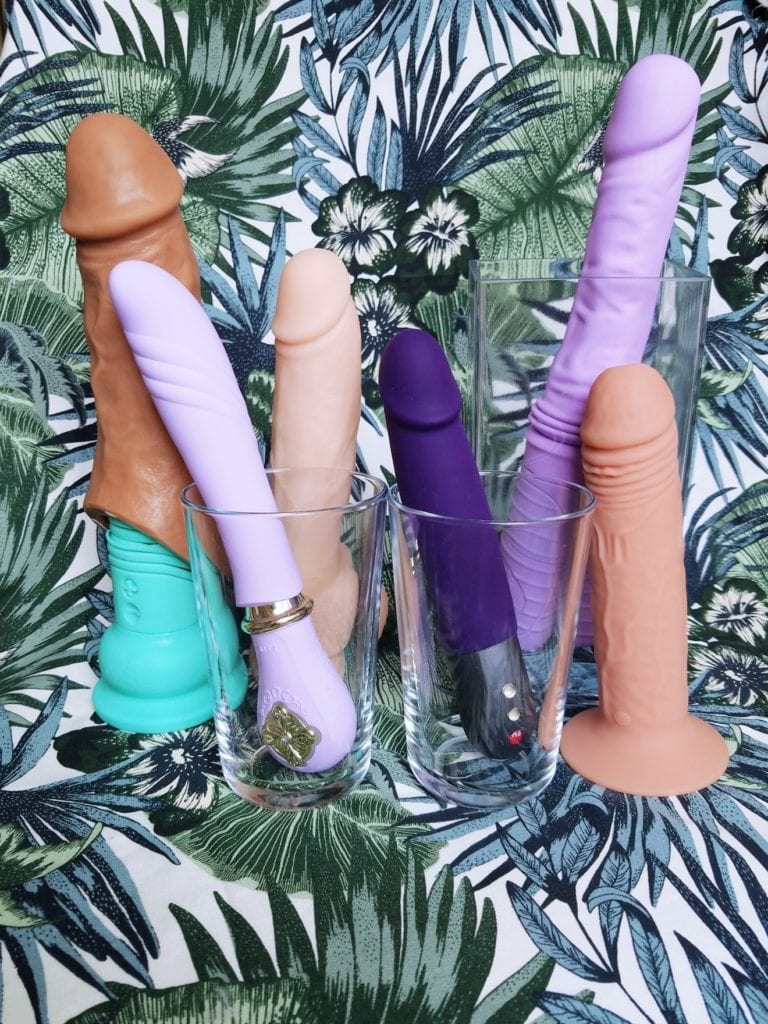 I've reviewed many self-thrusting dildos, but until now, none were especially squishy or realistic. That's where BMS Factory's Naked Addiction 9″ Thrusting Dildo comes in: a hybrid between a dual-density dildo and a thruster.
Like a penis, it's firm on the inside and squishy on the outside and throughout the tip. What's more, its surface has just the right level of matteness and drag to feel like skin — not too tacky and not too smooth.
BMS Factory Naked Addiction 9″ vs. other thrusters I've used in the past
Yes, I've put a super-soft VixSkin Colossus cock extender on my Velvet Thruster Teddy fucking machine to make it feel more like a cock. But the Colossus is an expensive add-on, made for size queens craving something THICC.
It also costs more than the BMS Factory Naked Addiction Thrusting Dildo, whose measurements are only slightly above average: 9″ total with balls, 6.75″ insertable, and 1.6″ maximum shaft width.
The Velvet Thrusters, by default, have some flexibility and representational textures, but their silicone is on the medium-firm side. That's not a bad thing — just different. As far as self-contained mini fucking machines, the BMS Factory Naked Addiction Thrusting Dildo is the closest to flesh you'll get. I'll go into the mechanism and thrusting sensation in just a bit.
But first, an introduction to the other new self-thrusting dildo I'm reviewing in this post:
The XR Brands Thump It 7″ dildo. Its silicone is firm, and its veins are admittedly slightly unsettling by my standards. However, what makes it stand out is that it has a linear magnetic motor (dubbed, "Kinetic Technology).
If you remember my Fun Factory Stronic Real or Zalo Sweet Magic Desire Thruster review, the concept is similar. There's a weight inside that gets shuttled back-and-forth to propel the dildo.
Though the Thump It self-thrusting dildo's stroke length is shorter (less than a centimeter) and not super powerful or realistic, it still looks more phallic than the other options with this kind of motor. Plus, both the Naked Addiction and Thump It have suction cups and (one-button) remote controls!
Skip to a section to read more about these thrusters:
---
BMS Factory Naked Addiction 9″ self-thrusting dildo review
Every time I give guests a tour of my sex toy display, the BMS Factory Naked Addiction thrusting dong is a must-feel.
"Squish the tip!" I implore. "Isn't it delightfully fleshy?"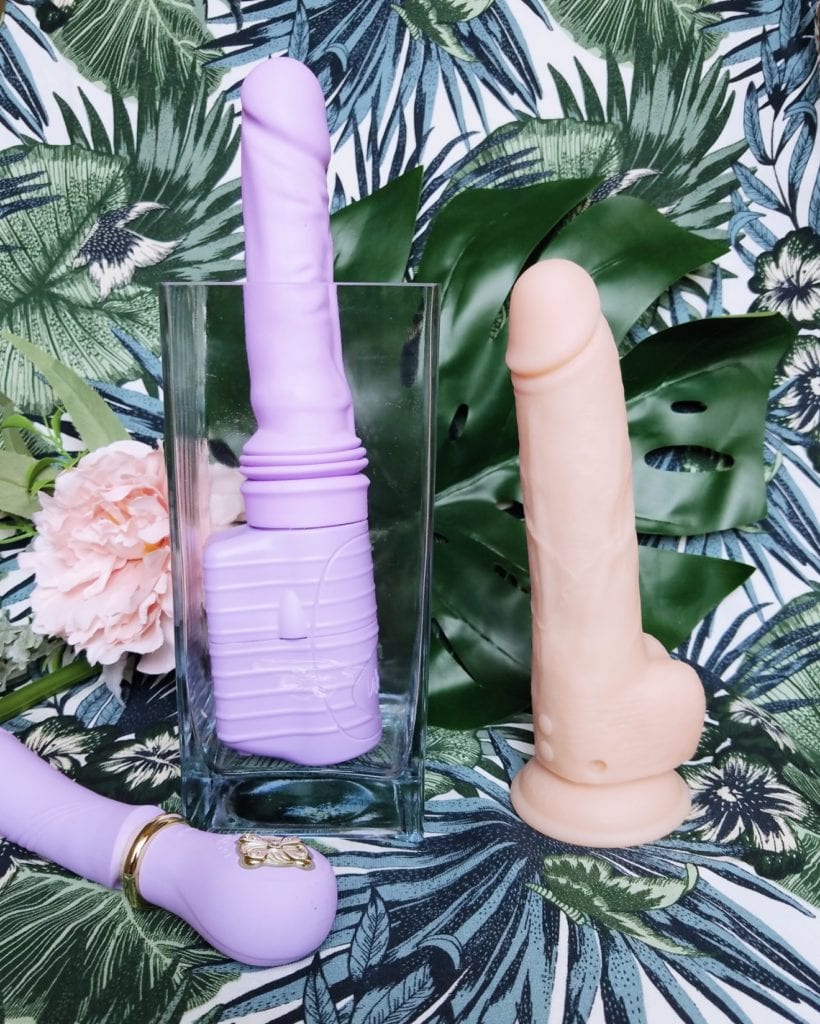 Then I turn on the thrusting action, and my friends' eyes widen. Even more so when I turn on the highest of 7 speeds, at which point the Naked Addiction's moving head is but a blur. You can hardly discern the sound of individual thrusts anymore — they blend into practically one tone.
"I know the point isn't to compete with sex toys, but damn. I can't help but think, 'My dick doesn't do that!'"
Indeed, no human penis can move as this dildo does.
Like the Velvet Thruster, part of the BMS Factory Naked Addiction's shaft extends and contracts. But whereas the former has folding accordion pleats to accommodate a 2.5–3″ thrust length, the latter's silicone "skin" stretches. Its distal half hammers back-and-forth by about one centimeter — a smaller range of motion, but don't underestimate it as I did.
The packaging isn't fucking kidding when it says, "Powerful Thrusting Action." Yes, I could substantially stifle the movement with my hand, and it slows down when I come and clench, but not enough to disrupt the experience. I'd naturally go less hard right after orgasm, anyway, before speeding back up. As far as alternatives go, the quirk applies to the Velvet Thruster Teddy, too (but not the original Jackie or Walter).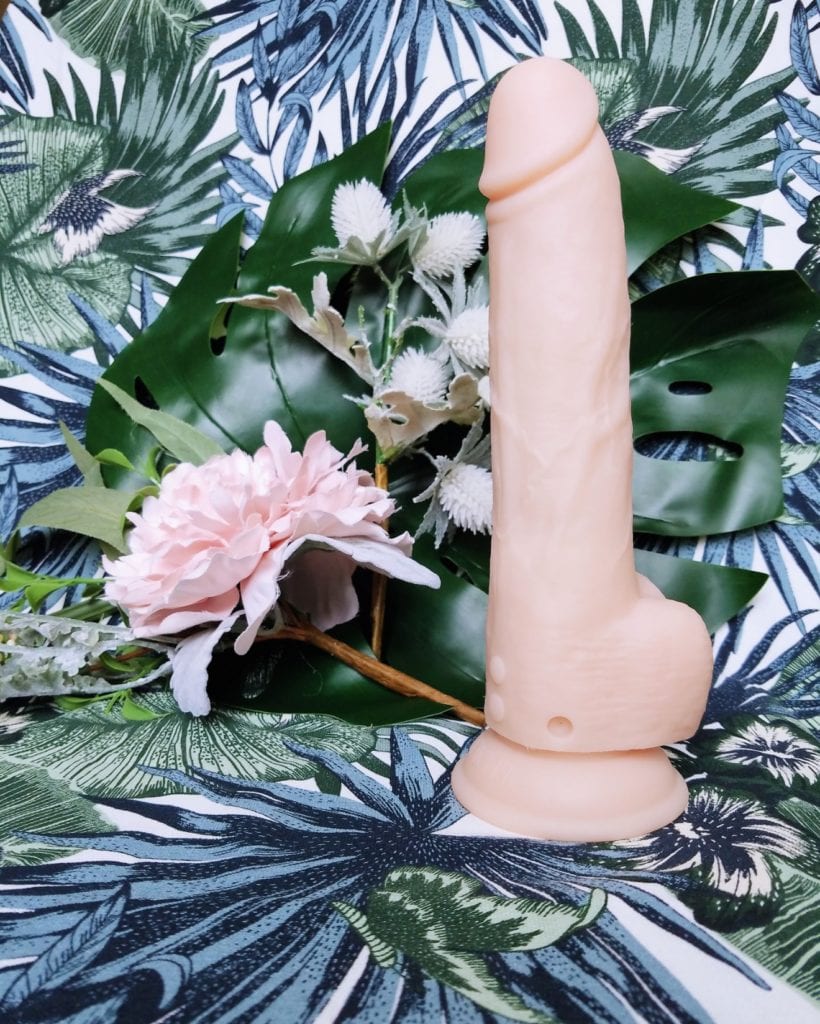 Luckily, both the Teddy and Naked Addiction self-thrusting dildo have two-button control panels for breezy speed increases and decreases. They also both have suction cup bases for easy mounting.
Unlike the Velvet Thruster's smooth and sinusoidal rhythm, though, the Naked Addiction is more jerky, punchy, and rough, even at slow speeds. You can hear the clicking of the motor.
If your cervix abhors that description, I urge you to trust your intuition here. I'm pretty hardcore with deep penetration, and the Naked Addiction's choppy throbbing is almost the perfect intensity, if not a bit much when pushing towards my cervix proper. I should emphasize: only a bit.
My cervix adores the Uberrime Aqua-King and A-Spot Avenger, as well as the Vixen Creations Johnny and Outlaw. They're filling but pliable and conform to my fornices with just the right amount of resistance.
As a dildo with the motor off, the BMS Naked Addiction 9″ thrusting dong does the same thing. It's the"can't stop coming" kind of dildo that I'd set aside time to use all night. If you want more bang for your buck, consider the non-powered Naked Addiction dual-density dildo instead. It's not exactly the same, and a little shorter, but feels even more realistic — and for about half the price.
With the power on, though, the self-thrusting is better suited for my A-spot, with the dildo aimed at my front wall
…almost all the way in but away from my cervix. The BMS Factory Naked Addiction 9″ self-thrusting dual-density dildo is hella powerful and with a defined enough head that it works for my entire front wall.
That includes my G-spot. If you seek a realistic dildo that can dig past the pubic bone, I still suggest the (inanimate) curved VixSkin Johnny. However, my G-spot is still a fan of straight dildos when paired with fast thrusting.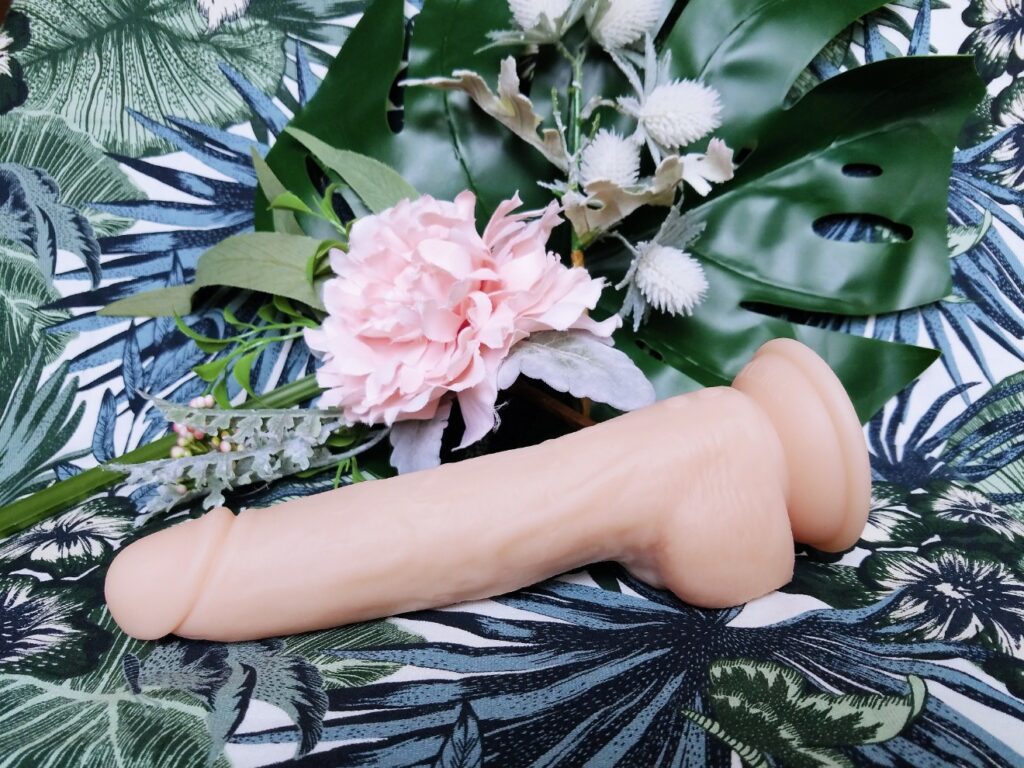 Case in point: my Fun Factory Stronic Surf pulsator and self-thrusting dildo review. The Stronics' mechanism is different from the BMS Naked Addiction's self-thrusting, but both feature rapid, short thrusts that allow the flared head to zoom in and focus on an especially sensitive area.
I wasn't a fan of this dildo's sibling, the BMS Factory Naked Addiction Rotating and Vibrating Dildo (also only available in "vanilla"… ugh). The linear self-thrusting rendition, though, pleasantly surprised me. As a dildo, it's highly realistic.
As a thruster, it's more mechanical and "uncanny valley" than the Teddy or Jackie, but I can't stop squeezing it with my hands or my vagina.
If you want a dual-density self-thrusting dildo, the BMS Factory Naked Addiction is the godsend you've been waiting for.
Get the BMS Factory Naked Addiction 9″ thruster or dual-density dildo from Peepshow Toys and take 10% off your order with coupon code SUPERSMASHCACHE
---
XR Brands Thump It 7-inch self-thrusting dildo
Another recent realistic release is the Thump It dildo line by XR Brands. It comes in three sizes, but the one I tried is 7.25″ long (6.75″ insertable) and 1.6″ across. The usable portion is about the same size as the BMS Factory Naked Addiction dildos and has a suction cup, but no balls.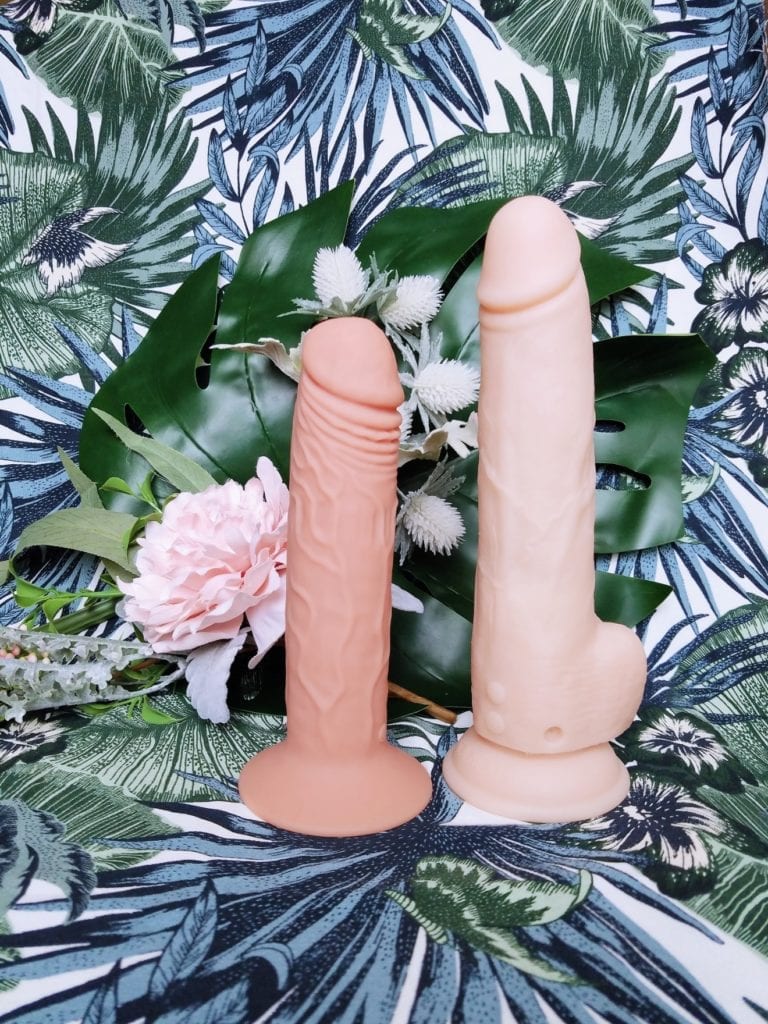 As well, the Thump It dildos may feel thicker because of how firm they are; there's some flexibility at the tip, but otherwise very little give. You'll want a brush to clean the retracted foreskin texture under the dildo's head.
Veins are all along the (otherwise silky) shaft, but the tactile sensations are concentrated in that foreskin area.
It's those same ridges on the Thump It dildo that delight my G-spot. If you need a sharply protruding corona, this dildo isn't going to do it for you. Texture sluts reading this review, though, are already grinning.
Does the Thump It's "Kinetic Technology" feel anything like an actual penis thrusting? No. But again, a penis can't rub against my front wall in quite the same way— the corrugation jiggling with perfect consistency.
The moving weight isn't as heavy or thuddy as with the Fun Factory Stronics or Zalo Sweet Magic Desire thruster, but it moves like a hybrid between jiggling and vibration. One button controls the 3 speeds and 4 patterns. The sensation is still intense, considering that the textures make up for the relatively subtle movement. For under $100, I'd more readily recommend the Thump It self-thrusting dildo than the Zalo Desire's level landscape and luxury $139 price tag.
Get the XR Brands Thump-It in one of three sizes:
…and take 10% off at Betty's Toy Box with coupon code SUPER
---
My verdicts on the BMS Naked Addiction and XR Thump It self-thrusting dildos
If you couldn't tell, I'm lukewarm about the Thump It but adore the BMS Factory Naked Addiction 9″ self-thrusting dildo!
It was a much-welcome addition to my collection, with a squishy and realistic tip, a delightfully veiny and skinlike matte surface (not draggy like Fun Factory's silicone), and linear movement for lazy masturbation. It won't replace my Velvet Thruster Teddy's more realistic stroke length, but sometimes I crave the Naked Addiction's squish.
If you don't mind the original (non-thrusting) Naked Addiction's shorter length, it's a fantastic investment with a high quality-to-cost ratio. One thing is for sure: BMS Factory knows what they're doing when it comes to dual-density dildos.