Review: Svakom Nymph, Ella, and Tyler vibrators
"Svakom is what happens when you batter, over-salt, and deep-fry something that's supposed to be fancy."
"Really?" I responded to my reviewer friend. "I thought of it as the reverse: cheap vibrators in nice packaging. That's a recurring problem European companies have when expanding to the United States. Americans don't trust the fancy exterior. They want cheap toys to come in the plastic clamshell packs."
"When something's cheap but has a nice package, it makes me wonder what's wrong with it. I'd rather pay a bit extra for something I know is going to last me longer."
---
I have given the Svakom Coco a positive review in the past, but that's because it was good for the price.
When a $30 rechargeable silicone G-spot vibrator has respectably zingy vibrations, there's no room to complain. When you move into Svakom's $80+ territory, the cost-to-quality ratio dwindles.
That's just the beginning of the problems with the Svakom Nymph massager and Ella remote control bullet. The $45 Svakom Tyler cock ring, though? It's fair for what you get. Let's start with the good news.
---
Svakom Tyler vibrating silicone cock ring review
I appreciate three main features of the Svakom Tyler:
How it's angled
Its power-to-size ratio
Its power-to-price ratio
Putting this cock ring on a dildo makes for a decent rabbit vibrator with flexibility on the outer arm. It won't clamp against the clitoris, but your palm can easily apply pressure when thrusting with little extra effort.
When worn during ventro-ventro intercourse, it easily presses against the receiving partner without being as intense for the wearer, which some couples may prefer.
Svakom Tyler vibrating cock ring texture
The Svakom Tyler's texture is more of a visual nuisance than anything else, like popcorn ceilings, but it doesn't impede anything for me. I usually grind my clit against vibrators without retracting the hood, so I don't feel much from the bristliness I'd otherwise find irritating. If you prefer direct clitoral friction, your mileage will vary.
There's nothing I hate about the Svakom Tyler otherwise
The Svakom Tyler vibrating cock ring's slim motor means that there's no bulk reducing penetration depth. Cervical orgasms are a big deal to me, so it's essential that cock rings allow my partner to go way in. Yet, the Svakom Tyler still delivers moderately strong clitoral vibrations for its size. I can't ask much more of the budget-friendly ring vibrator.
Its ring super stretchy, its vibrator portion is flat with an edge for me to focus the sensation, and it's a fun addition to dildos for single-handed dual stimulation. You can get it at Spectrum Boutique for $45 at regular price; take 10% off with my coupon code, SUPERSMASH10
---
Svakom Nymph soft finger-like moving vibrator
The Svakom Nymph double-ended massager looks like an alien or sea creature with three tentacles. They squirm in circles, while the other (independently controlled) motor vibrates. This vibrator belongs more in a jar for Halloween than anywhere near my vagina.
View this post on Instagram
Its movements are very okay.
Unfortunately, that doesn't fly for my clitoris, given how broad the Svakom Nymph's rounded vibrator head is. At least with the Svakom Tyler, the vibrations are more targeted.
With the Svakom Nymph, I can't deliver enough pressure in the right spot to satisfy myself. I huff, and I puff, and I lose my orgasm. It's also too flexible to do anything for me internally.
Look: my clit is super sensitive, as far as sex toy reviewers on antidepressants go. Even watch battery bullets can do it for me, so it's a bad sign when an $89 vibrator struggles to get me off with its vibrations.
The finger motions, meanwhile, are a little easier to work with. One prong goes under the hood with lube, two prongs over. My clit likes to have all three of the Svakom Nymph's soft "fingers" circle it.
"It's decent," I told my boyfriend. "It doesn't feel like much more than my fingers, but it's automated and means less work for my wrist."
"How much does it cost if it's only decent?"
Given the quality of the motors, I honestly thought $45 was a reasonable guess for the Svakom Nymph's price. Looking it up online was a rude awakening.
This fucking thing is $89? Oh, no, honey. At that point, use your fingers for free. Or get a reliable bullet, like the We-Vibe Tango, BMS Mini Swan Rose, or Hot Octopuss Amo.
---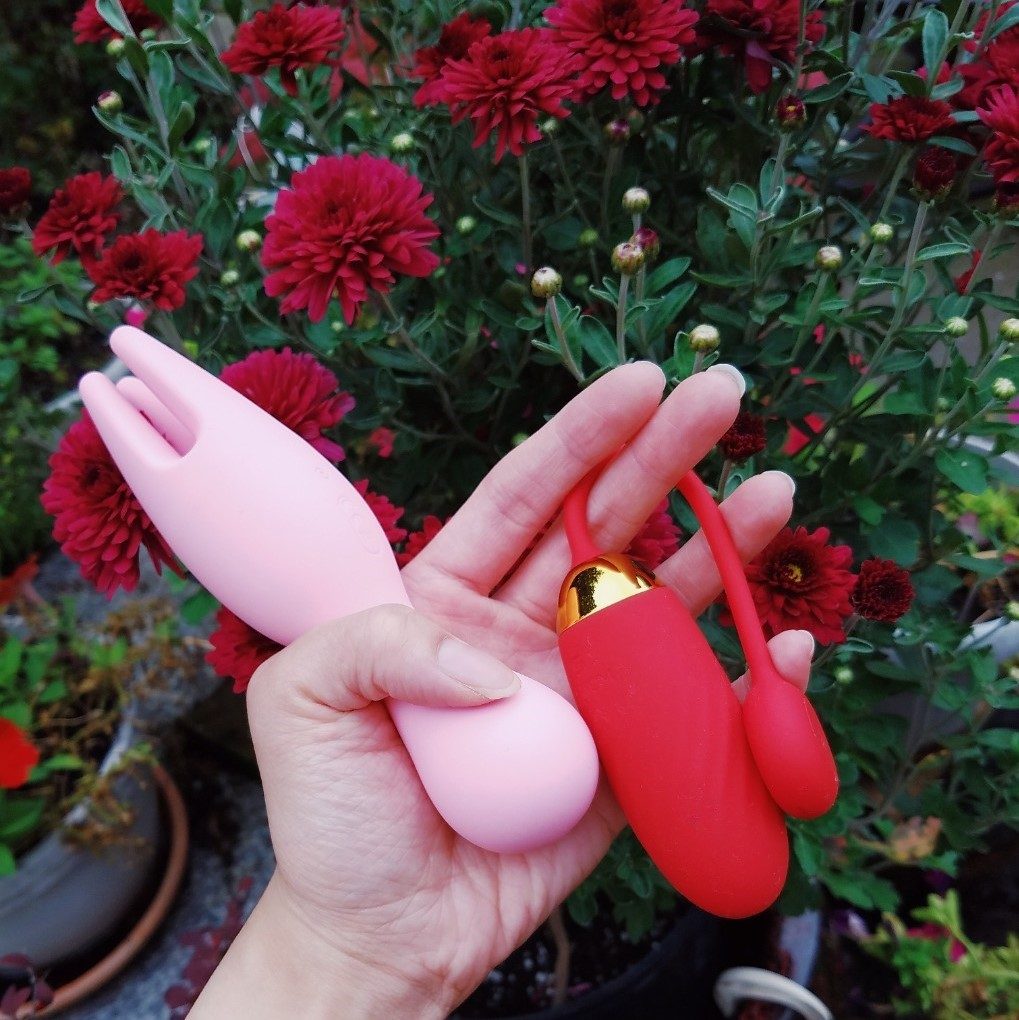 ---
Svakom Ella remote control and smartphone app-compatible vibrator
The Svakom Ella costs $89 and has one steady speed accessible via the corded control panel. And that one setting's vibrations are about the same as the Svakom Elva, their non-app remote vibrating egg.
Somehow, it's a severe downgrade from the $30 Svakom Coco.
Let that sink in. And for $89, ooooh, that's not forgivable.
You have access to a wide range of speeds and patterns via the smartphone app, including a music-sensing function. On paper, that sounds like a good time, but in practice, you can't go higher than that one speed, no matter how loud you turn up the death metal.
My clitoris took the same issue with the Svakom Ella as with the Svakom Nymph's vibrations: too weak and not focused enough. Why bother?
Oh, and it gets even worse if you buy sex toys directly from Svakom's website.
The Svakom Ella is $109 there. For that price bracket, you could get a waaaayyyy more rumbly and powerful Ohmibod Esca or We-Vibe Moxie from Peepshow Toys. Take 10% off there with my coupon code, SUPERSMASHCACHE
Stick to Svakom's budget stuff
Or see my guide to the best budget-friendly sex toys. You won't get better quality vibrations from Svakom, even if you splurge on their fancier products. Oh, and they sponsored this post, but that doesn't change what I think of their products.