Naughty Bits Ombré Hombre galactic vibrating dildo review!
An old friend told me that he used to think, when women talked about having ombré (gradient) hair color done, they meant "hombre." And he wondered why they spoke so flagrantly about getting Spanish men.
Fast-forward a mere few months, and the Naughty Bits Ombré Hombre by Cal Exotics manifested itself into my consciousness. Like magic.
---
In this review of the Naughty Bits Ombré Hombre:
---
Ombré Hombre dildo appearance, shape, and size
As the name suggests, there's a beautiful fade between pink, black, and blue. It's semi-representational of a penis with bunched-up foreskin under the head and subtle veinage. And, to make the Ombré Hombre even more enticing, there's glitter mixed in for galactic glamour.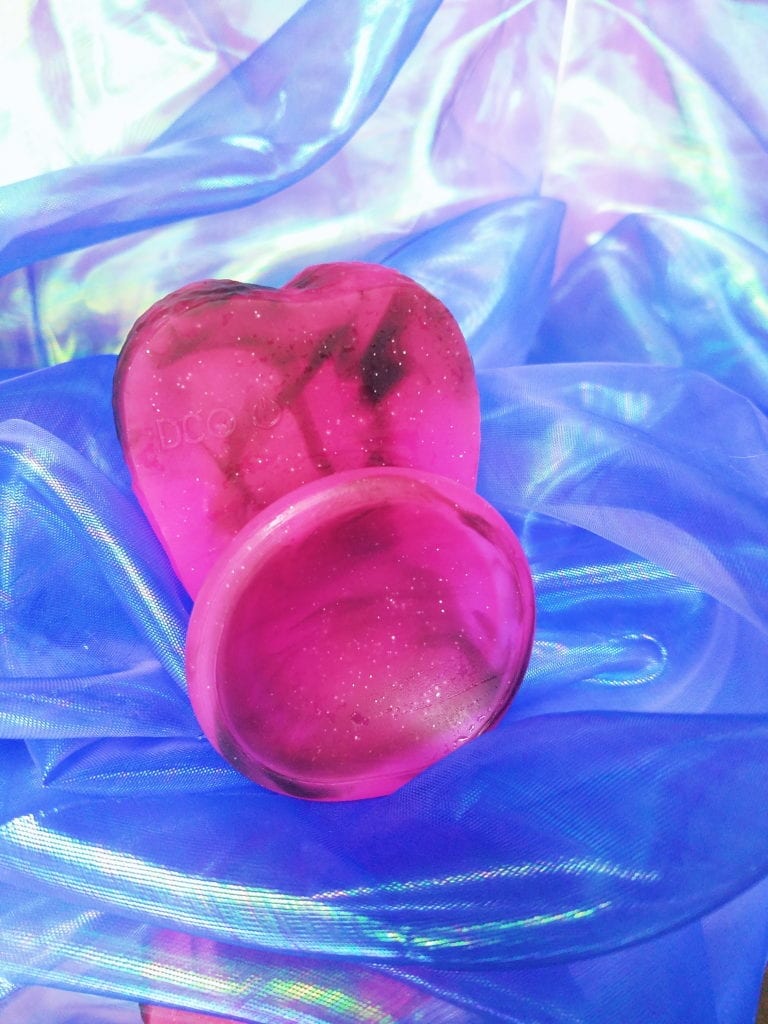 As a dildo, the Naughty Bits Ombré Hombre is gorgeous. Its firmness really emphasizes the texture under the corona, delighting my front wall during shallow penetration. And it has a suction-cup base for mounting, riding, or harnessing!
With a straight-shafted 5.25″ insertable length and 1.5″ width, this dildo doesn't do much to stimulate my deep erogenous zones. If your cervix is lower-set, it might be big enough for you, though.
Dildo… chiropractor…?!
Beyond that, so many things about the Naughty Bits Ombré Hombre make me think, "WHY?"
For one, IT HAS VERTEBRAE.  There's no way of sugar-coating it. Inside this vibrating silicone dildo are discs with click-clacky internal joints when you bend it — cue flashback to the over-engineered MysteryVibe Crescendo.
I'm not interested in chiropractics when I masturbate.
Why was Cal Exotics so extra in the wrong way with this toy? Ostensibly, the vertebrae make the Ombré Hombre posable, but in practice, they're mostly ineffective at holding much curvature.
You can ever-so-slightly adjust the shaft's angling for display purposes. We're talking like a five-degree adjustment. Beyond that, the flexibility feature is useless. It's also a little too and straight for practical packing-and-playing.
Naughty Bits Ombré Hombre vibrations
Then, we get to the Ombré Hombre's pitiful, mosquito-like vibrations. They're even weaker and buzzier than the VeDO Bam Mini, and that's saying something. I eviscerated that bullet to give readers a visual tour of a buzzy vibrator's guts from the inside out. The Naughty Bits Ombré Hombre's motor adds nothing to the masturbatory experience.
My verdict on the Naughty Bits Ombré Hombre vibrating dildo
If the Ombré Hombre's exterior weren't so pretty, I'd probably have dissected this thing by now. I almost want to witness how feeble its motor wheel is in comparison to the Bam Mini's.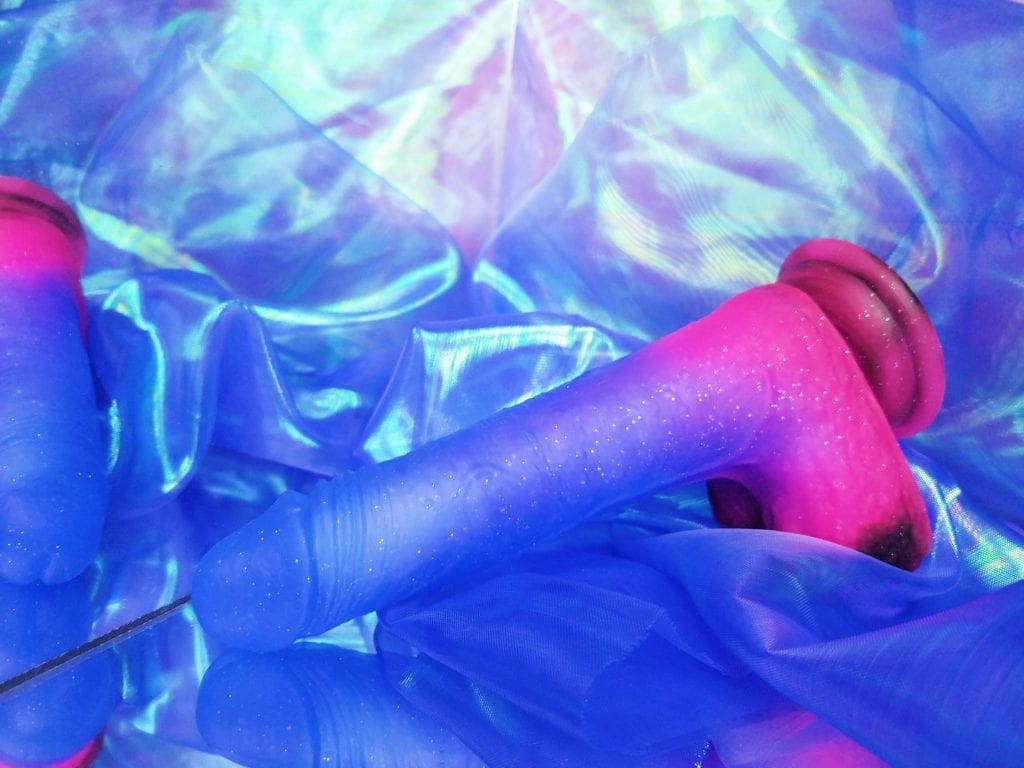 Overall, this dildo would probably have been cheaper and more cost-effective if it were full silicone. What's more, they could have refined the tacky surface a bit more. If you're swayed by the aesthetic and don't need much penetration depth, though, have at it and use extra lube. It's still a gorgeous dildo.
I consider it more like a museum specimen: beautiful, impractical to wield, and a marvel for friends to gawk at. "This dildo has vertebrae," I'll say to any future guest who views my collection.
Oh, and also consider the Hole Punch Fluke big vaginal plug in Purple Hombre.

---
Notes and disclaimers
Thank you to SheVibe for sending me the Naughty Bits Ombré by Cal Exotics for review. <3 Their shop is run by super kind people who focus on fantastic customer service. Read more about out why SheVibe is among the best online sex shops.
I use affiliate links throughout this post, which brings me a commission at no extra cost to you. If anything, keep my coupon codes in your back pocket — they may save you money!
---
Want to work with me? Check out my sex blogger services page and get in touch!