Fun Factory Darling Devil Battery+ vibrator review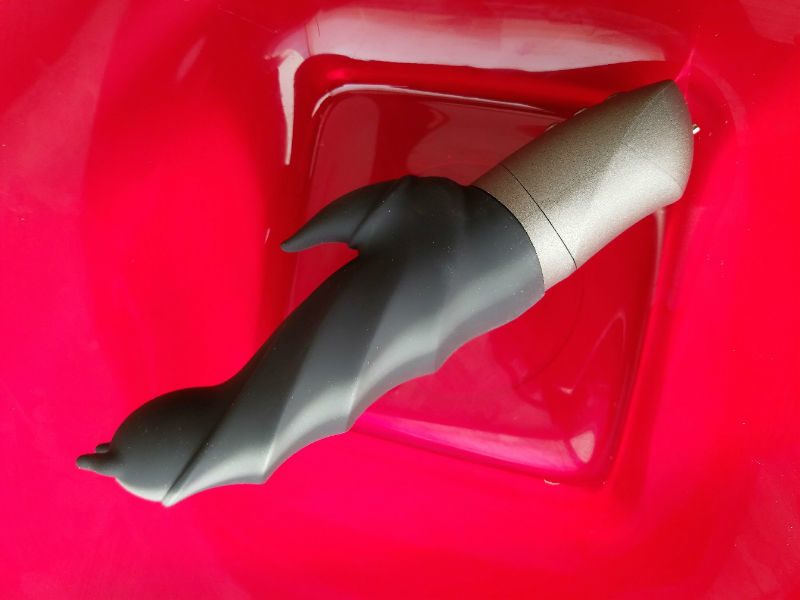 There are few vibrators as cheeky in design as the Darling Devil. Fun Factory's past muses have included ocean waves, flowers, and vulvas, but this one best epitomizes Fun Factory's playful experimentation with shape and color.
This Fun Factory Darling Devil is first a rabbit / dual-stimulating vibrator. Its slightly bent neck stimulates the G-spot, A-spot or prostate, while the external "tail" stimulates the clitoris. There are also waves of texture, most prominent along the back of the shaft, and very mild at the front.
Being the darker counterpart to the Wicked Wings vibrator, the Darling Devil comes in red and black. These two colors are not super common in toys for vaginas, but they fit the character of the toy and make it that much more delightful to look at.
Tl;dr the Darling Devil is cute AF, but if you're thinking of getting a textured Fun Factory Battery+ toy, I think you should get the Abby. It's just as textured, but without the rabbit attachment's limitations.
Fun Factory's Battery+ rechargeable vibrator line
The Darling Devil gives you the convenience of popping in charged batteries and playing right away, and the eco-friendliness of recharging.
I might get sent to sex toy reviewer jail for this, but… at any given time, only three or so vibrators in my collection have any battery juice at all. Sometimes I just don't want to wait to charge a vibe— that's actually a huge part of why I use my beloved Eroscillator so often.
The Battery+ line allows users to buy a charging cord to recharge AAA batteries while inside the vibe. And despite the bad rap that AAA vibrators usually get, Fun Factory's Battery+ motors are very well-executed.
Fun Factory's unique and rumbly AF vibrations
Even the highest of the four speeds is deep, with a richer timbre than any other AAA-powered toy I've tried. Instead of a buzz or a hum, Fun Factory's vibrations sound more like a bass slightly wobbling, "voomvoomvooomvoomvoom". There's a flutter to the lower settings, and as you turn the speed up, the vibrations become buzzier and more uniform.
For comparison, consider the bare-bones Blush Gaia Eco— shockingly powerful for a $10, AA-powered vibrator. Its highest speed is a little more powerful than the Darling Devil's lowest speed, but the types of power are very different. The Gaia Eco has less depth and a higher pitch, sounding like a toy helicopter.
Meanwhile, when I first held the Darling Devil in my hand and pressed my elbow against a wooden table, my boyfriend mistook the sound for a car pulling up outside. It's not loud, nor is it super powerful— I'd say its power is only moderate. However, the vibrations' audible depth, jitter, and range of motion translate to a more dimensional sense of movement. With the Darling Devil on my clitoris, my orgasms are noticeably longer and more expansive than with other AA or AAA toys.
Using the Fun Factory Darling Devil externally
The motor ends about halfway up the shaft, meaning that this midpoint has the highest vibration concentration. This setup would be a dream for users who love broad, moderately powerful vibration, or textures against their external junk.
I can still somewhat target the vibrations by using the back of the shaft, pressing the waves' edges against my clitoris. The textures and timbre make the Darling Devil a welcome addition to my collection.
If you're a diehard pinpoint pressure prince(ss), though, using the tip clitorally is a no-go. For one, flexible silicone comprises the entire tip, dampening the vibrations. Aside from sensation, there's another, more objective reason this toy isn't great for pressure.
The devil's horns: cute but cumbersome
The horns are narrow and a bit more delicate than I'm comfortable with. Repeated pressure stretches and strains the connection where the horns meet the head of the toy. If you're really reckless, you could break a horn off.
This shouldn't be a big deal when used for vaginal penetration. However, as someone who likes firm pressure on my clitoris, I really need to be careful with pushing the tip against my bony vulva. I really wish the horns were thicker at the base, because as they are, they're a gimmick at best and a hindrance at worst.
What about as a dual stimulator?
I normally hate rabbits, but I'm pleasantly surprised to discover that I actually really like this dual stimulator's fit. I think the clitoral arm is genius— it has just enough flexibility to meet my clitoris and maintain pressure while I thrust.
If you have an average or low-set cervix, the Darling Devil and Fun Factory Abby are great A-spot exploration toys. While this vibrator only has 4.6″ of insertable length, I find that it's angled enough for me to easily aim at my A-spot.
When pushed all the way in, the thrusting can stimulate my A-spot and clitoris at the same time. Targeting my shallow G-spot is doable but not as easy as A-spotting because the silicone is flexible.
All of this comes with the disclaimer that everyone's anatomy is different. My clit-vag gap is a remarkably average 1 inch long, giving me the privilege of easily aligning rabbit vibes. Your mileage will vary, depending on the relative spacing among your vaginal opening, clitoris, G-spot, and A-spot.
So who would I recommend or not recommend the Fun Factory Darling Devil to?
There's plenty to love about the Darling Devil, especially if you're a beginner exploring.
There's the hybrid battery system
The motor is rumbly
It's angled at the tip
There's mild texture to experiment with
It's an okay size if you don't need lots of length or girth.
But if those are the main features that appeal to you, I encourage you to look at the rest of the Battery+ line first. Many other designs carry the same perks with fewer of the drawbacks.
The Abby G is the most comparable. It's about the same size (but without the rabbit arm) and has textures along the front of the shaft. Front-facing texture rubs against my G-spot and A-spot and does way more for me than back-facing texture. The Mr. Boss is my next suggestion: a little longer with one pronounced ridge and some texture towards the base.
Sure, the Abby G and Mr. Boss don't have horns, and maybe they're not as cute, but the horns are exactly the Darling Devil's Achilles' heel. I await the day that the horns get a more sturdy redesign. Until then, I keep the Darling Devil on my nightstand only to savor the textured shaft's rumble against my clit.
Want to get a Fun Factory Darling Devil?
You can find the Darling Devil at Peepshow Toys. Take 10% off with coupon code SUPERSMASHCACHE
Find other rad Fun Factory toys at SheVibe! I also recommend lots of water-based lube, since Fun Factory's silicone is very matte and draggy.
I received this vibrator from SheVibe in exchange for my freely given and honest review.
If you enjoy my reviews and want to support my writing, consider clearing your cookies and buying from my links next time you're shopping for sex toys. It makes no difference in cost to you, but brings me a commission and helps keep this website running!