10 travel-friendly sex toys that discreetly fit in a sunglasses case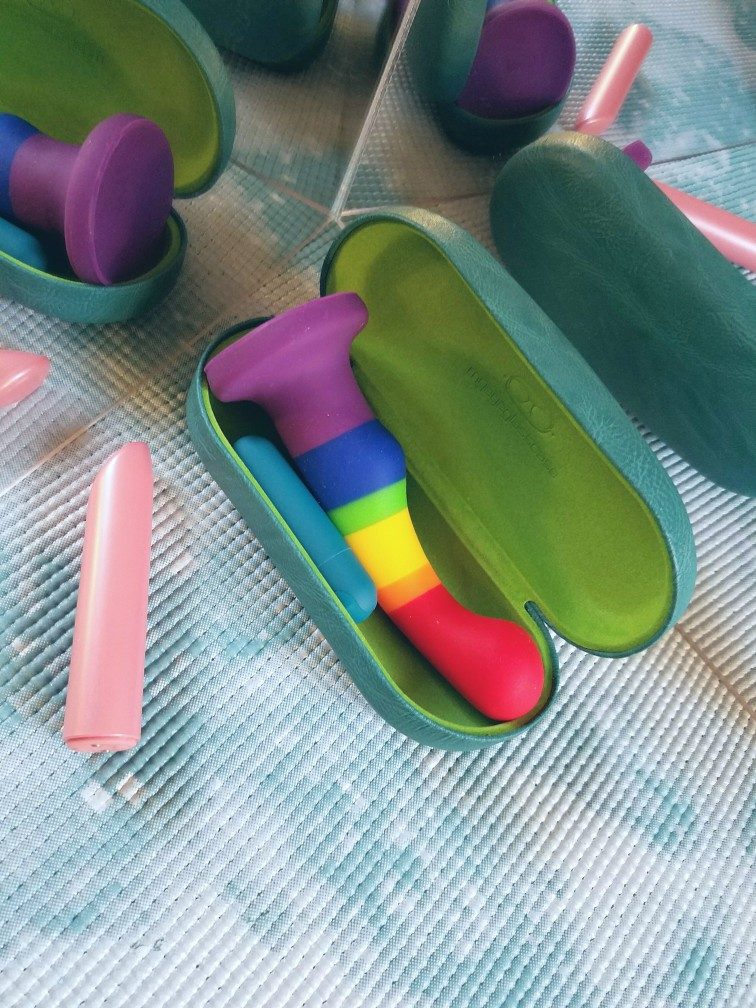 As much as I love my gigantic dildos, they're not the most practical toys to take with me when I'm on-the-go or visiting family. Sometimes, I have only a backpack to fit my belongings in for the week.
A bulky VixSkin Outlaw isn't easy to hide in the off-chance that my parents snoop through my stuff. I know: I'm an adult, and that shouldn't be happening. But it does happen. My mom is neurotic, and that's the reality on the occasions where I visit her.
This list includes G-spot toys and external toys, all petite enough to fit inside my case meant for big sunglasses. The case physically protects them, conceals them, and makes them relatively uninteresting to people snooping. Plus, it's easy to bury in the rest of my stuff.
Travel-friendly clit toys
Bullets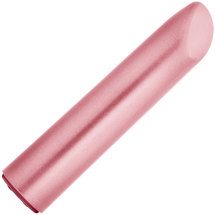 External clitoral bullet vibrators are especially easy-to-hide because they're so tiny. That doesn't mean you have to sacrifice power, though. The Blush Novelties Exposed Nocturnal bullet is 0.9″ wide and 4″ long, but it's powerful enough for me to use through underwear and a pantiliner. It's not the rumbliest or most quiet bullet, but it does offer near-Hitachi-level power in a small, pinpoint package. And it's waterproof, so I can use it in the shower to drown out the loud vibrations.
Some other vibrators to consider are the Maia Jessi and VeDO Bam. Both offer strong vibrations for their price-point. Plus, they come in green hues not often seen in sex toys. It's worth noting, though, that the VeDO Bam (not to be confused with the mosquito-like Bam Mini), is on the fence between buzzy and rumbly, but very powerful.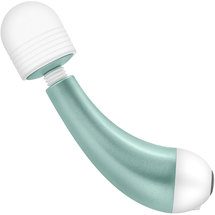 Mini-wand
Maybe none of these bullets appeal to you because your clitoris prefers broad stimulation. In that case, the Noje W3 mini-wand packs a punch without the bulk of the Hitachi. The highest speed on the Noje wand is a bit more powerful than the Magic Wand Rechargeable's first speed. That makes it way less powerful than the Magic Wand Original's first speed, but VERY nice for such a tiny wand. It also has no cord because it's USB-rechargeable, making it convenient for on-the-go usage.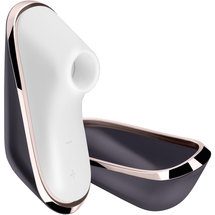 Clit suction
Finally, if you're looking for something more unique in a small package, consider a Satisfyer Pro Traveler. Instead of conventional vibrations, it offers pressure pulses that alternate between lightly sucking and blowing. It's basically like forming a seal around your clitoris and making the air in the enclosed space vibrate. If you like having your clit sucked or having air blown on it during oral, you'll probably enjoy the pressure wave technology.
Travel-friendly insertable toys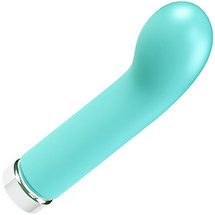 But what if you don't want to limit yourself to external toys? Depending on how shallow your G-spot is, a curved mini-vibe might be enough.
G-spot mini-vibes
The 3.75″ long Sensuelle Baelii and 4.7″ long VeDO Gee Plus are both bent at the tip for G-spot aiming but have very different shapes. Sensuelle's Baelii offers more pinpoint vibrations for your internal clitoris. And VeDO's Gee Plus is also slim but more bulbous, for locking in behind the pubic bone.
Dildos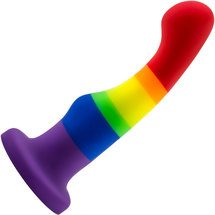 The Blush Avant Pride P1 (and its identically shaped sibling, the P2) is a bit bigger but still dainty and flexible enough to curl up inside the sunglasses case. Though they won't deliver much G-spot pressure, they offer something to clench around, and the bump towards the bottom of the shaft stimulates the vaginal entrance. Depending on how low my cervix is at the time of the month, the Pride P1's 5.5″ insertable length can sometimes slide behind my cervix to massage it. And if you PREFER small and flexible toys, the Avant Pride P1 and P2 might be the dildo for you.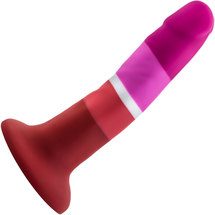 Another affordable, compact dildo that the Avant Pride line offers is the Avant Pride P3. It's 5″ long total, 1.25″ wide, and decorated with gorgeous red, white, and pink stripes. Interestingly, despite being a representational dildo with lesbian pride flag colors, it was the fastest to sell out in the Pride line. Its shape, size, and flexibility also make it a comfortable basic to clench around while using an external vibrator.
Conclusion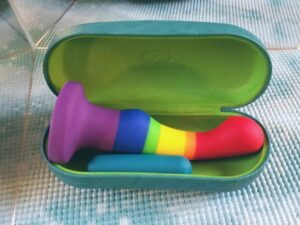 Not everybody lives with sex-positive housemates or has a closet they can dedicate to their sex toys. Your living circumstances might make it impractical to have, say, a $200 fucking machine, and I understand that. I've been there before. It's possible to hide toys among piles of clothes, behind books on a shelf, in a locked toolbox under the bed, and so on.
However, if the situation is temporary, nothing gives me more peace of mind about my toys than putting most of my collection in a storage unit rental. Just the bare essentials stay in a discreet and portable container I can keep an eye on. That's enough for me if it means the rest of my sex toys are safe.
---
Thank you to Indigo Honey for sponsoring this post! Indigo Honey is a ciswoman-focused shop that mostly sells body-safe solo toys.