Review: b-Vibe Anal Training & Education plug kit
Butt stuff is one of the great equalizers— everyone has a butt.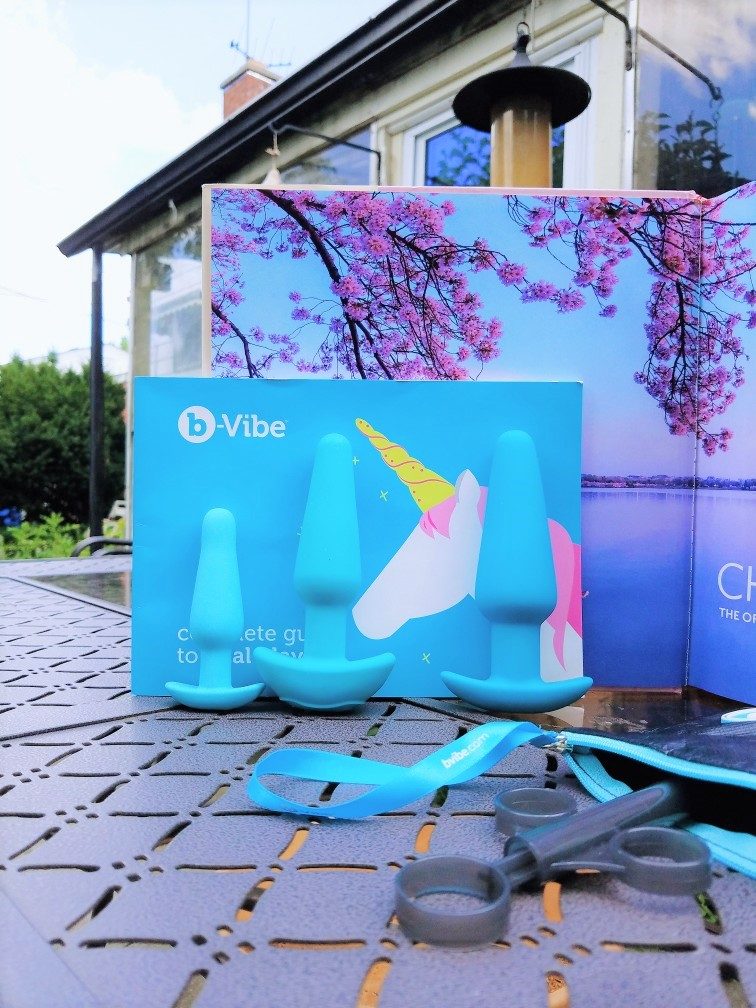 But I didn't write a guide to it for so long because the folx at b-Vibe can (and do) present anal play far more cohesively and with more justice than I would.
Indeed, b-Vibe's new Anal Training & Education Set exemplifies their mission. It puts together almost everything you'd need to start exploring butt stuff. A unicorn in their signature art style greets you when you open the box, which contains:
The three plugs in this kit each offer something different, but they have some features in common:
(Narrow butt plug bases make sense, fitting comfortably between the cheeks for long term wear. To hell with the round ones.)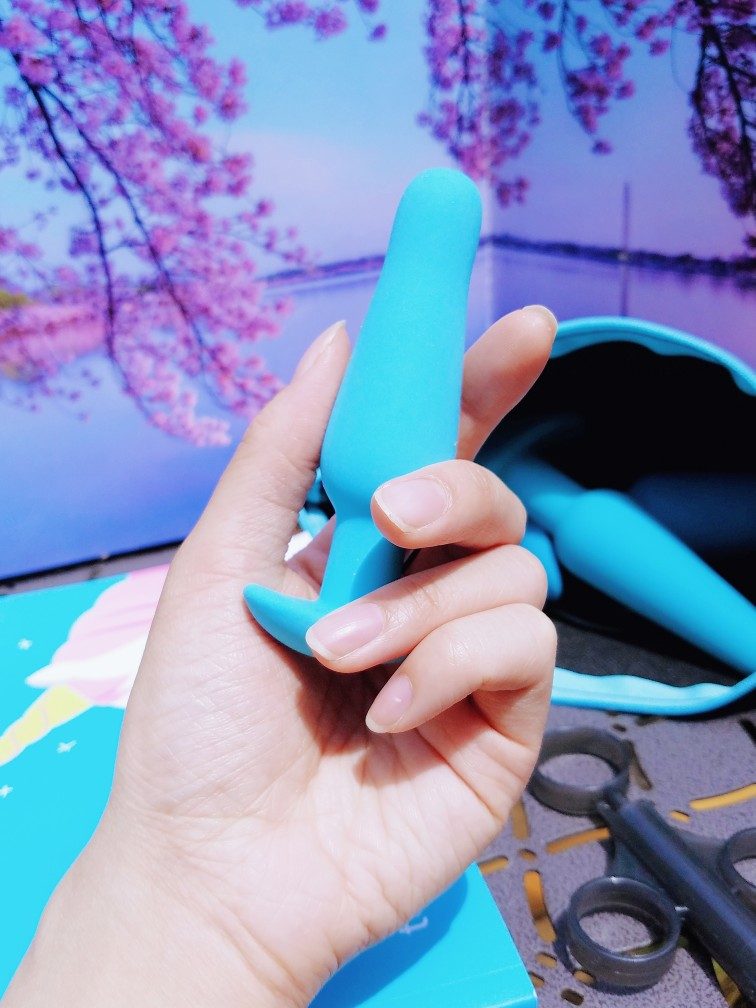 My butthole is once again a plug plebeian. As such, my favorite toy in this kit is the smallest one, about a finger and a half wide. Its gentle taper makes it practically perfect for butt beginners. And the medium one's motor? Like with the b-Vibe Rimming Plug's, my clit would merely find the vibrations acceptable. However, for a plug, it's powerful and especially enjoyable for G-spot/prostate stimulation on pattern settings. Equally importantly, the vibration pitch is pleasantly on the low side for helping relax the sphincters.
Similar to the b-Vibe Snug Plug's weight, the metal balls inside the biggest plug jiggle for added sensation when you move. There's more silicone dampening it, though, so the tapping sensation is less discernible. At 180g, it weighs somewhere between the small and medium njoy Pure Plugs. But at its broadest cross-section, it's 1.6″, slightly fatter than the large njoy Pure Plug. Its neck is also 1″ wide, not nearly as thin as the Pure Plugs' and Snug Plugs'.
If you're already comfortable with the smaller two plugs in the kit, then the size and shape of the large one are suitable for preparing for anal intercourse. Personally, though, I seldom do butt stuff nowadays, so this plug is a bit big for me to wear comfortably. As the booklet advises, think of anal play as a continuous journey. Don't rush it, and don't think of the process as a one-time thing.
How complete is b-Vibe's anal play guide?
Think of the guide booklet as distilling sex experts' years of experience with butt stuff into 50 pages. You could find all the information scattered online by yourself, but the b-Vibe butt booklet puts it all in one place and saves you so much time.
Education and mental preparation
It doesn't start by telling you to use fingers (though that's not bad advice). No, it emphasizes the psychological aspects first and foremost: discussing desires with your partner, your state of mind, breathing and relaxation, and so on. There are also sections in this book that discuss the stigma surrounding butt stuff (e.g., taking a subservient and unmanly role or being a slutty and dirty woman). Trepidation towards anal play often isn't just about fear of pain, but also vulnerability— it makes sense to start by talking about mindset.
The booklet is also highly inclusive when talking about the anatomy involved. What makes anal play pleasurable for people with prostates is a bit different for people with A-spots and internal clitoral legs. As always, there's a "your mileage may vary" note: taking hormones for transitioning can affect your sensitivity.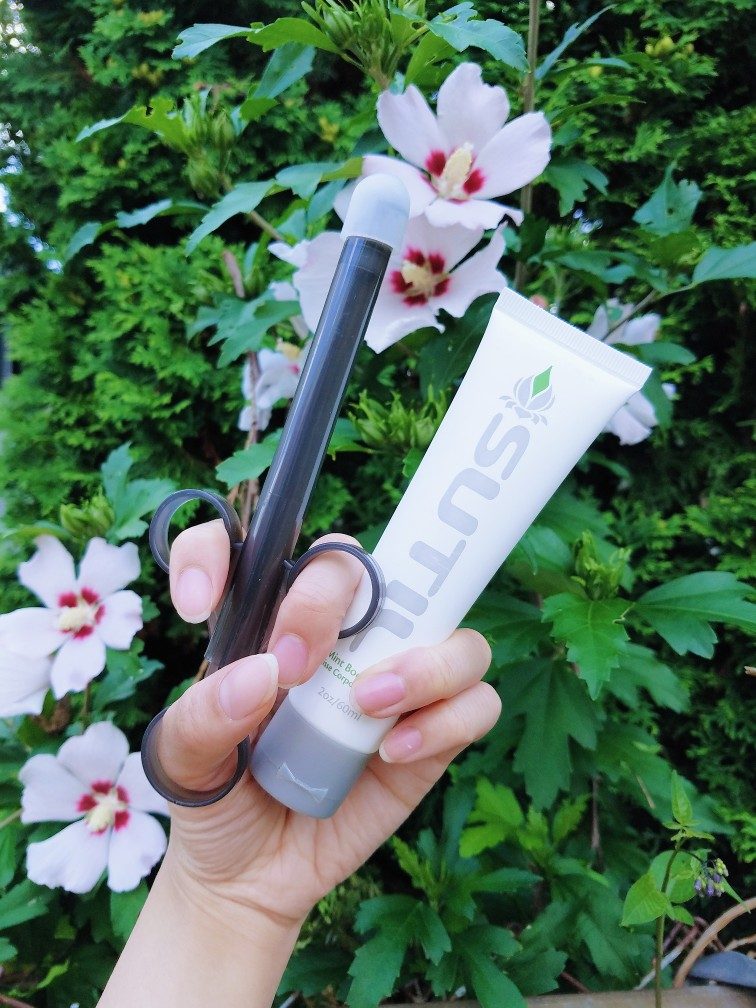 Anal training, partner play, and beyond
And even if someone is comfortable with receiving anal, they might prefer or need to incorporate other forms of stimulation to enjoy it. There's a section on combining genital and anal play, followed by (of course) the best positions for anal sex, complete with diagrams.
The booklet then closes with some golden rules for aftercare. Anal sex involves so much taboo and vulnerability, so checking in and expressing appreciation goes a long way.
If you've already tried a finger or two and are certain you want to take your anal exploration to the next level, this is the kit for you. The butt plugs are just the right shape and size for training and retraining, with each bringing something different to the table. Everything about this kit is high quality, from the materials to the vibrations, to the information, to the packaging and presentation.
Other kits to consider for anal training and exploring butt stuff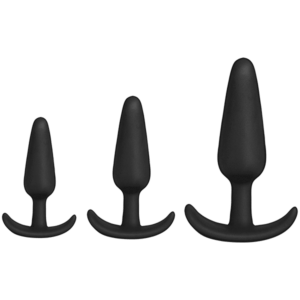 If you're super new to anal play and aren't sure about investing in a kit this comprehensive, I get it. Here are some others to check out, to get you started:
You can take 10% off any of these kits (or anything else) at Peepshow Toys with coupon code SUPERSMASHCACHE
As well, the b-Vibe Anal Training & Education Set/plug kit includes 2-day FedEx shipping to anywhere in the US for just $6 more. Find other products that qualify for fast shipping here.
---
Disclaimer
I received the b-Vibe Anal Training & Education Set/plug kit in exchange for my freely given and honest review. This post also contains affiliate links, which bring me a commission at no extra cost to you. Thanks in advance for supporting my blog!