6 Reasons Chastity Cock Cages Can Be Hot
Chastity play and cock cages may seem brutal and otherworldly to the vanillas. "Do people ACTUALLY get turned on by that?" one might think.
But the kink is more common than people realize.
Just like anyone you walk past could be wearing a panty vibe or butt plug, a person with a penis could be wearing a cock cage under their clothes.
Let's dive into reasons why someone with a penis might enjoy chastity play.
CONTENT NOTE:
This post discusses tease and denial, humiliation kink, ownership kink, and gender play. Some readers may find it triggering.
---
1

Chastity is the ultimate tease and denial

It's no secret that getting a boner while wearing a cock cage is restricting and painful. The penis doesn't have room to engorge fully, while the scrotum gets squeezed. The wearer can't stay hard without pain or stroke their cock, much.

It's not "just" a denial of release (though that can be powerful, too)! Such an experience can also mean an adrenaline rush or even a renewed New Relationship Energy.

A man I know who enjoys caging compared the experience to an airplane taking off. It's physically disorienting and ungrounding, like the wearer is losing control.

They're at the keyholder's mercy. Cue my cackling and taunting in a faux-excited voice.
---
2

The cage can occupy the wearer's mind all day

Though not everyone can or should have one on in the long-term, it's an option! Having a cock cage on affects how so many daily activities feel:
Choosing what clothes to wear
Walking and running
Sleeping — dicks go hard and soft at night
My boyfriend said a wearing a cock cage feels weirdly like being naked since his underwear isn't directly touching his penis.
We also can't ignore that unexpected boners happen sometimes. I enjoy reading my internet sub's neurotic ramblings about how inescapable his cock cage is.
---
3

Or it can be part of disciplining and punishing your partner

Let your partner earn their orgasms if that's what you both enjoy. Their cock is useless to you until they can prove to you how good they are. Your affection is the greatest gift to them — the least they could do is offer you the world by proving their love and devotion.

See, I don't care for playing games in "real-life" dating. However, pairing good communication with a consensual kink in a controlled environment is a beautiful thing.
CN: chastity, conditioning

Kate gave me a phrase to repeat when I wake up hard in my cage and need to get back to sleep (like right now) to serve as a reminder of my commitment to her and to this.

"Love and devotion is hard but worth it." ?

— Super Sleepy (@supersleepyenby) August 30, 2020
---
4

Or it can be a play on ownership kink

That brings me to my next point: chastity play can be an extension of Dominant/submissive ownership.
Being the keyholder for a cock cage more explicitly states:
I own all your orgasms.
You're only allowed to be with me.
You've sworn your loyalty.
It's like collaring someone, but potentially more extreme or less public. The realm of possibility includes collaring someone only in private or exhibiting the cage in open play spaces.
---
5

Cock cages can be degrading to one's masculinity
(Or reaffirming to trans and nonbinary people with penises!)
The cock bondage can limit a cis dude of his masculine self-affirmation.
He can't get hard or experience his dick at its biggest, after all.
Psychologically, there are many reasons why a man might find the feminization/sissification spectrum appealing. One example is that perhaps he's proud of his masculine public image, but wants to take a mental break from the obligation of keeping it up.
Kink can be someone's way of processing the limitations of their social role, but in a controlled environment with one (or a few) trusted partners.
On the flip side, a person with a penis might not identify as a man. In that case, things like peeing while sitting down or not getting a big boner can be affirming to their gender identity.
---
6

Chastity kink can play into mental humiliation

Any of the four above points can culminate in the taboo of not only accepting cock caging but also enjoying it. Some guys like the kink of being degraded and reminded of the losers they are.

What might it mean about their status and self-respect? They're suffering for a vague reason: just because it's their role to be secondary to someone else. That could be their partner, or it could be a satisfied, self-possessed bull jacking off over the cuck's caged cock. Not allowed to come, but merely serving as a human cum rag for another guy's load.
---
Wrapping it up!
There's a range of reasons why someone would enjoy chastity play. Likewise, there are just as many ways to execute it, from "just for fun" to a more extreme 24/7 lifestyle.
That orgasm was about as strong as 5 orgasms combined. I'm dead. ?

— Super Sleepy (@supersleepyenby) September 3, 2020
---
Further resources on cock cages & chastity play
The Dildorks podcast
This podcast has a fantastic episode on cock cages and chastity play, so I suggest listening to that.
Super Sleepy, the guest host, talked about:
Their experience with it
How that compared to their expectations
Getting comfy and easing into the experience
What urologists have told them about the health risks
Unexpected perks of wearing a cock cage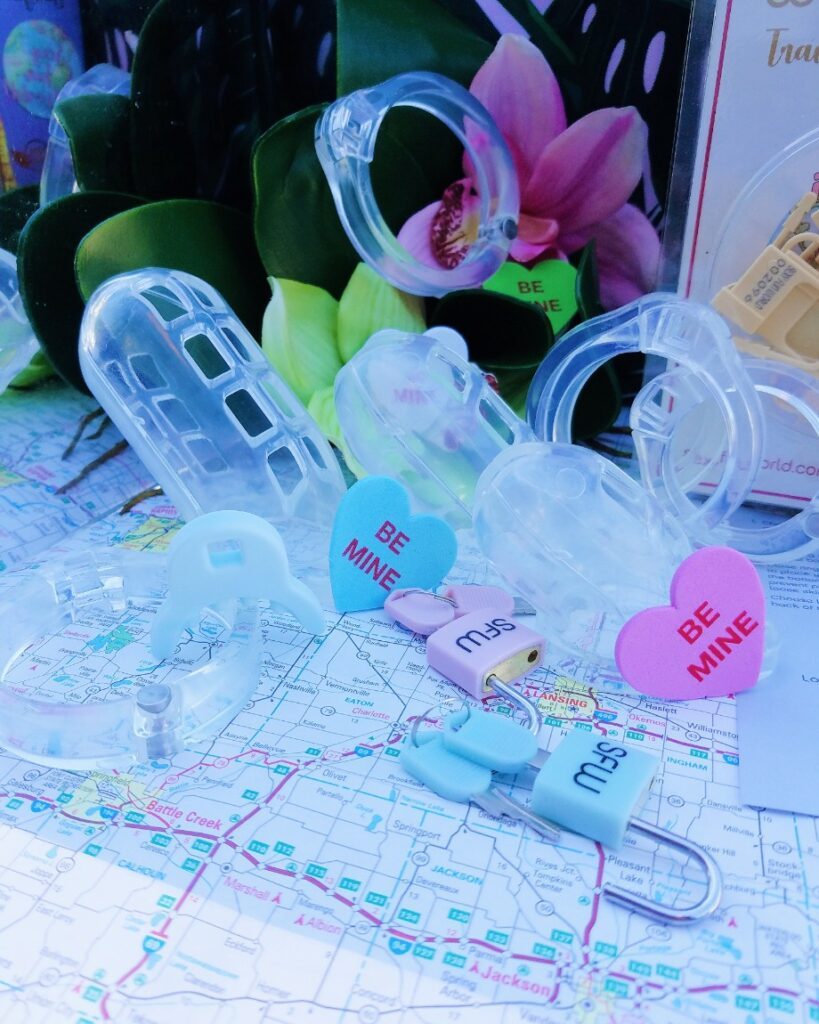 You can also read Super Sleepy's Twitter thread logging their pent-up feels throughout the journey.
Sexy Fun World shop
If the kink appeals to you, Sexy Fun World is the place to get cock cages. The World Cage is simple, easy-to-use, available in a variety of sizes, and body-safe. SFW also stocks the CB-6000, the super well-known cock cage that Super Sleepy mentioned in the podcast episode.
Discourse about toxic toys for penises is less common since it's assumed that they're less delicate than vaginas. However, health and material safety matter when anything comes into contact with mucous membranes — including cocks.
Thank you to Sexy Fun World for sponsoring this post!