Review: Zeus Twilight Violet Wand & Cal Ex Impulse Petite
Turn me on with your electric feel.
I'm no stranger to electrostimulation, but today, we're exploring THREE MORE electrokink sex toys:
The Zeus Twilight Violet Wand by XR Brands
Cal Exotics' Impulse Petite Electrostimulator Wand
Cal Exotics' Impulse Petite G-Spot E-Stim Wand
The Violet Wand electrostimulation device is for external play with interchangeable glass electrodes and accessories, while the Impulse line features insertables that deliver shocks to the pelvic floor — coercing them to contract, effectively inducing exercise of the Kegel muscles.
If you're experiencing déjà vu, there's a good reason.
I've reviewed the Neon Wand by Kinklab before, which is A LOT like the Zeus Twilight Violet Wand. And the Cal Exotics Impulse Petite intimate e-stim vibrator is yet another blast from the past. I incorporated some sick burns in my review of the bigger Impulse vibrator and mentioned that I'd enjoy the petite versions a lot more. Almost two years later, I put that hypothesis to the test.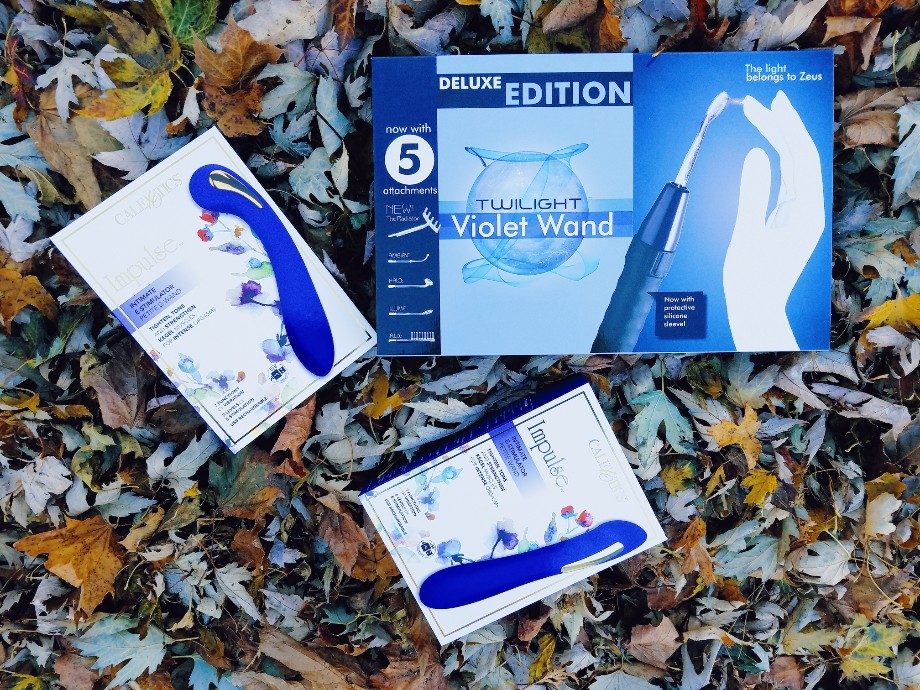 Consider this beginner electrostimulation toy list a follow-up on thoughts I previously expressed.
Let's get started!
---
Zeus Twilight Violet Wand by XR Brands
The Zeus Twilight Violet Wand (along with the Kinklab Neon Wand) delivers small, controlled shocks — the attachments arc near skin or metal or anything conductive.
1

How does the Zeus Twilight Violet Wand feel in use?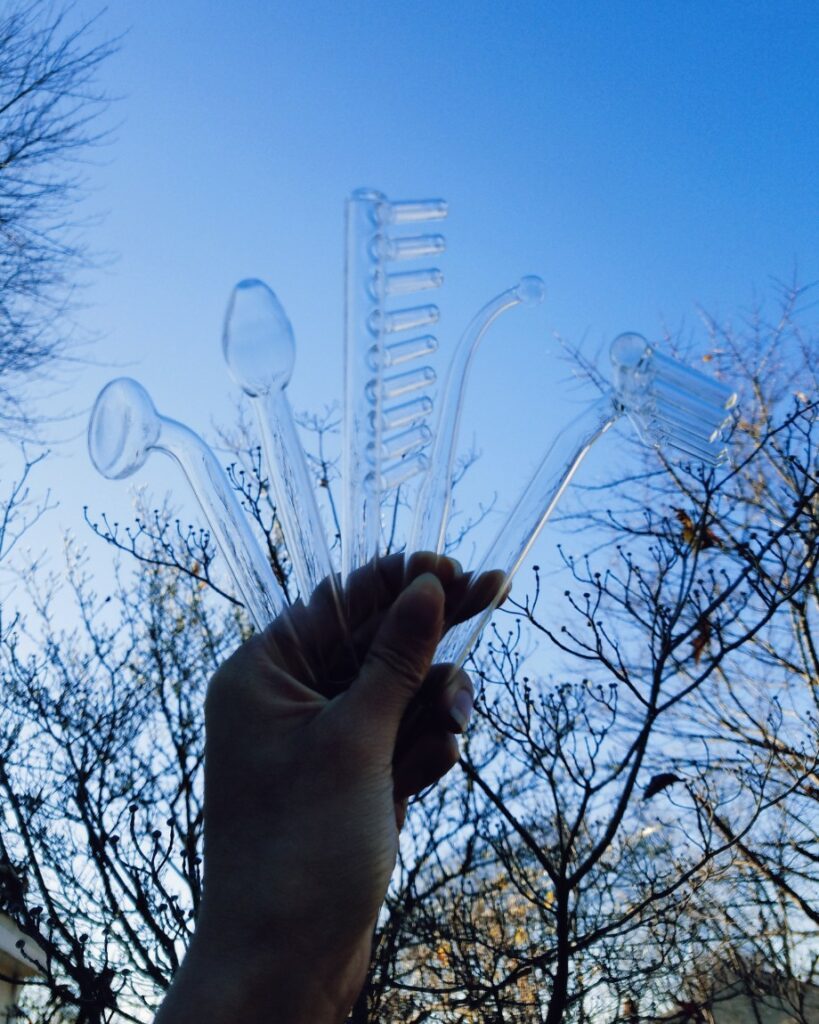 While the violet wand is the electrical transformer that maintains a safely low current, the exact sensation depends a lot on what attachments and techniques you're using.
They can feel subtle, like sparkling water, or torturous. Some included electrodes, like the mushroom, offer a diffuse sensation, while the narrow one feels more prickly and tattoo-like.
2

Why are violet wands called that?

These gadgets are called violet wands because the glass electrodes are often filled with argon gas, which glows a beautiful purple when a current passes through.

(Meanwhile, there are also Neon Wands filled with — you guessed it — neon, which glows red.)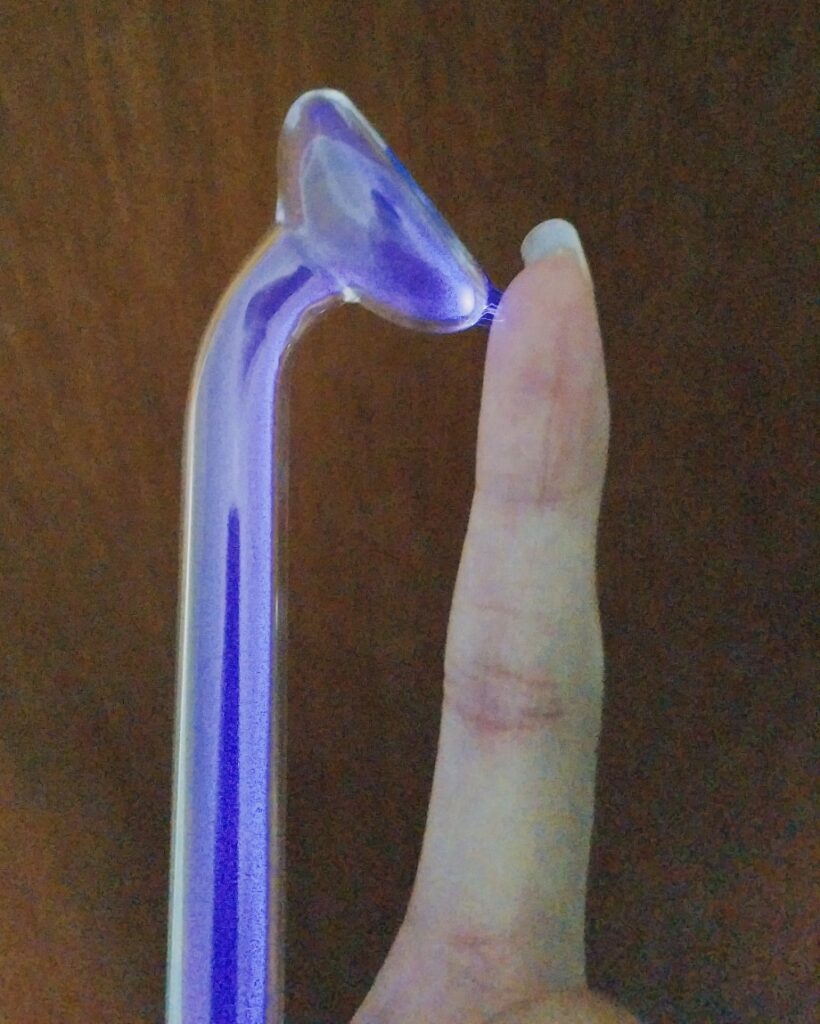 3

"Wait, isn't that a beauty device for stimulating skin and zapping zits?"

One of my Instagram followers asked that. And the short answer is yes, the Zeus Twilight Violet Wand and Kinklab Neon Wand are essentially esthetician tools rebranded for kinky sensations.

These solid-state violet wands are less powerful than and ofter a fraction of the range of traditional Tesla-style violet wands with coils.

For a frame of reference, there are more powerful violet wands out there that you can turn WAAAAYYY up to use for fire play and branding. That's beyond my realm of experience, though, since they tend to be more expensive. I've felt a Tesla violet wand but never operated one myself.
4

How can I maximize my electronic violet wand's versatility?

There are accessories you can add to intensify violet wand play, like a body contact attachment. Personally, I use the Kinklab Power Tripper. It turns the wearer into an electrode, allowing them to shock play partners with their bare hands — or tongue or cock or lips. Use your palm for a light tingle or fingertips for a more needle-like feel.

Follow your dreams and be a Pikachu at parties. Hold hands with people and play Red Rover — everyone in the contact chain can shock others around them.

Or hold metal rug beaters, knives, pom-poms, etc. in your hand while the contact plate is against you, and let your implements concentrate or spread out the electricity. as you please.
5

What's the best violet wand for beginners?

Unless you KNOW that you're going to LOVE everything to do with kinky electrosex, get an electronic model like the Zeus Twilight or Kinklab Neon Wand to start. They're a joltingly jovial addition to the layperson's toybox for partner play.

You'll get A LITTLE more power with the Kinklab Neon Wand than the Zeus Twilight Violet Wand — but not much. Try either one. And if the included glass electrodes feel mild to you, upgrade with the Kinklab Power Tripper attachment.

Those looking to get THE MOST power out of their violet wands should consider traditional mini Tesla coil-type models. For those who are mostly vanilla and adding a handful of sprinkles? The Zeus Twilight Violet Wand is more than enough, even for me.
---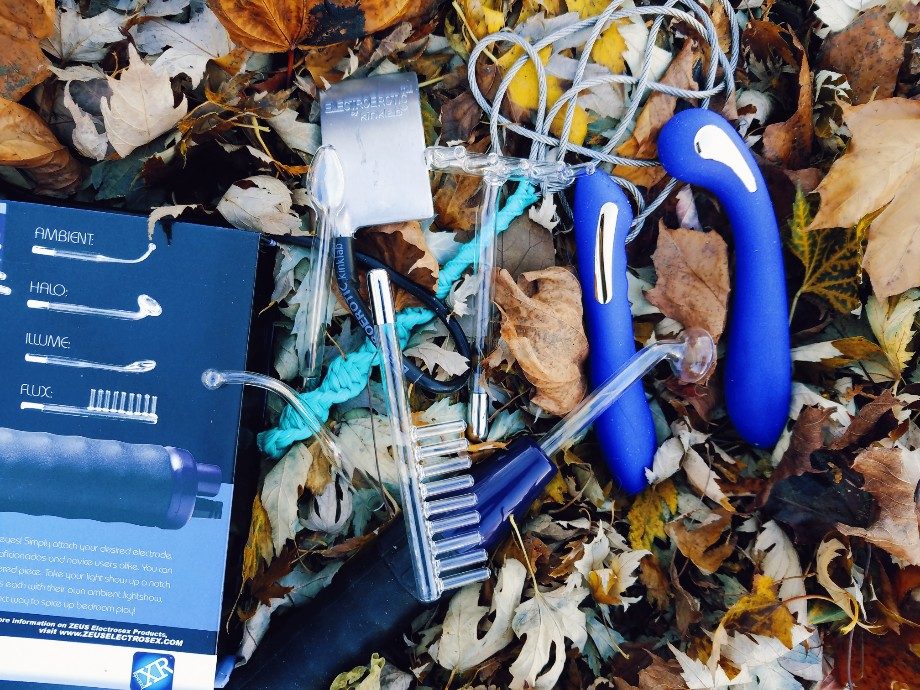 ---
Impulse Intimate E-Stim Vibrators (Petite & Petite G editions!)
Unlike the Violet Wand, the Impulse electro-stimulators are explicitly for internal stimulation — more specifically, to make the pelvic floor muscles clench.
Such a device gives off deep, pinprick-like sensations, which can be fun, but it's also useful for people struggling to do Kegel exercises properly. (Vaginal weightlifting isn't for everybody, you know!)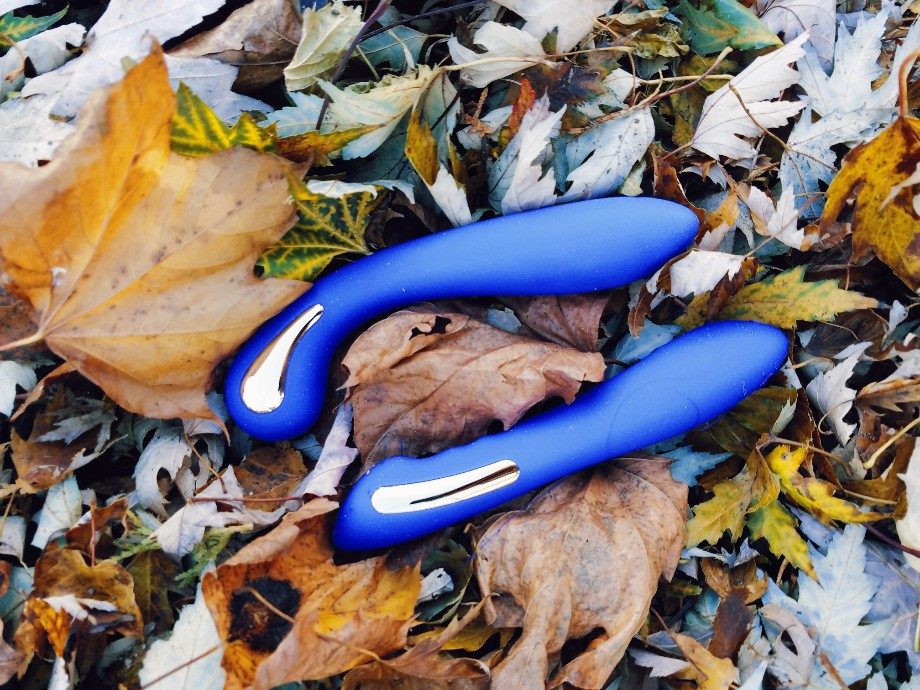 If you haven't already read my review of the bigger Impulse Intimate Electrostimulation vibrator, I highly recommend it. It includes safety tips and scathing sneers, like:
With firmer silicone, this vibrator and my G-spot could have been friends. Instead, it's like the fuccboi who only responds to you if he initiated the conversation.
Luckily, The Vibed shop was kind enough to send me electrostimulation vibrators with the same technology in a different shape.
Petite & Petite G E-stimulation vibrator shape
Impulse Petite G Wand
The Impulse Petite G E-Stim vibe features a smaller but more rounded head for — as the name suggests — G-spot stimulation. And the neck shaft is flexible, but not too much.
The tip effortlessly nestles along with my pubic bone's dip. Thrust it or swivel it; I can aim pressure with ease, whatever motion I'm doing. In addition, I can use it as a dildo to go in deeper against my A-spot. Fuck yeah!
Impulse Petite straight shaft
The other Impulse Petite E-Stimulation Wand, in contrast, has a flat head, firm neck, and ridges near the tip, suitable for shallower front wall massage. It's not intuitive for users who don't already know their anatomy well; it won't find your G-spot for you. However, I'm generally a fan of firm pressure and light texture; I appreciate how easy it is to tilt the rigid shaft.
Cal Exotics Impulse vibration quality in use
The California Exotics Impulse Electrostimulation wands are delicious as dildos, but lack vroom as vibrators. They're definitely on the buzzy side. I'll quote my older Impulse E-Stimulation Vibrator review:
… neither amazing nor amazingly dreadful. Enough to come, but surface-level and needing a high pitch to compensate for the lack of amplitude on the fastest of the three speed settings.
But you're not reading this review because you want just any dildo or insertable vibrator. You want electrostimulation.
What makes the Petite & Petite G models better
I can indubitably confirm that the Petite Impulse E-Stimulation Wands are way more useful than their big sibling, for two big reasons:
Either a short bulge or no bulge
Shorter electrostimulation plates
My vagina tended to suck in the bigger Impulse Wand's steadily swelling tip so that the tightest part closed up around the toy's narrow neck. When that happened, the shocking plates went in deeper and made my cervix twitch. At least, that's what it felt like. And I hated it so much for that.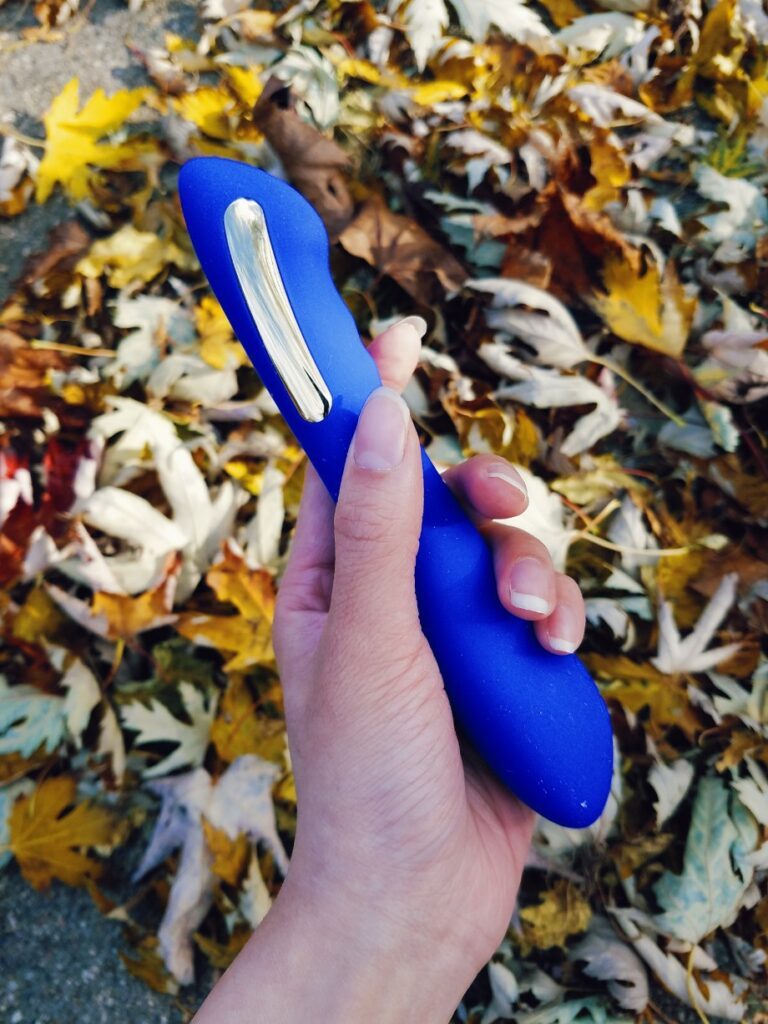 How do the Cal Exotics Impulse Petite and Petite G E-Stim Wands feel?
The petite Impulse wands' electrical sensations are still very much intense, but at least I can easily keep steady a smaller inserted section. Think of how TV static noise looks, and imagine how that would feel. It's kind of like that. Or effervescent champagne bubbles.
It's oddly pleasurable when the toy's closer to the mouth of my vagina and slightly rotated. And again, the sensation is sweetly severe for masochists but manageable. When the Impulse Petite G Wand is in the right spot, I can orgasm via the vaginal shocking alone, and I can comfortably turn the intensity all the way up.
And there are five levels of electrostimulation to explore. And it's affordable for what it is.
Did the petite models flip my views on the California Exotics Impulse vibrators?
The smaller Impulse toys are intense, but not overwhelming, and they cost less than the one I tried before. That should be the case when designing a beginner E-stim toy.
I still prefer the wider intensity range of the MyStim self-contained E-stim vibrators (Electric Eric, Sizzling Simon, Tickling Truman), but those are expeeennnsive! For the lower price of $50, the Impulse Intimate E-Stimulator Petite G Wand is a fair entry into the world of electrokink.
---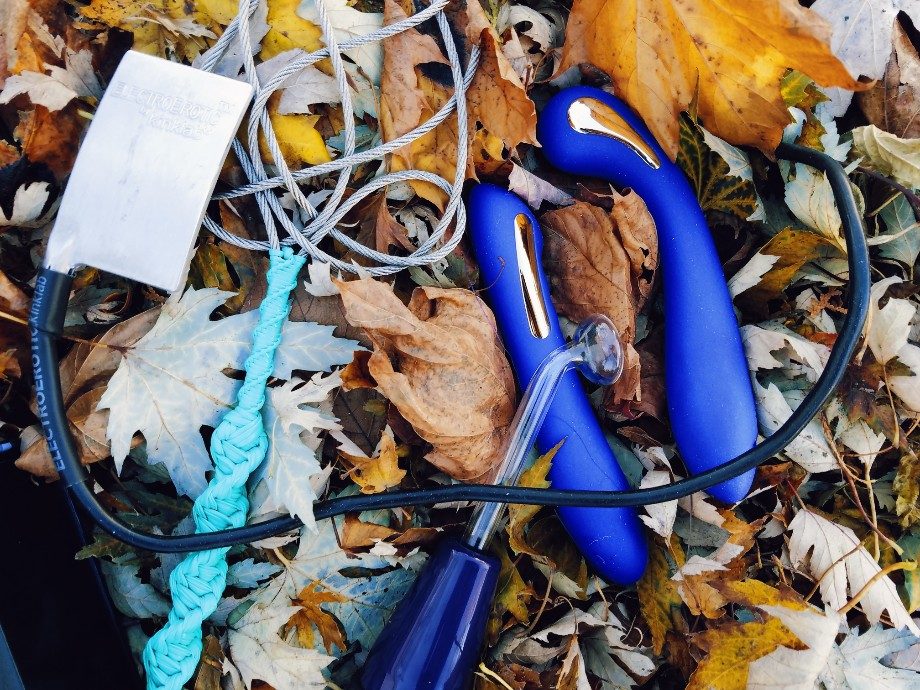 ---
Closing thoughts on the Zeus Twilight Violet Wand and Cal Exotics Impulse Intimate E-Stimulator Petite G Wand
Both of these electrostimulator kink toys offer a lovely and respectable range of sensations for the price. That's doubly true if you get the Power Tripper attachment to pair with the Violet Wand. Let your imagination run wild with all the metal pretties — perhaps a vintage cake knife or thick wire rug beater.
(Just make sure to maintain common sense!)
Don't use electrostimulation toys in or near water
Don't use them if you have a pacemaker
Keep them away from flammable substances

Unless fire play is what you're going for

Use these toys in a well-ventilated area
---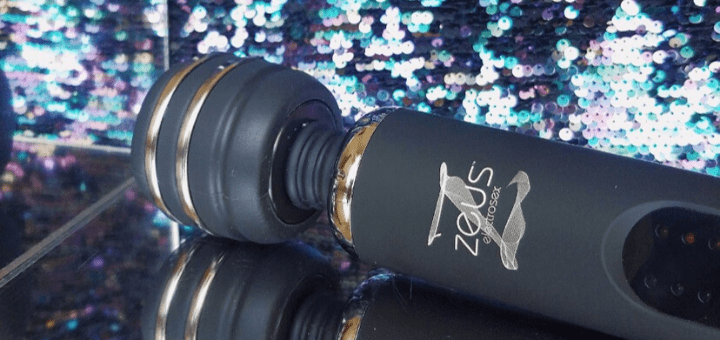 Other E-stimulation toys I've tried before: