Crystal Delights Crystal Twist review: spiral-shaped glass dildo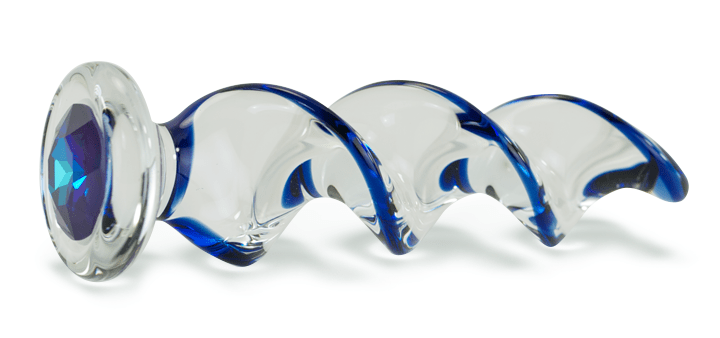 The Crystal Delights Crystal Twist stands proudly on display when I have friends over. I have no shame. Between its unorthodoxly sexy curves and iridescent gleam, it's not hard to tell why I flaunt it as one part trophy, part art piece, and part sex toy.
The Light Vitrail gem that came attached with mine features a pearly green reflective sheen over a pink undertone and yellow and aqua sparkles. "Jeweled base" doesn't even do justice to it, because that would lump it in with the cheap, flat-backed rhinestones typically used for princess plugs. No, this gem has dichroic facets and a base cut specifically for dimensional fire.
How does the screw shaft even work? It looks so uncomfortable!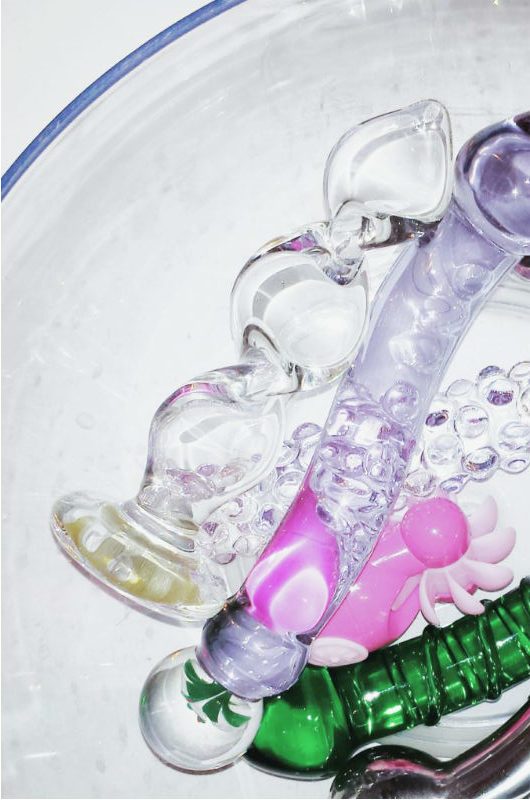 It's true: the Crystal Twist might seem a bit screwy to the inexperienced eye. It features a helix-shaped shaft that's designed to be twisted, not straight in and out. The glass slides at a diagonal against my G-spot in use.
The helix is designed so that the pubic bone is encapsulated in one of the concave dips between each twist, each spaced 2 inches apart, while the convex part pushes up just a bit past the pubic bone, to stimulate the internal clitoris. People with penises can use it for their prostates as well, but this review will focus on people with vaginas.
What does the Crystal Twist feel like when twisting?
When twisting, the sensation is distinctly internal clitoral. That's the best way I can describe how it feels to me.  Imagine wetting your fingertip and gliding it over the rim of a glass to make it resonate and ring.
Now imagine how that would feel, with a thick glass against your clitoral glans (or prostate). And imagine that internally: persistent diagonal internal clitoral sliding. That's how twisting the Crystal Twist feels.
And despite the uncomfortable appearance, the twisting is surprisingly foolproof, even during partner use. My ex-partner's actual words when using it were, "Wow, I have to twist it to thrust it back and forth. That's so crazy!"
I responded, "Well, you don't HAVE to thrust it. It's just that I'm grabbing on to it." Clenching amplifies the sensation, especially when I come. It adds to the easy buildability of the orgasm intensity. Even when it's stationary, I love clenching and feeling each swirl press against my PC muscles.
How does the Crystal Twist feel when thrusting?
"Wait… grab on to it." He tried to thrust without twisting. "Now let go." He pulled the Crystal Twist straight out while my vagina relaxed. "THAT'S. SO. CRAZY!'
Up until that point, it hadn't even occurred to me to try thrusting without twisting. When I experience the toy that way, the sensation is distinctly that of the ridges pulling against my urethral sponge and front wall on the way out. It's intense but, to my surprise, not uncomfortable at all. That's thanks to the combination of the smooth glass, the rounded contours, and the spacing between twists. As such, I can thrust with reckless abandon without the sensation overwhelming.
My verdict on the Crystal Delights Twist
If you love G-spot dildos, glass, and ripples, definitely consider getting this toy. Everything else about the Crystal Twist, though, screams "sensual luxe" and is well worth the $115 price tag. Crystal Delights is a company that produces lasting, quality toys that users will enjoy for decades down the road.
I would not recommend the Crystal Delights Crystal Twist to people who:
Have deep G-spots (more than 2 inches)
Need heavy, direct G-spot pressure
I would recommend it to those who enjoy:
Glass dildos
G-spot stimulation
Textured sex toys
Twisting motions
Get a Crystal Twist glass dildo from Crystal Delights.