Panam Palmer cosplay photos (Cyberpunk 2077) – Part 1
Because why wouldn't I want to be Night City's sassiest nomadic heartthrob?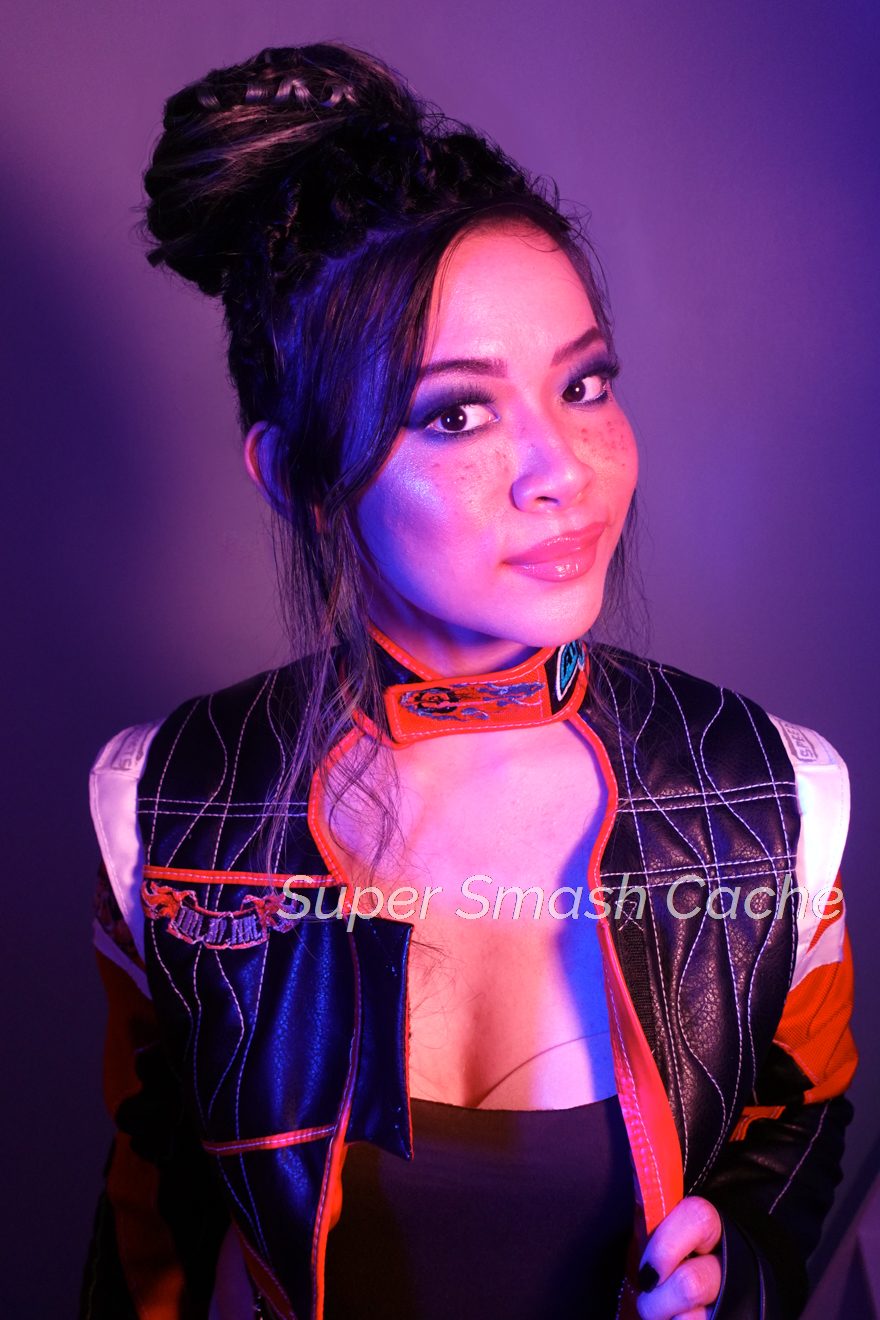 This Panam Palmer cosplay is probably my first somewhat serious attempt at costuming. I've dressed up for Halloween parties before, that was often last-minute, and I didn't go all-out.
This time, I felt the pressure to look amazing.
Here are the reference pictures: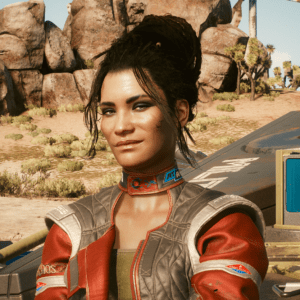 There's no end to how deep someone could fall into the rabbit hole of cosplay perfectionism — both in terms of character accuracy and beauty standards. There's always going to be some prick nitpicking at every little (perceived) imperfection.
I try not to lose my sleep over what people might think of my Panam Palmer cosplay photos, though. For one, the haters would hardly be above reproach themselves. But also, they're not the ones investing time and money into hairstyling, makeup, portrait photography, and (not least) the actual outfit.
(There are so many "hidden" costs to being a model. I'd know because I've worked as one in a variety of settings.)
Let's be honest, though: plenty of my friends and followers were excited just to see Panam's highly detailed jacket come to life.
---
Panam Palmer cosplay but make it 1997 in color aesthetic
The first time you meet Panam Palmer isn't when she's bent over, tinkering with a car engine. (Though that was memorable for many Cyberpunk 2077 players!)
You can see her talking to Nash in the Afterlife around the time you meet up with Dexter DeShawn. Also, when you go back to visit Rogue, Panam storms off and rants on the phone outside — presumably about Rogue Amendiares and Nash Bane.
As such, I made sure to get silly pictures in my Panam Palmer costume, grimacing at my phone, too. What's the point of cosplay if not to have fun with it?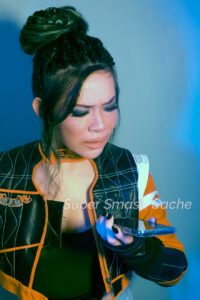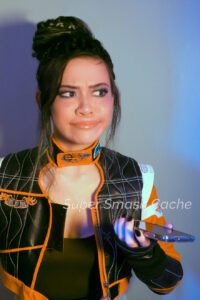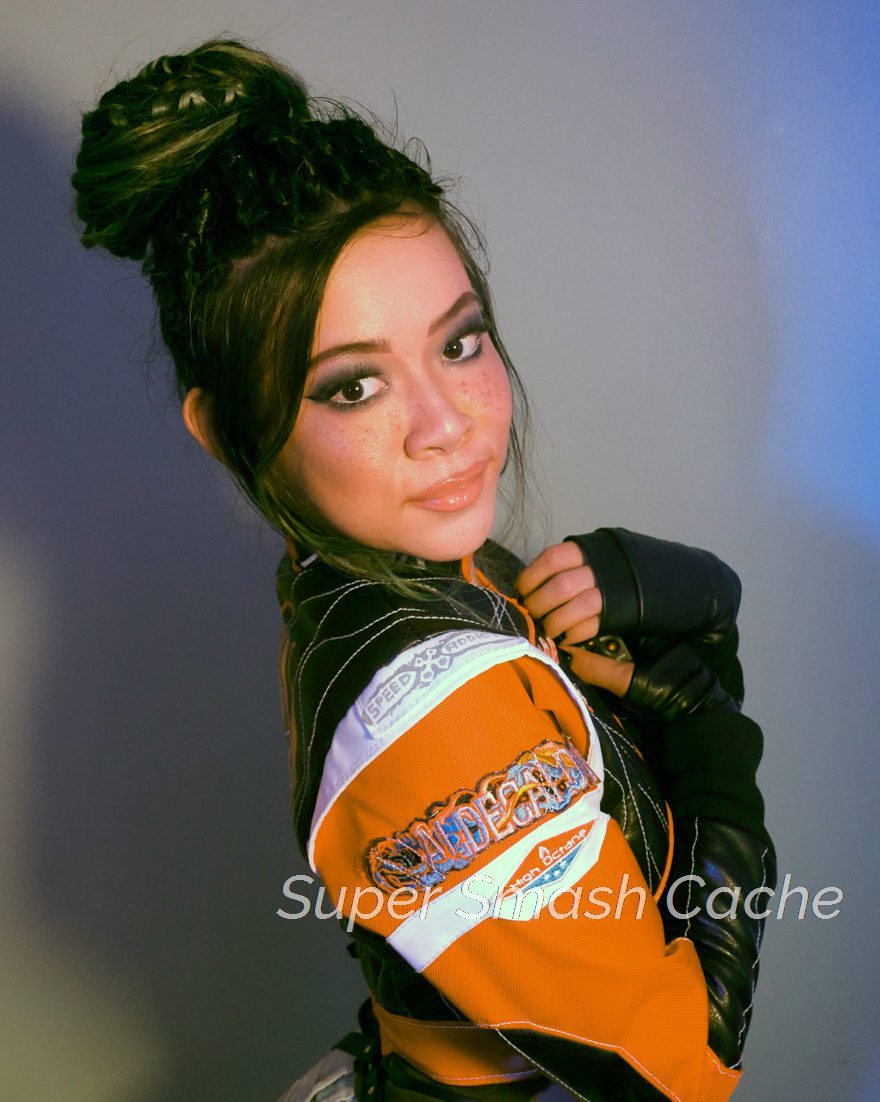 That being said, I still definitely do have perfectionistic tendencies — and there's room for improvement. (In one of the photos above, I didn't notice until after shooting that my leotard was crooked!)
---
Next Panam Palmer cosplay attempt: what I would do differently
I'm learning as I go, so here's what I learned "the hard way" about cosplaying Panam from Cyberpunk 2077.
1. Use a finer-toothed comb for neater hair sectioning
Frankly, I didn't do well at sectioning hair. But combs with finer teeth and smaller spacing in between are specialized for that purpose and can make the process go a lot more smoothly.
I also have a better idea of how to section hair after watching a time-lapse of someone installing wool faux locs. If I'm trying a hairstyle that's not optimal for my natural hair texture, I at least want to make it look decent!
2. Use a styling pomade for more control of stray hairs
Flyaways and frizz are a pain to photoshop out. Enough said.
3. Skip the white eyeliner on the waterline, or maybe use a more natural color
It does look like Panam's eyelid rims are quite light, but using white eyeliner on my waterline didn't quite suit me here.
It makes my eyes look rounder and more doe-like when I'm cosplaying a fox-eyed character. (My eyes are naturally quite squinty anyway.)
4. Not cut the leotard neckline as low
That's my bad. I mean, hey, I doubt many people will complain about a nude bra peeking through, but it'd be nice at least to have the option of more modesty without the jacket.
5. Other Panam Palmer cosplay makeup adjustments
These details are pretty subtle compared to the previous points, but they're easily incorporated:
Blend the fake freckles a bit better; use a lighter shade and give it a more consistent spread.
Higher arched eyebrows + eyebrow slit
Lighter, softer contour — especially if I'm in outdoor natural lighting
---
What's next?
These photos were just a test run!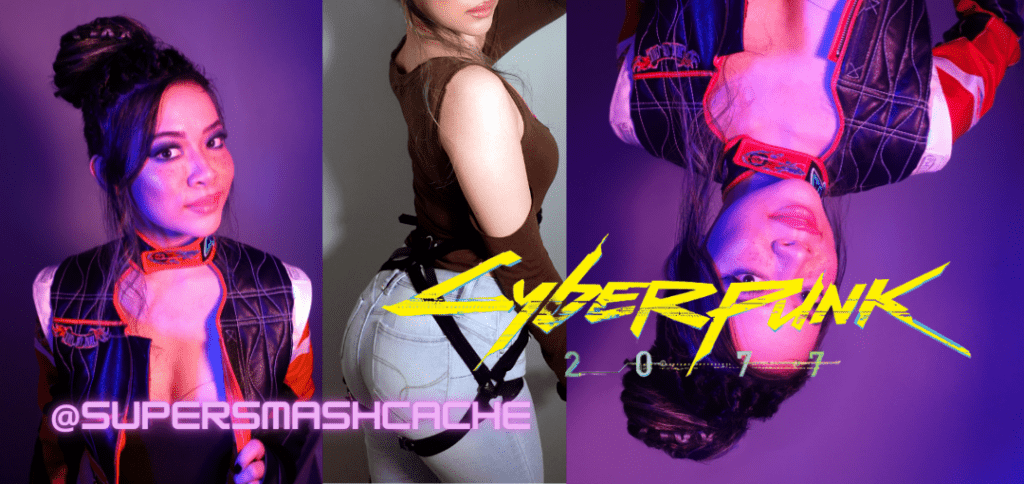 I intend to wear this Panam Palmer cosplay again in an environmental shoot — maybe outside among city buildings, maybe inside an abandoned industrial center with a friend.
(Yes, I totally could do it myself with a tripod, but I'm wary of the off chance that someone will steal my equipment while I'm standing a ways away!)
In the meantime, though, the jacket is beautiful enough to wear just as myself — picture-perfect makeup and lighting or not.
Want more like this?
Leave me a tip on Ko-Fi or Venmo me @supersmashcache
---
Find other bloggers' self-portraiture and more!