LetsGetChecked mail-in STI test kit review: Basic 3 (Chlamydia, Gonorrhea, & Trichomoniasis)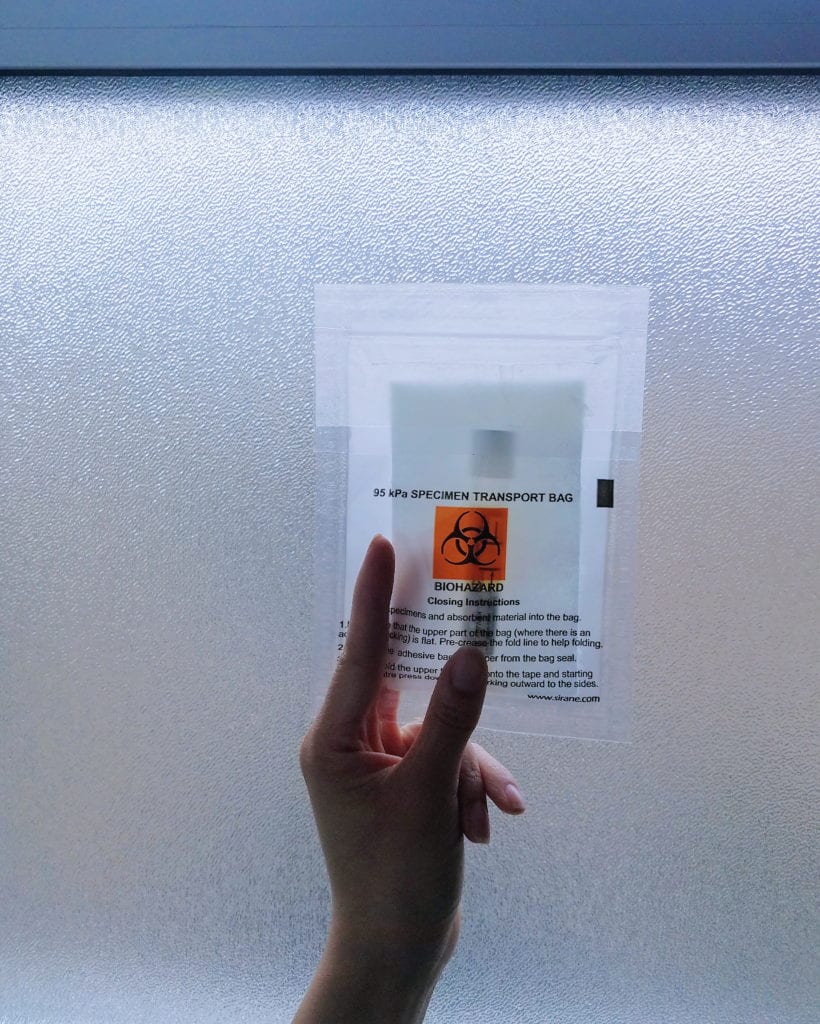 I was shocked the first time I saw a mail-in colon cancer test kit1 stocked at the drugstore— among many other kits, like food sensitivity, hormone balance, and STI testing.
It was the integration that struck me. The pieces had been there: zippy shipping, the digital delivery of information, and the lab techniques. Companies like LetsGetChecked put it all together into one streamlined process.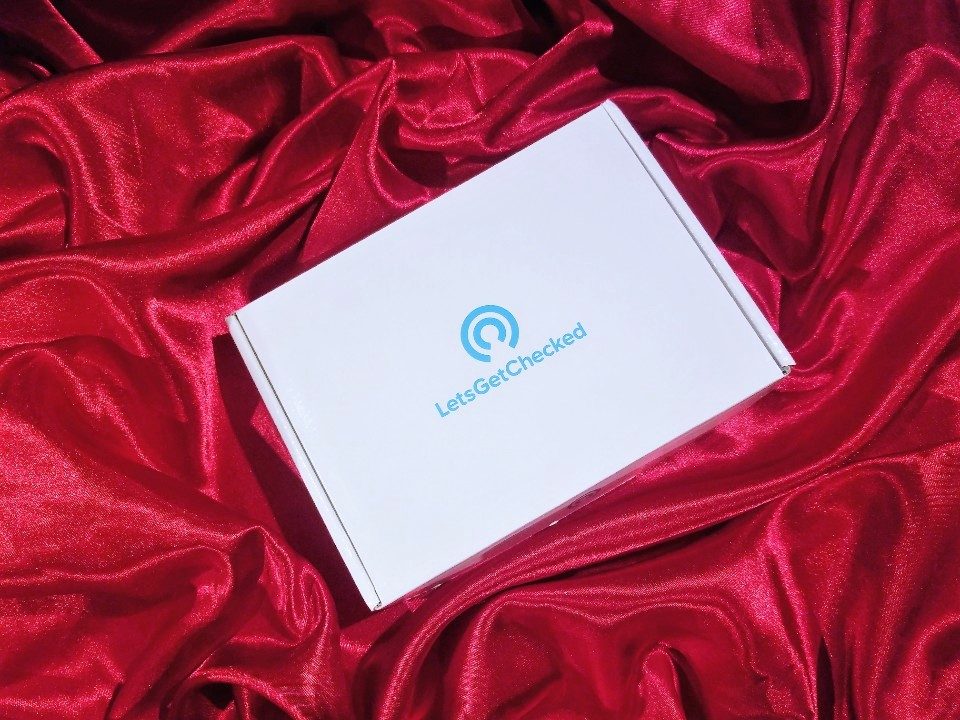 So when they reached out to me, offering one of their at-home STI tests for a review, I was excited. Of the options, I chose the Basic 3 mail-in test kit for chlamydia, gonorrhea, and trichomoniasis.
These STIs among the most common, they're often asymptomatic, and they can lead to severe reproductive system damage if left untreated. HSV and HPV are super common too, but relatively few strains cause issues.
Other LetsGetChecked STI test kit options
For more comprehensive screening, there's the Standard 5 and Complete 10 if you're in the US or Canada.
The Complete 10 includes:
Chlamydia
Gonorrhea
Trichomoniasis
HIV
Syphilis
Gardnerella
Mycoplasma
Ureaplasma
Herpes Simplex 1 & 2
If you're in the UK or Ireland, there's the Standard 6 (shown below) and Complete 11. These tests are processed by a different lab and include Hepatitis B.
You can also get separate test kits for Hepatitis B & C or high-risk HPV strains.
As far as cost goes, it's worth noting that my insurance covers visits to my OB-GYN, but not the "express" urine tests for gonorrhea and chlamydia at Planned Parenthood. So while LetsGetChecked isn't especially cheap for the latter, there are cases where a discreet mail-in STI test would be worth the convenience for me. It doesn't cost that much more if I use my coupon code, SUPER, for 20% off at LetsGetChecked.com.
Is LetsGetChecked legitimate?
If you're skeptical about the legitimacy of LetsGetChecked (A.K.A. PrivaPath Diagnostics), here's the main thing you need to know: the CLIA-certified and CAP-accredited labs that analyze their samples also do so for primary care practitioners and hospitals. That's MedLab for Ireland, The Doctors Laboratory for the UK, and (in my case) Northwell Labs for the US and Canada.
These are established institutions we're talking about. As of May 2019, the Northwell Health network is New York State's largest healthcare provider, with over 69,000 employees. As for LetsGetChecked itself, they have over 2,100 reviews on Trustpilot, averaging 4.7 stars out of 5.
You might also have concerns about confidentiality or whether a sample provided from home can yield accurate results. Part of where LetsGetChecked comes in is making sure:
The components meet globally-recognized ISO 13845 standards for medical devices
They inform their customers on best practices for producing and collecting a specimen
What they're testing for stays intact through the mailing process
It's discreet— the customer's name isn't anywhere in or on the return package.
More on that in the next section.
Inside the LetsGetChecked Basic 3 STI test kit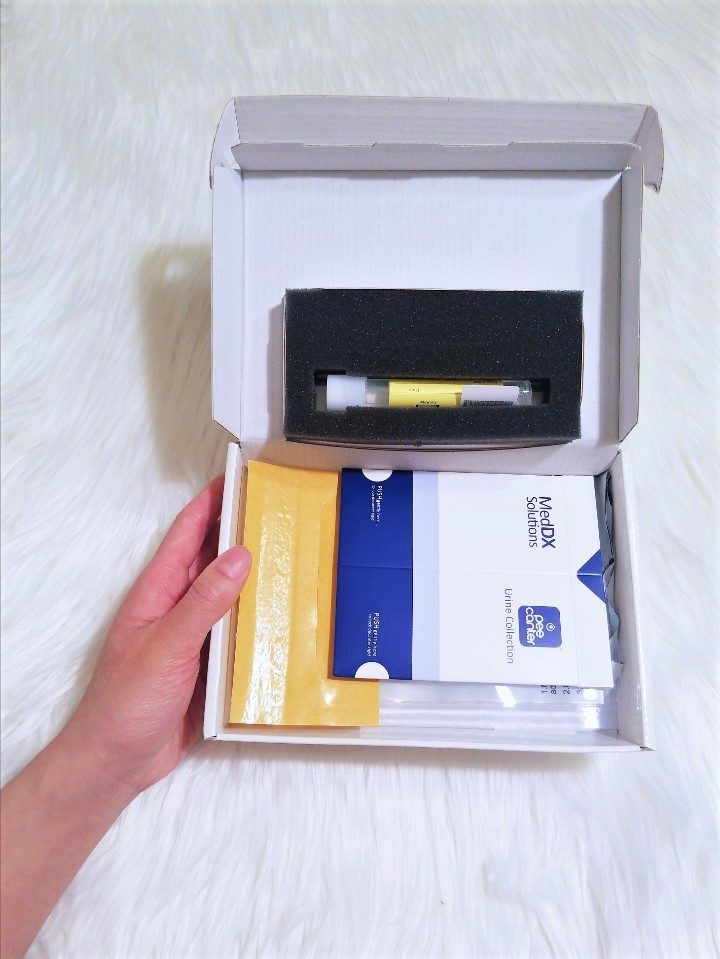 Their production team packages the following materials, cushioned, boxed, and wrapped in a nondescript white envelope:
Card with unique alphanumeric codes and activation instructions
Labeled test tube with some preservative solution in it
Folded urine collection cup
APRIL 2020 UPDATE: there's now a pipette so that you can transfer a controlled amount into the tube!
Biohazard envelope
Pre-paid and pre-labeled mailing envelope
Pamphlet with sample prep instructions and terms of use
What test kits for other STIs come with
4 lancets, alcohol wipe, smaller test tube, gauze, bandage

Included with tests for HIV, syphilis, HSV/Herpes Simplex 1 and 2, Hepatitis B and C

Cervical swab and test tube

Included with the HPV test
Preparing and mailing your at-home STI test kit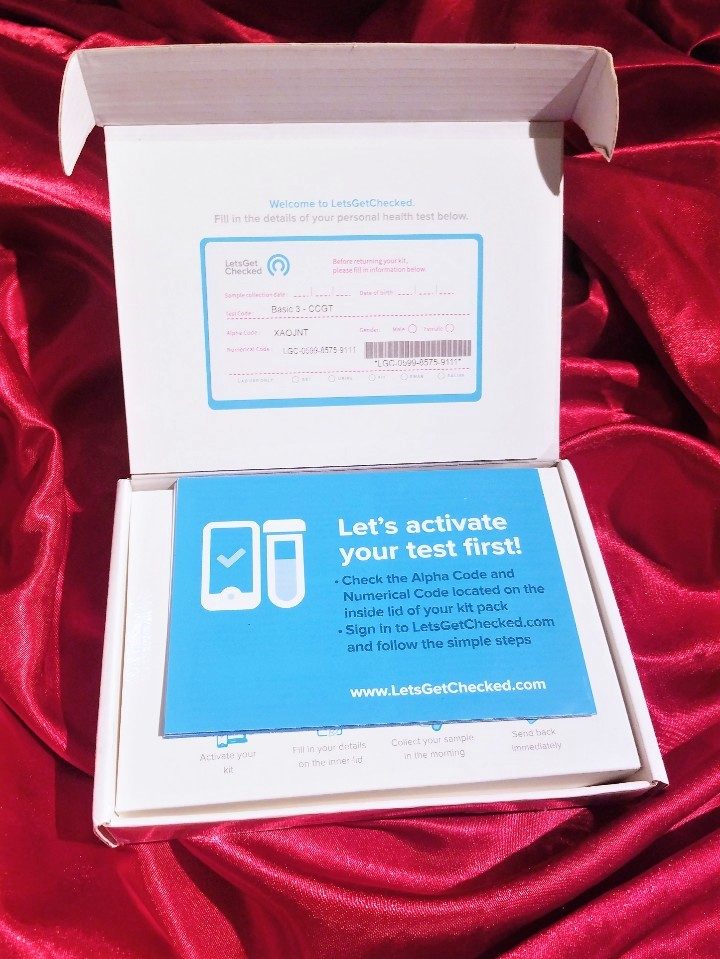 On the customer end, the process starts with activating the kit online at LetsGetChecked.com with my assigned ID code. That entails making a password-protected account and answering a standard health questionnaire.2 I also had to write my birthdate and gender, but beyond that, it's anonymized. Everything else in the package identified me by the alpha and numerical codes.
The instruction pamphlet is very clear and well-designed, as it should be. Diagrams, bolding for emphasis, strategic use of red draw attention to critical points. False negatives and positives do happen with any health test, but following the directions gives you the best chance at getting an accurate result. That means things like:
Producing a sample first thing in the morning and before breakfast

If it's been over an hour since you urinated, that's fine too, but may not be as accurate

Thoroughly washing and drying your hands with warm water to avoid contamination
Paying attention to the marked lines on the tube and not underfilling or overfilling it
Not letting anything else touch the inside surfaces of the collection cup and test tube
I would have preferred a pipette for slower transfer, but that's my only quibble about the LetsGetChecked box's contents.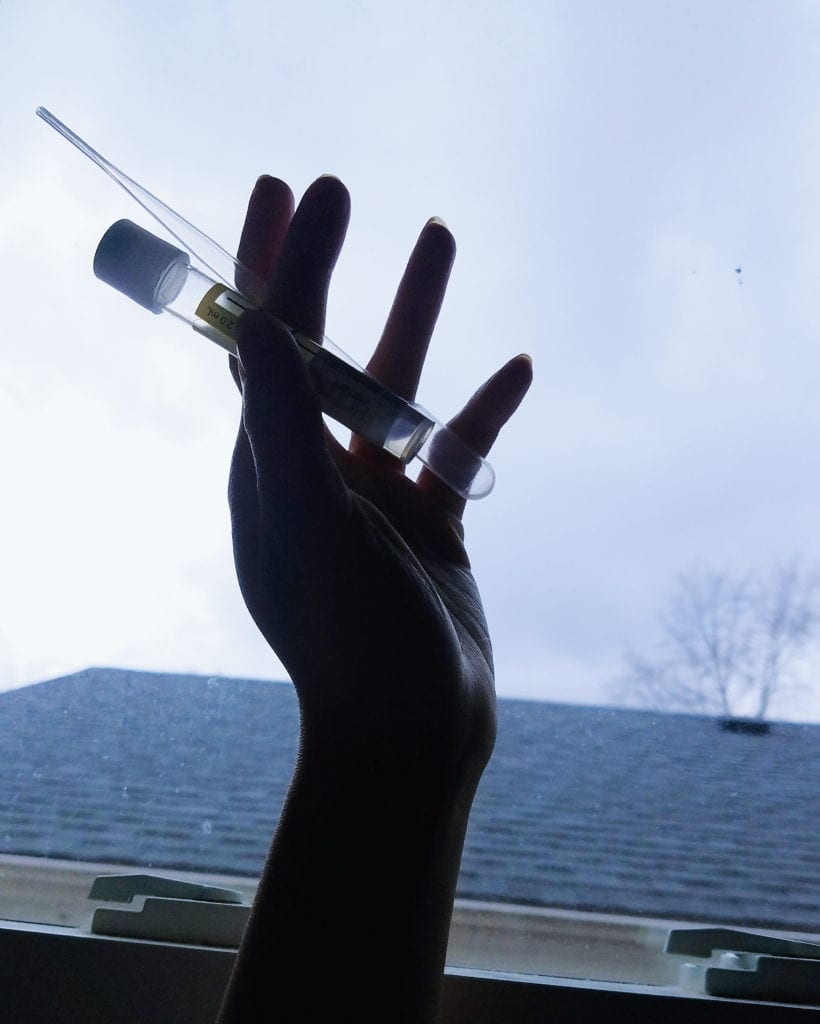 UPDATE: More recently, I've bought another LetsGetChecked test kit, and they included a pipette! Yay for more controlled specimen transfer!
Save the code card, pack up the STI test kit, and mail. My most recent return envelope shipped via UPS, which allows you to schedule pickups. You can leave the package out for your mail carrier to retrieve, while maintaining no-contact safety measures.
More on my experience with LetsGetChecked.com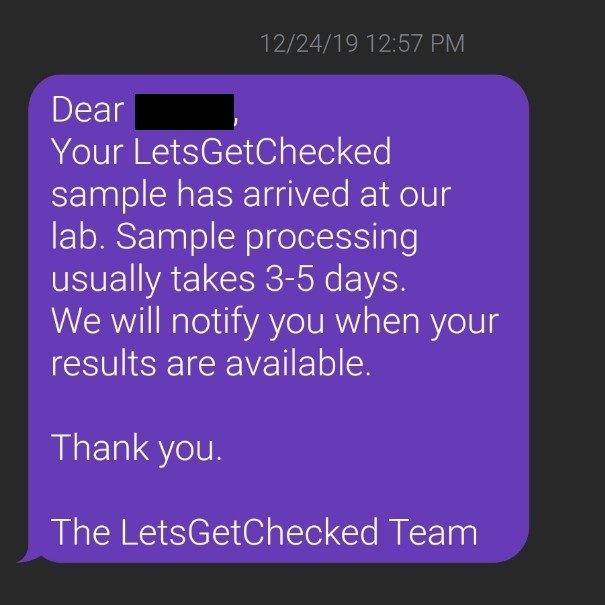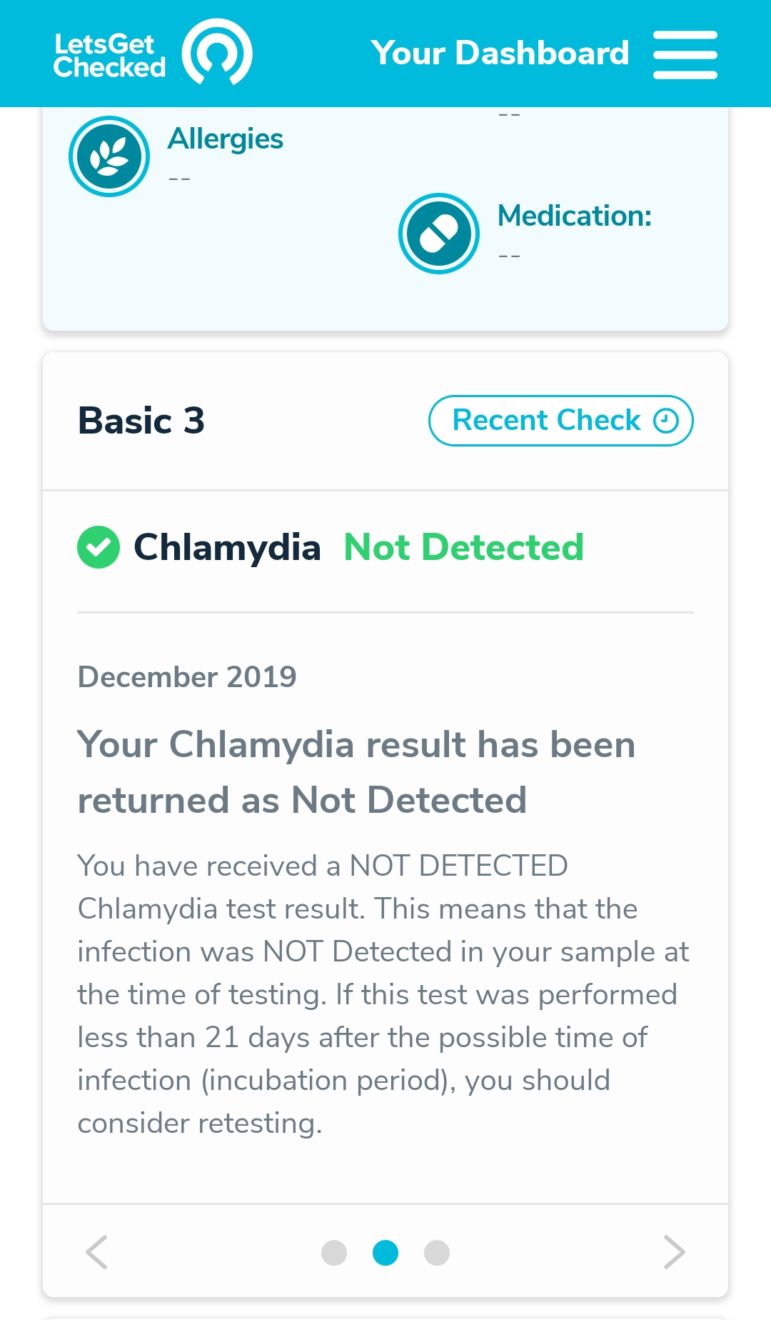 The LetsGetChecked website is highly responsive and mobile-friendly. I also appreciate the emphasis on educating the customer about what their results mean.
I wish more people knew that a negative STI test result doesn't mean that you don't have the infection. It means that the pathogen was not detected. You should consider retesting if it's been less than 21 days since you were possibly exposed.
The incubation window was over for me, and I tested negative.
What happens if you test positive?
They'll call you by default. Alternatively, you can schedule a follow-up call with a nurse to answer your questions in real-time.
For many positive STI test results (like gonorrhea, HIV, syphilis, HSV), you'll need to see a doctor. I know it's a bummer, but there's a good reason. Some STIs can be cured with a generic and simple course of antibiotics, while others can't.
Treatment for syphilis, for example, depends on how long the patient has had it and where the infection has spread. HIV and herpes can be managed but not cured — treatment is not a one-off thing. And gonorrhea is growing increasingly antibiotic-resistant. Some strains are easier to kill than others, but prescribing the wrong antibiotic means risking making the superbugs even stronger. It's a lot more complex than delegating a mass-produced test kit.
Other mail-in wellness test kits available
LetsGetChecked offers a convenient and discreet option for STI testing at home, but they have other wellness tests, including:
Organ function – kidney, liver, thyroid
Diseases – Lyme and Celiac disease
Vitamins and minerals – vitamin B12, vitamin D, folate, omega, and iron
Inflammation – C-reactive protein in blood
Risk of colon cancer
Cholesterol
Save 20% off on LetsGetChecked test kits with coupon code SUPER
---
Disclaimer
Hey! I'm not a medical professional.
Also, this post was sponsored, and there are affiliate links in it. That doesn't sway my opinion of my experience with the service. Purchases through my links — including when you buy sex toys — bring me a commission at no extra cost to you. Thank you!
Footnotes
It works by detecting blood in one's stool, which is a symptom of colon cancer. A positive result doesn't automatically mean cancer, though. Other conditions can cause it. Still, it's a cause for concern.