Review: Cat o' Nine Tails whip from Passion Craft Store
Imagine that a flogger and a whip had a baby. That's the cat o' nine tails.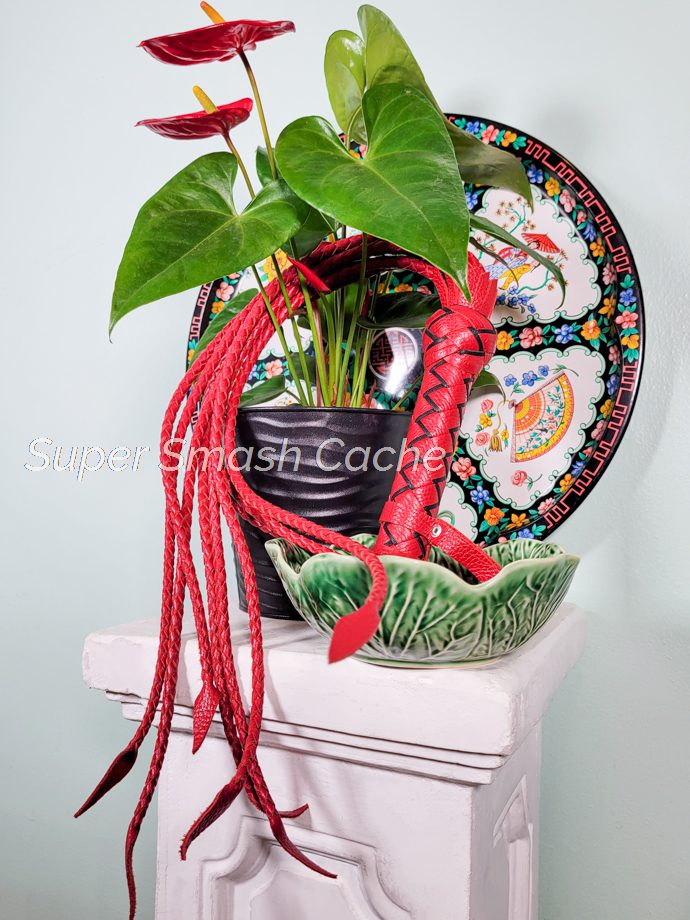 As with whips, the cats' claim to fame is their thick, woven tresses. But instead of a single lash, a cat o' nine tails traditionally has — as the name suggests — nine.
"This real leather whip can inflict parallel wounds," says Passion Craft Store's cat o' nine tails description. "Just like the claws of a cat's paw."
Historically, the Royal Navy and British Army used cat o' nine tail flails for punishing adult men in the 18th and early 19th centuries. For boys, there was also a milder version with five lashes, sometimes called the "boy's pussy," according to Wikipedia. I'm not about to Google that exact search term, though.
While cat o' nine tails and BDSM floggers look similar on the surface, some key features make a cat a cat.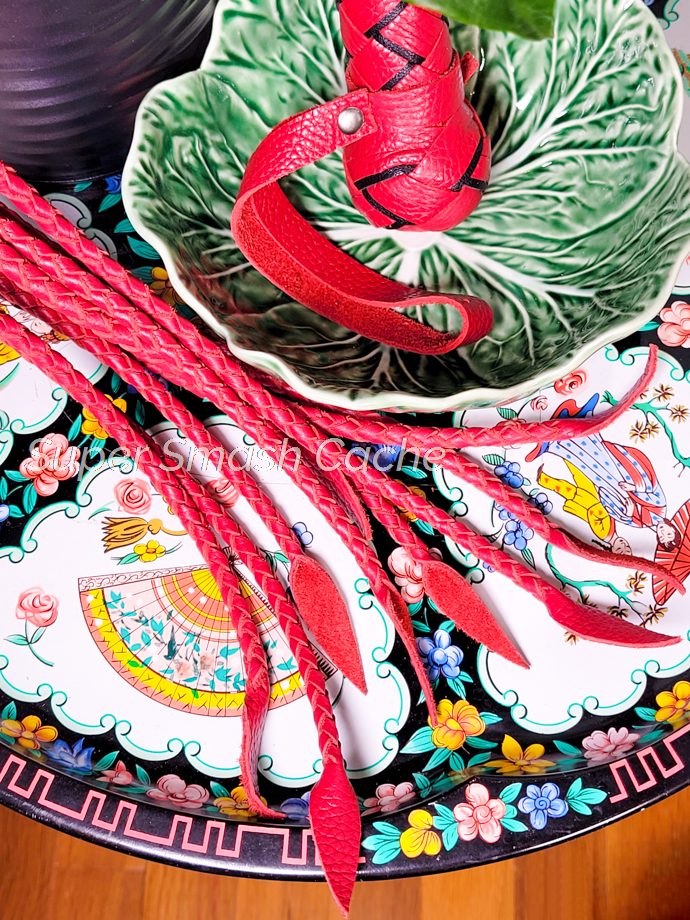 ---
Difference between cat o' nine tails and floggers and whips
Floggers remind me of drying brushes at the automatic car wash — bountiful, flowing, flat ribbons that whisk at the surface. Their falls tend to be thin strips of leather, resembling fettuccine pasta. And so many strands that you'd need more than a glance to count them. Furthermore, the lighter construction is designed not to break the skin.
In contrast, cat o' nine tails resemble braids or dreads — you can easily spot each lock. And though they're thinner than single tail whips, they still have some heft to them. With enough repeated lashings on the same spot, a cat o' nine tails can potentially lacerate. In earlier eras, open wounds could mean a fatal infection. Add "modern medicine and antiseptic" to your gratitude journal.
Unlike single-lash whips and riding crops, though, cat o' nine tail flails were invented with human punishment in mind. They also don't tend to be as thick.
---
What does a cat o' nine tails feel like in use?
(…and how does the sensation compare to other leather impact toys?)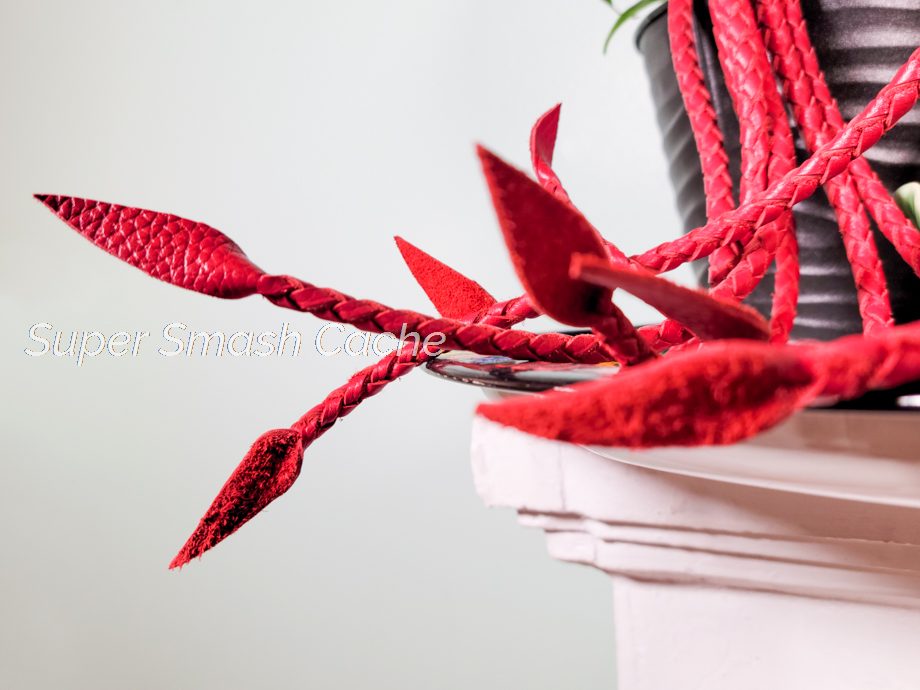 A cat o' nine tails has a stingy, potentially piercing, and spread-out quality in use. It's slightly haphazard since you don't have exact control of where the tails land.
While softer, thinner floggers are also on the stingy end of the spectrum, they tend to feel more like surface-level burning due to their lighter strands.
I'd say that a cat o' nine tails is more advanced than a riding crop — but less so than a single tail whip. Cats lack the level of control that riding crops' firmer, bouncy cores offer. However, they don't demand a big and bold swing radius as a whip does. (Some of the lashes at Passion Craft Store are upwards of 7 feet — about 220 cm!)
---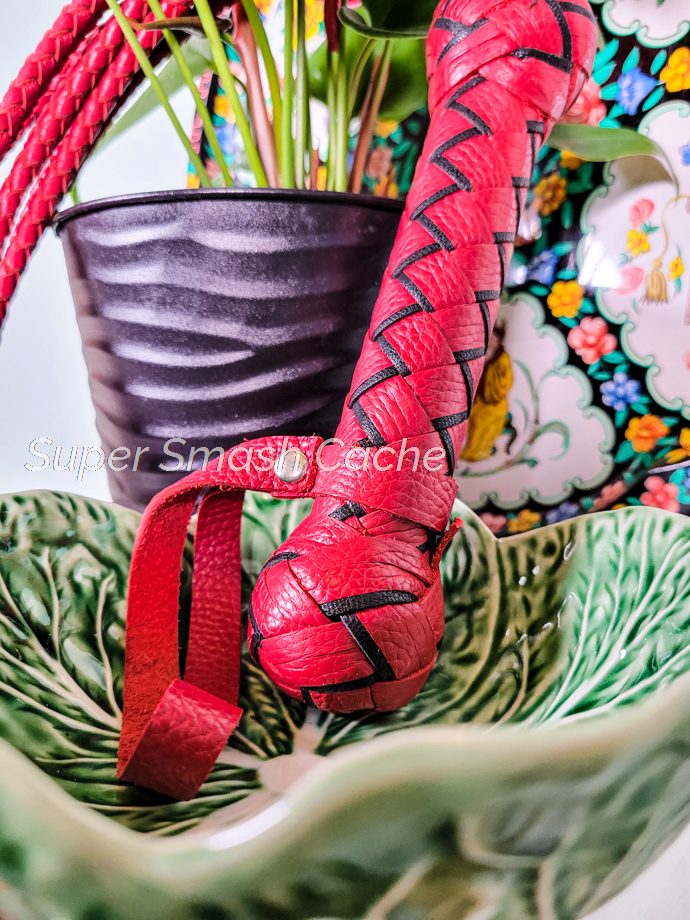 ---
Passion Craft Store Cat o' Nine Tails measurements
Passion Craft Store makes a wide variety of custom leather impact toys. Here's how the cat o' nine tails that they sent me measures up:
Tails
Nine tails with flat, teardrop-shaped "stingers" at the ends
Each tail is about 22″ (55 cm) long and 1/4″ (7 mm) across
Handle
8″ (20 cm) long × 1.25″ (3.2 cm) wide handle
1.8″ (4.6 cm) wide beads on either end
Etc.
Wrist/storage loop around the handle
Mostly red leather with black accents
---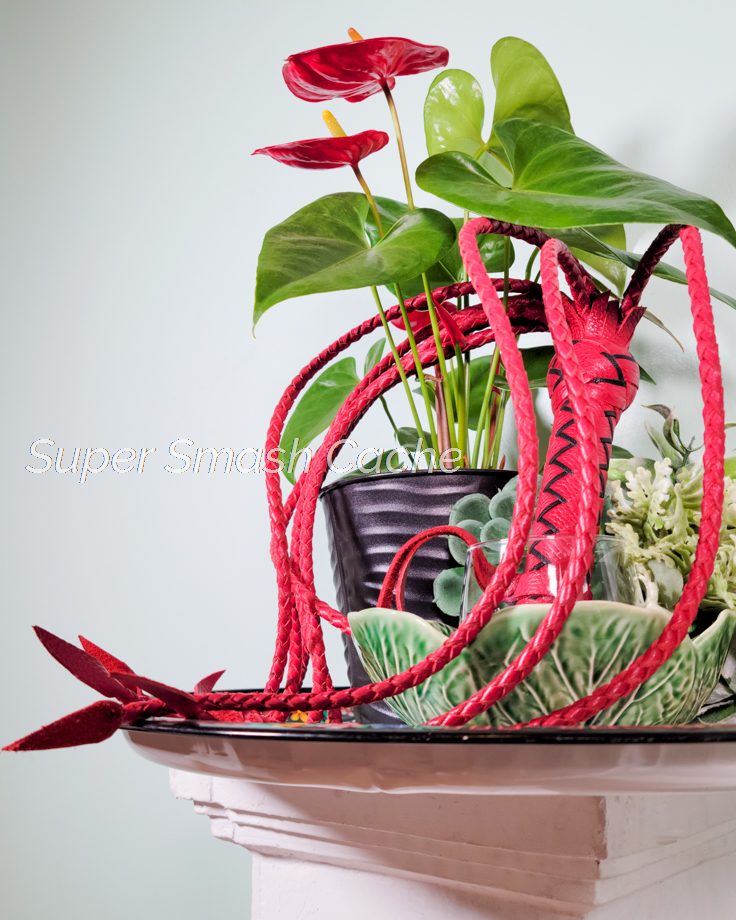 ---
Custom-made leather cat o' nine tails
Red and black with nine tails is just what I got, though. A major perk of leather impact toys made to order is that you can customize your cat o' nine tails! Just get in touch with the makers and let them know what you had in mind.
Will you get classic black or a bold and bright palette? Nine tails or five? Or eleven? The aesthetic is up to you!
Disclaimers
Hey! Passion Craft Store sponsored this post and sent me this handmade leather cat o' nine tails of charge for a review. Thoughts here are mine and freely expressed.
I also can't emphasize safety enough. Stick to impact play on body parts with ample muscle or fat, such as the butt and thighs. Avoid joints, bony areas, and the abdomen. Please.