Vibrating Cock Rings 101: A Guide For Vagina-Owners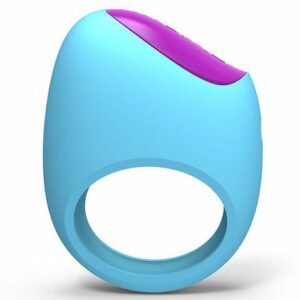 When I moved to a new state, one of the first things I did was check out a nearby sex shop. There, my boyfriend and I found a Picobong Remoji Lifeguard cock ring on clearance for $20 (regular price: $100), and I leaped at the chance to try something new.
The Remoji Lifeguard's vibrations were okay— a little on the buzzy side, with an okay amount of power in a tiny package. One button cycles through the settings, though you can only adjust vibration speed on the remote control phone app.
I find the app and control panel to be a gimmick. Just give me steady settings! UGH.
The ring vibe itself pleasantly surprised me with how compact it was and how well it fit with my anatomy.
---
What do vibrating cock rings do?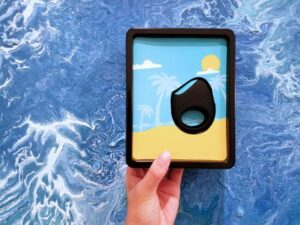 Most notably, a vibrating cock ring is one of many ways to incorporate clitoral vibration during penis-in-vag intercourse. Many people with vulvas need external stimulation to reach orgasm. If the motor is powerful enough, a vibrating cock ring can also deliver internal vibrations to the vagina-wielder by making the wearer's penis vibrate.
And cock rings in general (even the non-vibrating ones) help maintain blood flow in an erection, keeping it harder and for potentially longer. When worn around the balls, it can also help the wearer come harder.
It seems intuitive enough. Just slip it on and proceed with intercourse, right? But don't expect it to do all the work for you; a cock ring is just a tool. Here's a quick 101 for getting the most out of the experience.
Choosing a vibrating cock ring to suit your needs
A cock ring needs to fit the penis comfortably, but that's not the only thing that matters! Do you want one to make the wearer's penis vibrate, or do you want a cock ring for external clitoral vibration?
Powerful vibrating cock rings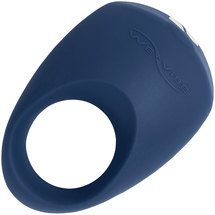 If you want a cock ring to make the wearer's penis vibrate, that's pretty straightforward: get one that's powerful enough. The Picobong Remoji Lifeguard had enough power for my boyfriend and me, but it's a little buzzy and not for everyone.
If you want something rumblier, try the We-Vibe Pivot or Je Joue Mio. The Pivot's center is slightly contoured to fit between the labia on one face, while its edges on the other side are sharper for grinding against at an angle.
Or, if you want the gold standard of rumble, you could replace the bullet that comes with Tantus's Super Soft C-Ring with a We-Vibe Tango. Just be aware that rumblier vibes are bulkier than gentle ones. The weight makes them more likely to rotate during use, and they may need adjusting. As well, the Hot Octopuss Atom is VERY powerful but thick, meaning I can't use as much of my partner's penis length as I would like.
A vibrating cock ring for pinpoint stimulation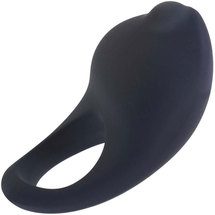 Want a cock ring for external vibration but don't care for broad clit stim? No problem! Unlike the usual flat-faced vibrating cock rings, the VeDO Roq has a raised body and a tiny bump for targeted, precise stimulation.
Vibrating cock rings for longer clit-vag gaps
Consider that not everyone has the same distance between their clitoris and vagina. Know thyself— most cock rings are made to fit clit-vag gaps of less than an inch. For example, the longer side of the Remoji Lifeguard vibe is about 1.25″ long.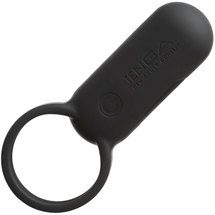 If your clit-vag gap is longer than an inch, an average-sized ring vibrator won't align with your external clitoris. Some cock rings with bigger vibe compartments include the Tenga Smart Vibe Ring and the Screaming O Work-It.
Tips for using a vibrating cock ring
Use short thrusts above all else
Most vibrating cock rings break clitoral contact (one exception is the Svakom Tyler, angled for easily applying extra pressure) as you pull back, so deep penetration with short strokes and rocking motions work best. Lucky for me, that's how I like thrusting anyway. It means that my partner's penis stays in contact with my cervix for longer and massages it.
I mostly think of the vibe as an extension of my partner's junk. Where I might otherwise grind my clitoris against his pubic bone, I'd place the cock ring vibe and grind against that. The motion is the same (and fun even without vibrations, to be fair).
Experiment with cock ring positioning during foreplay
The most obvious place to put a cock ring is at the base of the penis. However, that doesn't mean you have to keep the vibrator in one place!
For one, even though you can place the vibe against the wearer's balls, that doesn't appeal to everyone. The main area where my boyfriend finds vibrations most sensual is just under his frenulum.
So to warm up, we enjoyed starting off grinding with the vibrator between his frenulum and my clit. From there, we wrapped the cock ring under his frenulum and started tip drilling while I clenched. And If I'm on top, I could also lean back and have his penis's tip press against my G-spot.
Try grinding with the vibe off-center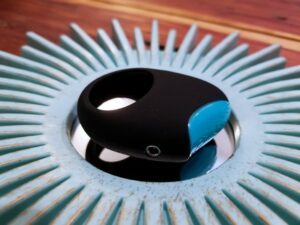 Let's say you don't mind broadly spread vibrations for warming up, but pinpoint pressure is what pushes you over the edge. And you have a flat cock ring vibe. In that case, you don't have to keep the broad surface centered on your clitoris.
Turn it slightly, so your clit aligns with the vibe's edge. That way, the vibrations are more concentrated, and you can target the pressure if there's a distinct edge (some rings vibes don't). Swaying side-to-side with the ring placed like this, combined with deep penetration, is my favorite way to use a ring vibe.
Experiment and find what works for you!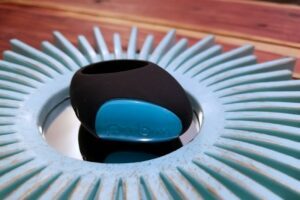 I had never used a vibrating cock ring before, so I wanted to share something short and sweet about my first experience with one. Getting the Remoji Lifeguard on clearance was a solid choice to spice things up–— well-deserved after a long week of settling in our new city.
I plan on writing more in-depth reviews of ring vibes and penis toys in the future!
In the meantime, this post is by no means comprehensive. If you have more experience with vibrating cock rings, feel free to share your pointers in the comments!