Super Cy's Summer Wet Dream Giveaway: win one of 11 sexy prizes!
Free sex toys and giveaway prizes made it possible for me to start reviewing! It's been years since I posted my first review, but 2018 was when I really started turning my blogging into a business.
In the past six months, I've:
…and now, in my very first giveaway, I'm teaming up with a few of my favorite peeps from the sex toy industry to give back to my readers! In addition to sex toys, there will also be a prize even nearer and dearer to my vagina: a life cast of my vulva!
To enter this sex toy giveaway, read through the prize list and pick up to three prizes you would like to win. Then scroll back up here and type them in as your first entry in the giveaway.
Terms & conditions
This giveaway ends July 6th. Each winner has 48 hours to respond to me via e-mail. If you're international, you are responsible for any customs charges and VAT taxes. Also, I can't do anything illegal. That means you must be 18 years or older, and we can't ship to countries where sex toys are banned.
Enter here. Good luck!
Super Cy's Summer Wet Dream 2018

Now on to the sexy prizes!
Prizes I'll be shipping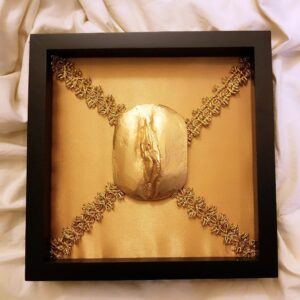 The prizes in this section are open to U.S. entrants only, unless you're down for paying international shipping and customs fees.
1

A gilded life cast of yours truly's vulva

Cast in plaster, gilded, and framed on satin, this sculpture is perfectly imperfect… just like my labia. :p But seriously. It's the first genital life cast I have ever made, and more or less an experiment.

This giveaway prize is a not-so-subtle nudge-nudge to let you know that I'll be posting more artwork soon! I hope you'll stick around on my journey as I start practicing and incorporating erotic art into my blog.
2

Luzarte Jollet + We-Vibe Tango + toy cleaner

The Luzarte (formerly Jollies and Chavezdezignz) Jollet is one of my favorite dildos in the history of ever. Its design is simple: a tapered tip, a girthy G-spot bump, a scalloped base for easy grip, and a cavity for inserting a bullet vibe. Everyone says not to thrust it. Except me. I love thrusting it behind my cervix.

And what better mini-vibe to put in the Luzarte Jollet than a supa-rumbly blue We-Vibe Tango (donated by Spectrum Boutique)?
3

Satisfyer Pro Plus Vibration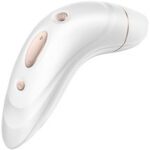 If you like having your clit sucked, this is for you. The Satisfyer Pro Plus Vibration rapidly alternates between gently sucking and blowing to create waves of air pressure. It has 11 intensity settings, ranging from a gentle warm-up to full-on, uncontrollable, forced orgasm torture. The Satisfyer Pro 4 Couples sucks (in a bad way), but the Satisfyer Pro Plus Vibration is awesome.
Update: I now have a full review of the Womanizer Classic (another clit suction toy)! It includes a brief comparison to the Satisfyer Pro Plus Vibration.
Spectrum Boutique (international)
4

$75 Spectrum Boutique gift card

Ahhh, the freedom to choose from a selection you know is all body-safe and high-quality. Feast your eyes: Spectrum Boutique's website is vibrant, sleek, and on fleek. Everything about them makes me proud to say that I'm from Detroit.
5

Vixen Creations Randy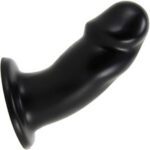 The Vixen Creations Randy is girthy AF bliss. At 2.2″ wide, it's perfect prep for fisting, or just using it by itself. Either way, if you're of size royalty, the Randy is a must-have. It's my toy of choice for forced orgasm torture— I pretty much can't stop coming whenever it's inside me.
Peepshow Toys (international)
6

$50 Peepshow Toys gift card

Peepshow Toys puts so much care into curating their sales and collections. They've been around since 2013 and collaborated with so many of the sex bloggers and educators you know and love. In fact, their review program was the first one I ever reached out to.

Through the years, the core mission is going strong: educate the consumers and stir up an inclusive sexual revolution in uncertain times.

7

Pillow Talk Sassy

I fell in love with the Pillow Talk Sassy at first touch. The ridiculously good motor starts off at a deep, low purr, ramps up so much that at first I seriously wondered how high it was going to go. The speed range is just so, so perfect for me.
8

Jopen Lust L2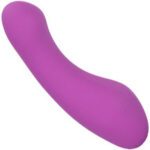 The Jopen Lust L2's motor is made by the same company that made the Pillow Talk Sassy. You get all the perks of the Pillow Talk Sassy in a more discreet, petite package (about the size of a lip balm tube).
Blush Novelties
These prizes are available to U.S. entrants only.
9

Avant D3 + green Gaia Eco

I credit that pronounced coronal ridge for awakening my A-spot. It's so girthy and boxy that, when I insert the dildo almost all the way in, there's nowhere else for the ridge to go but against my A-spot. And if I insert behind my cervix to massage it, the bumps down the shaft massage my G-spot too.

To complete the fun, summery color scheme and add clit stim, I'm throwing in a Green Gaia Eco. It's pretty much the best vibrator you could get for $10 and plenty rumbly for how inexpensive it is.
10

Real Nude Suko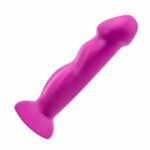 So you think the Avant D3 or D4 would be too intense for you? I gotchu fam. The Real Nude Suko is the dual-density version, meaning that the core is firm but the outer layer is squishy. You won't get the striped color scheme with this dildo, but it does come in a pretty indigo. Or you can get the fuchsia. The choice is yours.
11

Luxe Candy Rimmer plug set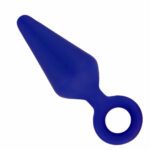 A matching set of 3 silicone butt plugs, in 3 different sizes! They measure 1″ wide, 1.25″ wide, and 1.5″ wide, a good range for getting comfortable with anal play. Indigo or fuchsia.
A huge thank-you to those who made this giveaway possible!
That means you, dear reader! And the following shops and toy makers: