A Smashing Revival Reverie Giveaway: 11 sexy prizes
I must be dreaming; my commissions this past month were enough to pay for a future month of living costs?! So I HAD to host a giveaway and give something back to my loyal readers. Thank you for making this possible!
And that happened within just a year of taking my blog from "for fun" to serious side hustle. So this giveaway is celebrating two things:
The anniversary of my blog's revival
"Oh shit, this could become my JOB job."
You might remember my first ever giveaway, back in June and July this year. I've chosen the prizes a little differently this time because of my blog's emphasis on deep penetration. That means more dildos! Eight dildos, to be precise, plus two vibrators and one butt plug.
If you don't feel like reading the product descriptions, click to jump straight to the rules & entry options. The prizes will be listed in the giveaway entry widget.
On to the sex toy giveaway prizes!
Marco Uberrime pre-made these dildos just for the giveaway, so what you see is what you get color-wise. Also, these prizes are open to international entries! Thank you, Marco!
1

Uberrime Night King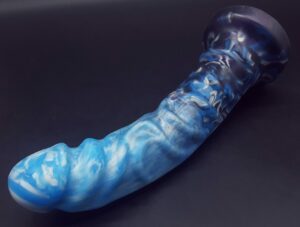 Unfffff, the Night King feels like it was made just for me. It's an artisan-marbled fantasy dildo that's long (8.5″ insertable) but not overly thick (by my standards) at 1.75″ wide. The defined wibbles and wobbles along the shaft are highly stimulating when thrust or twisted. And that subtle curve is nothing short of heaven for massaging my cervix.
If you love textures and deep penetration, this medium-firm dildo is a hardcore must-have. It's certainly in my top four favorite dildos ever. Read my full review of the Uberrime Night King here or go straight to the product page at Peepshow Toys.
2

Uberrime Splendid
If you're looking for a dual-density dildo in striking, non-representational colors, look no further. The Uberrime Splendid is 5.5″ long and 1.67″ max width (the average width is 1.6″)— a little thicker than the average human penis, but about the same length.
And that's enough for most users to pull the pronounced head against their G-spot or prostate. Its dual-density silicone means you get the best of both worlds: a firm core for thrusting, and a squishy outer layer that softens the ample veins and feels luxurious to squish around.
The particular one Marco Uberrime made for me is a gradient from pearly white to purple, and because it's handmade, there's some subtle pigment swirling in the squishy head. Find out more at the Splendid's product page at Peepshow Toys.
3

Uberrime Element 4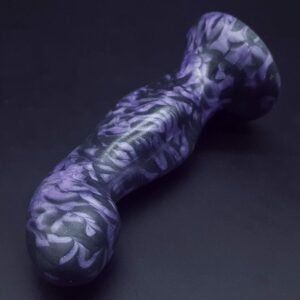 This elegant G-spot dildo is a little daintier than the others Uberrime has donated. But only a little— its head is a fairly average 1.43″ wide, its neck dips down to 1.2″, and the mid-shaft bulges to 1.59″ wide. Overall, its 5″ of insertable length is relatively smooth, making the Uberrime Element 4 an unintimidating G-spot toy for beginners.
In Marco's own words, the shaft features a "lobed bulge in the center sculpted to resemble fingers." It reminds me of the vertical bumps at the bottom of the Avant D3/D4 (which, by the way, is also a prize in this giveaway). And you know how much I love twisting vertical textures.
The particular Uberrime Element 4 dildo in this giveaway features a sparkly luster black and pearl purple.
These prizes are open for international entries! Thank you, Peepshow Toys!

4

Uberrime Night King

Yes, there will be TWO Night Kings in this giveaway. Enough said about how much I love this dildo! Because the Uberrime dildos that Peepshow stocks are made in batches, the swirls won't be the same as in the picture. But they will be just as sexy.
5

BMS Factory Pillow Talk Sassy

The Pillow Talk Sassy by BMS Factory is one of the best G-spot vibrators I have ever tried. The rumble outperforms even the often-lauded LELO Mona 2— yes, I recorded video of the vibrations in water to back myself up!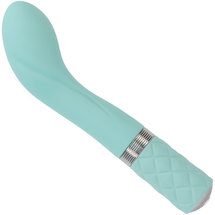 For $48.60 (with code SUPERSMASHCACHE at Peepshow Toys), the Sassy doesn't have any patterns, and its unintuitive one-button control won't help it win any rewards. But the lowest setting is usually plenty to get me off, and it's the toy I reach for when I want a long clitoral orgasm. I'm always in the mood for a few orgasms with the Sassy, even when the Mona 2's buzz gets a little irritating. And that's saying something.
The winner gets their choice of vibe color between teal or pink. Read my Pillow Talk Sassy review or go straight to the product page.
6

Femmefunn Ultra Bullet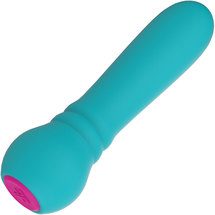 Don't be fooled by this vibrator's eye-scaldingly playful exterior. Its motor means business! Reviewers often compare its power to the We-Vibe Tango, the gold standard of rumbly bullets. The Ultra Bullet's above-average 1″ thickness means you can't neatly put it in dildos' bullet cavities. But you could use its flexible silicone for shallow penetration.
And for $49 at Peepshow Toys, the Femmefunn Ultra Bullet's power makes it an absolute steal. Choose your color: teal, pink, or purple.
Donated by Vixen Creations
This prize is U.S.-only. Thank you, Vixen Creations!
7

Midnight Pearl VixSkin Johnny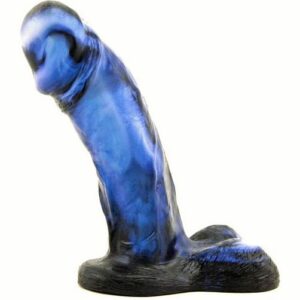 The dual-density VixSkin Johnny is the toy that got me to start exploring big dildos. At a meaty 1.75″ wide, the Johnny is bigger than the average penis, but its squishy outer layer makes it a natural next step if you're looking to level up. Its 7 inches of insertable length has that gentle, cervix-loving curve I crave. The VixSkin Johnny is also a flexible but filling G-spotter with its defined head.
Whether I'm craving deep penetration or tip drilling, the Johnny is highly versatile. And it's designed after an uncut dick— the foreskin texture is a plus in my book. Read my VixSkin Johnny review or get a vanilla, caramel, chocolate, or tie-bright Johnny from SheVibe.
Because these dildos are made in batches, the actual prize's pattern will vary a little from the picture. Its general color scheme, however, will be the same. Midnight Pearl wasn't even an option when I got my Johnny. Lucky you!
Donated by Blush Novelties
These prizes are U.S.-only. Thank you, Blush Novelties!
8

Ruse 18″ long x 1.5″ thick double dildo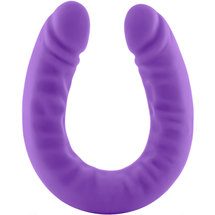 Body-safe double dongs aren't exactly easy to find, but I'm ecstatic to announce that Blush has recently come out with one!
One of my first sex toys was a cheap, double-ended jelly dildo with packaging that said, "phthalate-free." The dildo's shower curtain smell, though, said otherwise— it most certainly wasn't body-safe, and there's no regulation or requirement for the manufacturer to label the toxic sex toy accurately.
Blush's Ruse double dildo gives consumers a safe and non-porous alternative. Choose your color: purple or hot pink.
9

Avant D3 or D4 striped dildo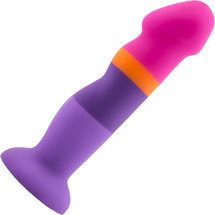 This duo of dildos is intense AF! They're super firm with a big, boxy, and pronounced G-spotting head and two bulges along the shaft. If you like vertical textures, you're going to love the bottom-most bump's lobe.
Everything about the Avant D3/D4 turns me into a puddle of heart-eyes emojis, but it may be a bit too intense for everyday use if you're not used to unyielding girth. If the shape appeals to you, but you want something with more squish, check out the Real Nude Suko instead.
Winner gets to choose one dildo in an Avant D3 or D4 color scheme. The Avant D3 is a Summer Fling-themed combo of pink, orange, and purple, while the D4 is Pretty In Pink.
10

Avant Pride P1 rainbow-striped dildo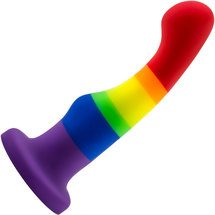 On the opposite side of the intensity spectrum is the Avant Pride P1. Let me repeat the header: this is a dildo with rainbow stripes! Despite the visual awesomeness, the Avant Pride P1 is not for everyone. It's on the slim side and very bendy. However, this dildo might be a good fit for you if you:
want a basic beginner dildo to clench around
enjoy stimulation at the vaginal or anal opening
have a shallow cervix and want to explore cervix stimulation
You won't find any firm or frilly forms among the rest of the Avant Pride line, but they're all simple and body-safe basics at affordable prices. I've reviewed the Avant Pride P1 and featured it on my list of discreet sex toys that fit in a sunglasses case.
Donated by Tantus
I'll ship this prize personally to a winner in the U.S. or Canada only. Thank you, Tantus!
11

Tantus Neo tapered silicone butt plug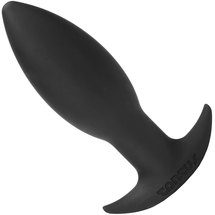 I was originally going to give away this plug as part of my Anal August guide to butt stuff, but that post never happened. Butt stuff hardly appeals to me at all anymore, so I didn't feel that I was in the right mental space to write a guide about it. I respect that it's a core part of many people's sex lives, though.
The Tantus Neo has a pointy tip and tapered bulb for easy insertion. So even if you can't insert this plug all the way, you can use just the tip to build up your comfort level with penetration. The Neo's base is also T-shaped to comfortably fit between the cheeks (to hell with round bases).
I only have this plug in solid black, and I'll be sending it in my own, smaller packaging. This plug has never been in any orifice. I only took it out of its original (bulky AF) packaging to save space and keep my belongings discreet when temporarily staying at my parents' house. So yeah, be aware of that before you enter.

Rules & shipping regulations
The giveaway goes live December 8th at midnight and ends January 5th at 11:59. Once I've emailed the winners, they have 48 hours to claim the prizes.  If I don't get a response within that time window, I'll pick someone else.
Also, I know it might say ten prizes on the widget in some places. That's because the free version of Gleam limits me, but I will be picking all 11 winners randomly.
A quick summary of who's willing to ship to where:
Uberrime Dildos ships internationally.
Peepshow Toys ships internationally.
Vixen Creations ships within the U.S. only.
Blush Novelties ships within the U.S. only.
I'll ship to a winner in the U.S. or Canada only.
International prize winners are responsible for any customs or taxes. Also, I can't do anything illegal, like sending sex toys to people under 18 or to places that ban importing them.
Enter the giveaway!
Super Smash Cache's Revival Reverie Giveaway

Thanks again to everyone who donated: Uberrime Dildos, Peepshow Toys, Vixen Creations, Blush Novelties, and Tantus.