Review: Fun Factory Bi Stronic Fusion pulsator
The Fun Factory Bi Stronic Fusion is was one of the original four Stronic pulsators: self-thrusting toys that feature a linear back-and-forth magnetic weight to simulate in-and-out penetration, almost hands-free. Rest it against a pillow or on your hand, and it's a self-contained mini fucking machine. The pulsators feature different styles of thrusting, with settings ranging from slow and smooth to fast and thuddy.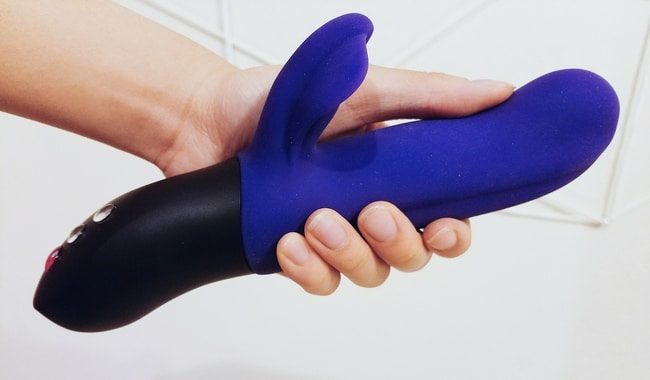 Comparison with other Fun Factory Stronic pulsators
The Stronic Eins' shape, 80% of the time, didn't do anything for my G-spot. To get G-spot stimulation, I would have to thrust manually without the pulsation like a dildo. Doing that, of course, defeated the purpose of dropping $190 on a sex toy with a fancy motor. I was in cognitive dissonance about it not working for me.
I tried the Stronic Drei, which did more for my G-spot due to its stronger curve, but at a cost. The textured surface's increased friction significantly reduced the thrusting motion, which again, defeated the purpose. While the texture was initially pleasurable, it didn't take long before my vagina started registering it as irritation. Last but not least of the original Stronics, while the current me would probably like the now-discontinued Stronic Zwei, it was a no-go at the time (2014) because it was too girthy for me to even think about trying.
Upgrades: Fun Factory Bi Stronic Fusion and Stronic G
The insertable part of the Bi Stronic Fusion is what the Stronic Eins should have been: effortless G-spotting. It just puzzles me that the designers invested into adding a useless clit arm. As a penetration toy alone, it would have been perfect! The clit arm does nothing but raise the price tag to $220.
I used to recommend the Bi Stronic Fusion as an internal toy for those who could afford it. However, sometime after this review was initially posted, Fun Factory made a self-thrusting G-spot toy without the clitoral arm. The Fun Factory Stronic G is thinner, and its shape similar to the Bi Stronic Fusion, but with even more of a dip to reach into the G-spot.
The Stronic G works many reviewers, but not me. I much prefer the Stronic Real and Stronic Surf.
The penetration sensation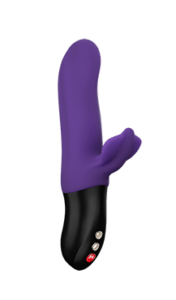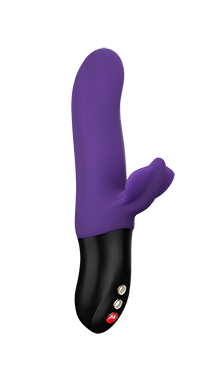 The Fun Factory Bi Stronic Fusion just works. There's a learning curve in angling it correctly, but once it's set up, it's all smooth sailing. The tip strokes my G-spot with effortless consistency. It has a fatter, more discernible G-spot bend than the Stronic Eins, making the thrusts more precise and intense.
The appeal for me doesn't just end at G-spot stimulation. Because it's stiff, gently curved, and easy to aim, it sometimes (depending on my menstrual phase) also works for my cervix and A-spot despite the insertable length being only 4.5″. My clit also enjoys the smoother, less thuddy settings sliding against it, which simulate a partner's finger rubbing. Think of it as a hand that strokes with perfect rhythm and never gets tired.
What's up with the external stimulation arm?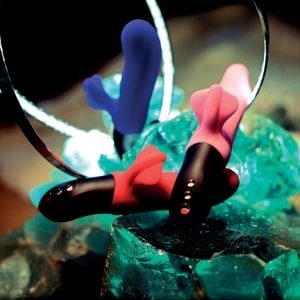 The thrusting motion and the shaft are well worth $220 for me, but the clitoral arm and extra cost are downright unnecessary.
This toy has a 1.75″ gap between the internal prong and the external prong. Since I have a relatively average clit-vag gap of 1 inch, the clitoral arm is waaaay too far from my vagina to do anything for me or the majority of users. Sure, the clitoral arm is flexible, but that means nothing if placing pressure on it to adjust it means dampening the pulsation.
The clitoral vibrations are also utterly useless because they're so buzzy and have hardly any depth at all. If you're looking for a dual stimulation sex toy, don't bother.
---
Disclaimer
This toy was sent to me in exchange for a review. All views expressed are my own.