Metal to the Petals Giveaway: $1000 of njoy stainless steel, limited edition Uberrime, gift cards, and more!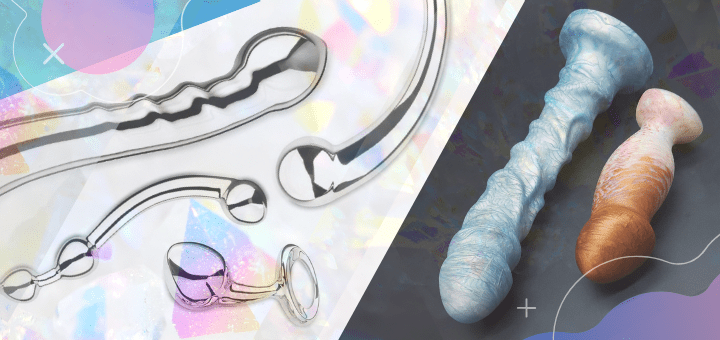 If you've been reading Super Smash Cache for a while, you know that I'm no stranger to big giveaways. But this year, I didn't want merely to host a big giveaway with many prizes. I wanted one with some of the most coveted treasures of the sex toy world, with goodies that show what I'm all about.
That's why I'm giving away four pieces of demi-godly stainless steel perfection this summer. And if hard material sex toys aren't your thang, no worries— there will be gift cards and metallic pigment silicone, too! Once I've picked winners, they'll have 48 hours to claim their prize. Good luck!
Click here to jump to the giveaway widget if you've already read the prize list and shipping conditions.
What's up for grabs in this giveaway?
Donated by Spectrum Boutique
Open to international readers.
1

njoy Eleven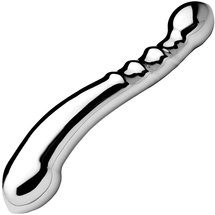 That's right: there's an njoy Eleven in this giveaway. It retails for $250 and is composed of nearly 3 pounds of stainless steel, polished to a mirror finish. I will not apologize to my hotel room rendezvous neighbors for the screaming (though I did bite my partner to muffle myself). I will not apologize to my future children for requesting that I be buried with this dildo in my tomb.
If I had to use only one sex toy for the rest of my life, it would be the njoy Eleven. And if that wasn't enough, also consider that the njoy Eleven comes in a stylish leather carrying/storage purse AND will prepare you for intruders and zombie apocalypses. Beauty and brawn in one package.
Read my full njoy Eleven review or check out the Eleven at Spectrum Boutique. Take 10% off your whole order with coupon code SUPERSMASH10
Donated by Peepshow Toys
Open to international readers.
2

njoy Pure Wand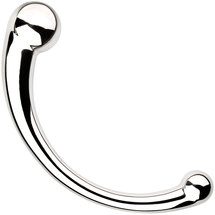 The next member of njoy's trifecta needs no introduction. For the uninitiated, here's the beginning of my njoy Pure Wand review:
Before using your Pure Wand, apologize to your neighbors in advance for all the screaming. Have some towels ready, even if you think you can't squirt. Maybe set aside some time to fully appreciate pounding your G-spot to oblivion over and over again.

If you want the absolute most directly intense G-spot dildo, one whose engineering is a timeless classic, this it.
Can't wait? Get one from Peepshow Toys and take 10% off with coupon code SUPERSMASHCACHE
3

FemmeFunn Bougie Bullet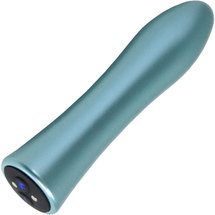 This zingy bullet comes in classy anodized aluminum and has a charging case with a compartment for the cable. Another perk? It's a clitoral vibrator that you can dip in warm or cold water for temperature play.
Read my full FemmeFunn Bougie Bullet review here or check it out at Peepshow Toys. The winner gets their choice of color: rose gold or sky blue.
4

$100 gift card

Get whatever you want from Peepshow Toys! Their entire curated selection of sex toys is body-safe. And you can get 2-day FedEx shipping on some of their best sex toys for just $6 more.
Donated by Betty's Toy Box
Open to U.S. readers only.
5

njoy Fun Wand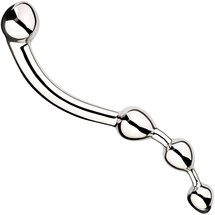 The njoy Fun Wand is the final member of the holy trinity of stainless steel dildos. It's dainty compared to the Eleven, and less direct than the Pure Wand, but fits the template for what I love in a dildo: firm, slick, S-curved, and a decent length (8″ long).
I haven't reviewed the njoy Fun Wand yet— mostly because I want to take time doing justice to it. Check it out at Betty's Toy Box and use code SUPER for 10% off your entire order
Donated by SheVibe
If you're international, see the list of countries SheVibe ships to.
6

njoy Pure Plug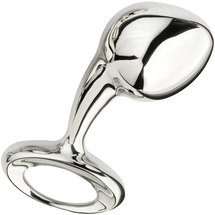 This stainless steel plug is one of the reasons I don't review plugs that often— because I don't think many of them offer something unique that could top the njoy Pure Plug. The winner gets their choice of size: small, medium, or large.
Read my njoy Pure Plug review or find the Pure Plugs at SheVibe.
7

$75 gift card

Get whatever you want from SheVibe. Super nice people run the shop, their selection is ginormous, and their original artwork is killer. Plus, they're the sex shop affiliate I've been working with for the longest time. <3
Donated by Uberrime Dildos
Marco from Uberrime Dildos custom-poured these dildos for my giveaway, so they aren't the usual colors you'd see in stock! Open to U.S. readers only.
8

Blue steel Night King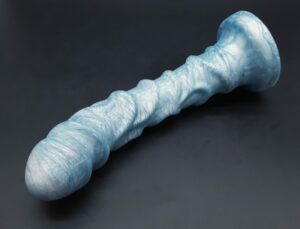 When Peepshow Toys sent me a second Uberrime Night King, I set a new girth goal for myself: vaginally double penetrate myself with two of them. This dildo is that delightful. I don't often test new toys that elevate my standards, but this is one of them. The gentle curve and pronounced ridges make it one of my go-to dildos when I'm having a rough day and need extra "oomph."
Read my full Uberrime Night King review or check it out at Peepshow Toys:
9

Copper Sensi vaginal plug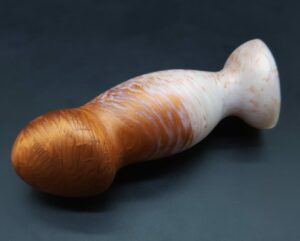 I once Tweeted, saying that I both am and am not proud of how often people find my blog by Googling something like, "huge butt plug used in pussy." The result? Marco reached out asking if I wanted to try an Uberrime Sensi— a silicone plug specifically designed for vaginal use.
Read my full Uberrime Sensi review or check it out at SheVibe.
Enter the giveaway here!
Thank you to everyone who donated!
This giveaway was made possible by the generosity of Uberrime Dildos, Peepshow Toys, Spectrum Boutique, and SheVibe. Their support and yours is the reason my blog has made it as far as it has.