GIVEAWAY TIME: Win a Blush Novelties Wellness G Ball vibrator!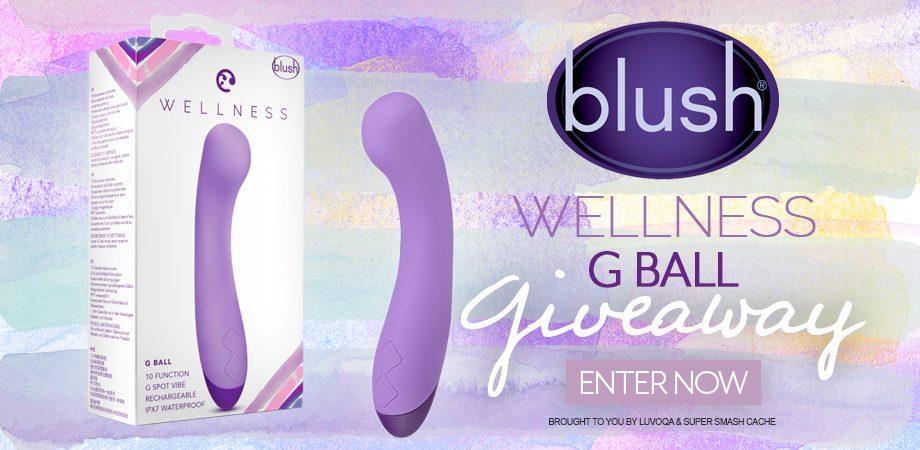 Hey, dear readers! This month, Luvoqa and I giving away a Blush Novelties Wellness G Ball, a delightfully unique G-spot vibrator with a curvilinear flickering bead in the head.
It's a fantastic way to celebrate their 10% off sale on select Blush Novelties items!
Silky-smooth matte silicone covers this vibe's hard plastic structure
The vibration motor has 6 speeds and 4 patterns
It's submersible! Take the G Ball with you in a long bath and treat yourself
Many users will love the G-spotting head shape— even though I don't

Every body is different, and some pubic bones are pickier than others

The flickering bead feels great against my G-spot and even better against my clit
I like the Wellness G Ball a lot for external stimulation, and I think Blush Novelties should consider making an external-only version of it. In the meantime, I'm not complaining about holding the long handle to press the head against my clit. 🙂
Enter this Wellness G Ball giveaway using the Gleam widget below
18+ U.S. entrants only. This giveaway ends May 2nd. Once I email the winner, they have 48 hours to claim their prize and send me their shipping address. After that, I'll forward the info to Luvoqa and they'll get the lovely Wellness G Ball to you!
Best of luck! I hope this brings a little spice to your quarantine.
Blush Wellness G Ball Giveaway

Can't wait that long to get a new toy?
Shop Luvoqa's body-safe toy selection, which includes the Wellness G Ball, the nöje V1 (same shape, but no rolly ball), other great dils and vibes from Blush, and more!
Take 10% off select Blush Novelties now!