Blush Novelties Avant D5 Review: striped silicone dildo w/ suction cup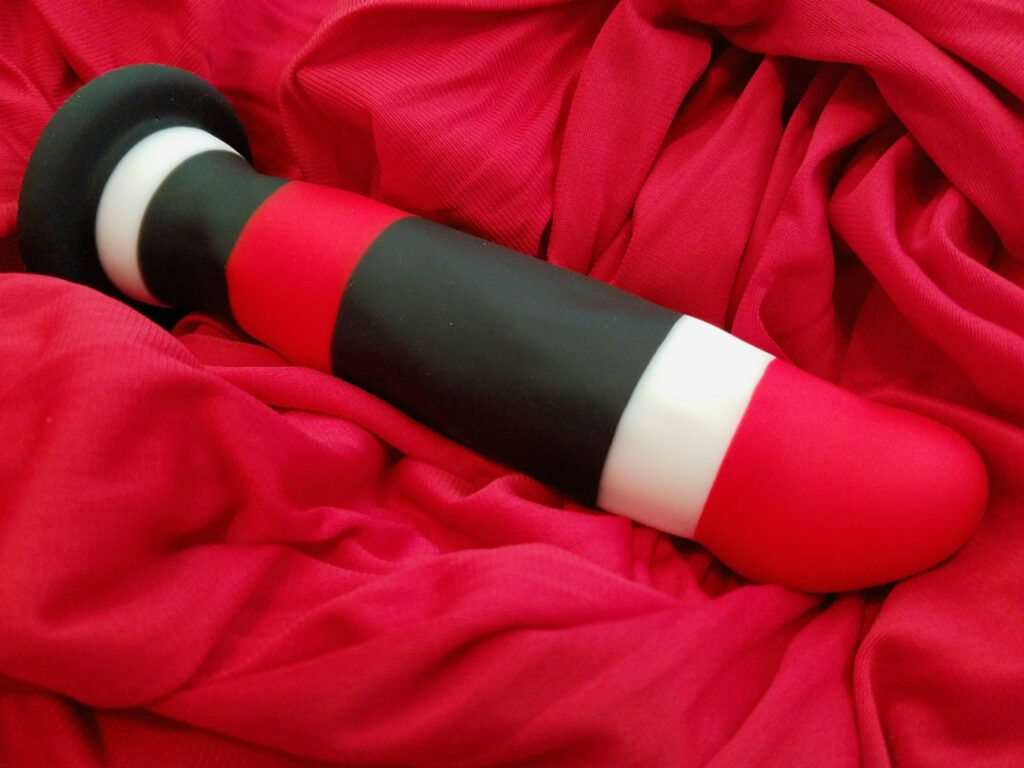 Who thought that a dildo could be a stand-in Rorschach test? The striking red, white, and bands on the Avant D5 conjure associated images of coral snakes, clowns, Sin City, and Dr. Seuss, among others.
Despite the subjective interpretations, most sex geeks can agree that it's remarkable for a $45 dildo to be this gorgeous. There's no shortage of pretty, artisan silicone dildos with stripes, sparkles and otherwise. However, when you sink into the sub-$50 price range, it's a different story.
Blush Novelties' Avant line stands out with its aesthetic revamp of previously-used dildo molds. The Avant D5 is the same shape as the Real Nude Rollo1, but is a single density throughout. Its "Sin City" palette features stripes of red, black, and white. Its sibling, the Avant D6 "Electra" dildo has bands of black, electric blue, and hot pink. Both are enticing eye candy.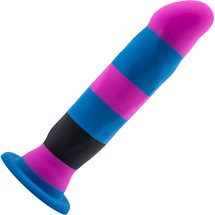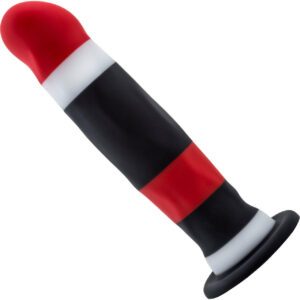 I hoped that my vagina would appreciate the Avant D5 as much as my eyes did. Perhaps I was setting it up for failure; I enjoy twisting the D5 inside me, but I'm not enthralled with using it any other way. Somehow, thrusting it overwhelms and bores me at the same time.
In this Blush Novelties Avant D5 review:
Features of the Blush Novelties Avant D5
Along the 6.5″ of insertable length, the Avant D5 features a slight coronal ridge, vertical bumps and ridges down the shaft, and a suction cup base. If you're used to taking average-sized cocks, this dildo is a nice next step up in girth. Its 1.6-1.7″ diameter makes it about the same circumference as the broadest part of the Tantus Uncut #2 and thinner than the Tantus Cush O2.
The Avant D5 is one of the more pliable single-density toys I've used. It's almost as squishy as the outer layer of Tantus's dual density silicone. It has more give than Vixen Creations' single density while being firmer than Bad Dragon's medium firmness toys. If I had to compare, I'd say that the bendable, somewhat draggy nature reminds me of the Tantus Super Soft C-ring, especially with how much the base stretches.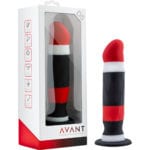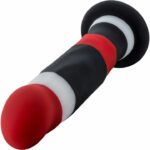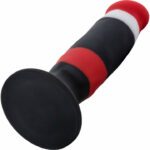 How does the Blush Avant D5 texture feel?
The texture looks so subtle, but when I clench around the Avant D5, I can feel every little bump and vein that drags over the front wall of my vagina as I rotate the dildo. Twisting it back and forth with a vibe on my clit is my favorite way of using it to add variety. Click on the thumbnails above to zoom in and see the texture more closely.
Frankly, I'm a texture wimp. I don't love fine surface textures. A few well-placed bumps can be stimulating, but anything more than that registers as straight-up vaginal rugburn to me. There are two main kinds of texture I can appreciate: big bumps for jiggling in place against my G-spot, and small vertical ridges for twisting back and forth.
The D5 falls into the latter category. Add it to some external stimulation for more explosive orgasms.
The ridges, however, turn into a hindrance when I thrust it by itself. It's not that the texture alone is too much; it just takes so long for this toy to do anything good for my cervix or G-spot. By the time I think I might get something amazing from thrusting it, the lube dries up, and the textures start to irritate my vagina. I reapply the lube, repeat the cycle, and I often end up frustrated.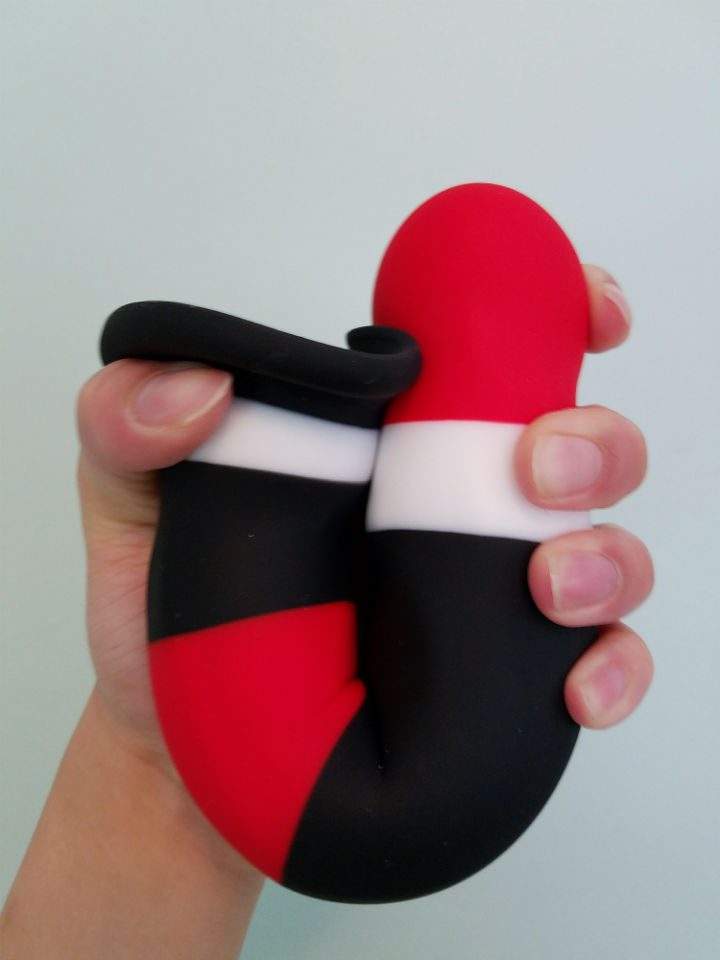 How does the Avant D5 perform for G-spot or cervix stimulation?
I wanted to love the Avant D5, but I dragged my feet every time I had scheduled to test it. At first, I chalked up the vaginal rugburn feeling to having washed the dildo with peppermint-infused soap. No biggie, right? I'd wait for the next day to test it again.
As it turned out, though, my vagina really didn't care to thrust it. Even with a different kind of soap. Even with extra lube. At worst, I'm irritated. At best, it sometimes gets the job done, but I think another toy would have been better at it.
Cervix stimulation
It's easy to assume that I'd like any dildo that's long enough to reach my cervix.2 I can sometimes squeeze out a cervical orgasm with the D5. However, there's a limitation at play.
When I attempt rapidly thrusting this dildo to massage my cervix, it's just "bleh." It's straight-shafted, moderate girth, and bendy with an only slightly defined head. These features make it more difficult to target the optimal spot in my posterior fornix. And since it's so hard to aim, it gives the texture and drag more time to start feeling scratchy.
I had to bring out my Tantus Silk Large to compare and make sure I didn't imagine things. Surely enough, I had a cervical orgasm with the Silk Large, with no problem. The Silk might be basic AF, but it's firmer. And the slightly tapered increase in girth towards the tip does a better job at pressing into my cervix just right. As well, my beloved Vixskin Johnny and Outlaw might be squishy on the outside, but they have a firm inner core for thrusting.
G-spot stimulation
The Avant D5 is also too flexible to aim at my G-spot. I like toys I can thrust into my G-spot during the "in" stroke, more than pulling on it on the "out" stroke. The silicone surface is draggy enough to pull on my G-spot, despite the barely protruding head, but it's just not enough for me to get off. For me, the D5 is decidedly neither a G-spotting dildo nor a cervix-massaging one.
Who would I recommend or not recommend the Avant D5 to?
I see this dildo as something fairly frill-free to clench around, to twist, and to enhance external stimulation. Fans of light texture would love love the Avant D5. The same goes for people who want a medium-firm and flexible dildo. As someone who enjoys glass toys and girth, however, I fall into neither of those categories. The flexibility and straight shaft are underwhelming to me.
If your tastes are similar to mine, you'd be happier with an Avant D3 or D4. It's girthier, smoother, and more rigid, with big structural bumps. The "Sin City" colors made me want to like the D5 and D6's shape, but my feelings toward it are the definition of lukewarm.
---
Disclaimer
I received the Avant D5 from Peepshow Toys in exchange for giving my honest, unbiased opinion. If you want to support me and see more reviews, check out this and other toys in Peepshow Toys' carefully curated collection (like the Avant D3 or D4!). Purchases through my links will bring me a commission at no extra cost to you.
Footnotes
The D1 and D2 use the Real Nude Helio mold, and the D3 and D4 use the Real Nude Suko mold