GIVEAWAY: $350 of sex shop gift cards to celebrate 250 posts!
The title says it all: I've reached 250 blog posts at Super Smash Cache, and I want to celebrate this milestone.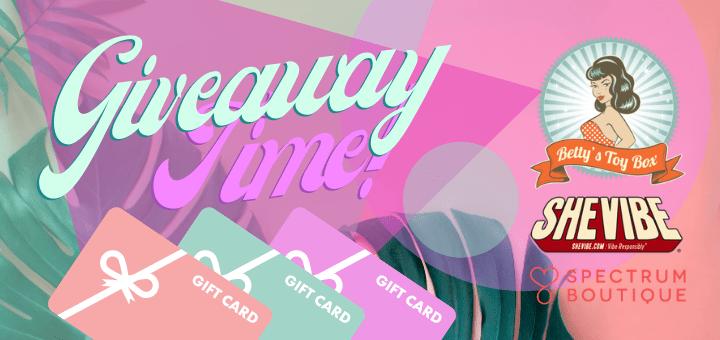 The giveaway was originally going to be for $250 total of gift cards to match the number of posts. Betty's Toy Box wanted to be extra generous, though, and threw in $150, bringing the gift card total up to $350.
There will be one winner for each of the gift cards below:
Of course, you can use my coupon codes at Betty's Toy Box (SUPER) and Spectrum Boutique (SUPERSMASH10) for 10% off your whole order on top of that. 🙂 Even without coupon codes, SheVibe tends to have low regular prices and more exclusive indie products than the other online sex shops do. Choose carefully!
Thank you to my readers for supporting me, whether by tipping or buying sex toys via my links. Thank you to the lovely sex shops I work with for collaborating with me and building my blog into what it is today. Thank you again to the donors, Betty's Toy Box, SheVibe, and Spectrum Boutique for their generous contribution to the prize pool.
I'm just getting started, though — my hope is to someday reach 500 blog posts while still blazing with passion for what I do.
(And you can bet that the giveaway prizes will get bigger.)
---
Notes for entrants
This giveaway is open to adults (18+) only. Be sure to read each shop's shipping policies before picking your top choice(s). The giveaway will close on February 14th at midnight. Winners will have 36 hours to respond to my email and claim their prize. After that, I'll pick another winner.
---
Best of luck! Enter here
If you're having issues with the Gleam widget loading, try opening this link in a new tab.